While the U.S. press focused on the lack of ceremonial handshake as proof of his misogyny, the bigger issues surrounding the first meeting between President Donald Trump and German Chancellor Angela Merkel were ignored.
Their statements after the meeting were telling of where U.S. / European Union relations are headed in the near future. And no one should be surprised that Trump gave Merkel the hard shoulder.
Her immigration policy has been a disaster for Europe and it is completely at odds with Trump's belief in national integrity.
This was first opportunity for him to put paid his campaign rhetoric that Germany, as the de facto leader of the EU, is not pulling its weight financially in the defense of Europe. And he delivered in spades.
It was obvious to anyone watching that Trump wasn't even trying to put a brave face on this meeting.
Merkel in the Middle
Merkel is in a very tenuous position as opposition to her policies mount. Under Obama the U.S. had her back on major policy decisions. Germany and the U.S. were in lock-step with regards to Syria, Russia, Ukraine and the massive influx of refugees.
That has all changed with Trump and Merkel is now having to shoulder the burden of these globalist policies with only the help from western media and institutional inertia. This is why I am not surprised by the report Monday morning on Zerohedge that Merkel has offered the first diplomatic overture to ending sanctions against Russia in months.
"we want to have possibilities for scaling back sanctions when the Minsk accord is implemented, because we want to include Russia as an international actor in the solution of many conflicts."
This may not look like much, but in the context of the obvious issues between Trump and Merkel, it is. While the stipulation about the Minsk accords and Ukraine are still there, Merkel has not acknowledged Russia's role as an international force for peace since the putsch in Kiev in February 2014.
With German investment into Russia accelerating despite sanctions and her position in the polls fading over them and her handling of immigration, Merkel is now caught between two tough men who can squeeze her for whatever concessions they want.
Trump is the poster-boy for rising Euroskeptism across the continent. Russian President Vladimir Putin has secured his country's future with the successful defense of Syria from ISIS and their benefactors while charting a course of responsible austerity which has the Russian economy exiting recession less than two years after a stunning collapse of the ruble.
Both are staunch opponents of multiculturalism and are ardent patriots. That's where whatever respect between them resides. Merkel is their opposite number.
Germany needs Russian gas. The expansion of the Nordstream pipeline by Gazprom (OTCPK:OGZPY) is on schedule despite U.S. proxies in Poland attempting to derail it. Gazprom announced recently it is near an $11 billion financing deal for Nordstream.
So, with that news, Merkel knows that obstacles to Nordstream II are effectively gone and with them any leverage over Russia gained by the coup in Ukraine since Ukraine will no longer be the main artery for Russian gas, Nordstream will be.
No one from the Trump administration has said a word about any of this and Merkel's comments in Hanover tell me she's been cut loose on this issue. The idea that U.S. LNG sources can reasonably compete with Gazprom both via pipeline and its own LNG project in Yamal is ludicrous.
Trump probably took one look at that policy paper and threw it in the garbage.
In fact, this could be the beginning of Trump's subtle way to patch things up with Russia. By pushing Merkel away and letting her be the face of Russian rapprochement, Trump can improve relations with Russia while not appearing to do so while he's under fire daily from unhinged Democrats and Western media.
Russia Emerges from the Cold
This is happening while the rating agencies are all in the process of re-evaluating Russia's debt. S&P Global Ratings raised Russia s outlook to positive from stable citing that external pressures have abated in the past twelve to eighteen months. Moody's and Fitch have also recently raised their outlook on Russian debt.
While it is still one notch below investment grade with all three agencies, this is a welcome sight for moves that were never justified by the numbers. Cutting Russia's debt rating was a political move to assist the hybrid war efforts to destabilize Putin's government.
Such is the legacy of the Obama administration. All it did was make Russian debt, both corporate and sovereign, incredibly cheap. And anyone who gobbled up these bonds at the height of the ruble crisis has since made a small fortune.
This is beginning to put upward pressure on the ruble as it decouples slightly from oil. The ruble closed on March 17 th at 57.223 versus the U.S. dollar. It strengthened three percent over the past two weeks while Brent Crude sold off just over $4 a barrel (7.2%) since March 5 th.
While I don't expect to see the ruble trade independently from oil, I think it's safe to say that with a strengthening Russian economy, rising sovereign debt rating, trade surpluses and improving regional integration of the former Soviet Republics economically, that the ruble will be prone to fewer and less severe shocks in the months ahead even if oil prices sell off from here.
Nordstream II is looking good to go. The situation is clearing up in Syria. Gazprom will not have competition into southern Europe for the foreseeable future. And that clears the way for the bull market in Russian stocks, only a couple of quarters old, to continue into this year and next.
The Technical Outlook
Also, from a technical perspective, the ruble looks ready to challenge the reaction low from 2015 after the initial crash in the winter of 2014 at around 49 to the U.S. dollar with stops at 55 and 52 along the way.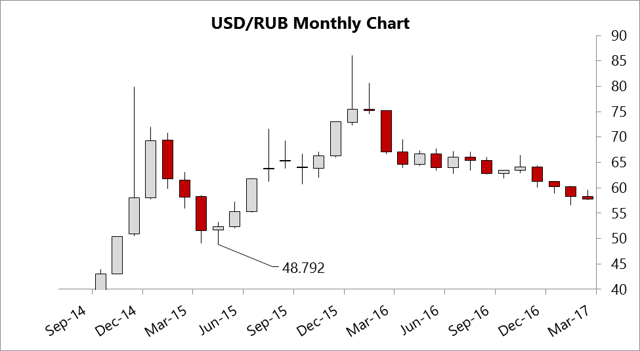 The strengthening ruble has done nothing but buoy Russian stocks as well. The MICEX 50 Index is in a full-fledged bull market rising right alongside the currency it's valued in. That's how under-valued Russian stocks were in Q4 of 2014.
So, while February was a difficult month in Russian stocks as a bout of profit-taking pushed the index to test the Q4 2016 low, I don't see this as the beginning of the end, but rather the first attempt up the wall of worry all bull markets climb.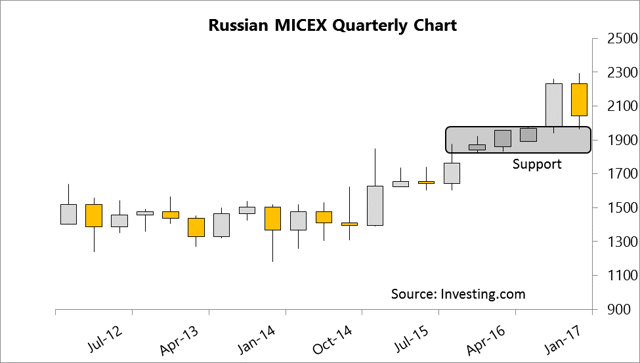 The area below 1900 on the MICEX is very strong support on the quarterly chart with multiple tops going back to 2011. Looking at how quickly Russian stocks moved after breaking through the all-time high from Q2 2011 at 1865.25 I'm not surprised there's been some aggressive repositioning in Q1 of this year.
Value investors and fund managers saw this year's low distribution from the Van Eck Russia ETF (NYSEARCA:RSX) as an indication of it being over-valued in the near terms. RSX has seen the annual dividend drop from $0.72 to 0.331 in just three years.
So, until there's a compelling reason to push it higher, with the rising ruble, the MICEX will likely tread water between here and the January high of 2293.99 for a few months.
One upside catalyst is the Bank of Russia lowering interest rates, which it says it won't do until inflation is running at four percent (currently 4.7%). Another would be Europe or the U.S. lifting economic sanctions.
Since the EU just voted to extend those sanctions another six months, to give Angela Merkel time to get her political house in order, that's not on the table. But, come Q3, if Europe continues to struggle and any systemic breakdown occurs, i.e. a banking crisis in Italy, lifting the sanctions on the eve of German elections may work in her favor.
Merkel is a survivor, a political cockroach, but the forces arrayed against her are beginning to snowball. She will have to make a choice as to where her future, if any, lies and that likely means improving relations with Russia, setting off the next leg of the rally for Russian stocks.
Disclosure: I/we have no positions in any stocks mentioned, and no plans to initiate any positions within the next 72 hours.
I wrote this article myself, and it expresses my own opinions. I am not receiving compensation for it (other than from Seeking Alpha). I have no business relationship with any company whose stock is mentioned in this article.
Additional disclosure: I own some gold, silver, a few guitars and a lot of goats.
Editor's Note: This article discusses one or more securities that do not trade on a major U.S. exchange. Please be aware of the risks associated with these stocks.