With a 7% increase in the dividend starting with the June payment, and its history of growing that payment over the years, the current market price of PepsiCo (NYSE:PEP) represents a good buying opportunity for the dividend growth investor.
What did I think last time?
I first wrote about PEP on November 6th in this article. Based on its long history of dividend growth and a strong Q3, I thought PEP was a good investment partner. Based on its ability to continue growing those dividend payments and its market price at the time, I thought PEP was a good buy for a dividend growth investor.
Both PEP and Coca-Cola (NYSE:KO) are having to deal with the changing consumer tastes that are hitting some of their leading brands with declining volumes. KO has settled on a plan to expand its product offerings to a wider array of beverages. PEP is instead broadening its products to include more than just beverages and salty snack food. Going forward it's important to keep an eye on what new healthier products PEP is introducing and how they contribute to over-all company performance.
What new information do we have now?
PEP released its Q4 earnings report on February 15th where it reported $1.20 of EPS for the quarter (beating estimates by 4 cents) and revenues of $19.52B (+5.0% Y/Y) which was in-line with expectations. I always like it when earnings beat expectations and it's a good sign that revenues were higher this year than last. Looking at the issues that KO is having, it's very nice to see that PEP is able to grow earnings.
PEP management also put out an infographic that displays a number of items that interest me as a dividend growth investor. The graphics below show those points.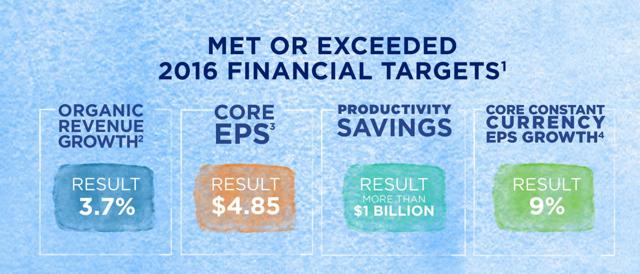 The information above gives some hard numbers to how well PEP did relative to the guidance it offered at the beginning of the year. Since I am basing my calculations for how PEP can grow its earnings and dividends on management's forward guidance, it's important to see that previous guidance has proven accurate. In the footnotes to this presentation it is noted at reported EPS grew by 19%. That gives me even more confidence that PEP can grow its earnings enough to pay the increasing stream of dividends I am calculating that they will pay in the future.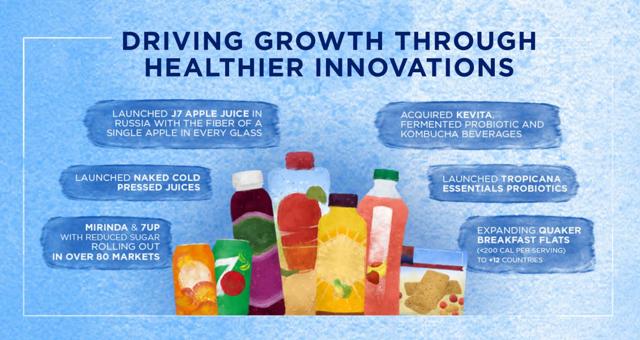 One of the areas I wanted to keep an eye on was how PEP added healthier product choices. Since its plan to deal with declining soda and salty snack food sales hinges on getting consumers to buy the healthier alternatives it would offer, the performance and development of those products are important to the ability of PEP to have the ability to pay and grow its dividend. The graphic above shows some of PEP's efforts to grow the sales of healthier products by internal development and acquisitions. While I'd like so harder numbers, and will certainly be watching for them, it looks good to me that they are rolling these products out to more markets.

In this last graphic, we see that PEP management has given use some guidance on what to expect during the 2017 fiscal year. I like the fairly robust constant currency EPS growth. Since this is fairly close to what PEP did in 2016, and it increased reported EPS by 19%, I expect pretty good EPS growth in 2017. I am reasonably confident that PEP can continue growing the dividend at the rate I am predicting based on its results for 2016 and its guidance for 2017.
In several different places I saw that PEP was going to increase the dividend starting with the June payment, but I had to go to the conference call transcript to get the actual new dividend amount. The new dividend at $3.22 a year is in-line with what I predicted back when I first looked at PEP. That has an impact on my DDM price analysis.
Looking at Moody's to see PEP's credit rating; I see that it is an investment grade rating of A1. I use the free service that Moody's provides anyone who registers.

What does Simply Wall St say?
Simply Wall St provides a nice graphic showing analysts' projections of future EPS for PEP. While analysts have been wrong in the past and will continue to be wrong in the future, it's a good thing to see predictions of the EPS increasing. That is another point in favor of PEP being able to pay and grow the dividend. This projected growth is further evidence that PEP's plan to address the decline of soda and salty snack sales is already working.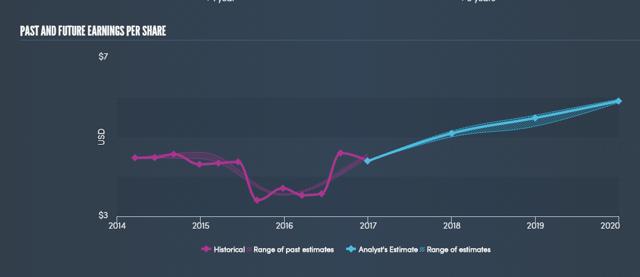 What's a good price?
To figure out a good price, I do a DDM calculation using my Excel® based DDM calculator (pictured below, you can see the web-based calculator I based it on here and read a discussion on how the formulas were developed here). Looking at the David Fish's CCC List(which contains a data on companies that have raised their dividend each year for 5 or more years), I see that PEP has an excellent record of growing the dividend payment each year for 44 years.
Given that in my original analysis I used a 7% dividend growth rate and that the most recent dividend increase is just about 7%, I will use 7% as my dividend growth rate for the DDM analysis. That is a bit lower than the various DGR values in the CCC List, but is a prudent estimate.
I will use the just announced annual dividend of $3.22 as the dividend amount. This is an increase over what I used in the last article, but it also supports the growth rate of 7% as it is just about 7% higher than the last dividend.
For the terminal growth rate, I will turn to the SA page that provides key data on PEP. Looking at the dividend data at the bottom of the page, I see that the larger of the current yield and the 4 year average yield is 3%. Subtracting that from my discount rate and rounding to the nearest whole number in the range 0 to 3, means that I will use 3% as my terminal dividend growth rate. This will push the price of PEP towards a value where the yield will be 3% (because I use a multi-stage model, the terminal dividend growth rate only effects one stage, so the actual yield likely won't be 3%).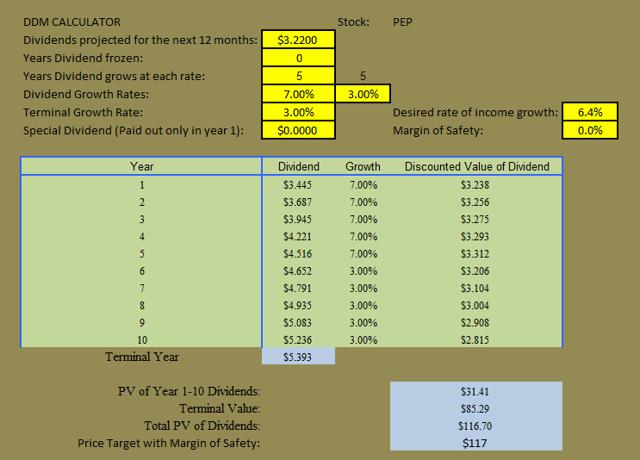 Using these values, I calculate that the present value of the dividend stream is $116.70. That gives me a target buy price of below $117. PEP is currently trading around $111, so at that price it is well worth buying. Dividend growth investors will want to consider purchasing PEP at current market pricing.
Can options help?
To write a cash secured put, I want a strike price below the current market value and a premium that is more than the prorated dividend payment. For PEP I am think the May expiration date offers a good opportunity to write a put, so, I want a strike price below $111 and a premium above $0.54. To be clear about what I mean when I say a cash secured put, is that the investor has (and will keep until the contract expires or the shares are assigned) an amount of cash sufficient to purchase the number of shares that the put contract covers. When an investor does this, the risk is determined (it's the amount of cash to buy the shares). Some brokers may allow selling a put without the cash being in the account but instead with just assets in the account sufficient to cover the cost, or enough margin to cover the cost. Both of these methods leave the risk open ended. In the first case, the assets an investor intends to sell could decline in value, leading them to sell more assets than originally intended. Using margin leaves the investor subject to the same risks in paying off the margin amount. I like to minimize and quantify risk whenever possible so I avoid taking on unbounded risk.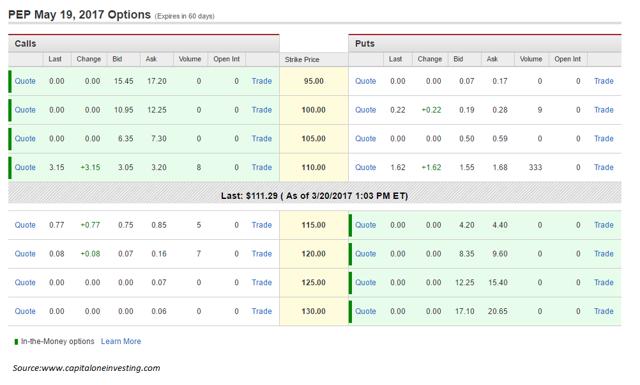 For PEP, the May expiration date offers a nice opportunity. The $110 strike put is below the current market price and offers a premium that is more than twice my required minimum of $0.54 for this length of contract. $11,000 might be a lot of cash for many investors, but if you have it I think this contract is a nice opportunity.
What to watch for going forward?
Going forward with PEP, I want to see that its plans to offer healthier alternatives to its current product lines continue. I haven't seen a lot of hard numbers on how those healthier products are doing, so I will also want to keep an eye on that too.
Conclusion
PEP put in another good quarter in a pretty good year. So far it seems to be doing better at adapting to the changing consumer desire for its traditional products than KO. With its current dividend increasing at the next pay date, I think the current share price of PEP represents an opportunity for dividend growth investors.
Note: I hope you all got something out of this article. I do appreciate the time you took reading it. If you are one of those who follow me here, I appreciate it; if you'd like to include yourself amongst those individuals, please hit the "Follow" button next to my name as well as following other contributors whose work you enjoy. As always, please leave any feedback and questions you may have in the comments below.
Note: Simply Wall St provides me free access to its premium paid service so I can use data they provide to help support my investment thesis. I use their data and graphs when it supports my case. Much of the data that appears in their graphs and charts comes from Capital S&P IQ.
Disclaimer: This article is intended to provide information to interested parties. As I have no knowledge of individual investor circumstances, goals, and/or portfolio concentration or diversification, readers are expected to complete their own due diligence before purchasing any stocks mentioned or recommended. The price I call fair valued is not a prediction of future price but only the price at which I consider the stock to be of value for its dividends.
Disclosure: I am/we are long PEP, KO.
I wrote this article myself, and it expresses my own opinions. I am not receiving compensation for it (other than from Seeking Alpha). I have no business relationship with any company whose stock is mentioned in this article.