Last Wednesday, the Federal Open Market Committee (FOMC) raised key interest rates 0.25% to 0.75%, to get more in line with rising long-term market rates. Even through Fed Chair Janet Yellen said that three interest rates hikes were possible in 2017, she also signaled that 2% is not a firm ceiling on inflation. This essentially means that the Fed is not overreacting to rising inflation but is showing confidence in economic growth. The bottom line is that Yellen is very cautious and does not want to rattle the financial markets. She succeeded, as both the stock market and Treasury bonds rallied and interest rates settled down a bit.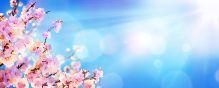 The S&P 500 rose by only 0.24% last week, but there is some historical hope for a better market this week, since Bespoke Investment Group issued a report ("Stock Seasonality," March 13, 2017) showing that all 11 S&P sectors have risen substantially (+0.84% to +1.92%) during the third and fourth weeks of March over the past 10 years. Much of this seasonal strength is due to quarter-end window dressing and realignment of equal-weight and smart-beta ETFs that tend to reward the most fundamentally strong stocks.
Last week, Bespoke Investment Group (in "Beware the Ides of March?" on March 15) showed that when the S&P 500 rises more than 5% in the first 50 trading days of the year, there is a 95.5% chance that it will continue to rise for the remainder of the year. Out of 21 historical instances, only 1987 delivered a greater-than-5% gain in the first 50 trading days followed by a decline the rest of the year. However, 1987 was a manic-depressive year. The market soared 39% through late August but it crashed memorably in October.
In a more specific comparison, there were five times when the S&P 500 rose 5% or more during the first 50 trading days in the first year of a Presidential cycle. All five delivered 23% or greater full-year gains:

In another report ("S&P 500 Decile Analysis," March 13, 2017), our friends at Bespoke updated their decile analysis of the S&P 500, ranking the 10 deciles in eight categories (80 total cells) since Inauguration Day (January 20th). The largest gains came from the 10% of S&P 500 stocks with the lowest short interest (+6.80%) and the top 10% of stocks with the most positive analyst earnings revisions (+6.34%). The worst performances were by the 10% of stocks with the highest P/E ratio (-3.65%), stocks with the highest short interest (-3.01%), and 10% in smallest market cap (-2.21%). This is further confirmation that the fundamentally superior stocks with the strongest upward analyst earnings revisions are performing best.
Higher Inflation and Lower Retail Sales Didn't Faze the Fed
Last week, I mentioned that retail sales and Consumer Price Inflation would come out on the same day as the Fed's decision. With both figures rising - though only slightly - the Fed would not be thrown off its clear goal of raising rates for the third time in this cycle. On Wednesday morning, the Commerce Department reported that retail sales rose only 0.1% in February - the smallest monthly increase in retail sales in the past six months. Only four of the 13 major industries surveyed reported an increase in sales.
The Fed employs over 300 PhD economists, so I'm sure they looked more closely at the details than the press normally does. In the details, February sales at gas stations declined 0.6%, but that is due to lower prices, not lower volume. Auto sales also slipped 0.2%, so excluding gas stations and auto sales, overall retail sales rose 0.2% in February, a bit healthier than the headline number. A delay in federal tax refunds also contributed to the decline. Specifically, only $127 billion in tax refunds were processed through February 24th, 10.5% below the same period a year ago. In the past 12 months, retail sales rose at a healthy 3.7% annual pace and there is no need to believe that consumer spending will decelerate in March or April.
On the inflation front, the Labor Department reported on Tuesday that the Producer Price Index (PPI) rose 0.3% in February - a 3.6% annual rate - significantly faster than economists' consensus estimate of 0.1%. In the past 12 months, the PPI rose 2.2%, the highest 12-month total since March 2012. By contrast, the Consumer Price Index (CPI) rose only 0.1% in February, the smallest monthly rise since last July, but the CPI is up more (2.7%) in the last 12 months, reaching its highest 12-month increase since February 2012.
With inflation's highest 12-month rise in five years, it's clear why Ms. Yellen and her team elected to act last week. Interestingly, however, inflation-adjusted wages rose only 0.1% in February, which may not please Yellen, since she wants to see more robust wage inflation before raising interest rates much further.
The price of crude oil may rise in March, contributing to higher inflation and retail sales figures in March. Last Tuesday, OPEC reported that the cartel's February crude oil production declined by 140,000 barrel a day vs. January's production. However, Iran's February production was excluded from the OPEC totals and Saudi Arabia boosted its crude oil production significantly, according to OPEC, to 10.011 million barrels per day in February vs. 9.745 million barrels per day in January. Furthermore, industry observers reported that Saudi Arabia was not curtailing its crude oil production. So, to clarify matters, it appears that OPEC is not sticking to its production quotas and its incomplete reports have no credibility. As a result, the inventory reports on crude oil are now more likely to influence prices than the confusing OPEC reports.
On the positive side, the Conference Board announced on Friday that its index of leading economic indicators (LEI) rose 0.6% in February, significantly better than economists' consensus estimate of 0.4%. This was the sixth straight monthly rise and LEI is now at its highest level in a decade. Fully nine of 10 LEI components rose, with only building permits declining. The Conference Board said, "Widespread gains across a majority of the leading indicators points to an improving economic outlook for 2017."
Disclosure: *Navellier may hold securities in one or more investment strategies offered to its clients.
Disclaimer: Please click here for important disclosures located in the "About" section of the Navellier & Associates profile that accompany this article.