By Gary Alexander
If you watch the news - any news - or log on to the Internet, or chat with friends, how can you possibly believe that U.S. optimism is at the highest level in 17 years? The Sunday morning political talk shows express one outrage after another. Every Internet portal makes you scan through a selection of blog-like headlines - all designed to outrage you. In such an environment, how can this market keep rising?
Consumers are more optimistic than any year since 2000, according to the latest University of Michigan survey (Wall Street Journal, "Consumers Say Economic Conditions are the Best Since 2000," March 17, 2017). The University of Michigan's preliminary reading of consumer sentiment rose to 97.6 in March, up from 96.3 in February and 91.0 in March 2016. The Journal article said, "The recent rise in optimism reflects a turnaround from consumers' attitudes in October, when sentiment had matched a two-year low."
Part of this swing in optimism is politically-based. Half of the nation seems to be almost giddy with new hope, while the other half lives a life of quiet (or often very noisy) desperation. The Michigan survey's Chief Economist Richard Curtin shared these shocking numbers: "Among Democrats, the Expectations Index at 55.3 signaled that a deep recession was imminent, while among Republicans the Index at 122.4 indicated a new era of economic growth was ahead. Interestingly, those who identified as Independents had an Expectations Index of 88.3, which was nearly equal to the midpoint of the partisan difference." He also said this could lead to uneven growth: "Optimism promotes discretionary spending, and uncertainty makes consumers more cautious spenders." (Does this mean Republicans spend and Democrats save?)
Amid all this, the stock market - as measured by the Dow or S&P 500 - has not had a 1% down day since October 11, 2016 - that's 108 trading days as of last Friday. The market rose through Trump's surprise victory and Inauguration, through four ballistic missile firings by North Korea and two Fed rate increases, all without falling a significant amount. In the last 50 years, the only time the Dow or S&P 500 went over 108 days without a 1% decline was in 1993 in the Dow (a streak of 117 days) and in 1995 in the S&P 500 (111 days). If the S&P avoids a 1% decline in the first four days of this week, it will become the longest such streak since 1965-66 - a streak which ran an astounding 155 days (ending March 1, 1966 Source: Marketwatch, "The S&P 500 and Dow have now gone 108 days without a 1% decline," March 17, 2017).
Since November 4th, the Friday before the election, the S&P 500 has risen over 14%. Optimism has risen even faster. According to economist Ed Yardeni (in "Animal Spirits Showing Up in Earnings," March 15, 2017), the survey of small business owners conducted by the National Federation of Independent Business (NFIB) showed that optimism jumped from 94.9 last October to 105.9 during January, remaining at 105.3 in February, making the first two months of 2017 the two most optimistic readings since December, 2004.
The percentage expecting better (rather than worse) business conditions six months from now was mostly negative from 2006 to 2016 (see chart, below), but it leaped sharply in January - similar to previous gains after Reagan's election (1980), the rapid victory in Gulf War I (1991), and the first GW Bush year (2001).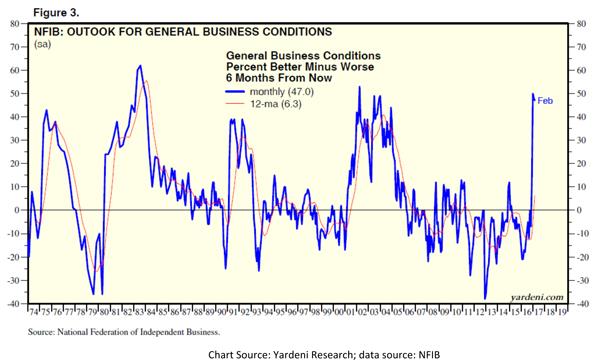 Graphs are for illustrative and discussion purposes only. Please read important disclosures at the end of this commentary.
Putting these pendulum swings and political divisions aside, most indicators seen to support higher market averages. I'll cite two this week - the latest Flow of Funds data and early-2017 China trade.
Flow of Funds Data Reveals "Share Shortages"
The Fed released its quarterly "Financial Accounts of the United States" last week, covering financial details for the fourth quarter and all of 2016. In reviewing the data last Tuesday ("Go With the Flows, March 14, 2017), economist Ed Yardeni lauded its "amazingly comprehensive insights into the flow of funds."
To me, the most amazing figure in the Fed's release is the net issuance of new nonfinancial equities. Last year, the net issuance of equities was a MINUS $229.7 billion (see chart, below). More shockingly, the net issuance of nonfinancial corporate (NFC) equities was MINUS $565.7 billion. In the second chart below you can see that cumulative non-financial equity creation has been net negative ever since 2000.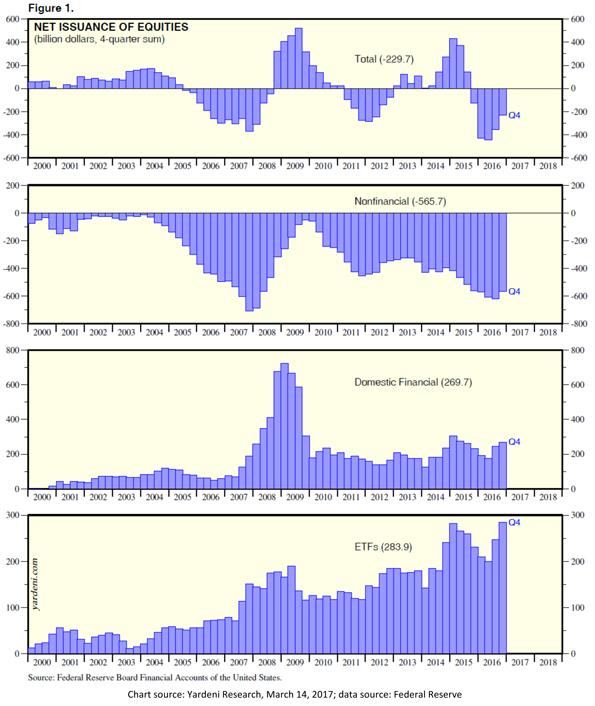 Graphs are for illustrative and discussion purposes only. Please read important disclosures at the end of this commentary.
In the bottom two charts, we see a positive issuance of $269.7 billion in financial issues, led by a $283.9 billion increase in equity ETFs, the biggest four-quarter increase on record.
On the demand side, Yardeni reports that "Equity mutual funds have been net sellers for the past five quarters, reducing their holdings by $151.3 billion over this period. Over the same period, equity ETFs purchased $266.4 billion, with their Q4-2016 purchases a record $485.4 billion, at a seasonally adjusted annual rate. Other institutional investors have been selling equities for the past 24 consecutive quarters, i.e., during most of the bull market! Foreign investors have also been net sellers over this same period."
This reduction in available equities is primarily due to stock buy-backs and merger & acquisitions (M&A), which have eclipsed new shares from IPOs. Fewer available shares lead not only to higher net earnings for the remaining shares but more demand for fewer shares, which tends to bid share prices up.
Before closing, let me add another surprising statistic - and a caution. Chinese trade has been growing by leaps and bounds this year. Trade statistics can't be faked since they represent double-entry accounting by two nations. Exports and imports create balance of payments accounts. In February, Chinese imports were 38.1% greater than in February 2016, even though exports were down 1.3%. This is because China is changing from an export-driven economy to an import-focused economy fueled by domestic demand.
When you put together China's imports and exports, January and February data showed that China's total trade volume rose 13.3% over the same period in 2016. If the current Trump Administration doesn't turn into trade tyrants with some kind of Border Adjustment Tax (BAT), continuation of reasonably free trade between the U.S. and the world will help global growth to continue. (For more details, see "Kill the Border Tax Before it Kills Us," by Gene Epstein in the March 20, 2017 Barron's.) Let's kill this batty idea!
Disclosure: *Navellier may hold securities in one or more investment strategies offered to its clients.
Disclaimer: Please click here for important disclosures located in the "About" section of the Navellier & Associates profile that accompany this article.