I know many of you are excited about the recent Mobileye (NYSE:MBLY) + Intel (NASDAQ:INTC) merger, given the incremental silicon opportunities inside cars with ADAS (advanced driver assistance systems) which is projected to reach $70 billion in TAM (total addressable market) by the year 2030, according to Intel. Of course, Intel's efforts to purchase Mobileye do have plenty of merits; but the extent to which it may impact near-term sales/earnings and the expected timing of meaningful shareholder accretion fall woefully short of a practical investment time frame for most investors.
In the past, we've seen numerous cases where INTC has argued the merits of a deal on inflated TAM analysis, so it's difficult to be as optimistic given management's so-so track record with M&A. In the prior year, Intel acquired Altera, which designs and sells FPGAs (field programmable gate arrays). In that prior acquisition, Intel was unable to generate meaningful revenue/earnings contribution to offset near-term headwinds in either PC market cyclicality or competitive threats from datacenter accelerators, i.e. Nvidia's (NASDAQ:NVDA) CUDA based architecture. Hence, I question Intel's competitiveness in competing segments of the datacenter and the consumer PC market, which reduces my overall conviction in Intel's current management style and near-term upside to the stock.
That being the case, some of the analysts on the sell-side remain optimistic on the outcome of this deal due to overlapping synergies and strategic partnerships between tier-1 auto suppliers. Hence, Intel + Mobileye make strategic sense, but the near-term accretion to sales/earnings is apathetically low, which I will explain in more detail later in this article.
Competitive pressure damages the investor thesis
I question whether Intel can sustain gross margins in an environment where it's facing competitive pressure from AMD's (NASDAQ:AMD) line-up of server/desktop CPUs that perform along a comparable price/performance curve to Intel's current outgoing line-up of CPUs. AMD's high-end performance does not need to necessarily exceed that of Intel comparable MPUs, as pricing is consistently lower along the SKU stack. As such, it would be difficult to imagine Intel outperforming peers in the semiconductor space if revenue/earnings were to fall any further below estimates. Expectations of competing products and potential revenue headwinds to Intel's core CPU business diminish the investor thesis quite considerably.
While some believe that competitive threats are external to Intel, the extent to which MPU/accelerator/storage share could be negatively affected by incumbents should not be underestimated. AMD and Nvidia compete across the entirety of server workloads, where there's a blend of both HPC (high performance computing) and datacenter workloads. There's also heightened competition in storage/memory following strategic partnerships of HDD + Flash Storage makers like Seagate (NASDAQ:STX) + SK Hynix (HXCSL) or in the case of Western Digital (NYSE:WDC) + SanDisk merger.
Hence, I'm more muted on my optimism, as efforts across the entire semiconductor space have been to mitigate Intel's outward expansion. In a real negative scenario, it could be reticent of IBM's over-expansive presence in PCs, Servers and Semiconductors (early 1990s). Hence, I would be cautious of a growth narrative that's so dependent on inter-segment revenue growth, as it's substantially difficult to maintain enviable margins given heightened competition, which is likely to drive pricing lower (reduced gross margins) or sustained investments into R&D (reduced operating margins). Furthermore, the investments into fabs for storage, MPUs and various other product categories is extremely CapEx intensive, which leads to the unenviable conclusion of diminished FCF (free cash flow) when assuming heightened investment ramp paired with diminished revenue/earnings.
Though I like the quality of Intel's products, I believe price/performance from competitors will diminish the pricing power Intel typically exhibits and conventional advantages conferred to Intel (branding, rebate or contra revenue, pre-existing installed base) will not provide as strong of a barrier of entry, thus diminishing gross margins when assuming price curve adjustments in MPUs, accelerators and flash storage.
Intel itself acknowledged challenges in its prior FY'17 outlook (investor day 2017), in which it forecast a 3% y/y sales decline in the consumer client computing group. The expected decline in sales is inclusive of pricing/mix-shift and reduction in total MPU (microprocessor unit) shipment volume.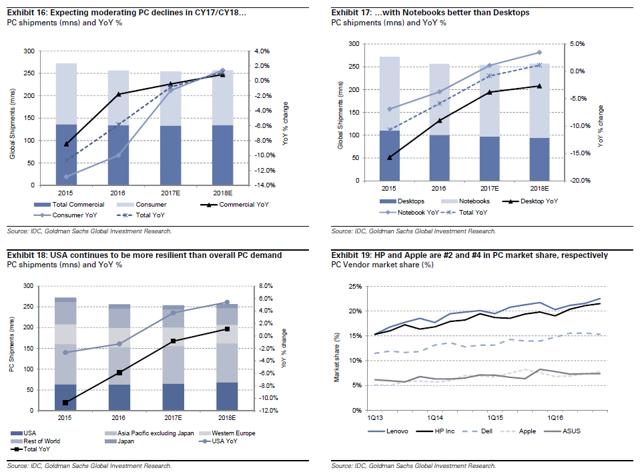 Source: Goldman Sachs & IDC
When reviewing current PC shipment estimates from Goldman Sachs (GS)/IDC, it's implied that the PC market will grow by a couple percentage points, but mostly led by Notebooks as opposed to Desktops. Given added volume into the PC channel, and the expected 3% y/y sales decline, Intel's either expecting a hair trim on pricing or 5 percentage points of market share loss to AMD, which I've included in my model estimates of AMD (below). I believe, Intel's indicating market share loss as Intel's pricing would move considerably lower to match Ryzen series SKUs.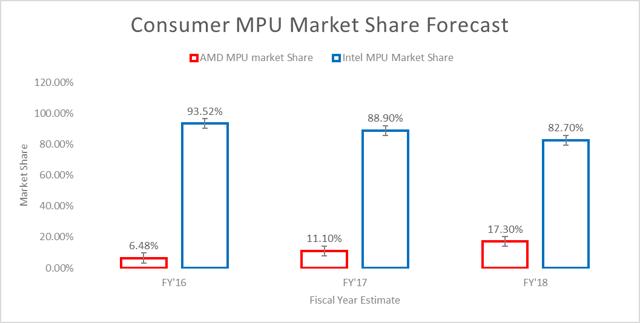 Source: Cho's Tech Research
Hence, investors/analysts are concerned of CCG (consumer client group) revenue decline and whether it pertains to a reduction in pricing or is due to a reduction in unit shipments. My estimate suggests Intel will lose 4.62 percentage points of consumer MPU share, which is in line with Intel's CFO commentary. There's a likelihood that both factors could drag revenue below INTC's implied outlook, which could be offset with increased storage/memory related revenue or datacenter related sales in flash storage, FPGAs, OmniPath architecture and so forth.
The revenue from the other growth segment may offset declines in MPUs, but I'm not really holding out for such an optimistic scenario. Furthermore, the recent acquisition of Mobileye doesn't sufficiently impact revenue/earnings or offset headwinds in datacenter/consumer MPUs, accelerators and storage. Hence, the acquisition makes strategic sense, but the expected returns from the acquisition aren't meaningful over a one or two-year investment time frame.
What we know about the Intel + Mobileye acquisition
The analyst consensus gave us a mixed response. The potential upside from Mems (micro electro mechanical system) content paired with sensors/LiDAR was perceived positively. The strategic combination could deliver better than expected sell-through of silicon content for ADAS (advanced driver assistance systems), but the impact on financials isn't so substantial that it would immediately mitigate weakness in consumer or enterprise MPUs. Furthermore, I wouldn't label the recent acquisition a potential investment catalyst for Intel shareholders and if MBLY investors have missed out on the transaction announcement, it's better not to participate at this point.
Nomura Instinet analyst Romit Shah estimates FY'18 diluted EPS accretion of 2% on cost synergies, and inclusion of sales/earnings from Mobileye. I discuss this in more detail here, but basically, the P&L (profit and loss) impact is not substantial.
Furthermore, it was noted by Goldman Sachs analyst Alexander Duval that the merger arbitrage spread isn't as significant anymore, and when weighting for risks of the merger not materializing the risk/reward of buying MBLY is not appealing.
So, if you missed out on the Mobileye transaction, it's not worth participating which I explain in more detail here. Mobileye is the industry segment leader, and is likely to remain very competitive in its specific industry vertical, as noted by Morgan Stanley (NYSE:MS) analyst, Adam Jonas.
Notwithstanding, the practical value of Mobileye + Intel combined and potential cross-sell opportunities of both datacenter and car-specific silicon, it's worth noting that the consensus estimates on potential accretion is based primarily on extrapolating MBLY's revenue absent of sales channel synergies with Intel. While MBLY's efforts concentrate heavily on tier 1 auto industry suppliers, the impact of Intel's strategic contributions isn't understood well enough to project combined revenues, or to even validate whether INTC will attain meaningful share of the projected TAM of $70 billion.
Furthermore, there's a very low likelihood that Intel's current portfolio could address the entirety of the ADAS (advanced driver assistance system) market, if it were ever to grow to $70 billion given the diversity of components and needed M&A of certain auto suppliers to reach meaningful market share.
Sell-side analysts at Canaccord Genuity, UBS (NYSE:UBS) and JPMorgan (NYSE:JPM) felt the value premium was a bit excessive. While the growth CAGR is likely respectable, Deutsche Bank (NYSE:DB) analyst, Rod Lache mentions that sales won't reach $1 billion until FY'19. Keep in mind, the analyst consensus forecasts revenue of $60 billion for INTC's FY'17. This basically means, if the current growth trajectory of MBLY were to remain the same, the impact on INTC's financials would be negligible as $1 billion in revenue contribution by FY'19 would only contribute 2% growth in consolidated sales over the next three fiscal years.
Hence, I'm skeptical of the implied value accretion Intel is communicating to shareholders. In fact, I believe INTC's recent acquisition of Mobileye was in response to Qualcomm's (NASDAQ:QCOM) ever burdening M&A of other massive companies (NXP Semiconductors) to diversify away from FRAND (fair, reasonable, and non-discriminatory) royalties, which are expected to decline as a percentage of BoMs (bill of materials).
In the case of Intel, the strategic reasoning for acquiring MBLY is driven by competitive pressure in x86 markets, where a modest reduction in market share will deteriorate revenue and margins. While Intel's goal of diversifying its business is admirable, it does not warrant an acquisition of MBLY at an inflated sales multiple of 45x LTM (last twelve month). The cost of the acquisition and the implied impact over the next couple years is relatively unappealing.
Furthermore, the $15.3 billion cash transaction reduces Intel's ability to return capital (share buybacks and dividends) upon U.S. international tax code reform. While the acquisition is foreign and utilizes Intel's foreign cash balance (diminishing opportunity cost), there are other strategic alternative uses for the cash. I'd imagine that INTC's international cash balance contributed to the massive deal premium. Hence, Intel offered MBLY so much cash up-front to defray competing bids from other cash-heavy tech companies like Apple (NASDAQ:AAPL), Alphabet (NASDAQ:GOOG) (NASDAQ:GOOGL), Microsoft and so forth. Most of the cash sitting on tech sector balance sheets is foreign, hence foreign M&A goes at a much higher premium (when compared to domestic transactions).
While we can acknowledge that the acquisition premium was significant, the underlying rationale was driven mostly by terminal value, as opposed to near-term earnings accretion.
RBC Capital Markets analyst Joseph Spak raised some salient points on deal valuation:
While ultimately the stock price could have gone higher, this was often a terminal value debate. We were believers, but discounting for time, risk, automotive volume cyclicality, etc., we believe this is mostly a fair present value level.
The outcome of the MBLY acquisition is binary as it will either work for INTC shareholders over a multi-year time frame or it won't. It's a potential hit or miss, and confirmation of whether shareholder equity was squandered in this past transaction will take five years (or more) to confirm. Hence, I don't really like this transaction, as the segment is nascent and competitive threats may materialize further on down the road. Investment into tech shouldn't operate strictly on terminal value because the longevity of a tech franchise is much lower than competing industries/market segments.
John Pitzer at Credit Suisse (NYSE:CS) mentioned that the business is way better than the stock and downgraded Intel in the nicest way he possibly can:
While we are one of few that actually like the MBLY transaction, we continue to struggle with an investment time horizon inside of INTC, which is not compatible with most our clients and the opportunity cost of owning INTC over other Semis.

Our concern is not with the MBLY transaction, but rather the growing mismatch between INTC internal time horizon for ROIC and those of our clients. To be clear, we are not disagreeing with INTC's strategy, one could argue that insular thinking and the inability/unwillingness to make longer duration investments was a key reason for missing the mobile opportunity. What we are highlighting is the duration mismatch relegates INTC into a category of being a better company than a stock.
Pitzer succinctly explains the investor dilemma. It's a great company with a great brand and tons of innovation going on inside. Clearly, Intel is a great franchise, but it's not a stock you would want to own.
Furthermore, I believe Intel fell into a situation of secular decline, not driven by weakness in the current PC market cycle, but more due to the reduced competitiveness of its product portfolio across its major industry segments.
Upon acquiring Mobileye, the management team is hoping this hit product category will defray investor concerns. While I'm dubious of predictions made by media pundits and the "death of PC," I'm concerned by the projected value accretion Intel is expecting from this transaction. I'm not nearly as optimistic on ADAS adoption, as it sounds like a multi-decade story, driven by 10-year car fleet refresh and early ADAS packages addressing strictly the high-end of the auto segment.
Whether MBLY will add shareholder value is debatable, and it's certainly well beyond the time frame of what I'd be willing to tolerate if I were a long-term INTC holder. Sure, the industry projections sound very compelling and are well-reasoned. But, in the long run, the market will cater to commodity providers, as barrier of entry will diminish upon meaningful advances in car infotainment, AI and sensors, thus allowing competitors to compete strictly on price rather than meaningful ADAS advances. Hence, the potential risks of overpaying and not creating enough cumulative free cash flow to recoup the cost of the transaction are worth considering.
Final thoughts on Intel
The sustained competitive threats across the entire semiconductor ecosystem take center stage. Obviously, Intel is a great franchise but the competitive threats, market share loss and likely revenue deceleration put Intel into the doghouse this year. There's absolutely no way Intel can sell CPUs across its 7-series (Kaby Lake) line-up at Haswell, Broadwell or Skylake price points. Eventually, consumers will defect and buy the cheaper/better Ryzen series CPUs.
I expect Intel's gross margins and various other financial metrics to disappoint this year. And sure, every year Intel makes a phenomenal pitch to shareholders. But, let's use some common sense here. Clearly, history is repeating itself again. Every year, the company overestimates PC market strength or margins. The fact is Intel could only grow sales at an average 2.17% CAGR over the past five years without any competition and now have some competition across every industry vertical. One must question whether Intel's FY'17 will prove to be significantly worse than what even the analysts or pundits could even anticipate.
I'm downgrading Intel from hold to sell. I will reinitiate a price target in my follow-on research note. Cho's Tech Research subscribers will get an early look at my price/financial model revisions. Also, to learn more, you may read the section below.
About Cho's Technology Research
Cho's Technology Research is SA's premier technology research package that gives investors and traders an additional edge when investing into tech companies. It's a trade publication, research service and an idea generator. It includes short-term trade ideas that yield 5%+, long-term small-cap investment ideas that yield 25%. This services comes at a low annual subscription cost of $20/month. The promotional price period will end soon! Subscribers get a free two-week trial upon checkout and can cancel at any point in time. For more information click here.
Disclosure: I/we have no positions in any stocks mentioned, and no plans to initiate any positions within the next 72 hours.
I wrote this article myself, and it expresses my own opinions. I am not receiving compensation for it (other than from Seeking Alpha). I have no business relationship with any company whose stock is mentioned in this article.