Investment thesis
Momo (NASDAQ:MOMO) is one of the most popular social networking apps in China. It has evolved from a dating app to a major player in live-streaming, a very lucrative business in China. Revenues have jumped more than 300% in 2016, and I believe they still have a lot of room to increase further. Shares are cheap based on forward multiples, and the barriers to enter the industry are increasing, which benefits larger players like Momo.
Business description
Momo Inc. is a Chinese mobile application which enables users to establish and expand social relationships based on location and interests. It was started in 2011 by Yan Tang, former executive at NetEase (NASDAQ:NTES). By 2012, it had 22 million registered users, and as of December 2016, monthly active users (MAU) on the platform reached a record 81.1 million (a 16% increase compared to previous year). The company started generating revenues in July 2013, and is currently profitable. As of December 2015, 25.9% of shares were held by CEO and co-founder Yan Tang and 20% by Alibaba (NYSE:BABA). Mr. Tang retains 77% of the voting power, so he essentially maintains control of the company. The stock is up over 140% since the company's IPO, easily outperforming the S&P 500 index.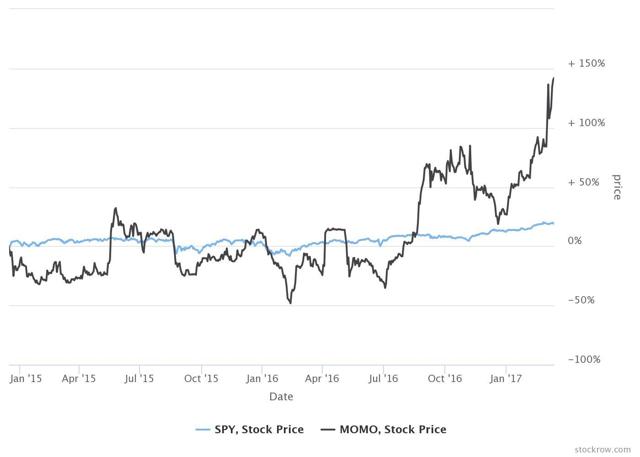 (Source: Stockrow)
In the beginning, Momo was a dating app similar to Tinder, where users could see people nearby based on proximity and chat or connect with them. Over time, the company added more features, like groups, member forums or topics. In 2015, it launched live video streaming, which today generates the bulk of the company's revenues. Its instant messaging platform is similar to WhatsApp (NASDAQ:FB) - users can chat, share voice messages, videos, create groups and much more. Third-party applications such as WeChat (OTCPK:TCEHY) and Alipay red envelopes are embedded into the system to allow more interaction between users. The app spread fast across China, also thanks to an increase in urbanization. Many Chinese move from their villages to cities, where they are alone and don't know anyone. Existing social networks at that time, like WeChat or Renren, revolved around your existing contacts. Momo filled a gap in the market and gave people an easy way to hook up with strangers.
Currently, the company has 4 main segments:
Live video service (68%) - Users broadcast live music, travel reviews, video games, putting on make-up or just eating pizza. Others can send direct messages to the broadcaster or display them publicly on the screen. Similar to YouTube (GOOG, GOOGL), Twitter (NYSE:TWTR), Periscope or Facebook Live, some can build a huge following of users and attract hundreds of thousands of views. These are valuable to advertisers and e-commerce companies, as the "influencers" can push their products. Each user can send virtual gifts to their popular icon, and Momo takes a cut out of this transaction.
Value-added service (12.2%) - Includes membership subscription revenues and virtual gift revenues (this is the dating segment), the latter of which were launched in the fourth quarter of 2016. Users can subscribe to a basic or premium package ($2-5 per month), which gives them access to additional features. This segment grew 15.6% in 2016. The company plans to shift its focus from dating to live video, and management stated on the last call that the membership fees might be reduced or phased out to provide more value to users for free.
Mobile marketing (12%) - Allows companies to purchase advertising space in the app. For example, Momo has partnerships with Alibaba and displays ads from merchants in its application. Mobile marketing grew 70.6% in 2016
Mobile games (6.4%) - Recorded 14% YoY growth in 2016, mainly thanks to self-developed games. The company also sells games from third-party developers and shares revenue with them.
It is quite clear that Momo is no longer just a dating app and has expanded rapidly to other areas. Live video streaming has exploded in popularity in China, much like in the rest of the world. Facebook, Twitter and YouTube are all banned there, so users turn to platforms like Momo, WeChat, Youku Tudou (NYSE:YOKU) or Weibo (NASDAQ:WB) to stream and watch videos. The number of live-streaming users in China reached 325 million at the end of June 2016, around half of the country's internet population. The entire live-streaming market doubled in 2016 to $3 billion, and is expected to reach $5 billion this year. Live streamers earn money through virtual gifts or promotion of products. Most of them are women, while the majority of the audience is male.
Market potential
It's very likely that the industry will go through a period of consolidation in the next few years. The market is fragmented today, and despite Momo's millions of users, it is not the No.1 player. Each live streamer wants to produce videos for the largest audience, and as a result, the majority of the content will be published on sites with the highest number of daily users. The more videos that get posted on a site or app, the more viewers it attracts, which, in turn, brings in more people producing videos. The cycle continues and produces strong network effects that naturally lead to a situation where a few companies control the entire market. Momo is behind Weibo, Tencent and YY Inc. (NASDAQ:YY) in terms of users, but is growing rapidly. The number of videos viewed per day in Q4 on Momo has grown 8-fold compared to 2015. The company also introduced group video chat, which is now used by 10% of users and has caused a 20% increase in active groups compared to September 2016.
The explosion of content has caught the eye of Chinese regulators, who have introduced more stringent regulation at the end of last year. This basically means sites or users streaming nude and violent content or promoting "wrong life values" could be taken down. In addition, regulators have launched a massive inspection of streaming providers, with Momo being targeted as well. This is not very surprising, as the government in China is very strict regarding online content, and the company has already prepared for it by introducing filters and checking content that gets posted in the app.
There is one big benefit for Momo from the industry shakeup. Streaming companies will have to obtain specific licenses and store their content for 60 days for checkup, which significantly raises the barriers to entry for smaller players. Some will run out of funding or will be acquired by larger companies. As I mentioned earlier, most streamers will probably gravitate towards large, established sites and apps, which benefits the top players in the long run.
The company's mobile marketing segment has also significant potential, recording growth of 71% in 2016. Advertising spending on social networks has exploded in China, much like in other parts of the world.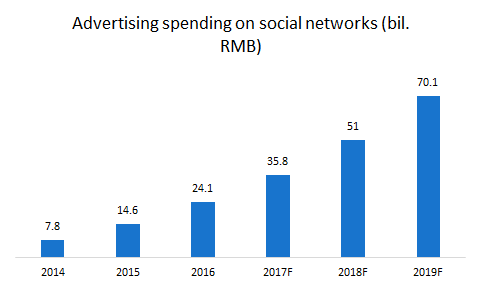 (Source: iResearch)
Competition
Momo's main competitor is YY Inc. YY was launched in 2005 as a game web portal, but later introduced the YY client, which enables live interactions between users. The company now generates 86% (around $1 billion) of revenues from live-streaming and grew 39% in 2016. This was actually the only segment of YY that recorded growth in Q4. It attracted 152 million MAU (monthly active users) in the fourth quarter, 96 million on desktop and 56 million on mobile. So Momo is ahead on mobile, but YY has a significant presence on desktop. Deutsche Bank has more faith in YY than MOMO, stating that YY produces higher-quality content which is more stickier and popular among users.
YY is clearly ahead of Momo in terms of operating history and number of users engaged in live-streaming. On the other hand, Momo is catching up very fast and has much higher gross margins (56% vs. 38%). It means the company pays out a smaller percentage of fees to content providers than YY and still was able to capture a significant chunk of the market.
In 2016, Momo focused mainly on converting existing users on its app to the live-streaming platform. As of December last year, approximately 23% of its daily active users were using live-streaming services. So, there is still significant potential to drive traffic from the main app to live video, plus the company is planning new marketing efforts to get new users from external sources. In December 2016, Momo had 540,000 broadcasters on its platform (70,000 represented by agencies), compared to 400,000 in September, so its revenue base is quite diversified. Those who generated an income of at least 30,000 RMB per month represented around 50% of that. Users represented by top 10 agencies contributed c. 16% of live-streaming revenues.
The live video market in China is still fragmented and growing very fast, and it's not yet clear who the ultimate winner will be. Momo has a large and growing user base on mobile, high margins and plenty of opportunities to increase engagement and improve monetization.
When YY went public, many short sellers and analysts questioned the viability of its business model. They thought virtual gifts are just a fad, and that users will quickly lose interest or switch to another platform. The same comments are echoing again as live-streaming becomes a significant industry in China. I don't think it's a fad, as a similar trend toward live broadcasting can be observed in the developed world as well. If your videos attract hundreds of thousands of views, you will also provide an interesting platform for advertisers. Live video is actually a key part of Alibaba's growth strategy, because it takes e-commerce to a different level with much higher conversion rates.
Financial results
The company has grown remarkably over the past few years. Revenues have reached $553 million in 2016, up 313% from the previous year. Momo generated around $210 million in free cash flow for 2016, half of it in the last quarter.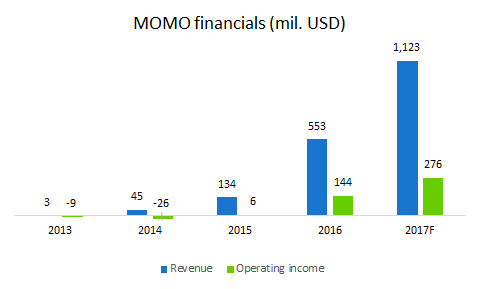 (Source: Company filings and Thomson Reuters)
For the first quarter of 2017, the company expects total net revenues to be between $238.0 million and $243.0 million, representing a year-over-year increase of 367-377%. This represents a sequential decrease of 1.3-3.3%. The expected decline in Q1 is normal, as most advertising dollars are spent in the last quarter of the year, as can be observed in companies like Facebook or Twitter.
Analysts expect that revenues will hit $1.1 billion in 2017, which looks quite reasonable given that $240 million is expected in the seasonally weak first quarter.
The number of MAUs has started to grow again, reaching a new record at the end of 2016. Live-streaming has increased interactions among users of the app and helped drive further acquisitions.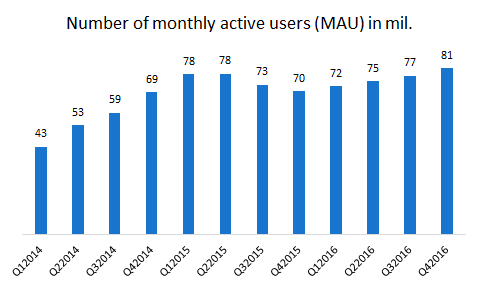 (Source: Company filings)
Valuation
The company has $651 million of cash and short-term deposits on its balance sheet and no long-term debt. With a market cap of $7 billion, the enterprise value is around $6.35 billion. As a result, MOMO stock trades at 11.5 times sales and 30 times free cash flow. If the company can achieve $1.1 billion in revenues this year, then using FCF margins from 2016, we are looking at almost $400 million in free cash flow for 2017. That's 16 times current enterprise value, which is not very expensive given its growth and potential.
Doing any long-term forecasts or revenue projections for Momo would be foolish. The industry is evolving rapidly, and not even the major players know in which direction it will go. I think the stock is cheap if it can reach $1.1 billion revenues this year. Based on growth in the last quarter, management projections for Q12017 and rising popularity of live-streaming in China, I believe the company can achieve that target.

*Tencent MAU numbers are for WeChat and Weixin only. Market cap and revenue for all companies is in USD billions. ARPU (average revenue per user) is just a rough calculation by dividing total revenue by MAU.
Looking at the company's peers, Momo is cheaper than Facebook, Tencent or Weibo based on P/S ratio, but significantly more expensive than YY. It has higher margins and growth than its closest competitor, but some part of its future potential is already reflected in the price. It's growing much faster than peers, but that's also because it increased from a very low base. YY looks ridiculously cheap and might be actually worth a closer look.
Investment risks
Momo is still a very young company, and its business model is constantly evolving. The company has to spend significant amounts on R&D to bring new features to users each year. Failure to capture technological developments or user expectations would have an adverse effect on its revenues.
Live-streaming remains a very competitive business in China. Many startups and apps have been created in recent years to take advantage of the surge in popularity. In addition, established players like Tencent or Alibaba have already launched similar services. Momo maintains a partnership with Alibaba, but there are no guarantees it will continue in the future.
Online content is heavily regulated in China. While the company has taken precautions and is prepared for government inspections, there might still be additional costs or negative effects on its business from current or future regulation.
Summary
Momo is a fast-growing business with an expanding user base, strong cash flows and experienced management. I think there is a high probability that the company will pass the $1 billion mark in revenues this year and generate significant cash flows along the way, and is trading at multiples that are low relative to their potential.
Warren Buffett once said that economic terrain that is forever shifting violently is ground on which it is difficult to build a fortress-like business franchise. I agree with that, but there are some exceptional people who have built dominant businesses in the technology field. Whether we look at Google, Facebook, Amazon (NASDAQ:AMZN) or Tencent, there are some tech companies with significant competitive advantages that have lasted and probably will last for years. In my opinion, Momo does not possess a significant moat at this point. But if the current trend continues, and I think it will, the company is on its way to create a very durable and defensible business. I have 5% of my portfolio in MOMO, and plan to increase it if the company executes its strategy well.
Disclosure: I am/we are long MOMO, NTES.
I wrote this article myself, and it expresses my own opinions. I am not receiving compensation for it (other than from Seeking Alpha). I have no business relationship with any company whose stock is mentioned in this article.