Bank Of America (NYSE:BAC) recently disclosed the 2016 pay package for Brian Moynihan, CEO, and this was a hot topic here on Seeking Alpha (see here for my thoughts) because many commentators do not believe that Mr. Moynihan deserves a $20m pay package (25% increase from 2015). I, however, believe that it is hard to say that Mr. Moynihan does not deserve a raise when shareholders reaped the benefits of a rising stock price and increasing earnings, which were both a direct result of the significant changes that Mr. Moynihan and his team implemented over the last few years.
More recently, the bank's stock price has been on a downward trend since the Federal Reserve lifted the Fed Funds rate by 25bps but, in my opinion, Mr. Moynihan and his team has BAC well-positioned for the future so I would recommend for investors with a long-term perspective to buy shares of the "New" BAC on any pullbacks.
A Look At 2016, A Great Year For BAC
The biggest takeaway from BAC's recently released 2016 Annual Report is the fact that the bank is now in a position to create a lot of shareholder value in the years ahead. The quote below pretty much sums up what investors should expect from BAC in 2017 and beyond.
"Our strategy of responsible growth delivered in 2016, as we earned nearly $18 billion, up 13 percent from a year ago. To put this into perspective, this was the second-most profitable year in our company's history, exceeded only by the $21 billion we earned in 2006, prior to the economic and financial crisis"

--Brian Moynihan, 2016 Annual Report
The bank not only increased earnings by 13% YoY but BAC also reported its second-most profitable year in the company's history. Think about that for a minute, the second-most profitable year in this bank's storied history and this was during a period of time that was widely viewed as a challenging operating environment for financial institutions.
BAC has steadily increased its earnings by focusing on reducing unnecessary costs and this has been vital because the bank's top-line has stayed around the mid-$80b range for the last five years, as a direct result of management selling non-core assets and the bank feeling the pressure from the low interest rate environment.
| | | | | | |
| --- | --- | --- | --- | --- | --- |
| ($ - in millions) | 2016 | 2015 | 2014 | 2013 | 2012 |
| Total revenue, net of interest expense | $83,701 | $82,965 | $85,894 | $87,502 | $82,798 |
| % chg | 1% | -3% | -2% | 6% | |
| | | | | | |
| Noninterest expenses | $54,951 | $57,734 | $75,656 | $69,213 | $72,094 |
| % chg | -5% | -24% | 9% | -4% | |
| | | | | | |
| Net income | $17,906 | $15,836 | $5,520 | $10,539 | $3,855 |
| % chg | 13% | 187% | -48% | 173% | |
(Source: Data from the 2016 Annual Report, page 25; table created by W.G. Investment Research)
As shown, BAC's revenue has basically been flat since 2012 but the bank's noninterest expense is down by over $15b, or 30%, over the same period of time. Additionally, the bank's net income is trending in the right direction. Impressed yet? If not, take a look at the bank's Financial Highlights for the last three years.
The bank's operating results have improved almost across the board from 2014 to 2016 (the lackluster revenue growth is nothing to brag about) but, in my opinion, the tickmarked items are what caused the stock price to finally hit the $20 mark.
The "New" BAC, Looking Ahead
The past results are encouraging but this is already fully baked into the stock price, right? No, I do not think so (more on this below) and I actually see significant upside in BAC shares through 2018. I believe that many people in the financial community are missing one of the most important points --declining expenses and increasing earnings is the new normal for BAC. As such, the bank's future earnings potential is so much greater now than it was pre-crisis --remember, Merrill Lynch was not in the fold back then.
Over the next 12-18 months, BAC will be an expense management and capital return story and that is just fine with me because that is enough to create a lot of shareholder value. The bank's noninterest expenses are already down to $54.9b (from $72.1b in 2012) but there is still room for improvement because BAC currently has an above-average efficiency ratio. Plus, management's goal is to reduce expenses to $53b by 2018, which may not seem like much based on the 2016 results but it is another almost $2b dropping straight to the bottom-line.
If all else stays equal, i.e. no benefits from rate hikes (not very likely), BAC will report net income in the range of $20b by 2018, which would be a double-digit increase from 2016. This is the reason why I believe that a rising rate environment in 2017 would be great but that it is not the only reason to own BAC shares. Increasing earnings will allow for BAC to return more capital to shareholders, which will help propel the stock price higher.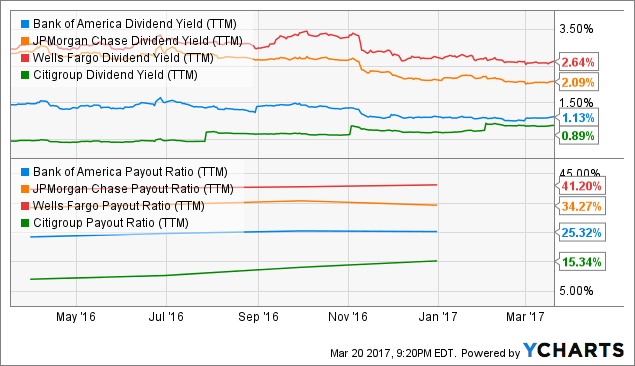 BAC Dividend Yield (NYSE:TTM) data by YCharts
BAC raised its quarterly dividend by 50% (from $0.05 to $0.075) in 2016 but investors should expect for the dividend to tick higher in 2017 and 2018, because the bank currently has a below-average payout ratio, i.e. there is wiggle room. I expect for the bank to raise its quarterly dividend by 33% (from $0.075 to $0.10) in 2017 - if regulatory approval is received - and to continue to buy back shares hand-over-fist (the bank bought $5.1b worth of shares in 2016). Therefore, investors will be paid to wait for the bank to begin to reap the benefits of a rising rate environment.
Valuation
Out of its peer group, only Citigroup (NYSE:C) is trading at a more-attractive valuation than BAC.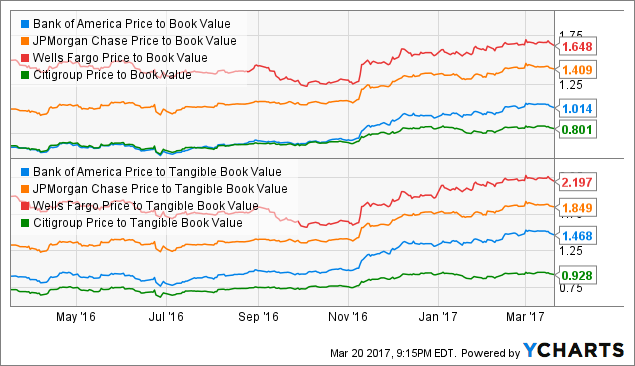 BAC Price to Book Value data by YCharts
So, investors are still able to scoop up BAC shares at an attractive valuation, even after the recent run-up.
Bottom Line
As I described in this article, now is not the time to sell your BAC shares. The stock is up big since Mr. Donald Trump was elected, but let's not forget that BAC shares were trading at a deep discount for many years so the bank had some catching up to do.
BAC reported impressive results in 2016 but I view the last four quarters as a breakout year for the bank. The legal fines and settlements related to the Financial Crisis are finally a thing of the past and management has been able to right-size the bank's expense base, so the focus will now be returning capital to shareholders. If anyone thought that BAC was not worried about raising its dividend, they likely have a different view after reading the 2016 Annual Report because Mr. Moynihan stressed the importance of future capital returns for this bank. The "new" BAC is a long-term buy at today's price.
If you found this article to be informative and would like to hear more about this company, or any other company that I analyze, please consider hitting the "Follow" button above.
Disclaimer: This article is not a recommendation to buy or sell any stock mentioned. These are only my personal opinions. Every investor must do his/her own due diligence before making any investment decision.
Disclosure: I am/we are long BAC, C.
I wrote this article myself, and it expresses my own opinions. I am not receiving compensation for it (other than from Seeking Alpha). I have no business relationship with any company whose stock is mentioned in this article.