In my last update, I mainly updated a silver and gold company, this time I want to do two silver companies. One has way outperformed the market, while the other has underperformed the market. The first company I am going to talk about is Silvercorp (SVMLF).
For all of those who bought Silvercorp around the time I wrote the article, congratulations. Not patting myself on the back, I am congratulating you, not me. Silvercorp has been one of the great performers as it was one of the top primary silver mining stocks in 2016.
Highlights included (other than a rising price) a 15, 21 and 22 percent increase in 2P reserves of silver, lead and zinc metals, as well as a reinstatement of its dividend. Now I know it's a small dividend of $0.01 Canadian cent per share, but I believe this dividend will increase as the bull market in silver continues.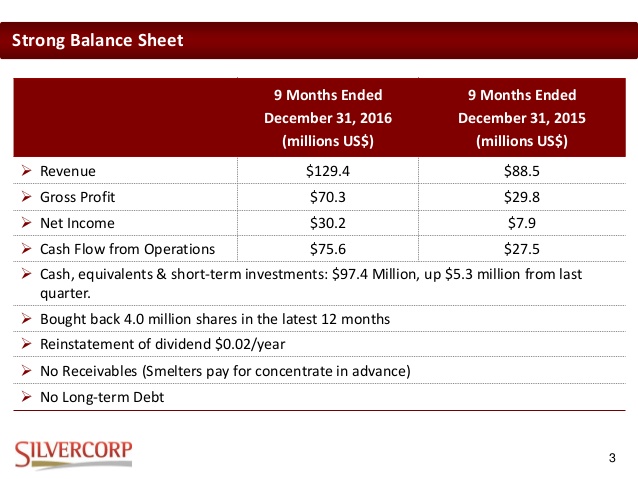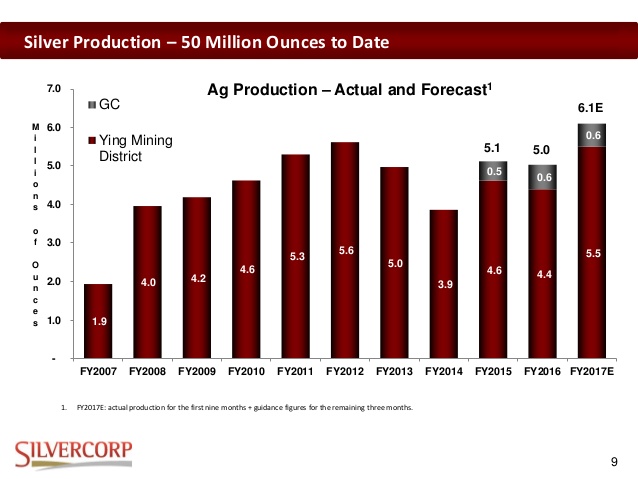 In terms of valuation, its EV/EBITDA ratio is trading at 9, which I think is reasonable. Its price to book is trading at 3.23. In terms of valuation I wouldn't say it's cheap, but due to growth I would say it is trading at a reasonable one. I am personally holding the stock because my cost basis in this stock is low.
Santacruz (OTCPK:SZSMF)
This company has made a 180-turn from the bear market, but the stock hasn't performed that well since I have written about it, to put it mildly. I do believe that a big turnaround is in process and I am still holding this stock. The enterprise value/EBITDA ratio is trading at 29.19 and that's all you need to know about its valuation metrics. I am not buying this because of valuation, but because it's an upstart company and upstart companies generally don't get undervalued. Surprisingly, its forward P/E is 13.5 which is a low valuation, but I don't take P/E ratios seriously when it comes to resource stocks, if anything that's not a good sign.
This was a company that went from the verge of bankruptcy to generating free cash flow in quarter one and two. It has also made valiant efforts to clean up its balance sheet. Recently, it sold non-core assets of San Felipe and transferred its El Gachi property to First Majestic. This has reduced its JMET note to approximately $0.75 million, greatly improving the company's balance sheet while allowing it to concentrate on two of its core properties.
I personally think this company will get bought out in the next phase of the bull market or during this upcoming bull market.
In conclusion, I personally think Santacruz is still a good speculative play as it went from near bankruptcy to generating free cash flow, and in bull markets those are generally the best performers. Silvercorp has turned the corner and isn't looking back; strong financials, growth, a dividend, share repurchases, there isn't much more you can ask for from that stock.
If you want to get more updates don't forget to follow me on Seeking Alpha as I will be writing more articles, which will include another stock pick that I am really excited about.
Disclosure: I am/we are long SVMLF, SZSMF.
I wrote this article myself, and it expresses my own opinions. I am not receiving compensation for it (other than from Seeking Alpha). I have no business relationship with any company whose stock is mentioned in this article.
Editor's Note: This article covers one or more stocks trading at less than $1 per share and/or with less than a $100 million market cap. Please be aware of the risks associated with these stocks.