Increasing Levels of Muni Bonds Held by Foreign Investors
Foreign holdings of debt issued by U.S. states and local governments rose 16% in the last quarter of 2016, reaching a record level of $106.4 billion.1 While foreign ownership represents just a small fraction of the $3.8 trillion U.S. municipal bond market,2 it is a growing segment that has risen steadily since 2000. In the past two years alone, foreign ownership of muni bonds has increased 32%, from $80.6 billion at the end of 20143 to its present $106.4 billion.
Although the tax-free coupon is a key advantage of investing in municipal bonds, it is only available to U.S. investors. Foreign buyers have not been deterred and continue to pour into the American muni bond market in search of higher yields from perceived low risk infrastructure investments. The attractive yields of U.S. municipal bonds are proving to be attractive to yield-starved foreign investors who struggle to find comparable yields at home.
Rising Foreign Ownership of Municipal Bonds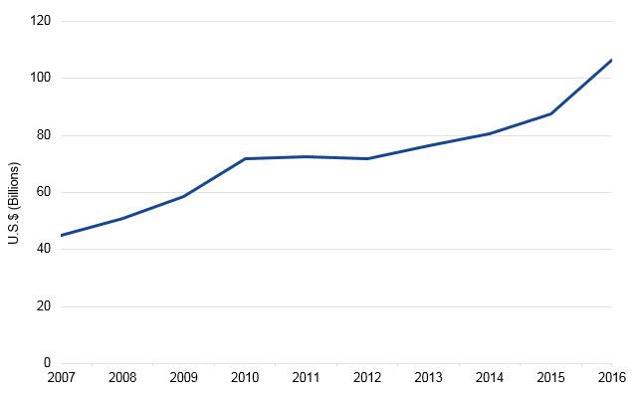 Source: Federal Reserve Board. Data as of 12/31/2016.
Build America Bonds Pave the Way…
Build America Bonds (BABs), which were introduced in 2009 under the American Recovery and Reinvestment Act, may have helped set the stage for this ballooning foreign interest in muni bonds.4 The BABs program sought to spur financing for "shovel-ready" municipal projects by reducing the cost of borrowing for state and local governments through federal issuer subsidies and refundable tax credits to bondholders. Unlike traditional muni bonds, BABs featured taxable interest, which helped bring a much broader base of investors into the fold, most notably foreign investors who may have been interested in investing in high-quality infrastructure projects before, but had previously seen little advantage in holding tax-exempt muni bonds.
…and Yields Beckon
Although BABs are no longer issued (the program expired in December 20105), they clearly served to whet foreign investors' appetites for munis. In a world where governments throughout Europe and Asia are holding interest rates very low and some government debt actually offering negative yields, the $3.8 trillion U.S. muni bond market, tax-free or not, is arguably attractive.
Default Rates not a Significant Worry
Muni bonds are also attractive to foreign investors for another reason: they are perceived as safe havens, being thought similar to U.S. Treasuries, with near-zero default rates. We believe the safe haven reputation is well deserved. Although, unlike U.S. Treasuries, muni bonds are not guaranteed by the full faith and credit of the U.S. government, according to Moody's Investors Service, the 1970-2015 average cumulative 10-year default rate for all rated muni bonds was a tiny 0.15%. In comparison, all rated global corporate bonds averaged a 10.16% 10-year default rate over the same period. What's more, muni bond yields can sometimes be higher than U.S. Treasuries and Corporates.
A Perfect Storm for Foreign Investors
Higher yields, very low historical default rates and the asset class's diversification benefits (-0.10% correlation to U.S. stocks6) have all combined to create a nearly "perfect storm" of foreign interest in munis, the effects of which are being felt within the municipal bond market. Demand for munis has generally outstripped supply for some time now. This demand for muni bonds could potentially encourage more issuers to enter the market, both issuers of tax-exempt and taxable bonds.
Muni Bond ETFs Can Offer Easy Access
Municipal bond ETFs can be an excellent way for investors, domestic and foreign alike, to access munis. Rather than being forced to shop around and evaluate individual muni bonds on their merits, investors can opt for municipal bond ETFs, which track rules-based indices of muni bonds. By holding baskets of muni bonds, these ETFs can offer important diversification benefits as well - the risk is distributed amongst the ETF's holdings and the already low risk of default or impairment may be further mitigated. Muni bond ETFs have also been much more liquid than the underlying bonds and can be bought and sold throughout the day like stocks.
Foreign interest in muni bonds is readily apparent within our own ETFs. Of the $1.8 billion invested in the VanEck Vectors High-Yield Municipal Index ETF (NYSEARCA:HYD) as of January 31, 2017, 6.5% of the fund's assets come from abroad: $117 million. Of that $117 million, nearly $100 million is from Taiwan, where yields on 10-year government bonds have been hovering around 1.1%, albeit with an Aa3 rating, as of November 2016, according to Moody's. HYD's 30-day SEC yield currently stands at 4.47% (as of 3/7/2017). In the VanEck Vectors AMT-Free Intermediate Municipal Index ETF (NYSEARCA:ITM), the proportion of foreign money invested is significantly less: just 0.3% of $1.5 billion under management, or $3.9 million.7
Post Disclosure
1Federal Reserve. Data as of December 31, 2016
2Sifma. Data as at December 31, 2016
3Ibid.
4Governing: Build America Bonds Make a Mark.
5CNN: Another Blow to State Budgets: Build America Bonds End.
6Morningstar Direct, five-year period ending February 28, 2017.
7VanEck. Data as at January 31, 2017.
Correlation is a statistic that measures the degree to which two securities move in relation to each other.
The Moody's rating scale is as follows, from excellent (high grade) to poor (including default): Aaa to C, with intermediate ratings offered at each level between Aa and Caa. Anything lower than a Baa rating is considered a non-investment-grade or high-yield bond.
Important Muni Nation® Disclosure
This content is published in the United States for residents of specified countries. Investors are subject to securities and tax regulations within their applicable jurisdictions that are not addressed on this content. Nothing in this content should be considered a solicitation to buy or an offer to sell shares of any investment in any jurisdiction where the offer or solicitation would be unlawful under the securities laws of such jurisdiction, nor is it intended as investment, tax, financial, or legal advice. Investors should seek such professional advice for their particular situation and jurisdiction.
VanEck does not provide tax, legal or accounting advice. Investors should discuss their individual circumstances with appropriate professionals before making any decisions. This information should not be construed as sales or marketing material or an offer or solicitation for the purchase or sale of any financial instrument, product or service.
Please note this post represents the views of the author and these views may change at any time and from time to time. MUNI NATION is not intended to be a forecast of future events, a guarantee of future results or investment advice. Current market conditions may not continue. Non-VanEck proprietary information contained herein has been obtained from sources believed to be reliable, but not guaranteed. No part of this material may be reproduced in any form, or referred to in any other publication, without express written permission of VanEck. MUNI NATION is a trademark of Van Eck Associates Corporation.
All indices listed are unmanaged indices and do not reflect the payment of transaction costs, advisory fees or expenses that are associated with an investment in a fund. An index's performance is not illustrative of a fund's performance. Indices are not securities in which investments can be made.
Municipal bonds are subject to risks related to litigation, legislation, political change, conditions in underlying sectors or in local business communities and economies, bankruptcy or other changes in the issuer's financial condition, and/or the discontinuance of taxes supporting the project or assets or the inability to collect revenues for the project or from the assets. Additional risks include credit, interest rate, call, reinvestment, tax, market and lease obligation risk. High-yield municipal bonds are subject to greater risk of loss of income and principal than higher-rated securities, and are likely to be more sensitive to adverse economic changes or individual municipal developments than those of higher-rated securities. Municipal bonds may be less liquid than taxable bonds.
The income generated from some types of municipal bonds may be subject to state and local taxes as well as to federal taxes on capital gains and may also be subject to alternative minimum tax.
Diversification does not assure a profit or protect against loss.
Investing involves substantial risk and high volatility, including possible loss of principal. An investor should consider the investment objective, risks, charges and expenses of a fund carefully before investing. To obtain a prospectus and summary prospectus, which contain this and other information, call 800.826.2333 or visit vaneck.com. Please read the prospectus and summary prospectus carefully before investing.