Image: Ho-Yeol Ryu/Fastcompany
The airline industry
Passenger air transportation is a quintessential cyclical industry operating in an intensely competitive market. This is evident when the evolving competitive dynamics of the industry is examined within the framework of the Five Forces Analysis (Michael Porter; Fig. 1).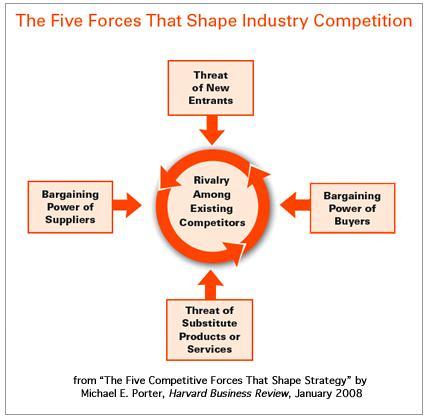 Fig. 1. Five forces analysis. Source: Porter, HBR.
Firstly, the industry nature of capital intensity may at first glance lead people to think of prohibitive barriers to entry, but the occasional inroads made by new entrants indicate that the barriers are penetrable. Regulations by government bodies such as the Federal Aviation Administration [FAA] and the Department of Transportation [DOT] help erect some barrier to entry, the height of which nonetheless varies from an administration to another. The services provided by the industry are commodity-like, with zero proprietary rights. Brand name and frequent flier programs are not effective enough to create meaningful switching costs. "This industry attracts more capital than it deserves," as observed by Stelios Haji-Ioannou, founder of EasyJet (OTC:EJTTF) (OTCQX:ESYJY).
Secondly, the airplane manufacturers form the duopoly between Boeing (NYSE:BA) and Airbus (OTCPK:EADSF) (OTCPK:EADSY). Being in the service sector, the airline industry is labor intensive, however the unions representing pilots, flight attendants, baggage handlers, dispatchers, and enplanement customer service are strong. The price of aviation fuel subject to volatile gyrations in the oil market, which the airlines can do little about.
Thirdly, there is a tug of war between [a] the bargaining power of passengers, aided by online ticketing, presence of low-cost or even ultra-low-cost carriers [LCCs and ULCCs] and customer-protecting regulations, and [b] the pricing power of airlines on the back of industry consolidation and route domination.
Fourthly, the U.S. airline industry is not at threat from substitutive means of transportation, except for the ULCCs, which compete in part against ground transportation including automobile driving, railroad and bus. As for complementarities, the frills such as free Wi-Fi, a la carte meals, and passenger amenities mean little to most passengers when offered lower fares.
Lastly, the rivalry among existing players evolves along with the industry cycle. It can be very intense when numerous competitors vie for the same passengers with ever lower airfare and especially when times get tough in the economy, or can be mild after industry consolidation has eliminated extra capacities.
Airline profit levels are sensitive to adverse changes in fuel costs, average fare levels, and passenger demand, which have historically been influenced by, among other things, the general state of the economy, international events, overall industry capacity and pricing actions taken by other airlines. The principal competitive factors in the airline industry are fare pricing, customer service, routes served, flight schedules, types of aircraft, safety record and reputation, code-sharing relationships and frequent flyer programs.
The history of passenger air transportation industry centers around the fight between two competing interests, i.e., the airlines which want to make money and passengers who want cheap, ubiquitous air transport. Policy makers attempt to balance these opposing forces with regulations. According to the hedge fund manager David Einhorn, in the anticompetitive phase of the cycle, regulators allow airlines to make ample money by monopolizing routes, taking cities as hubs, and industry consolidation. This usually results in revolting passengers and surly politicians who call for more service for cheaper ticket prices, which inevitably makes it hard for the industry to remain profitable and eventually leads to losses and even bankruptcies. This is the juncture when policy makers reappear as the rescuers of the industry. They work energetically to create a less hostile environment in which extra capacity is absorbed and competition is eliminated through merger and acquisition. In such an environment, profit opportunities abound, so returns another cycle. The airline industry is particularly prone to overcapacity due to some inherent bugs; during the expansive phase of the cycle, those airlines that add more airplanes and routes quicker tend to hold an edge over the rest of cohorts, which naturally results in a race and, before anyone realizes, the industry is in another bout of troubles.
Warren Buffett was vocal in cautioning fellow investors about such a vicious industry cycle. The airline industry, according to him, has "very low incremental cost per seat with enormous fixed costs. The temptation to sell that last seat at a very low price is very high and sometimes it's very hard to distinguish between that seat and the last seat. It's labor-intensive and capital intensive and largely commodity type business." In a 2002 interview with the British newspaper The Telegraph, he said in his usual style, "If a capitalist had been present at Kitty Hawk back in the early 1900s, he should have shot Orville Wright. He would have saved his progeny money. But seriously, the airline business has been extraordinary. It has eaten up capital over the past century like almost no other business because people seem to keep coming back to it and putting fresh money in." The entire industry suffered combined losses of over $52 billion between 1977 to 2009, and it has never enjoyed a stretch of profitability that lasted longer than 6 years. He thought that the airlines were the worst sort of business "that grows rapidly, requires significant capital to engender the growth, and then earns little or no money." For this industry, "A durable competitive advantage has proven elusive ever since the days of the Wright Brothers," he wrote in his February 2008 shareholder letter.
The tough job of managing an airline business
It is not an easy job to manage an airline. The unions in the industry are notoriously strong on the negotiation table. Boeing and Airbus, the duopolistic suppliers, keep aircraft prices high. The revenue cycle and cost cycle tend to be out of sync, while fuel price volatility is subject to numerous economic and geopolitical factors, which can neither be predicted nor be controlled. Typically, airlines are managing demand to capacity, instead of capacity to demand; such a "capacity lead" model is destined to result in commoditization, thus sowing the seeds for another cycle of boom and bust.
It is no wonder that C.E. Woolman, founder of Delta Air Lines (NYSE:DAL), once said "Running an airline is like having a baby: fun to conceive, but hell to deliver." Robert L. Crandall of American Airlines (NASDAQ:AAL) was more blunt, when he quipped "This is a nasty, rotten business." Is it possible to pursue durable growth in such a doleful industry?
Performance metrics of airlines
The economics of a specific airline is determined by its route structures, fleet composition, access to airports, cost structures with regard to aircraft leasing, labor and fuel, and a plethora of external factors including the economy, weather and so on. The number one and two cost items are, respectively, labor and aviation fuel.
The main revenue source is derived from ticket sales to business and leisure passengers, which tend to be influenced to varying extents by macro economy and consumer confidence. On top of ticket sales, airlines earn minor revenue from transporting cargo, selling frequent flier miles to other companies and up-selling in flight services.
The operating performance of an airline is typically measured using the following metrics:
Available Seat Mile [ASM] = [total number of seats available] X [number of miles flown], a measure of an airline's carrying capacity available to generate revenue.
Revenue Passenger Mile [RPM] = [number of revenue-paying passengers] X [number of mile flown], a measure of traffic.
Revenue Per RPM [Yield] = [Revenue] / RPM, average fare paid by passengers per mile flown.
Revenue Per Available Seat Mile [RASM] = [Revenue] / ASM, used as a standard unit by most airline companies for measurement of profitability. Generally, the higher the RASM, the more profitable the airline in question.
Cost Per Available Seat Mile [CASM] = [operating expenses] / [number of seats available], which is supposed to be a more comprehensive measurement of airline costs but some carriers exclude fuel costs from operating expenses.
Load Factor [LF]: A dimensionless ratio of RPM to ASM. It measures the percentage of available seating capacity that is filled with passengers.
Air Traffic Liability [ATL]: An estimate of the amount of money already received for passenger ticket sales and cargo transportation that is yet to be provided. It is supposed to be excluded from quoted revenue figures.
Block Hour, also known as Aircraft Hour. It is the time from the moment the aircraft pushes back from the departure gate until the moment the aircraft arrives at the arrival gate following its landing. It equals to the flight time plus the taxi time.
Average Stage Length, the length of the average flight of a particular airline. As stage length increases, costs tend to go down. Increases in the stage length of an airline tend to bode well for the cost side, all other things being equal.
Average Fare is based on the total ticket value, which consists of the price charged by the airlines plus any additional taxes and fees levied by an outside entity at the time of purchase.
Ancillary Revenue is the sales generated from non-ticket sources, such as baggage fees and on-board food and services, and has become an important financial component for low-cost carriers.
Unbundling involves taking what is generally seen as a flight package, splitting it up into component items, and charging for each separately.
Operating profit of airlines can thus be defined as follows:
[Revenue] - [Opex] = RPM x Yield - ASM x CASM, or
[Revenue] - [Opex] = [LF X Yield - CASM] X ASM
The equation clearly indicates that any isolated use of individual terms as indicators of airline success can be misleading. On the cost side, low CASM is of little value if revenues are weak. On the revenue side, too low a LF defeats a high yield, while a high LF can even be fabricated by sacrificing the yield through selling a large proportion of seats at low fares. The moral of this analysis is this: A successful airline should have two co-existing features, i.e., a high yield, as resultant from efficient asset utilization, in combination with a low unit cost.
The state of the industry
Since the airline deregulation in 1978, the profitability of the airline industry had been dismal. In 1990, there were 13 major carriers competing in the U.S. with minimal financial discipline and operational prudence. The weak carriers with marginal capacity competed to sell seats at money-losing fares. The insanity was followed by a wave of bankruptcies, which for ten years swept through the industry, sparing no companies except for Southwest (NYSE:LUV). Debt laden balance sheets, aging fleets and volatile energy prices forced the industry to fight for survival.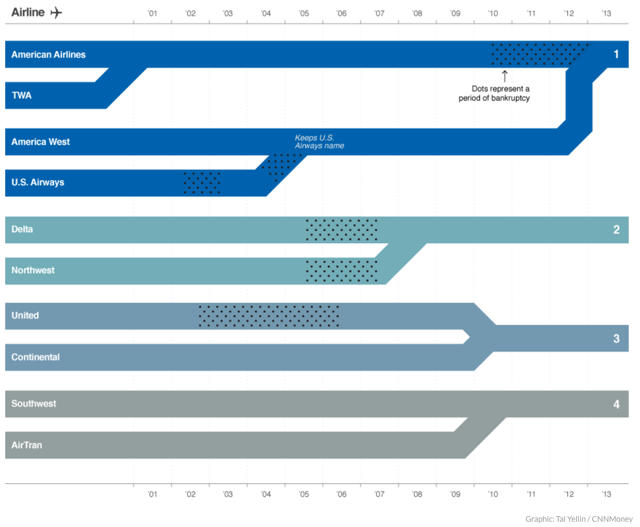 Fig. 2. A series of bankruptcies and mergers created four dominant mega-carriers. Source: CNN Money
Bankruptcy-triggered consolidation drove capacity discipline, which eventually led to profitability of the recent time. Since the 2008 global recession, domestic capacity has declined by 10% as competition mellowed. An oligopoly of four major airlines took shape by 2012 (CNN; Fig. 2), ushering in an anticompetitive phase of the industry cycle. In this new phase, airlines began to charge ancillary fees by unbundling service items, even as fuel costs retreated since late 2014. It has been helpful to have unprecedented tranquility in labor relations. As a result, the big four posted a record $21.7 billion combined profit in 2015, which has been reflected in their rising stock prices (Fig. 3). With the industry resuming growth (Fig. 4), the CEO of American Airlines commented with glee, "our industry has fundamentally changed in a profound and lasting way." For the first time, investors began to consider the airlines worthy of long term investment.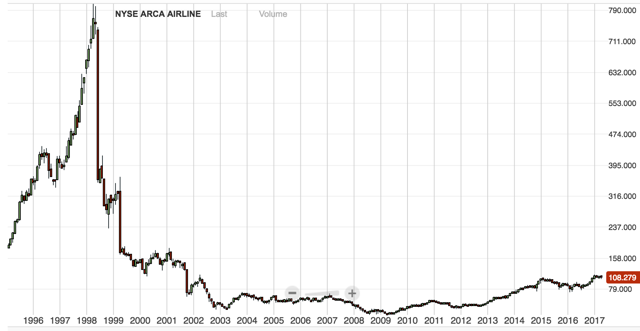 Fig. 3. Charts of XAL. Source: upper, Nasdaq; lower, Barchart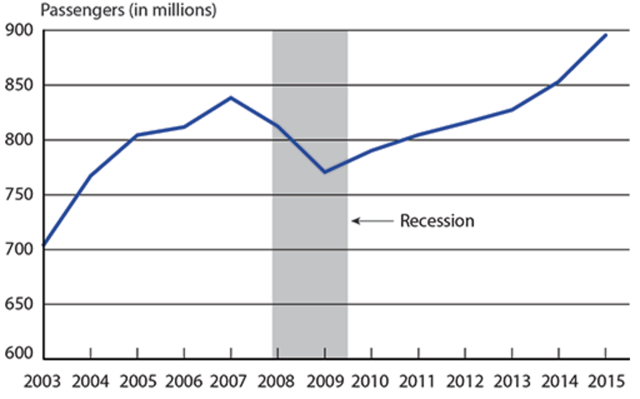 Fig. 4. Passengers on all scheduled U.S.-based flights, domestic and international, 2003-2015. Source: Bureau of Transportation Statistics, DOT.
It was reported on November 14, 2016 that Berkshire Hathaway had bought shares in American Airlines, Delta Air Lines, Southwest Airlines and United Continental (NYSE:UAL). This signifies a major change of tone for Buffett, who cited his belief that the airlines had learned to operate with more discipline and are no longer adding capacity than is justified by demand. According to a regulatory filing, Berkshire (NYSE:BRK.A) (NYSE:BRK.B) as of September 30, 2016 owned 21.8 million American shares worth $797 million, 6.3 million Delta shares worth $249.3 million, and 4.5 million United shares worth $237.8 million.
We believe that Buffett most likely made a cyclical play: buy when the industry has just begun to prosper and sell before its profitability atrophies. He has used this strategy on large-caps numerous times before, one example being his well-timed entry into and exit from PetroChina (NYSE: PTR), reaping billions of dollars of investment return in the end. We simply do not think that he likes United Continental in the same way as he adores BNSF Railway.
We would like to point out that the airline industry most likely will remain to be cyclical. There are certainly no indications that somehow it has entered a realm of perpetual secular growth. This time it is not different. Therefore, before we follow the master into the legacy airlines, we probably should ask ourselves: are there any alternative ways to invest in the airline space that promise multi-year compounding yet without the pitfall of cyclicity, are there any nimble small- to mid-cap companies in place of bureaucratic behemoths like American Airlines and United Continental?
Emergence of LCCs and ULCCs
Warren Buffett thought that he had gotten a good deal when he bought in 1989 into US Airways with seat-mile costs of $0.12, then Southwest Airlines (Fig. 5) came along with 8-cent costs.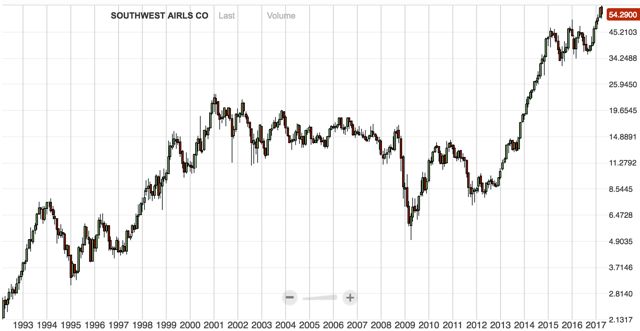 Fig. 5. Stock chart of Southwest Airlines. Source: nasdaq.com
Southwest Airlines was an industry disruptor 40 years ago. It operates point-to-point flights to less congested secondary airports with a uniform fleet of Boeing 737s, thus creating a cost advantage by maximizing flying time and employee productivity while keeping expenses at a minimum. The LCC innovation enabled Southwest to boast 45 consecutive years of profitable operation (Ulfberht Capital).
Following in Southwest's footsteps are the next generation of industry innovators including Allegiant Travel (NASDAQ: ALGT, since 2001), Spirit Airlines (NASDAQ: SAVE, since 2007) and Frontier Airlines (since 2012). These emerging carriers are considered ULCCs, a concept borrowed from Irish carrier Ryanair (NASDAQ:RYAAY) (OTCPK:RYAOF). As a matter of fact, the Ryan family of Ireland invested in Allegiant, VivaAerobus, and possibly Canada Jetlines (OTC:JETMD) in addition to Tigerair of Singapore. An ULCC offers bare fare with add-on services; this a la carte strategy is primarily built around lean operations, low fares, and a great number of ancillary add-ons appended to a bare fare. The ULCC inherited the point-to-point flights from Southwest's LCC model, without resorting to the hub-and-spoke model used by the legacy carriers.
Air travel demand can be divided into: [i] for business, which is insensitive to price changes, and [ii] for leisure, which responds elastically to price changes. Therefore, the ultra-low fares of the ULCCs are a lot more attractive to vacationers than business travelers, which is why some ULCCs opt for serving leisure demand of flying to destinations such as Florida or California.
JetBlue (NASDAQ: JBLU), Southwest, and Virgin America, which was bought by Alaska Airlines (NYSE: ALK) in October 2016, are primarily point-to-point flying LCCs, but they do not allow for the a la carte services; they offer bundled packages that come with seats and bags, but also offer extras, like trip insurance.
In most other countries, legacy carriers have responded by creating their own LCCs. For example, Lufthansa started Eurowings to compete with Ryanair and EasyJet. In the US, the legacy carriers began in 2008 to unbundle their services, charging passengers additional fees to check bags, change flights and buy food and entertainment. They are only beginning to try a new bare-fare class, e.g., the E class of Delta Air Lines, the Basic Economy class of United Continental Holdings which was copied by American Airlines. The difference between legacy airlines and LCCs is narrowing (The Economist), mostly as a result of competitive moves against the ULCCs.
Investment opportunities in the ULCCs
In summary, maintaining a sustainable cost advantage is critical for survival in the airline industry. Low cost relative to peers is the survival strategy, the operational handle, and the competitive weapon. According to Warren Buffett, "The big problem is not aggregate costs, but costs versus competitors. If your costs are out of line, you're going to get killed eventually." However, as we have learned above, low cost alone is not sufficient to ascertain the existence of a durable competitive advantage. To excel in this industry, an airline must also find a strategy to grow revenue and profit through efficient utilization of assets. Only when an airline succeeds in achieving both low costs and profitable growth will it create greater and greater value for shareholders in the long run.
The ULCCs are the newest wave of industry disruptor, as Southwest was 40 years ago. Although widely misunderstood by customers who are used to flying the legacy carriers and universally feared by the entrenched competitors, collectively the ULCCs are most likely here to stay, thanks to the resilience and profitability accorded by their ultra-low cost structures. Of course, some of them will stumble or may even fail, as always; but, just like Southwest Airlines of the yesteryear, which had in four decades compounded at an average rate of return of 16.8% per year, there will be a few that are able to continue to expand for many years and eventually deliver incredible returns for the investors who have the valor to get aboard now and the patience to hold on.
In view of this, we decide to conduct a survey on the ULCCs in North America. We will be focusing on seven carriers, among which four are currently publicly traded, i.e., Spirit Airlines, Allegiant Travel, Volaris (NYSE: VLRS) and Canada Jetlines, and three in various stage of the pre-IPO process (Table 1).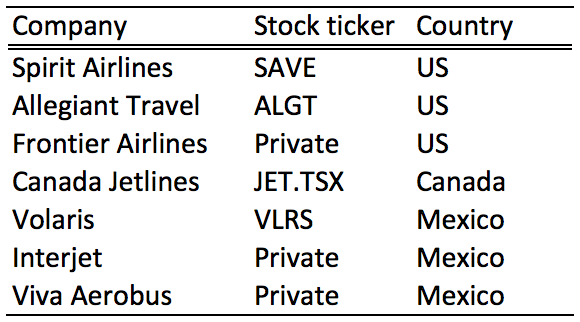 Table 1. North American ULCCs. Source: Author's compilation based on company releases
And, yes, the present article will serve as a general introduction, wherein we attempt a bird's eye view of the industry before we delve into detailed analysis of individual businesses in the succeeding articles of the series.
References
Besides news reports, company press releases, quarterly updates and annual reports, we also referenced books including the following:
Sven Gross and Michael Luck, 2013, The low cost carrier worldwide, Routledge, p. 262.
Gordon Mills, 2017, The airline revolution: Economic analysis of airline performance and public policy, Routledge, p. 367.
Charles Schlumberger and Nora Weisskopf, 2014, Ready to take off? The potential of low-cost carriers in developing countries, The World Bank Group, p. 228.
William E. O'Connor, 2001, An Introduction to Airline Economics, 6th Edition, Praeger, p. 253.
Disclosure: I am/we are long SAVE, VLRS, ALGT.
I wrote this article myself, and it expresses my own opinions. I am not receiving compensation for it (other than from Seeking Alpha). I have no business relationship with any company whose stock is mentioned in this article.
Editor's Note: This article covers one or more stocks trading at less than $1 per share and/or with less than a $100 million market cap. Please be aware of the risks associated with these stocks.