Best Buy Co. (NYSE:BBY) has performed very well of late, putting distance between itself and the other stocks in the GICS Computer & Electronics Retail subindustry over the last year. Other players in the subindustry include Conn's, Inc. (NASDAQ:CONN), GameStop Corp. (NYSE:GME), Rent-A-Center Inc. (NASDAQ:RCII), and HHGregg, Inc. (OTCPK:HGGGQ).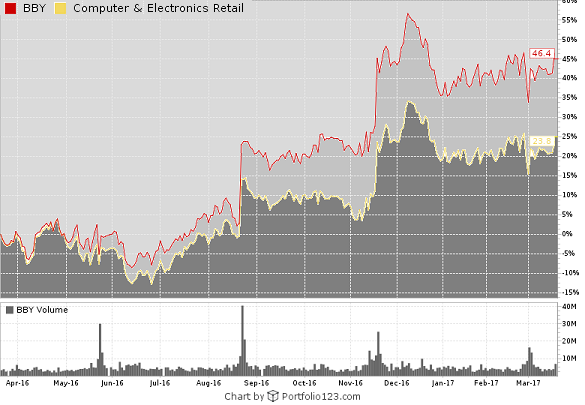 (Source:Portfolio123*)
* Portfolio123 is an affiliate link which give new signups a 30-day free trial instead of 15 days.
Best Buy recently announced a 21.4% dividend increase to $0.34/share and a $3 billion share repurchase program over two years. These actions should keep the stock price momentum going despite mixed results in Q4 2017 and disappointing forward guidance.
Best Buy's success has been a result of market share gains in home theater, appliances, computing, as well as revamping the Canadian business by closing Future Shop stores and turning a $4 million loss into $100 million operating income. The company's bottom-line success has been in spite of declining revenues as a result of:
softness in gaming segment, including both hardware and software
constrained product availability in computing, tablets, health

/wearables, drones, and mobile phones

$200 million of top line pressure related to the Samsung product recalls
Best Buy 2020
In the Q4 2017 earnings call, CEO Hubert Joly described the new company direction called 'Best Buy 2020', which is intended to be, among other things, more customer-centric:
… We want to play two roles for them [customers]. Be their trusted advisor and solution provider, and be their source for technology services for their home. Our customer value proposition is to be the leading technology expert, who makes it easy for them to learn about and confidently enjoy the best technology. We believe we can and should go beyond selling products to customers. We want to focus on their underlying needs which is entertainment, communications, security, energy management, and health….

… We plan to expand our In-Home Advisor program, or IHA to more markets. With our IHA program, customers receive a free in-home consultation with our experienced technology advisor, who can identify their needs, design personalized solutions, and become a personal resource over time.
In other words, the new business model is to get into peoples' homes where the technology consultant can sell the customer on a wide range of home entertainment, connectivity, and other home-related devices and services.
While the concept of selling more through IHA is interesting, I suspect that Best Buy may be doing themselves more harm than good with this initiative. My personal experience with Best Buy and IHA was that I entered the store with a good idea of what I wanted to buy. My questions were easily answered by in-store sales assistants. But instead of selling me what I wanted, they instead tried to invite themselves into my home instead. In my opinion, this wasn't servicing my needs, but their desire to sell. I'm not sure if I am alone on this issue, or whether others will also be turned off as I was.
Company Fundamentals
As I mentioned earlier, company revenues have been on a steady decline for several quarters, primarily due to store closures, soft gaming sales, and constrained product availability. EPS, on the other hand, has been steadily climbing. I wouldn't get too excited about continuation of this trend as some of the improvements in the bottom line are the result of a lower effective income tax rate and quarterly timing-related issues.
The company's forward guidance for 2018 Q1 has revenues continuing to decline and EPS from continuing operations in the range of $0.35 to $0.40. In the year-ago period, EPS was $0.44 so earnings are expected to be lower.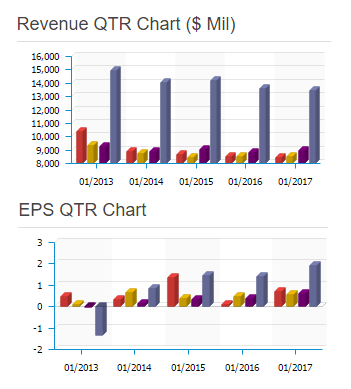 (Source:Portfolio123*)
The table below highlights how Best Buy compares to the GICS Specialty Retail industry. Best Buy compares favorably in just about every fundamental factor, except for book value and margins.
Note that the industry includes companies in areas of specialty retail other than Computer and Electronics Retail.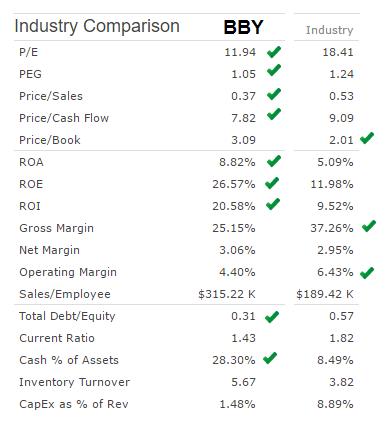 (Source:Portfolio123*)
Analyst Estimates
Sales and EPS have generally beaten analysts' estimates, with large positive EPS surprises. This likely means that the company provides conservative forward guidance. The message here is that investors should not fear large negative surprises come reporting time, and one could interpret 'poor 2018 forward guidance' as 'conservative 2018 forward guidance'.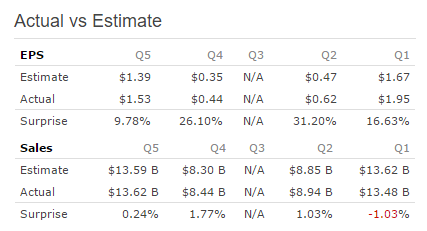 (Source:Portfolio123*)
The average recommendation for Best Buy is 2.6 on a scale of 1 to 5 with 1 being a 'Buy' and 5 being a 'Sell'. The average recommendation has been rising over the last three months, which is reflective of the soft gaming and mobile phone markets.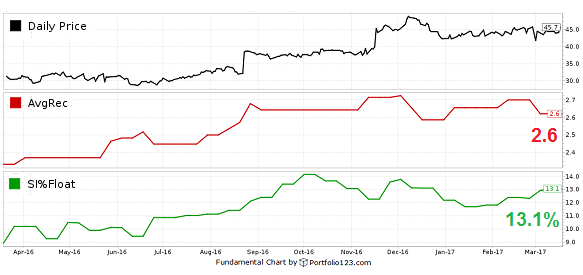 (Source:Portfolio123*)
The stock short interest is quite high at 13.1% of float. Short interest tends to be a good gauge of future price direction. However, a short squeeze could occur if the stock price spikes up for any reason.
Technicals
The stock price has been trading in a horizontal channel between approximately $42 and $46 since the start of January.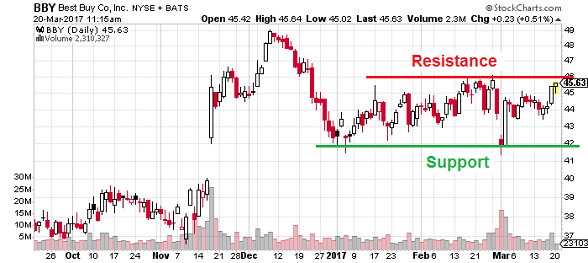 (Source: stockcharts.com)
On the weekly chart, a breakout occurred in November 2016 and the stock price has been consolidating ever since. This consolidation is possibly signaling a continuation pattern, meaning a new upward leg is coming.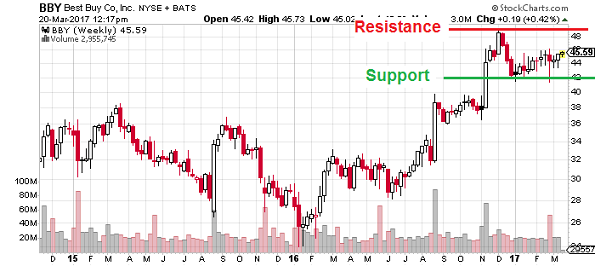 (Source: stockcharts.com)
Investing in Best Buy
At present, I am neutral-to-slightly-bullish on Best Buy based on the following:
Positives
Strong cash position
Historically, forward guidance has been conservative, leading to earnings surprises
Cash being returned to shareholders by way of dividends

/share buybacks

Potential stock chart continuation pattern
Negatives
I'm not thrilled with the In-Home Advisor program. I believe this may be a mistake
High level of short interest
Market is extremely competitive and flat/shrinking
I suggest remaining non-committal until a breakout from the horizontal channel occurs. If the stock price penetrates the resistance at ~$51 on strong volume, then jump on the bandwagon by buying shares, with a protective stop-loss at $41.
Aggressive traders may wish to assume that the current consolidation will be followed by a continuing of bullish price movement and buy now, capturing more profits if there is a price move higher.
I wouldn't recommend holding this stock for the long term, perhaps just one or two quarters, depending on stock price action and company news.
Trade Risks
The main risk is a false-breakout, which could occur in anticipation of the next quarterly report. The breakout would trigger a buy then the price would fall back and the protective stop-loss would be invoked. On a longer-term basis, the market segment that Best Buy operates in appears to be shrinking, and the main hope for Best Buy is continuously improving its market share.
Wrap-Up
Best Buy has performed very well over the last year, putting distance between itself and the other stocks in the GICS Computer & Electronics Retail subindustry. Best Buy recently announced a 21.4% dividend increase to $0.34/share and a $3 billion share repurchase program over two years. These actions should keep the stock price momentum going. Q4 results were mixed with a surprise in earnings but lower than expected revenues and poor 2018 forward guidance. After a run-up in price last year, BBY stock price is consolidating and may breakout from here. Conservative investors should wait for the breakout, aggressive investors could buy now. Trade risks include a false breakout and very competitive market segment that is flat/shrinking.
Disclosure: I/we have no positions in any stocks mentioned, and no plans to initiate any positions within the next 72 hours. I wrote this article myself, and it expresses my own opinions. I am not receiving compensation for it (other than from Seeking Alpha). I have no business relationship with any company whose stock is mentioned in this article.
Editor's Note: This article covers one or more microcap stocks. Please be aware of the risks associated with these stocks.