The further I travel in my investing journey, the greater significance I place on dividend safety.
The dividend payout ratio is a prominent research tool for my Portfolio of a Millenial. Here's a snapshot of my current holdings from a dividend perspective.
Note: that I color the payout percentage green or red depending on how secure I believe it to be. Yes, I am that sad!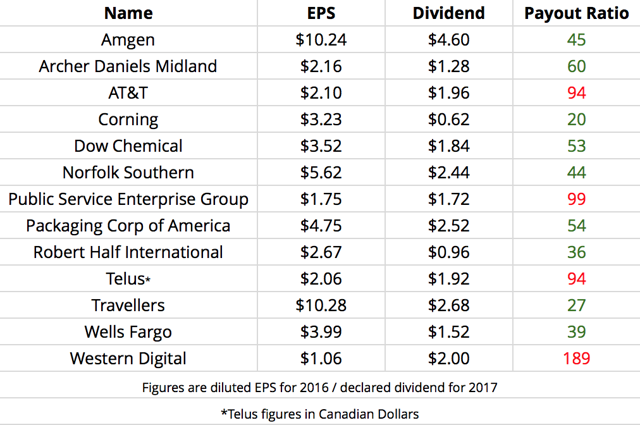 Source: High Plains Investor
Standard Dividend Payout Analysis
The respective cash flow and debt situations of the companies have not been taken into account for this graphic but we can gather some information from the bare figures.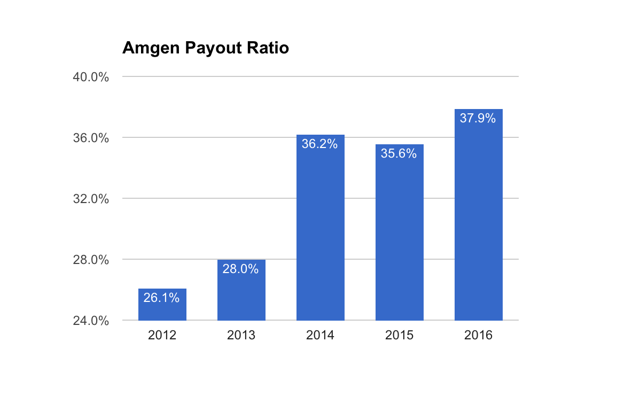 Source: High Plains Investor
In terms of safety, I'm very comfortable with the ability of Amgen (NASDAQ:AMGN), Corning (NYSE:GLW), Norfolk Southern (NYSE:NSC), Robert Half International (NYSE:RHI), Travelers (NYSE:TRV) and Wells Fargo (NYSE:WFC) to maintain - and hopefully grow - their dividends.
Each firm could theoretically reveal a shocking 2017, where earnings are halved, and still return the declared amount to shareholders.
Archer Daniels Midland (NYSE:ADM), Dow Chemical (DOW) and Packaging Corporation of America (NYSE:PKG) will have payout percentages above 50 should earnings remain stagnant. This isn't an ideal scenario for those on the hunt for payment growth but outflows to shareholders would still be well covered.
The firms of some concern are AT&T (NYSE:T), Public Service Enterprise Group (NYSE:PEG), Telus (NYSE:TU) and Western Digital (NYSE:WDC). Let's delve a little deeper into those situations.
Big Ratio, Bigger Cash Pile
AT&T and Telus are telecommunications companies and are thus generally accepted to have higher payout ratios than most due to reliable cash flows.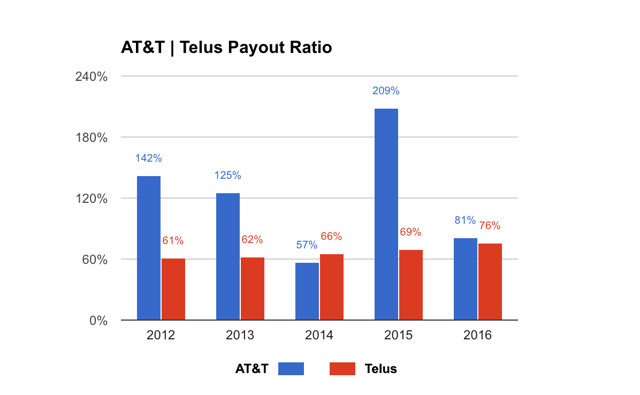 Source: High Plains Investor
A quick check of Morningstar reveals that T and TU's average payout ratio over the last five years was 122.7% and 70.3% respectively - so there's no need to reach panic stations quite yet.
Special Situations
As for the others: Public Service Enterprise Group's diluted EPS was affected by its decision to retire two coal-fired generating stations in 2016 while Western Digital got to grips with its $19 billion acquisition of SanDisk.
I'm comfortable with the rationale for those exceptionally high payout ratios but I wonder what can be gleaned from using free cash flow as the numerator. Dividends are paid out from the cash pile after all.
Will there be a marked difference?
Free Cash Flow Dividend Payout Analysis

Source: High Plains Investor
If we start with the encouraging findings first: results are positive for Amgen, AT&T, Packaging Corp of America, Robert Half International, Travelers and Western Digital.
Those firms display cash flow payout ratios that are even healthier than their solid earnings payout ratios.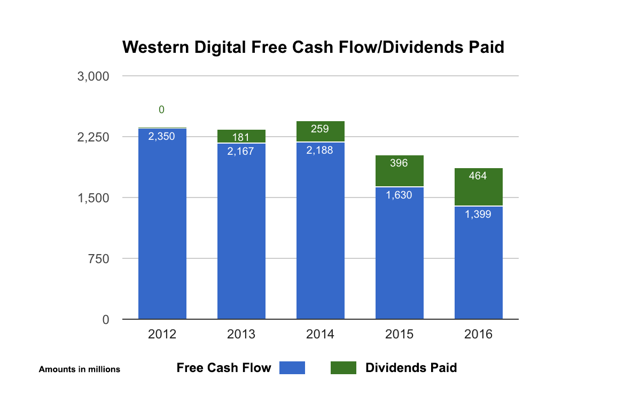 Source: High Plains Investor
Western Digital and AT&T recede substantially from the precipice through this lens. The storage data giant can cover its dividend by almost 3:1 with free cash flow while the telecoms blue chip boasts an improved ratio of 70%.
In the middle ground, Corning and Norfolk Southern have slightly higher ratios in the latter study at 47% and 61% respectively. However, they're still well within secure parameters.
The five laggards had various reasons for their free cash flow shortfalls.
Public Service Enterprise Group and Telus haven't been able to cover their dividends with free cash flow for each of the past years. 2016 followed this trend and is likely due to the capital intensive nature of their industries.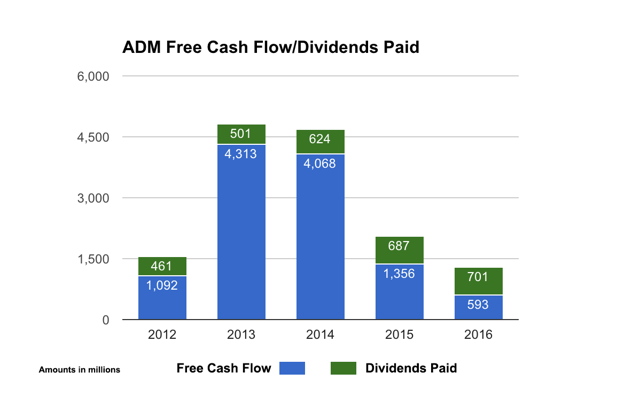 Source: High Plains Investor
As for Archer Daniels Midland and Dow Chemical, 2016 seems to be an aberration on the cash flow front.
I will pay special attention to this year's earnings to see whether the lack of dividend coverage was due to one-off events or emerging trends.
Note: As a bank, Wells Fargo isn't typically analyzed using free cash flow.
Conclusion
The main lesson to be taken from this little study is hardly unexpected: do your research!
If a dividend-minded investor judged the 13 stocks in my portfolio based purely on the traditional EPS dividend ratio, they would scratch their head at Western Digital's 189% figure for 2016.
However, delve a little deeper into the cash flow statements and the investor would find that the California company can handily cover its payments.
On the other hand, a potential investor using the cash flow method might run a mile from ADM and DOW based on one year's figures. But a quick look at the payout ratio trends over a number of years would reveal a much sturdier platform for income.
As with everything in investing, you just can't spend too much time trawling through those 10-Ks!
Disclosure: I am/we are long ADM, AMGN, DOW, GLW, NSC, PEG, PKG, RHI, T, TRV, TU, WDC, WFC.
I wrote this article myself, and it expresses my own opinions. I am not receiving compensation for it (other than from Seeking Alpha). I have no business relationship with any company whose stock is mentioned in this article.