Regional banks in the US are something I've been keen to avoid since I began investing. I preferred the financial systems of a few other countries which I believed to be safer. Not only that, for awhile I believed that growth in the rest of the world would generally outpace the US, so on the whole I preferred trying to invest elsewhere.
But those two variables have clearly changed. Since 2008 banks in the US have done a good job shoring up their balance sheets in various ways. What parts of the international economy weren't slowed down by the Great Recession were nipped by the commodities crash of 2013-2014. Since then there was also some increasingly demanding 'renewable energy' legislation in Europe that was passed, which I believed helped to put a crimp on economic growth there.
After all this, I must admit that the United States is looking pretty good, and that the election of President Trump has made it even better. At the end of the day, and after all the noise is removed, Trump's pro-business policies will lead to more reasonable corporate taxes, less burdensome regulation, lower energy and electricity prices and a number of other things. This all leads me to want to begin looking for regional banks, especially in regions which I believe will benefit from the policies of the Trump Administration.
So today I'd like to look at Huntington Bancshares (NASDAQ:HBAN). Huntington is headquartered in Columbus, Ohio, and, after an acquisition of FirstMerit Corporation, became the largest lender in Ohio by loan volume. It has a decently good Tier 1 Capital ratio of 11.6%, and lends its money out in the form of commercial/industrial loans in the region, auto loans, home equity loans, mortgages, commercial real estate and recreational vehicles, in that order. This article takes a look at Huntington Bancshares' business, its expectations, and of course its valuation.
A good 'Trump stock'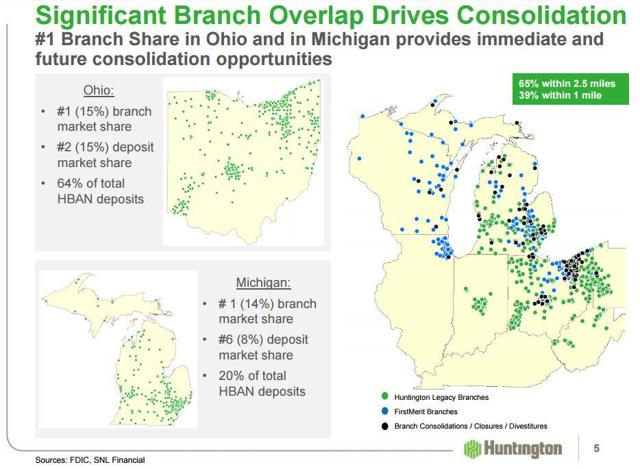 Courtesy of Huntington Bancshares Investor Relations.
The above map is what Huntington looks like in the wake of its acquisition of FirstMerit. This acquisition last year gave Huntington its first entrance into Wisconsin and the Chicago area. It also more than doubles the company's branch footprint in Michigan, and, perhaps most importantly, makes Huntington the largest deposit holder in Ohio. I like most of this geographic exposure, and I especially believe that President Trump's somewhat more protectionist trade policies will most benefit states such as Ohio and Michigan. A marked economic improvement in those states will lead to much improved results for Huntington.
In many respects 2016 was entirely defined by the addition of FirstMerit. Earnings per share declined 17%, but net interest income, total revenue both rose by double digits. Average deposits increased 18%, average loans and leases went up 18% and average assets increased 21%. Net interest margins, however, remained stable, growing by only 1 basis point.
The long-term plan is for 4%-6% average revenue growth, with increased operating leverage and a return on total capital expended of between 13% and 15% (which is where it is now). By the second quarter of this year Huntington expects to have achieved an annual run rate of $255 million in savings from the acquisition, and growth expected across most of its loan segments.
I believe that an improving economy, particularly in the manufacturing sector, could propel job growth in Ohio, Michigan and Wisconsin. That would result in increased mortgages, car loans, commercial and industrial loans for sure, and Huntington would be right there to benefit from this 'multiplier effect' at just about every level. For this reason, I believe Huntington can perhaps exceed the 4%-6% number. In its latest quarterly conference calls management affirmed that the business climate was already more optimistic
Valuation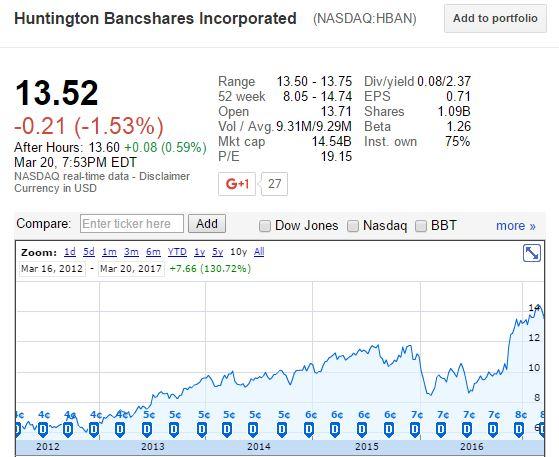 Courtesy of Google Finance.
Huntington Bancshares isn't cheap, and, as you can see clearly above, shares leapt higher upon news of Trump winning the presidential elections, perhaps on expectations of faster economic growth, or perhaps on expectations of higher interest rates. So unfortunately I already missed the first leg up.
However, if Trump is able to get some of his legislation enacted, particularly with trade and taxes, I really believe this is going to be a multi-year trend here, and I think the economy of this region in particular is going to see the most relative improvement.
Buying here is definitely not the bottom. For example, according to data from FAST Graphs, Huntington Bancshares has averaged 15.5 times earnings over the last ten years. Right now shares trade at 15.5 times earnings, so it's at a slight premium to its average valuation, but since this is in my opinion a multi-year play, I don't believe that buying here would be unwise at all. For dividend investors, which I certainly am, Huntington offers a 2.3% yield. Late last year the company raised its dividend 13%, and I see that similar trend continuing as the dividend is only 33% of earnings per share. There's still a long way to go to get to its 2007 level of dividends.
Personally, I intend on waiting for a dip to add shares, but I will watch Huntington Bancshares closely and will try to add on any dip. If you're interested in Huntington, feel free to follow me here on Seeking Alpha. I will follow this company more closely in the future, and will provide update articles when doing so is both material and relevant.
Disclosure: I/we have no positions in any stocks mentioned, and no plans to initiate any positions within the next 72 hours.
I wrote this article myself, and it expresses my own opinions. I am not receiving compensation for it (other than from Seeking Alpha). I have no business relationship with any company whose stock is mentioned in this article.