The past few weeks have not been easy for miners, and the flurry of selling since February has sent the share price of a few into a downward spiral. Nevsun (NYSEMKT:NSU), Primero (NYSE:PPP), and Tahoe (NYSE:THO) are a handful of examples of destruction in the sector, as all three companies have plunged more than 20% from their February highs. Fortunately there are a few companies that have managed to emerge from this correction unscathed, and Atlantic Gold (OTCPK:SPVEF) is one of them. While the gold sector has bulldozed many miners, Atlantic Gold has been quietly building a 6-month base at new 52-week highs. The stock's ability to stay buoyant during a sector-wide rout is a testament to its strength, and even more impressive was its ability to register a new 52-week high close last week. Despite Atlantic Gold being only 3 quarters away from becoming one of Canada's newest open-pit gold producers, the company is not getting the recognition it deserves. Atlantic Gold is not only under-followed, and underweight among most gold funds, but it's also severely undervalued.
To avoid confusion, all figures are in US dollars unless otherwise stated.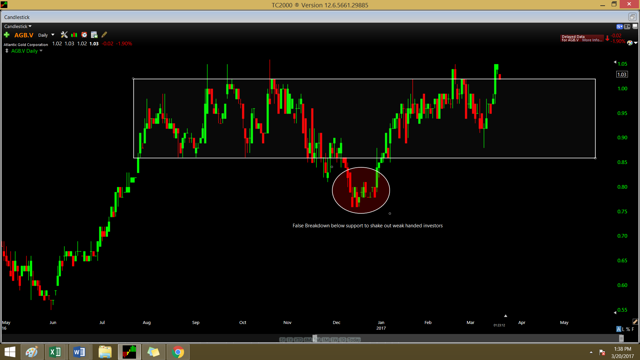 (Source: TC2000.com)
I first covered Atlantic Gold in July of last year when the company was first breaking out. Since that time the stock has moved up 20% in value, and I have recently more than doubled my position in the company. Atlantic Gold has made an immense amount of progress since I first covered them, and is now less than 9 months away from commercial production. This is a drastic milestone for the company as it begins to be valued as an emerging producer, and no longer simply an explorer.
The company currently has 173 million shares outstanding, and a share price of $0.77 cents (US). After adding in the company's $110 million in debt, Atlantic Gold currently has an enterprise value of $244 million dollars. An enterprise value as paltry as this is reserved for advanced stage explorers or producers in unfavorable jurisdictions, not soon-to-be junior producers. Given Atlantic Gold's location, growth potential, and proximity to being cash-flow positive, it's difficult to wrap my head around the company's current valuation.
So what are investors getting for $244 million dollars?
Atlantic Gold has a massive land position that stretches nearly 40 kilometers across the Meguma Gold Belt in Nova Scotia, Canada. The company has delineated 3 deposits across this 37 kilometer land package, and this does not include its Cochrane Hill deposit which sits 80 kilometers east of their main area of operations. Each of these deposits holds over 500,000 ounces of gold, for a property-wide total of 2.1 million ounces at an average grade of 1.6 grams per tonne. Given the company's recent drilling, I believe the 2.5 million ounce resource has likely grown closer to 2.5 million ounces.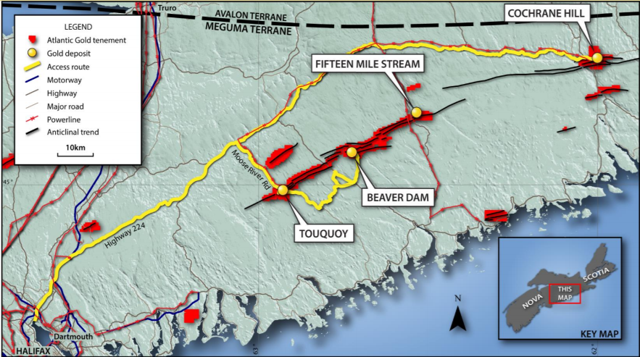 (Source: Company Presentation)
The current mine life of 8.5 years at 87,000 ounces annually is based on only two of these deposits, and less than 750,000 ounces of gold. Atlantic Gold is currently in the process of moving its inferred ounces into the indicated categories in order to put higher confidence in how much gold can truly be mined at their Moose River Consolidated Project. Based on Beaver Dam, Touquoy and Cochrane Hill alone, a PEA done in 2014 has projected the potential for 141,000 ounces per year at all-in sustaining cash costs of less than $700/oz.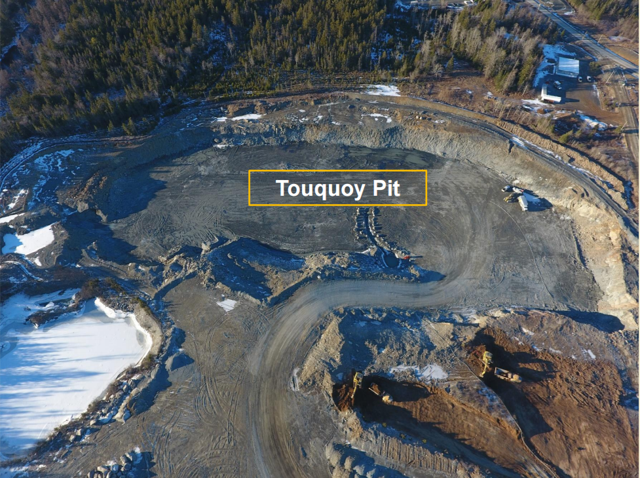 (Source: Company Presentation)
To briefly summarize, investors are getting a soon-to-be 87,000 ounce producer with the potential to become a 140,000 to 200,000 ounce producer for an enterprise value of less than $250 million (US). This is a fraction of what similar 200,000 ounce gold producers trade for, and I believe there to lots of upside from the current valuation. To put this in perspective, Richmont (NYSEMKT:RIC) is currently a 120,000 ounce producer with similar all-in sustaining cash costs and trades for a market capitalization of $515 million US. Does this mean that Atlantic Gold should double immediately? No. But if the company is able to deliver on its projections of being a 140,000 ounce producer, there is significant upside ahead over the next couple years.
So why is the market valuing Atlantic Gold at less than half the enterprise value of Richmont and other junior producers? The answer is simple. Atlantic Gold is not producing yet, and we have no guarantee that they will ever become a 140,000 ounce producer, let alone a 200,000 ounce one. The market is therefore discounting what it cannot quantify, and is currently placing a bargain bin valuation on the company. Despite what the market seems to think, I believe the current discount to be way overdone and for lack of better terms, ridiculous.
Atlantic Gold has already proven up the satellite deposits if hopes to incorporate into its mine plan, so this is not a pipe dream that management has conjured up overnight. In addition to this, the 584,000 ounces at Fifteen Mile Stream have not been incorporated into any mine plans, and recent drilling there suggests that moving these resources to the indicated category should not be a problem. Finally, Atlantic Gold has completed a PEA that outlines an operation with the potential for 140,000 ounces of gold therefore this scenario for the company is already a likely possibility. In summary, the market is overreacting to risks that Atlantic Gold poses and is providing long term investors with an excellent opportunity.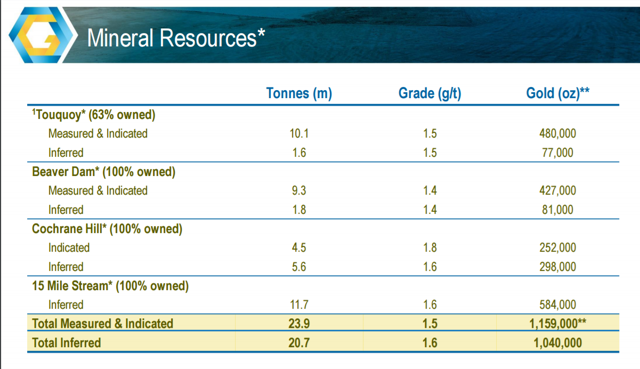 (Source: Company Presentation)
At this point you must be thinking I'm overlooking something and there must be a catch involved somewhere. There is one small catch involved in the investment thesis, and it is the fact that Atlantic Gold has only a 63% ownership at the time being on Touquoy cash-flow. This means that of the 480,000 ounces slated to be produced at Touquoy, Atlantic Gold will only benefit from 302,000 of them.
This is nowhere near a deal-breaker in my opinion, and is a fraction of the resources I expect the company to produce over the next decade. The current resources stand at 2.1 million ounces, therefore the 178,000 ounces that Atlantic's minority partner will benefit from represents only 8% of future production. While this will have affect the company's after-tax earnings for the first 3 years of operations, I have built this into the table I built below.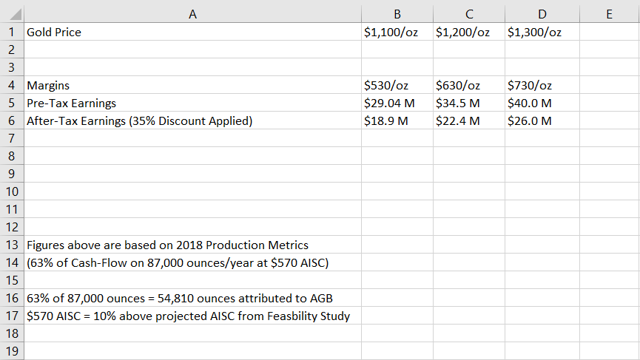 (Source: Author's Table)
To be as conservative as possible with the above figures, I have used all-in sustaining cash costs of $570/oz which are 10% higher than the projected AISC from the Feasibility Study. In addition I've used 3 different gold price scenarios for future production. Finally, in the table I have based on all earnings on only 54,810 ounces per year of production as cash-flow on the remaining ounces will go to Atlantic's minority partner.
Despite using these conservative figures, Atlantic Gold has the ability to earn $22.4 million US per year at a gold price of $1,200/oz. This is 3% below current spot levels and gives them some wiggle room assuming the commodity does not appreciate in price at all this year. Using the slightly better case of $1,300/oz, Atlantic Gold will have after-tax earnings of $26 million per year. Based on the company's current enterprise value of $244 million, $22.4 million per year in after-tax earnings values the company at only 11x forward earnings. This is quite modest as this is giving zero credit to the expansion case which the company has already outlined through their 2014 PEA.
As we can see from the above table, Atlantic Gold is trading at only 11x forward earnings with a mine plan that incorporates only 1/3 of their current resources. The company is actively drilling Cochrane Hill and Fifteen Mile Stream in hopes of moving the majority of the inferred resources to the indicated category. Thus far the company has been successful in their drill program as they continue to hit intercepts that are in line with their current resource grades. I would not be surprised if all of these resources were not eventually added into one large mine plan with up to 200,000 ounces per year of annual production.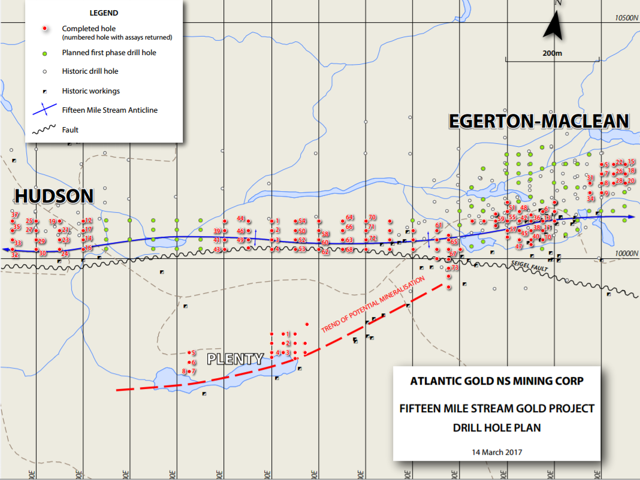 (Source: Company News Release)
Just recently Atlantic Gold stumbled upon another target that has the potential to transform Fifteen Mile Stream into 1+ million ounce deposit. The company's current drill program was already focused on infilling between Hudson and Egerton-Maclean, but initial results out of their Plenty Prospect to the south are very encouraging.
Below are a few of the highlight drill intercepts:
PL-16-003: 13 meters of 21.8 grams per tonne gold
PL-16-004: 16 meters of 5.63 grams per tonne gold
PL-16-005: 1 meter of 10.95 grams per tonne gold
PL-16-006: 7 meters of 2.42 grams per tonne gold
Given that all of the above holes represented scout drilling and step-outs from current resources, the results are quite impressive. If the outlined trend above is the correct interpretation of mineralization and results continue near these grades, there's no reason Fifteen Mile Stream could not eventually hold more than 1 million ounces alone.
For the reasons outlined above, I believe Atlantic Gold to be significantly undervalued compared to its peers. I expect the company to eventually prove up a mine life of 16 plus years with annual production of a minimum 140,000 ounces, and likely closer to 200,000 ounces. These metrics would support a valuation closer to $500 million US, and nearly double the current market capitalization. Atlantic Gold is already fully funded for their construction and investors need not worry about dilution to move the company into commercial production.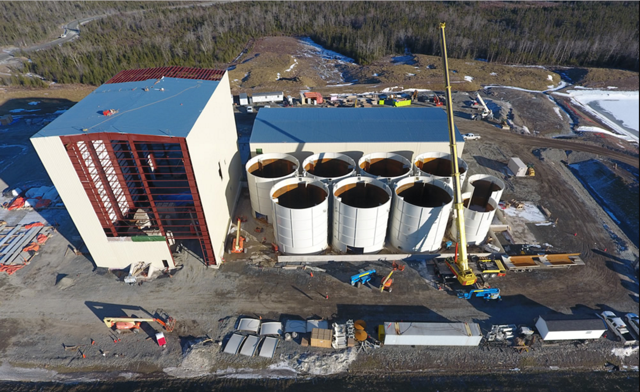 (Source: Company Presentation)
The final reason that I am attracted to Atlantic Gold is the company's management team. At the helm of Atlantic Gold is Steven Dean who previously served as President of Teck Cominco (NYSE:TECK), as well as co-founder and former Chairman of Amerigo Resources (OTCQX:ARREF). Atlantic Gold also has former Kinross (NYSE:KGC) and Goldcorp (NYSE:GG) senior executive Maryse Belanger seated on the board. Not only is the management team extremely impressive, but their money is where their mouth is. Atlantic Gold management has a vested interest in the project as insiders and associates hold over 35% of the company's shares. This is a much higher percentage than any other company in the industry, as the norm is insider ownership of 5% or less.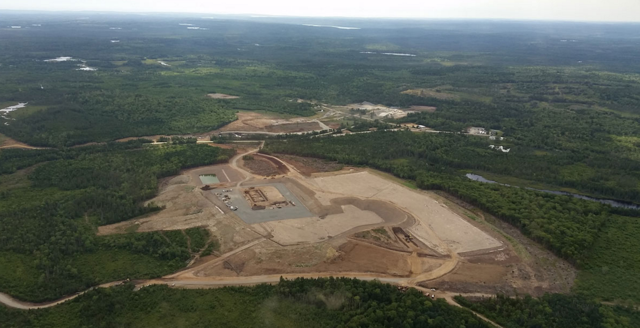 (Source: Company Presentation)
I have taken starter positions in Atlantic Gold in the past 2 weeks in all of my investment accounts, and would consider adding to these positions on strength. Atlantic Gold has taken a seat among my top 5 gold producers next to Torex Gold (OTCPK:TORXF), B2Gold (NYSEMKT:BTG) and Semafo (OTCPK:SEMFF). I do not believe the market to be giving a fair valuation for the potential of this property, and I feel that the current valuation is pricing in zero expansion from the current outlined 87,000 ounce per year operation. If Atlantic Gold is able to surprise on the upside with a mine plan of 150,000 ounces per year or more, I don't believe I'll be able to accumulate at these levels for much longer. My fair valuation for the company based on the expansion case being confirmed is a share price of $1.65 - $1.70 US.
Disclosure: I am/we are long SPVEF, SEMFF, TORXF, BTG.
I wrote this article myself, and it expresses my own opinions. I am not receiving compensation for it (other than from Seeking Alpha). I have no business relationship with any company whose stock is mentioned in this article.
Additional disclosure: If you liked this article and found it useful, please feel free to follow me by clicking on my name next to my avatar at the top of this article. I also invite you to follow me at www.twitter.com/TaylorDart01 where I routinely share my entries, exits, and stops on new positions, as well as updating followers on sentiment data on markets I am following.
Editor's Note: This article covers one or more stocks trading at less than $1 per share and/or with less than a $100 million market cap. Please be aware of the risks associated with these stocks.