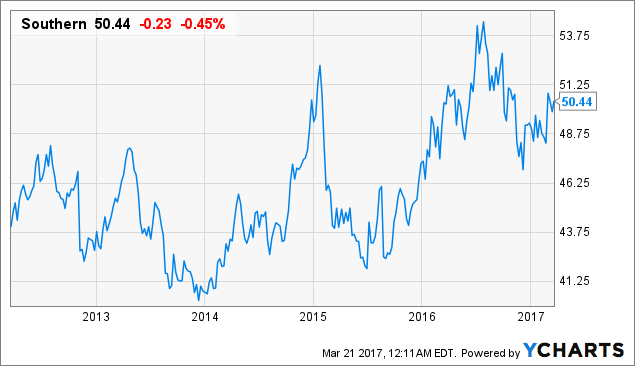 Utilities are attractive investments given their bond-like cash flow and low volatility. When stocks plummeted nearly 60% in the financial crisis, Southern (NYSE:SO) lost a mere 21%-22%. Southern is not a company that should expect to achieve above-market returns over the long-run, but if the S&P 500 is returning ~7% over the long-run with 9% annualized volatility while Southern is returning 4%-5% with a third of the volatility, the market demand for these types of assets will be high. This is especially true for those who might want some level of stock market exposure during periods of loftier stock valuations, as we see currently.
Southern has been precisely flat over the past year (returning just the 4.5% dividend) and has been challenged over investor concerns over the Vogtle and Kemper projects.
Georgia Power stands as Southern's largest subsidiary and dividend contributor and oversees the Vogtle project. Georgia Power owns 45.7% of the two units currently under construction. The construction contractor of the project, Westinghouse Electric Company, is the US nuclear unit of Toshiba (OTCPK:TOSBF), which is facing business difficulties in the fallout from its accounting scandal. Back in late December, the Securities and Exchange Surveillance Commission (Japanese securities watchdog) brought forth new evidence against former company executives in their role in artificially boosting the company's profits.
To account for the financial backlash, Toshiba is currently consulting US bankruptcy attorneys in an effort to divest Westinghouse and raise enough capital to avoid possible insolvency. Through a string of business associations, this places material risk on Southern's future cash flow potential if the Vogtle project ultimately isn't completed leading back to Toshiba's ongoing business struggles.
Currently, Toshiba's prior-quarter financial results are being delayed as it continues to work through the accounting issues associated with Westinghouse's $229 million acquisition of nuclear subsidiary Stone & Webster of Chicago Bridge and Iron, announced in October 2015. Toshiba announced a full-year impairment charge of ¥712.5 billion ($6.3 billion) associated with the Stone & Webster acquisition in addition to cost overruns and delays associated the Vogtle project and VC Summer plant construction in South Carolina (not part of Southern's operations).
If Westinghouse doesn't (or can't) follow through on its Vogtle construction plans, more of the cost and risk burden will fall back on Georgia Power and diminish the project's ultimate ROI and net present value. As it stands now, the Vogtle project is being constructed under the terms of an engineering procurement construction ("EPC") fixed price contract, also known as the Vogtle 3 and 4 Agreement ("3 and 4" refer to the nuclear units). This arrangement mitigates risk for Georgia Power given any unanticipated cost overrun and time delays in the project would be compensated by Westinghouse.
Toshiba has guaranteed the contract, but if Toshiba has to place Westinghouse through Chapter 11, there is no certainty that this guarantee will be honored under its present terms. This affects Southern given it may decrease near-term cash flow expectations that had been previously baked into the stock, assuming further delays and an increase in completion costs. The transference of construction responsibility also tacks on additional regulatory, technical, and procedural risk to the construction and eventual licensing of the units. However, at the state level, Georgia's relatively favorable regulatory stance toward nuclear plant construction is a plus.
If Westinghouse is put through Chapter 11, Georgia Power may either choose to complete the project itself or consult with alternative contractors. If Toshiba and Westinghouse are able to maintain their contractual commitments to the Vogtle 3 and 4 Agreement this would expect to be bullish news for Southern's stock. This nonetheless looks unlikely. Toshiba's significant impairment charges could drop its shareholder's equity into negative territory and require eventual bankruptcy proceedings if its various asset sales don't sufficiently improve its liquidity.
Over time, Southern's business is likely to become less reliant on Georgia Power for earnings and dividend contributions. In 2016, Southern increased its presence in the natural gas market by picking up assets in this vertical, and contributed $114 million to net income, or 4.2% of earnings. Southern also possesses a renewable energy segment.
Capital Structure
The acquisition of natural gas assets pushed up debt during the FY2016. Debt/EBITDA (FY2017) is around 5.6x, which is high for investment-grade credit. Debt comes to around 50% of total capitalization. My own personal model rates this debt as somewhere between BBB and BB+ (on the Fitch/S&P scale) or between Baa2 and Ba1 on the Moody's scale. S&P rates Southern as A-/stable; Fitch, BBB+/stable; and Moody's, Baa2.
To form the model, I convert various credit metrics (i.e., a measure of cash flow to a measure of debt) to synthetic credit ratings. I use current spreads between the 10-year Treasury and each credit rating to then derive a cost of debt for each credit rating. Optimal debt/EBITDA comes to around 4.5x, or about 40% of total capitalization, which is the estimated point at which the cheapness of debt ceases to be accretive relative to equity capital.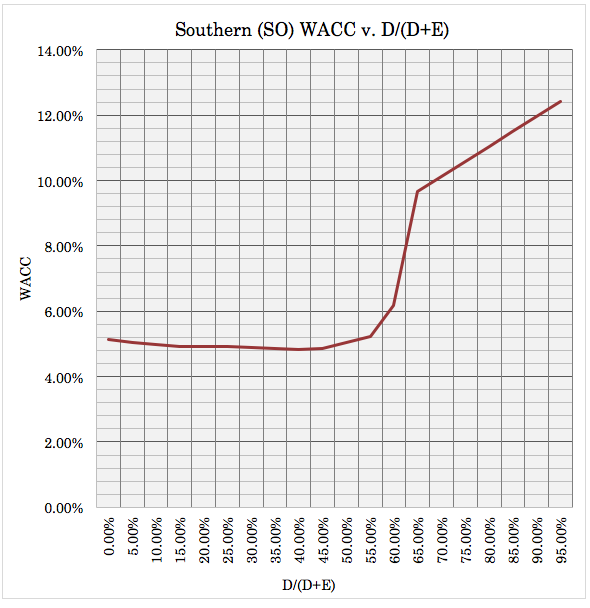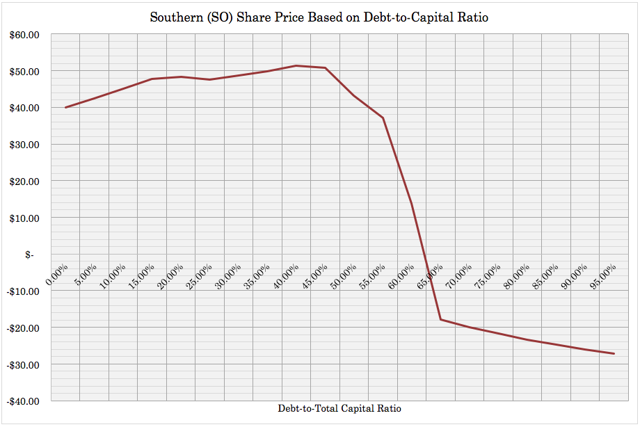 (Source: author)
This would necessitate a debt reduction of around $4.7 billion and would place its credit rating around A-/A3, if and when achieved. With annual unlevered free cash flow of around $3.5 billion (personal 2017 projection), this wouldn't be overly difficult.
Valuation
I value the company using discounted cash flow, as I believe this is the proper way to value businesses (i.e., how much cash can be taken from them over their existence discounted back to present terms). It's especially useful for mature conglomerates with predictable year-to-year cash flows like utilities, as the reading is likely to be more accurate than it would be for unprofitable or highly cyclical businesses.
I use the following assumptions:
FY2017 revenue at $22.0 billion and increasing 2% year-over-year throughout the 10-year projection period
EBITDA margins of 40% in perpetuity
Depreciation and amortization expense is normally 12%-15% of sales. I've increased it to 17% of sales and set it equal to capital expenditures to account for potentially greater plant construction costs.
Effective tax rate of 30%
No working capital growth
I converted Southern's $1,784 million worth of operating leases into financial expenses, which is closer to how they actually function for valuation purposes.
Cost of debt of 3.82% based on average cost of comparably rated debt
Cost of equity is left adjustable (depends on returns expectations, which vary by individual)
Long-term economic growth rate of 1.8%
I don't include the company's cash position of $1.98 billion (as of December 31, 2016) in the share price ($2.07 per share) given current liabilities are higher than current assets. Thus none of it is of the "excess" variety.
This would leave cash flow from operations (taking into account interest expense) at a projected $5.4 billion for 2017, roughly on par with its $5 billion total for 2016. Levered free cash flow (i.e., net income + depreciation and amortization expense - change in working capital - capex - interest expense) would be estimated around $2.2 billion, which roughly accords with the company's required annual dividend payments.
If the company could limit capex to 15% of revenue long-term, its dividend payout ratio would be estimated at 88.5% of earnings (assuming 40% EBITDA margins). Keeping capex costs to 13% of revenue would put the dividend payout ratio at 79%.
With these assumptions, Southern would be discounted back to its current share price at a cost of equity of 8.7%.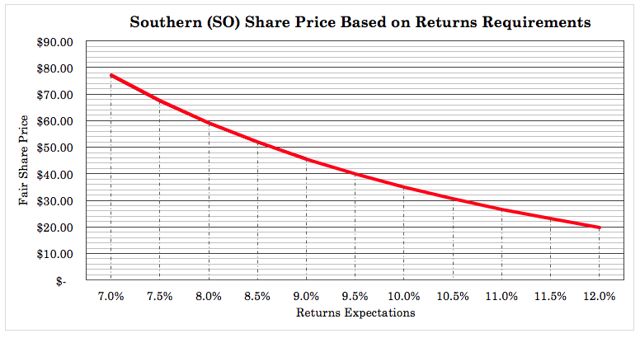 (Source: author)
If we were to use more bearish assumptions in the form of 36% EBITDA margins in perpetuity and no revenue growth (everything else held even), a cost of equity of 6.3% would get us to today's share prices.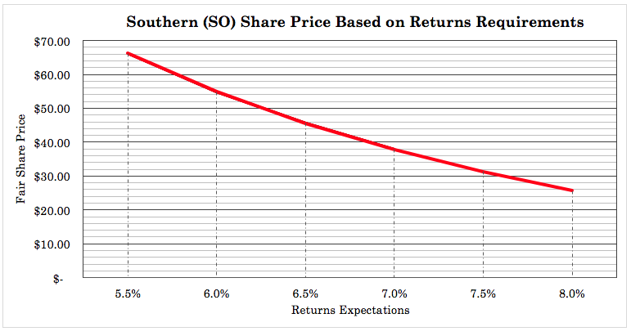 (Source: author)
If we keep the above mentioned assumptions as is yet start at a lower revenue point (FY2017 revenue of $20 billion, down from $22 billion), shares would be discounted back to their current valuation at a cost of equity of 7.9%.
The main takeaway is that if you believe Southern can still grow organically at about 2% per year and can maintain 35%-40% EBITDA margins, the company doesn't appear to be too poorly valued at $50 per share.
Given its lack of volatility, if you leverage this 2:1 and expect 2% capital appreciation per year and a 4.5% dividend, a 2% cost on the credit line, and a 2.1% annualized cost of insuring against a drop below $40 per share by buying January 2019 put options (4.2% for a 2:1 leveraged position), this would generate around 7% in expected returns while limiting one's downside to 31% (4.5% (the dividend) * 2 - 20% (potential capital loss) *2). Portfolio margin (~6:1) could boost expected annualized returns to around 9% while limiting downside to 33% if put options are bought at a $45 strike.
Conclusion
The stock appears to bake in a decent amount of the situation regarding the Vogtle project. If Westinghouse were to be put through Chapter 11, this would be a negative for the stock. Additional holdup regarding the Kemper plant (associated with Southern subsidiary Mississippi Power Company) is also holding it back, with the market having the right to worry about the potential effect of cost increases and further delays on upcoming cash flow.
The company is also a bit overleveraged, though close to $5 billion is coming off the books during 2017. Keeping debt/EBITDA closer to 4.5x rather than above 5.5x would be in the interests of stockholders, and all stakeholders generally. Debt-financed acquisitions should probably be avoided for now.
Most of all, companies with similar characteristics to Southern (i.e., low volatility, moderate-to-high dividend) are some of the most attractive to remain invested in if one still wants long exposure in a pricier equities. A company that can generate 2% organic growth plus a 4.5% dividend yield with volatility of only 38% of the overall market at its worst point isn't a bad choice when the market is reaching heavier price points.
Disclosure: I/we have no positions in any stocks mentioned, and no plans to initiate any positions within the next 72 hours.
I wrote this article myself, and it expresses my own opinions. I am not receiving compensation for it (other than from Seeking Alpha). I have no business relationship with any company whose stock is mentioned in this article.
Editor's Note: This article discusses one or more securities that do not trade on a major U.S. exchange. Please be aware of the risks associated with these stocks.