Investment Thesis
Although Sensata Technologies Holding N.V. (NYSE: ST) is in a great industry, its mediocre performances and high leverage mean that investors cannot expect much safety or certainty in their investment.
Overview
Sensata Technologies is a global technology company that manufactures and sells sensors and controls. As the company notes in its most recent 10K, its primary products include pressure sensors, speed and position sensors, bimetal electromechanical controls, temperature sensors, power conversion and control products, thermal and magnetic-hydraulic circuit breakers, pressure switches, and interconnection products. Their products are used for a variety of different applications, including in automotives, airplanes, and electric motors.
The company is based in the Netherlands, but operates worldwide. In 2016, the Americas, Asia, and Europe accounted for 43%, 25%, and 32% of total revenue.
Performance Sensing Segment
This segment is a leading supplier of automotive sensors, including those focused on pressure, speed and position, temperature, operator controls, and pressure switches.
This is the company's largest segment, and accounted for roughly 74% of total net revenue in 2016.
The company believes this segment of its business, which essentially only sells products to the automotive industry, will be helped in the future by three trends: steadily rising demand for automobiles, a greater number of sensors per vehicle, and a shift from electromechanical products to electronic solid-state sensors. The company also notes that customers prefer to buy from sellers with an established track record and usually buy in large scale, both of which benefit its market position.
The segment's revenues have also steadily grown over the years. Net revenues went from $1.76 billion in 2014 to $2.35 billion in 2015 and then to $2.39 billion in 2016, mostly as a result of an increase in the number of sensors per vehicle and increasing global vehicle sales.
Sensing Solutions Segment
This smaller segment of the company focuses on producing electromechanical controls, circuit breakers, conversion and control products, industrial and aerospace sensors, and interconnection products.
Unlike the other segment, this segment sells products to a variety of industries and sectors, including aerospace, the military, healthcare, and residential real estate.
Net revenue for this segment has increased overall over the past few years. Although net revenue decreased from 2014 to 2015, going from $653 million to $628 million, it increased sharply in 2016 at $817 million.
Earnings
Net revenue, as indicated before, has increased steadily over the past few years, from $2.4 billion combined in 2014 to $2.97 billion combined in 2015 to $3.2 billion combined in 2016.
Understanding the company's income however, is not so simple. The company's net income has been volatile over the past few years, going from $283.7 million in 2014 to $347.7 million to 2015 and then back down to $262.4 million this past year. The reason for these fluctuations, despite rising revenues is this: income tax. In 2014, the company gained $30.3 million from income taxes and in 2015, it gained $142.1 million in 2015 while it was charged $59 million in income taxes during the same year. The company benefited from income taxes whenever a portion of its U.S. valuation was released as a result of an acquisition.
The company's income before income taxes, however, is also volatile, dipping from 2014 to 2015 and then rising back up in 2016. This is due to a higher than average interest expense in 2015. Profits from operations, however, paint a prettier picture, as the graph below shows.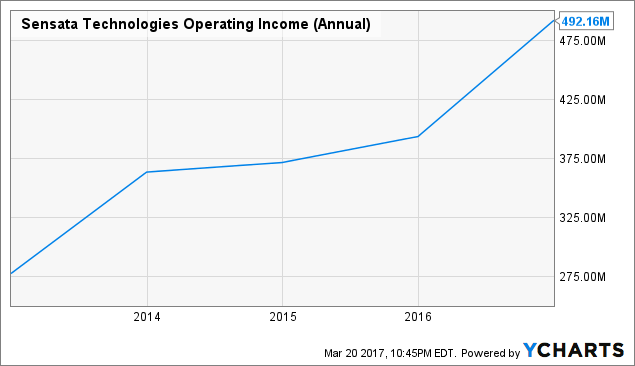 ST Operating Income (Annual) data by YCharts
Operating income has grown steadily over the past few years, following revenue's lead.
Based on the company's income statement, two conclusions can be drawn: (1) in recent years, the company's core profits have been growing, but only after accounting for expenses that are recurring by their very nature and (2) a solid investment thesis can only be reached after we have a way of evaluating the company's future income tax situation and future debt.
Cash Flow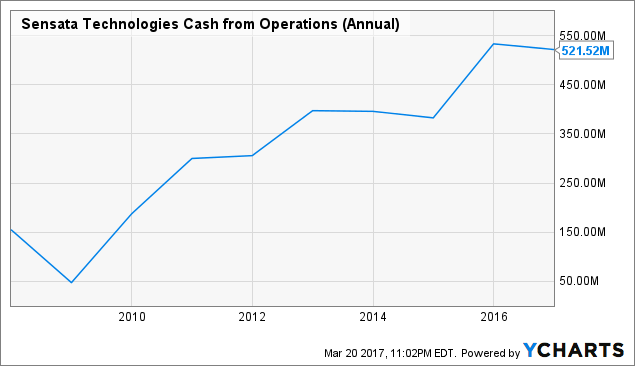 ST Cash from Operations (Annual) data by YCharts
Cash flows decreased slightly from 2015 to 2016, mostly as a result of an increase in inventory, as the company notes in its latest 10K filing.
But overall, as the graph above shows, cash from operations has been increasing relatively steadily over the long-term and will likely continue to do so.
Book Value and Indebtedness
As the company openly acknowledges in its latest annual filing, it is heavily leveraged. The company's total debt stands at roughly $3.3 billion, with total interest expenses at $165.8 million.
However, investors can find some solace in the fact that most of the company's debt - $2.35 billion - matures over 5 years from now. Still, the company's debt to equity ratio is an extremely high 1.68.
The company's book value is also less than savory. Although total assets are roughly $6.24 billion - slightly lower than $6.3 billion in 2015 - goodwill accounts for $3 billion of total assets, which is an extremely disproportionate amount. Total liabilities did decrease as a result of lower current debt levels, however. Overall, shareholder's equity increased from $1.67 billion to $1.94 billion.
The company's P/B ratio is currently 3.85, which is not especially low.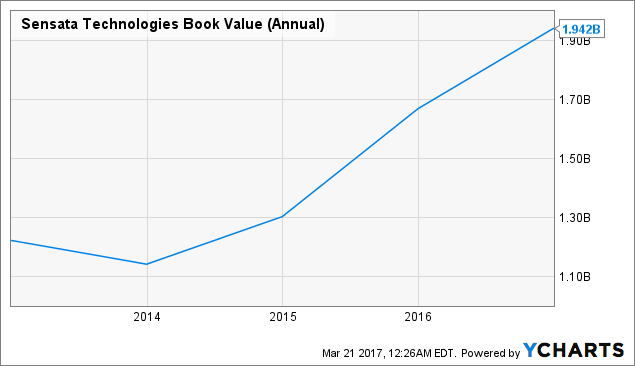 ST Book Value (Annual) data by YCharts
As the graph above shows, however, book value has increased steadily over the past few years.
Conclusion
Overall, Sensata seems to be a mediocre company in a great field. On the one hand, the company is heavily leveraged, has way too much of its book value attributed to goodwill, has fluctuating earnings overall, and fluctuating cash flows. On the other hand, the field the company puts it in an inherently strong position. As the company notes in its most recent annual filing, there are very high barriers of entry in the sensors and controls industry since customers often find it hard to switch between manufacturers due to design and also need large companies that can scale production to meet their demand. It is also very difficult for customers to switch sensor manufacturers without going through a lot of red tape with government agencies or without redesigning much of the system the sensor is going to be used in.
All these factors seemingly give Sensata a large moat that they can work off of. However, this is not how things stand. There is still uncertainty in the future regarding the company's income tax charges and debt expenses.
Is the company doomed? Absolutely not. Even though the company is highly leveraged and not booming, its operating profits have still been rising in the aggregate. The company, however, is definitely not undervalued by any stretch of the imagination and investors cannot expect a great margin of safety or great certainty about the future.
Disclosure: I/we have no positions in any stocks mentioned, and no plans to initiate any positions within the next 72 hours.
I wrote this article myself, and it expresses my own opinions. I am not receiving compensation for it (other than from Seeking Alpha). I have no business relationship with any company whose stock is mentioned in this article.