The retail real estate investment trust (REIT) sector has fallen out of favor with investors recently, as retail undergoes an evolution that increasingly favors the e-commerce business model. Roughly 24% of REIT investments overall are in either shopping malls or freestanding stores, both of which generate revenue from rent. REITs in general have experienced a major selloff, especially in recent weeks, declining 7% from 2017 highs. One factor that may be responsible for this selloff is the federal rate hike, as a result of a positive employment report. The high dividends that REITs typically pay result in the markets treating them more like bonds, so therefore a significant relationship exists with treasury yields. However, over a year ago, the Fed increased rates, and a similar selloff occurred, followed by a quick recovery.
Within the REIT sector, there are mall REITs and freestanding REITs. Mall REITs have been hammered by the declines in shopping mall traffic, which has caused mass closures and eventual rising occupancy rates. Freestanding REITs are considered less vulnerable to the e-commerce growth because they are more diversified within non discretionary products/services, including discount stores, gyms, pharmacies, and restaurants. Essentially, freestanding REITs have more flexibility to adapt to changing business conditions, while those within malls are at the mercy of the aggregate traffic effect.
The three largest freestanding REITs are Realty Income Corp. (NYSE:O), National Retail Properties (NYSE:NNN), and Spirit Realty Capital (NYSE:SRC). Retailers typically sign long term leases with these firms, some of which can be upwards of twenty years. Even if they close stores, they are still obligated to make rent payments for those contracts. As opposed to mall REITs, freestanding REITs are less likely to carry apparel and luxury goods, which have seen a downturn recently.
The chart below shows the price % change for each of these stocks over the last year. The three firms show a high correlation within this measure, all having experienced % declines over the prior year.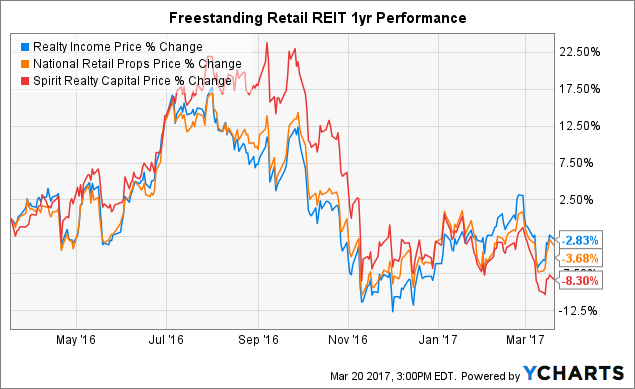 On the other side of the retail REIT spectrum, the mall REITs have already seen investors expecting a bearish future. The largest public retail mall REITs are General Growth Properties (NYSE:GGP), Macerich (NYSE:MAC), and Simon Property Group (NYSE:SPG). Compared to their freestanding REIT counterparts, these mall REITs have declined considerably. As owners and operators of a high number of traditional malls, their income has been dragged down by a higher presence of apparel compared to freestanding REITs, a category which has seen a pattern of weak sales.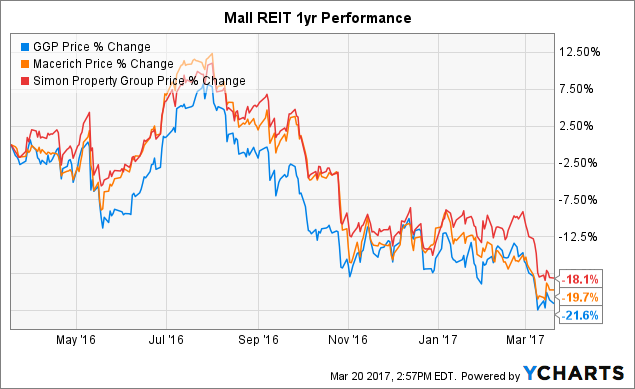 Aside from the business reasons for the outperformance of freestanding REITs versus mall REITs, what are the reasons from the customer perspective? A freestanding retail establishment is likely to save the customer money and perhaps more importantly, time. Going to a major shopping mall involves a major time and effort commitment, starting with parking, to actually reaching the shopping destination within the mall. As customers get more selective with retailers because of extreme price sensitivity, they are increasingly likely to shun competitors who charge more for the same product.
Another attractive factor within REITs is the dividend rate. US law requires public REITs to pay out 90% of their taxable annual income to investors as dividends. As of year end 2016, the S&P offered a 2.1% dividend yield, far below the 4.32% offered by the FTSE NAREIT All REIT index.
Final Thoughts
Although further risk within mall REITs may be amplified towards the negative end of the spectrum, freestanding REITs can and likely will rebound by the end of summer (if history is any indicator). Irrational panic caused by Fed hikes may just happen to be an investor's best friend. As it currently stands, the freestanding retail REIT sector, and in particular the three firms mentioned here (Realty Income, National Retail Properties, and Spirit Realty Capital, in addition to smaller freestanding REITs), are undervalued bargains waiting for investors to eventually buy back up. Due to the freestanding REIT sector's greater exposure to non discretionary products and services, taking a long position on the stocks here is likely to have both less risk and greater yields as the mall REITs continue to transform their business models. Lastly, the dividend yield will be icing on the cake on top of the price growth.
Disclosure: I/we have no positions in any stocks mentioned, and no plans to initiate any positions within the next 72 hours.
I wrote this article myself, and it expresses my own opinions. I am not receiving compensation for it (other than from Seeking Alpha). I have no business relationship with any company whose stock is mentioned in this article.