Some of the technical investment signs I come across leave me baffled. I heard one recently, however, on the daily podcast by investtalk.com (a great resource & listen) that really intrigued me.
Sidebar: I tend to keep it simple for my own analysis and compare 25 days, 50 days and 200 days moving averages to show bull and bear signs.
But the technical sign called "Ohama Titanic" was one I wanted to understand - and find a way to take advantage of if possible. Market analyst Mark Decambre describes the Ohama Titanic as "ominous" and I could not agree more. Mark writes:
The spooky sounding chart moniker was coined by Bill Ohama in 1965, and is viewed as a preliminary sell signal.
The sell-off sign occurs when the # of stocks at new lows exceeds the # of stocks at new highs. This has to happen in 4 out of 5 consecutive days. The chart below shows that more companies hit new highs since Nov 2016 compared to new lows. But early March shows a reversal.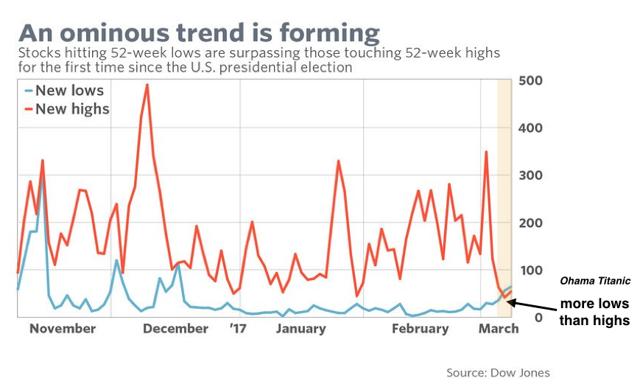 I can't say whether this Titanic sign will predict a U.S. market downturn again. But it has caused me to think about other investment opportunities.
Is it time to consider European or Pacific Asian markets as a means of diversification?
I'll consider some of the pros and cons for a Euro investment play. After all, there is reason to believe the European economy has stabilized after some fairly rocky recent.
PROs on Euro market
First, key economic indicator report from March 17 2017 from the European Commission suggest that the Euro economy is stabilizing. From the report:
According to the Commission's winter 2017 forecast, released on 13 February, GDP growth is projected at 1.7% in 2016, 1.6% in 2017 and 1.8% in 2018. The steady but moderate expansion should remain driven by domestic demand, and particularly by private consumption.
For comparison, the 2017 U.S. GDP growth rate is right around these levels at 1.9%, according to this source.
Second, unemployment in the Euro has dropped to 9.6%, which is the lowest level since 2009. Germany's unemployment is the lowest at 3.8%.
Third, the Euro may start to pick up value relative to the USD. The EURO to CAD currency exchange was very close to parity (that is: equal currency value) on Dec 28th 2016. The CurrencyShares Euro Trust ETF (NYSEARCA:FXE) opened at $100.98 on that day. Since then the EURO currency has gotten stronger and the ETF has increased in value.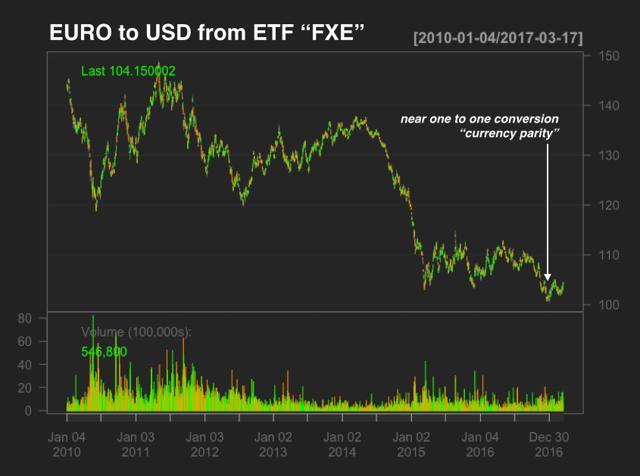 The downside of buying FXE is that it does not pay a dividend. There is also no telling which direction the EURO and USD will go.
So another option is to buy an ETF that covered European stocks broadly. Two ETFs come to mind, the Vanguard FTSE Europe ETF (NYSEARCA:VGK) and the Vanguard FTSE Developed Markets ETF (NYSEARCA:VEA). They are Vanguard funds, so the management fees are low, that is less than 0.1%. Both pay dividends (3% and 2.66%). The top 10 holdings in these two ETFs are name brands that you recognize and might like: Nestle SA (OTCPK:NSRGY), Royal Dutch Shell (NYSE:RDS.A), Unilever (NYSE:UL).
Of the two ETFs, I will focus on VGK. It is an $11 billion fund with ownership of 1249 holdings and currently trading at $51.51. From the Vanguard website, it has high risk, as reflected by a high beta of 1.21. But the ETF has high liquidity, with around 2 to 6 Million shares out of 218 Million shares traded on any given day.
How does VGK compare to a U.S. market equivalent like the Vanguard Total Stock Market ETF (NYSEARCA:VTI)? VTI is a larger fund at $77 billion, with over 3400 holdings and currently trading at $122.27. It pays a smaller dividend at 1.81%. VTI was created in 2001 and has returned 6.63% per year. This is higher (better) than VGK, which has returned 3.69% per year since it started in 2005. In this head to head comparison, VTI has increased by 17.4% year to date, while VGK has increased 5.6% (source: Google finance).

Looking at VGK more closely, I may have missed sensible buying points. VGK has been bullish since Dec 2016. But there is still room for another 10% upswing, potentially, before VGK hits a 2015 high (approaching $58 a share). Current resistance level is around $52. If it breaks above this resistance level then that could be a buy point to ride to near $60.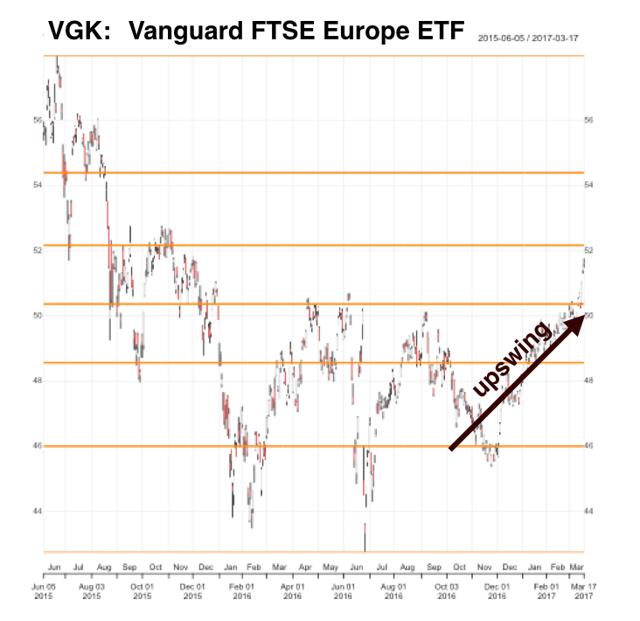 CONs on Euro market
If I were to take a contrarian view on European markets then I would say that many of the countries economies are still weak. For instance one holding in VGK is Deutsche Bank (NYSE:DB), which is still looking pretty rough, with negative earnings per share currently. Contrast that with another VGK holding in Novo Nordisk (NYSE:NVO) and you might conclude that the stock decline is over and time for this stock to rise again.
Conclusion
If you believe in the Ohama Titanic "omen" then there is bound to be a downturn of the U.S. markets. It is not possible to say when but I am looking for alternative opportunities. European markets seem to have stabilized; the European economy is growing, as is the EURO currency. These conditions might make for tailwinds in European companies, such as VGK.
Supporting Documents
Disclosure: I/we have no positions in any stocks mentioned, and no plans to initiate any positions within the next 72 hours.
I wrote this article myself, and it expresses my own opinions. I am not receiving compensation for it (other than from Seeking Alpha). I have no business relationship with any company whose stock is mentioned in this article.