French banks are cheap…
Major French banks are cheap. BNP Paribas's (OTCQX:BNPQF) stock is priced at 10 times P/E and 0.81 times book value, Societe Generale (OTCPK:SCGLY) at 10.58 times P/E and 0.61 times book value and Credit Agricole (OTCPK:CRARY) is quoted at 11.35 times P/E estimated for 2017 and 0.66 times book value respectively.
In terms of pure stock prices, French banks have not recovered yet the maximums reached in 2007, before the financial crisis. 9 years after, BNP is still 16% under Dec 2007 maximums, Societe Generale is down 50% and Credit Agricole is down 42%.
Compared with major US banks, quoted at around 14 times P/E and 1.5 times book value, and all else being equal, French banks should be an excellent investment opportunity within the framework of the uneven but very real Eurozone recovery.
Are they really when we put them in the macroeconomic context the French economy is immersed in? We do not think so.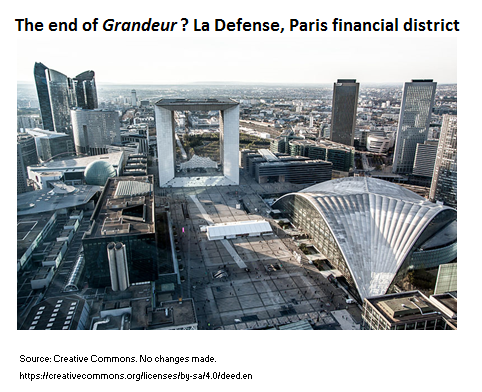 Macro, political or both?
French politics are becoming very heated indeed in the run up to the elections on April 23rd. Without entering into the balzaquian dynamics of French 2017 elections, we believe the French banks' discount described above is not related - at least exclusively - with political factors but with far deeper and more worrying macroeconomic dynamics.
Our main premise is that after the German internal devaluation in the mid 2000s and the Spanish one in 2012, the French economy is at a distinct disadvantage in terms of the mix of technology/costs to several of its biggest trading partners in the same currency area, the Eurozone.
The implementation of a French style internal devaluation attempted by Emmanuel Macron - the Macron Law - when he was Minister of Finance has failed. As a consequence, powerful economic forces will continue playing against the French economy.
More efficient non-French competitors will continue gaining market share in France itself in the future, while multinationals and big French corporations will continue to have an incentive to shut down factories and production centres in France and open in other areas of the Eurozone with better investment conditions. Consequences in terms of jobs, private investment and government taxes levied are easy to foresee.
If these dynamics are already taking place, we should see their footprint on the macro numbers of the French economy.
French macro in red or just magenta?
We can see how the lack of competitiveness of the French economy has its impact on macro numbers (Source: Datastream, Bloomberg, Trading Economics), even if these are masked by the now stronger recovery in the Eurozone.
Consistent with the competitive situation described above, the nation's current account to GDP balance has deteriorated significantly since the Euro was implemented, as France imports more goods from the Zone but is unable to export French goods in the same competitive conditions to pay for these imports. The trend is clear: France recorded in 2000, just after the Euro was implemented, a surplus of circa 1.8%of GDP; the current account balance has steadily deteriorated since then, reaching a negative number of 1.4% of GDP in 2015.
As multinationals - and French corporations - shut down production plants in France and open in nearby countries with better productive conditions and local companies lose market share in France itself to Eurozone competitors with better costs/technology mix, we should see low employment numbers, low GDP growth and high private debt, and high public debt in case the State keeps the economy stable by injecting public capital into the system. We should also see a decline of industrial production over the period studied.
We see some of these trends in the macroeconomic numbers of the French economy.
Unemployment has been stagnant at around 10%, since 2013 even if some marginal GDP growth has taken place, Furthermore, the labour participation rate - the percentage of total population employable or looking for a job - has fallen circa 1% since 2013 therefore masking a slight increase of unemployment.
GDP growth is low. We see that actual GDP growth (1.1% YoY) is still very slow compared with the Eurozone average of 1.7% and has been at that level since 2010; no significant improvement has been recorded since.
At the same time, public debt is high at around 96.5% of GDP and has significantly increased since 2012 - 89.6% of GDP at the end of that year. Future projections are even worse, with the European Commission forecasting French public debt reaching 97% of GDP in 2018.
All countries in Europe hugely incremented public debt to GDP during the crisis to sustain their national economies, but France has been increasing public investment even in recovery years 2015 and 2016. Therefore, employment and GDP growth numbers would be even weaker without public investment.
Predictably, private debt in France is very high - 229% of GDP as the private sector has not purged its balance sheets and reduced the size of its debt due to its intrinsic competitive weakness. Private debts stay at an all-time high since 1996.
Finally, consistent with this gloomy panorama, French industrial production growth has been slightly negative since 2012 and has underperformed Eurozone industrial production growth since 2000.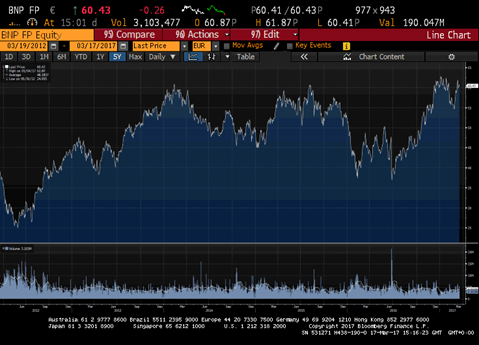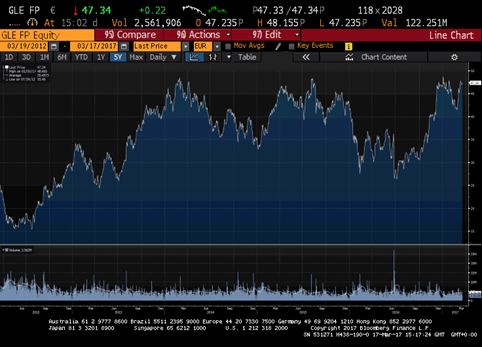 What is the impact of this on French banks? Optically none.
This is the strange thing. With these worrying macro numbers, bankruptcy levels in French companies are the lowest since 2009, and NPLs for leading French banks have been stable since 2012, while credit slightly expanded - 2.4% YoY - during the period.
Are French banks taking onto their balance sheets too many risks from French companies with problems to compete? Numbers could suggest something like that, and this would explain the low prices of French banks as this problem has leaked into the market.
With elections or not, a prudent banks investor should stay away from French banks. Even if the general recovery masks French malaise for a while, old problems will resurface sooner than later.
Disclosure: I/we have no positions in any stocks mentioned, and no plans to initiate any positions within the next 72 hours.
I wrote this article myself, and it expresses my own opinions. I am not receiving compensation for it (other than from Seeking Alpha). I have no business relationship with any company whose stock is mentioned in this article.