When a market goes up on down on good news, or up on bad news, it is usually a pretty good signal that the trend is changing.
So when long bonds (NYSEARCA:TLT) made new 12 month lows ahead of the Fed meeting on the 15th March, then reversed higher when the Fed raised rates, it's time to pay attention.
Explanations For The Move
Some perceived the Fed statement as dovish. They expected the dot plot to project four hikes this year or even for the raise to be 50bps instead of the 25bps announced. This seems a bit of an ask considering the odd of a March hike were so low - under 30% - just one month previously. The only thing to change significantly in that time was the Fed's language, and although this became more hawkish, it was only preparing the market for a March hike, not more hikes. If you had massively hawkish expectations and thought bonds would collapse, then you were simply mistaken.
There is some logic in assuming the rate hike was priced in. The 'Fedspeak' of March 1st telegraphed the hike was coming. TLT had already fallen 4.3% from 28th February to March 14th. And although it's not always clear how much of an expected event is priced in until afterwards, in this case we can assume - with hindsight - much of it was.
In fact, just looking back at the price action of TLT before and after the last rate hike we could have assumed beforehand what was about to happen: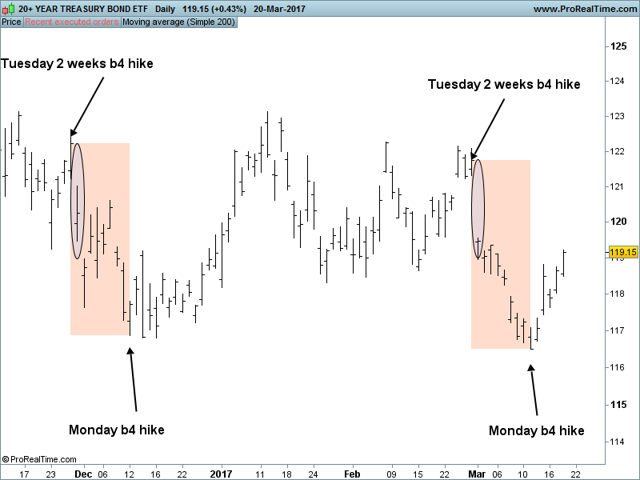 The well telegraphed hike in December 2016 was also priced in during the two week lead in with a 4.3% drop. Again, TLT rallied in the sessions after the announcement, getting all the way back to the high were the previous sell off originated.
There is a good chance it repeats this behavior and rallies all the way back to the $122 gap and slightly higher.
What This Means Going Forward
Explaining a move after it happens may help us understand the markets a bit better, but it doesn't often make us any money. However, regular readers will know I called the recent moves in this December 6th article, and in my updates at weekends. This fractal comparing TLT declines played out nearly perfectly: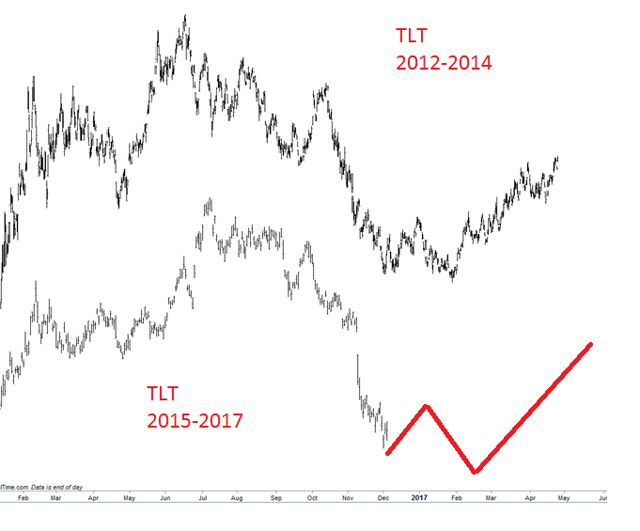 If the repetition continues, we can expect quite a substantial rally back to the $130s.
The long-term trendline has finally been tested and held: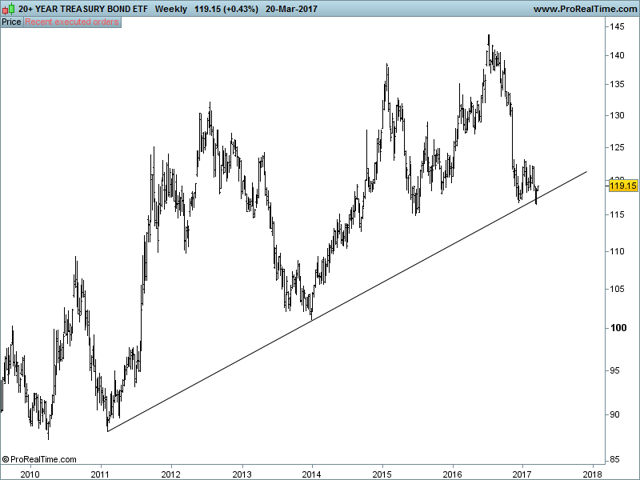 Perhaps buyers were waiting for this test. I certainly was.
Given the evidence, there is a good chance TLT trades higher over the next 12 months. The market seems to have accepted the Fed's projected rate hike cycle, and any delays could lead to further upside. Over the coming years, new lows and another collapse are likely, but that is another trade. The decline starting in July 2016 has yet to be corrected and retraced.
One short-term bearish scenario sees TLT rally to just over $122 and then make one more low to $115. Traders can adjust to this scenario and scale in and out, but long term investors shouldn't be too fazed. A purchase under $120 should yield around 10% in capital gains, and a 2.6% yield to boot.
Conclusions
TLT made a new low before the Fed and reversed higher, creating a good weekly reversal pattern. This happened the last time the Fed raised and the entire decline now looks like the 2012-2014 decline.
I am not 100% sure TLT has bottomed, but I do think it is a good bet bonds will trade higher over the next 12 months.
Disclosure: I am/we are long TLT.
I wrote this article myself, and it expresses my own opinions. I am not receiving compensation for it (other than from Seeking Alpha). I have no business relationship with any company whose stock is mentioned in this article.