Hopefully, this article will help you grow your assets.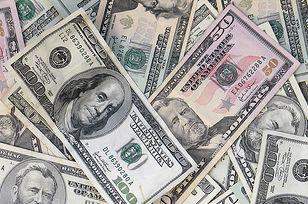 Wholesale data center company DuPont Fabros Technology, Inc. (NYSE:DFT) has demonstrated a great ability to grow rapidly in an industry that is itself growing quickly. The demographics of the datacenter REIT industry are fantastic. They should help DFT grow your portfolio assets, if you invest. The charts below show some of the great demographics.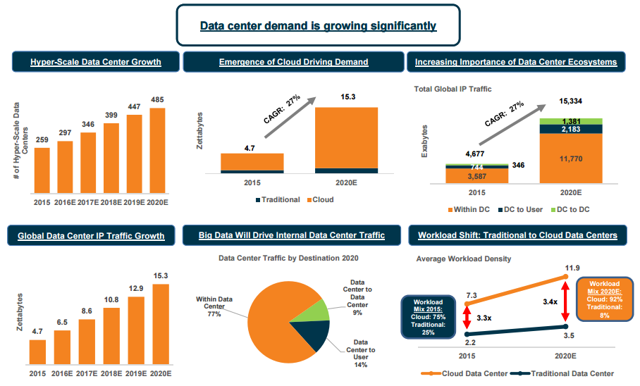 Readers should especially notice that the growth in zettabytes demanded by the cloud has a 27% CAGR until 2020E. Global datacenter IP traffic is also expected to about triple by 2020E.
The charts below show some more of the public cloud statistics.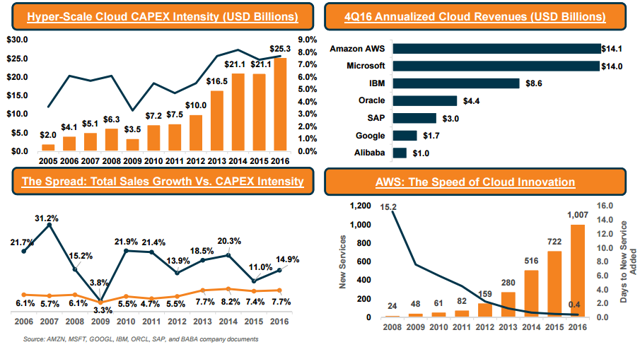 The chart on the top left shows the good growth in cloud CAPEX. The chart on the bottom left shows that sales growth in the industry is significantly higher than CAPEX growth. This is good for the overall industry.
The table below shows how many of DFT's statistics compare to other companies in its sub-industry.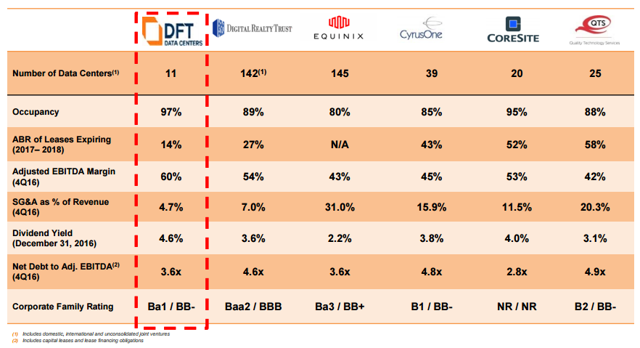 The above table shows that DFT has the highest dividend yield among the datacenter stocks listed. It had the highest adjusted EBITDA margin in Q4 2016. It had the highest occupancy rate at 97%. This is remarkably average of late for DFT quarters. In fact, DFT had 99% occupancy as of February 23, 2017. This great statistic may reflect the fact that DFT is more of a wholesale-based power shell datacenter provider. Other datacenter REITs such as CyrusOne (NASDAQ:CONE) and CoreSite (NYSE:COR) provide more sophisticated services such as interconnection, security, etc. These all take more time to both negotiate contracts for and to build.
The table below gives a comparison picture of DFT to some of its competitors.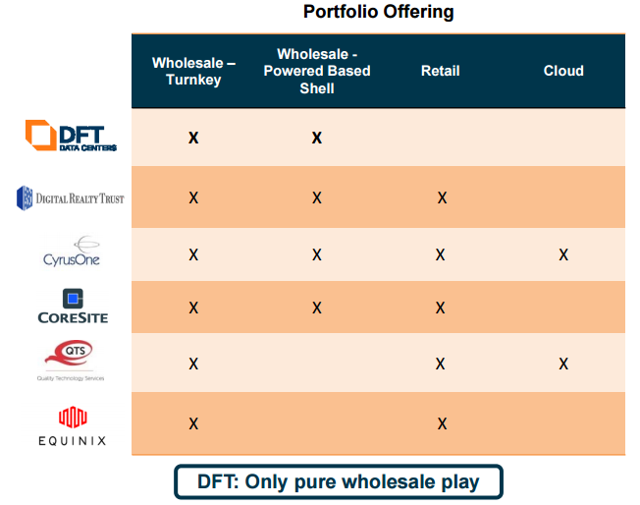 Virtually, all of the other datacenter REITs provide some form of sophisticated add-on services. This may mean that DFT has a niche market much more to itself than the demographics might indicate. It is a bit unclear whether this is sustainable or not. Many customers want to lease datacenter space in high population density areas (large metropolitan areas). Often, it is hard to find large datacenter space in such areas. DFT does seem to be betting more on its real estate expertise than many other datacenter REITs, which provide more technological services. If DFT is truly great at real estate, this may not be a problem. For now, DFT is being very successful. Its overall high-credit rating customers help with that success (see chart and table below).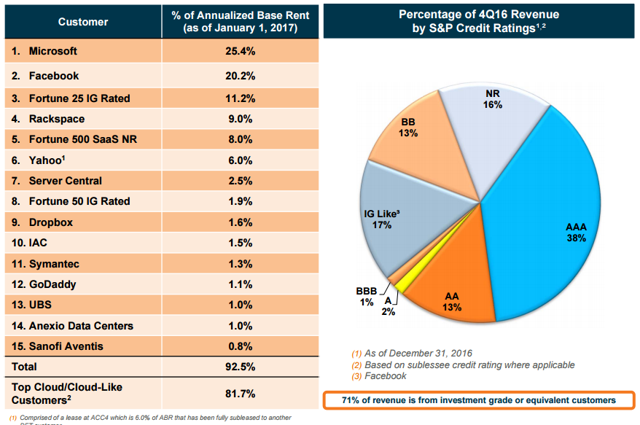 In addition to the good to great customers' credit ratings, DFT also has good to great geographical distribution and locations. It has 3.3 million gross leasable square feet and 11 datacenters mostly in three major markets in the US and Canada. Of its 287.1 MW of power, only 6 MW are outside of the US in Canada. The good news in the short term is that DFT will have very little income that is subject to FOREX fluctuations. This should prevent FOREX losses (or gains), which many global REITs have been troubled by in recent quarters. The geographic distribution is shown in the chart and data below.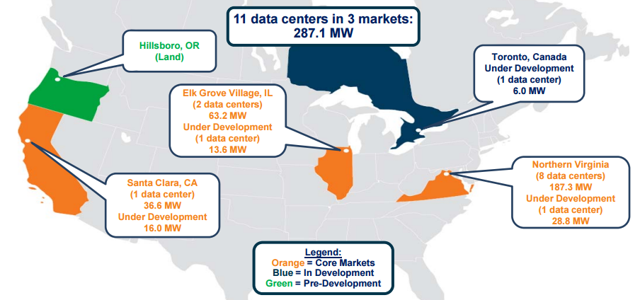 DFT's goal is to be the wholesale datacenter provider of choice, while diversifying its customer base and expanding its geographic presence. It wants to sustain a 10% profitability growth rate.
The new leases for FY2017 appear to be slightly less than FY2016 (50.93 MW). For FY2017, DFT has 64 MW under development; of that, 46 MW is available for pre-lease. However, even that lower number is higher than the 30 MW average before 2015. The chart below shows the leasing metrics from FY2012-FY2016.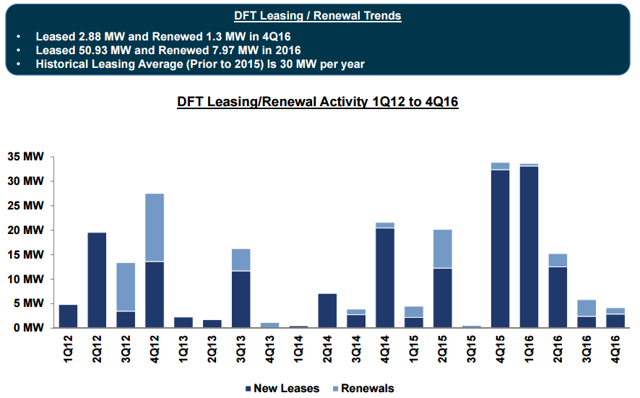 From the company guidance, FY2017 should still be a good year, even if it proves to be slower than FY2016. Further in 2016, DFT purchased land in Ashburn, Toronto, and Portland. It executed a contract to purchase 56 acres in the Phoenix market. This should leave DFT in an excellent position to plan future growth. The outlook for newly leasable square feet may well be higher in FY2018, if DFT makes significant inroads on building on these new properties. All of the properties are in large metropolitan areas. All should be able to attract good customer interest.
DFT's leases are typically either Triple Net Leases (low management costs) or Full Service Leases. DFT's largest customers are Microsoft (NASDAQ:MSFT) and Facebook (NASDAQ:FB). As shown above, 71% of DFT's revenues are from investment grade or equivalent customers. The current average lease maturity is about 5.4 years. The weighted average lease term for leases signed in FY2016 is 12.2 years. Lengthening leases is a positive sign. DFT's business looks strong.
The table below contains some of DFT's new development projects.

Notably, the above table does not include statistics for Toronto development beyond Phase 1A. It does not include any plans for Phoenix or Hillsborough, Oregon. Even without buying anything more, DFT should have a lot of new leasable square feet and power available to customers in coming years. The demographics cited earlier in this article should ensure that there is good customer demand. DFT appears to be primed to do well for some time.
The charts below show DFT's strong balance sheet relative to its debt and its EBITDA and enterprise value.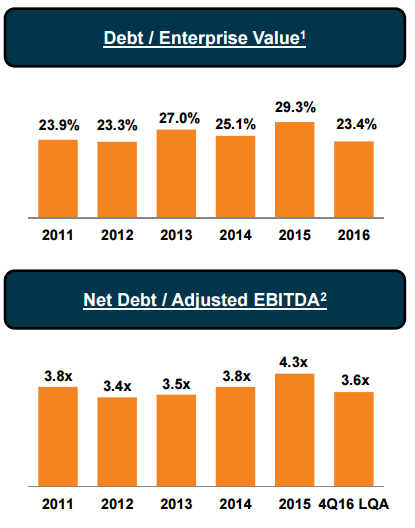 The charts below give further detail about the relative strength of DFT's debts to its assets, etc.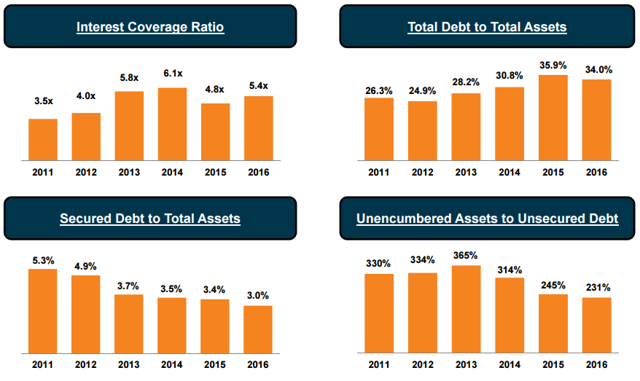 The charts below show detail about the servicing of DFT's debts.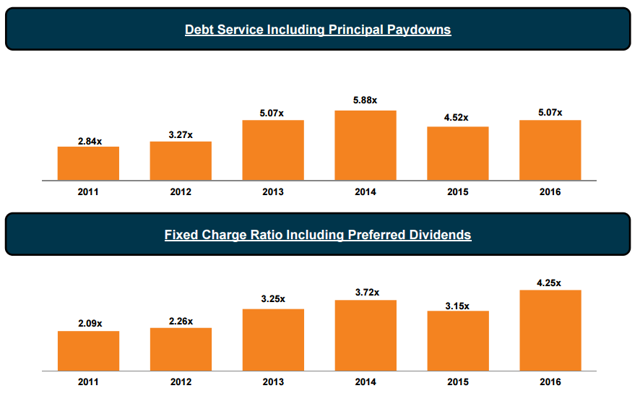 It is worthwhile to note that the fixed charge ratio has been going up. This may indicate to shareholders that DFT may be likely to have another stock offering in FY2017. In fact, it announced one on February 23, 2017, for $200 million in common shares for sale "at the market". One would expect this action to bring the fixed charge ratio down, if the monies are used to pay down debt.
In Q4 2016, EPS were $0.78/share, a beat of $0.04/share. Revenues were $141.68 million (+22.2% YoY), a beat of $5 million. Normalized FFO was $0.75/share (+23% YoY or +$0.14/share). AFFO was $0.78/share (+30% YoY or +$0.18/share). AFFO was a beat of $0.04/share.
For FY2016, normalized FFO was $2.80/share (+14% or +$0.34/share) compared to $2.46/share in FY2015. AFFO was $2.82/share (+7% or +$0.18/share) compared to $2.64/share in FY2015. The above are good numbers. The "beats" in Q4 2016 give the promise for further good numbers in FY2017. DFT's price/AFFO (FY2016) yields a multiple of about 17x. This is good for a quickly growing datacenter REIT.
DFT's Q1 2017 and FY2017 Guidance:
FY2017 normalized FFO is expected to be $3.00 to $3.20 per share (or a midpoint of $3.10/share).
Q1 2017 normalized FFO is expected to be $0.76 to $0.78 per share (or a midpoint of $0.77/share).
GAAP EPS for FY2017 is expected to be $1.75/share to $1.95/share (or a midpoint of $1.85/share).
Q1 2017 GAAP EPS is expected to be $0.45/share to $0.47/share (or a midpoint of $0.46/share).
The declared dividend for Q1 2017 is $0.50/share. Annualized, this is $2.00/share. At the $48.08 closing stock price on March 20, 2017, this amounts to a 4.16% annual dividend. If the recent past is any indication, the annual dividend is likely to be slightly higher. The price/normalized FFO (midpoint of FY2017 guidance) is 15.5x. Using the high-end of normalized FFO guidance for FY2017, it is about 15x. AFFO results are usually higher than normalized FFO results. Since FY2017 normalized FFO/share ($2.80/share) and AFFO/share ($2.82/share) were close to each other, I will not attempt any further adjustment. At a multiple of about 15x, based on FY2017 expected normalized FFO, DFT is a good bargain, especially when you add in the approximately 4.16% annual dividend.
The two-year chart of DFT provides some technical direction for a trade/investment.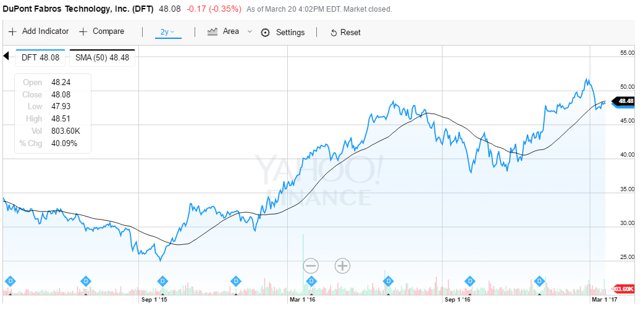 The chart above indicates an uptrend. The recent results have been good. The guidance has been good. There is no reason why the stock should not continue to go upward, especially given its price/normalized FFO multiple of 15-15.5x based on FY2017 guidance. DFT is a relative bargain in the datacenter REIT arena. It has great demographics; and its at least partial Triple Net Leasing scheme should make its earnings more resistant to an economic downturn than the earnings of most other datacenter REITs. DFT is a buy.
Unfortunately, the overall market is not in such good shape. The forward 12-month PE for the S&P 500 is 17.8. The five-year average for this statistic is 15.0. The S&P 500 could logically lose, 15.7% by simply returning to its five-year average. DFT has a beta of 1.05. That means it would be expected to move with the market. With this in mind, I will lower my rating of DFT to a low buy. The market may look ugly at this time; but DFT still looks good.
NOTE: Some of the fundamental fiscal data above is from Yahoo Finance.
Good Luck Trading/Investing.
Disclosure: I/we have no positions in any stocks mentioned, but may initiate a long position in DFT over the next 72 hours.
I wrote this article myself, and it expresses my own opinions. I am not receiving compensation for it (other than from Seeking Alpha). I have no business relationship with any company whose stock is mentioned in this article.