LGI Homes (NASDAQ:LGIH) beat Q4 revenue and EPS estimates earlier this month. The stock has been in consolidation mode for the last six months and it was particularly weak after the company posted two year-over-year declines in monthly closings in January and February. I warned about the poor seasonality in my previous article and that it was not a cause for concern (though I didn't expect closings to be this low) and the company guided for solid 2017 closings growth despite the slow start to the year. It seems that the stock has a strong seasonal pattern, where it corrects early in the year and starts rising in the following months. The pattern is holding so far this year. I remain bullish on LGI Homes and think the stock should perform well in the following quarters.
Q4 2016 results and closings trends in Q1 2017
Q4 was another strong quarter for LGI:
Revenues were up 34% Y/Y to $236.8 million, driven by a 20% Y/Y increase in closings and an 11% Y/Y ASP increase.
EPS was up 34% to $1.01 per share.
Gross margin was up 70 basis points Y/Y.
Operating and net margins are at new multi-year highs at 14.5% and 9.8% respectively.
LGI's operational performance has been stellar since the company went public and that was achieved despite the significant diversification away from Texas, where the company still boasts the best numbers when it comes to closings per community.
That said, Q1 is off to a very slow start with two Y/Y declines in closings, and these have been pretty rare. However, there is a reasonable explanation that doesn't cast any doubt on LGI's growth prospects. According to LGI management, some of the top performing communities in Texas had a really strong 2016 and some closings got pulled into December and the next sections of development were not ready yet. And while it's not great to see the company is running late with development, it is great that demand was so high that some communities in Texas got sold out and had almost no closings in January and February.
The good news is that the company expects those communities to ramp up over the next few months and produce 8 to 10 closings per month on average. This is the excellent performance of the Texas business that I mentioned earlier as it is pushing the company-wide average higher (monthly closings per community have averaged around 6 over the last three years).
The company also expects to close between 375 and 425 homes in March compared to 367 in 2016, and the 2017 home closings guidance remains at 4,700, representing a 13% Y/Y increase. Based on the ASP guidance for the year, LGI is on track to exceed $1 billion in annual revenues in 2017.
Valuation very attractive, seasonality points to stronger performance in the rest of 2017
It seems like LGI is giving investors a solid long-term buying opportunity at the start of every year. This could be related to the company's usual slow start to the year, as closings in January and February are often weak and drive the share price down. This year is no different. January and February closings were once again weak and investors reacted by selling and driving the stock down despite the company reiterating its bullish 2017 closings outlook - I have no reason to doubt management's credibility as they have executed very well against what they guided for every year since going public.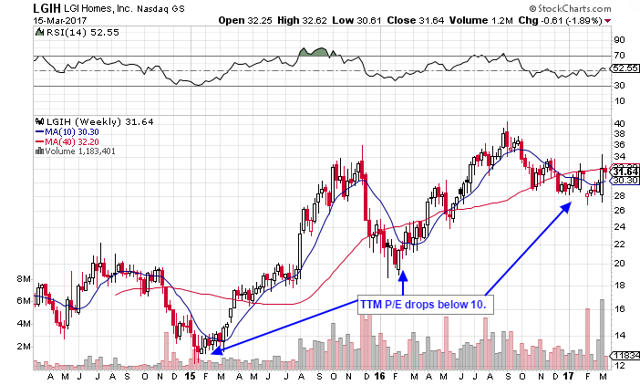 Source: Stockcharts.com
The valuation chart shows those buying opportunities much better. The stock is once again trading at a TTM P/E ratio below 10 and when it hits 9 or slightly below, it usually bottoms. The TTM P/E hit sub-9 levels in early February.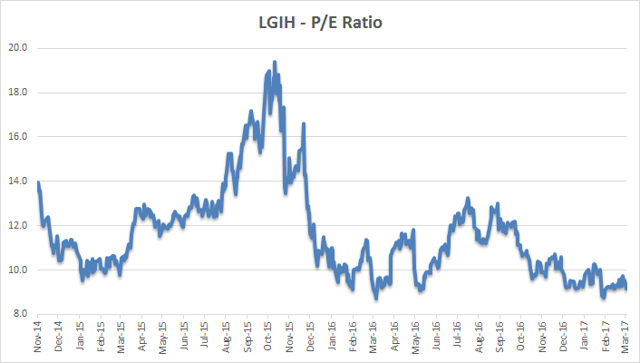 Source: Yahoo! Finance, LGI earnings reports
If the company executes in line with its guidance and if the stock stays at current levels, the P/E ratio should drop to around 8. So, even if we take the historical lows of around 9 as the valuation target, there is still around 12% upside from current levels. I think the stock should be trading near the forward P/E ratios of its peers, and their average is around 12, which translates to $46-47 per share for LGI. Higher multiples mean higher upside potential and vice versa.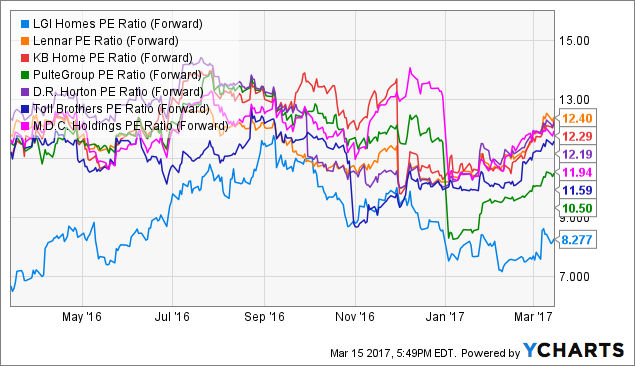 Source: Ycharts.com
Trailing peer multiples are in the 13-17 range with an average of around 14, which I think LGI should achieve in 12-15 months. My new price target is $54 (up from $51) based on a 2017 P/E ratio of 14 and diluted EPS of $3.84 (with upside to these estimates).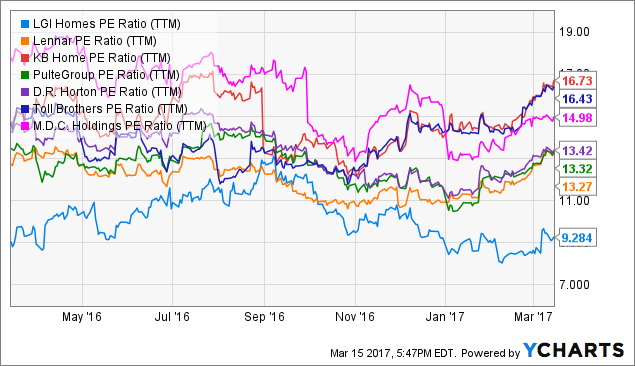 Source: Ycharts.com
A look at these peer valuation charts reveals that LGI is being discounted to its peers. One of the main reasons is probably the company's reliance on Texas, which could be justified from a diversification standpoint but absurd in two ways:
The Texas division is by far the best performer for the company and has shown continued and robust rates of closings per community.
The Texas division has been "stubbornly" strong even in the wake of very weak oil markets, which LGI bears have used as their negative thesis on the company.
And the company is diversifying away from Texas anyway and expects closings in the Lone Star State to drop to 45% of total closings in 2017.
Conclusion
I think that LGI Homes is unreasonably undervalued relative to its peers and that it will eventually close that gap (like it did in mid-2016). The reliance on Texas has so far been LGI's strength, not its weakness, and the company is also successfully diversifying away from Texas. The upside potential is still attractive and I am reiterating my buy rating and raising my price target from $51 to $54. The stock is seasonally weak early in the year which was a solid long-term buying opportunity in the past and I think this year should be no different. The main risks to the thesis are rising construction and labor costs which the company has managed to control with ASP increases so far. Another risk are rising interest rates, but the Federal Reserve's intention of gradually increasing interest rates means that mortgage rates will probably stay low in the following years.
Author's note: Growth Stock Forum subscribers had an early look at this article, and have access to regular exclusive updates on every stock I am covering. Readers are invited to take a two-week free trial in the Seeking Alpha Marketplace.
Disclosure: I am/we are long LGIH.
I wrote this article myself, and it expresses my own opinions. I am not receiving compensation for it (other than from Seeking Alpha). I have no business relationship with any company whose stock is mentioned in this article.