Two weeks ago, I wrote an article about the bull case for Bank of America (NYSE:BAC) and the rate hike that would be a great opportunity to buy some Bank of America shares, if you hadn't done so already.
Article: Buy Bank Of America Next Week
The last part of my conclusion can be seen below.
Bank of America has gotten ahead of itself based on the yield curve. However, risk indicators based on fixed income 'products' like the corporate bond vs. government bonds spread indicate further growth. This in combination with the likelihood that banks are going to fall shortly after the rate hike, gives us a great entry point during the next two weeks.

Source: Buy Bank Of America Next Week (03/09/17)

Source: Cargo
Bank of America has dropped about 5.5% after peaking in the first week of March 2017. America's third-biggest, stock-listed bank started peaking shortly before the rate hike on the 15th of March. In my last article, I talked a lot about the short-term risks of a rate hike and the great entries after such a hike. In this article, I will elaborate on this.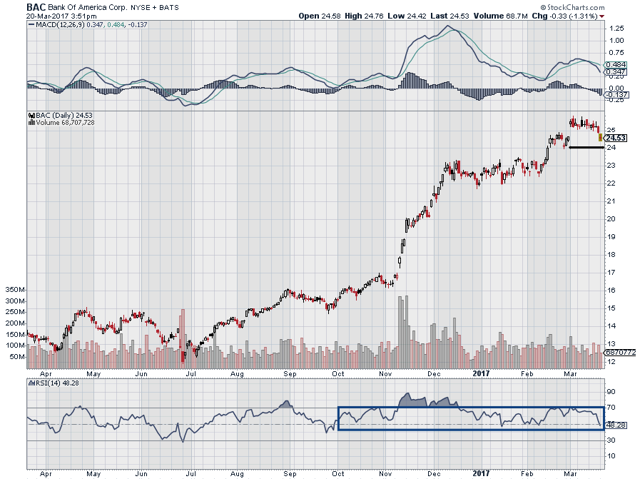 Before I go to the next graph, it is important to say that Bank of America didn't enter oversold territory since the election of President Trump. The RSI didn't even go below 50 for an extended period of time. There has been a very strong uptrend, backed by dip buyers who added on every dip. Even the period between December of 2016 and February of this year didn't result in a bigger drop.
That's why the theory to buy stocks once the RSI goes below 30 doesn't work. The fundamental case is rock solid and traders don't provide you with the opportunity to buy it too 'cheap.'
This is one of the reasons why I emphasized on the latest rate hike. Overall, rate hikes are bullish for banking stocks. Simply because banks benefit from a steeper yield curve. That being said, it is strange to many people to see that banks drop after a rate hike. During the same period, we see that gold and bonds are rallying.
The simple reason is that traders are unwinding their bank and USD longs after a rate hike. The same goes for gold and bond shorts. Traders were betting on a certain outcome of the Fed meeting. They turned out to be right and sold their positions at a point when risk/reward fell sharply.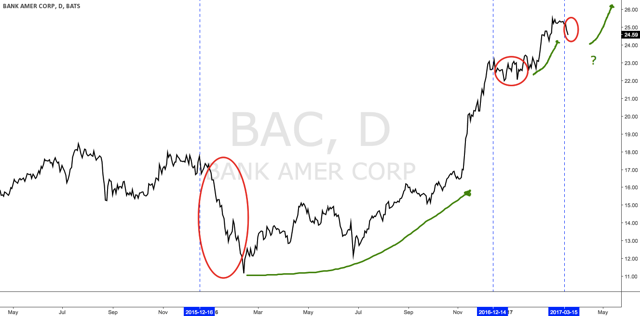 At this point, it is important to mention that the first hike is different from the other two. The 2015 hike took place during a severe slowdown, which pushed stocks even lower - especially cyclical stocks were suffering.
The current situation is comparable to the one at the end of 2016. Growth is accelerating according to leading indicators like the ISM manufacturing index and every single major regional leading index.
This is important because we need to justify the next rate hike. Traders need to start betting on a steeper yield curve once again. They will only do this, if higher growth can back their assumptions.
This can also be seen when looking at the yield curve below. I compared both the yield curve and the ratio spread between Bank of America and the stock market in general. Bank of America has a tremendously hard time outperforming the market in times of a flattening yield curve.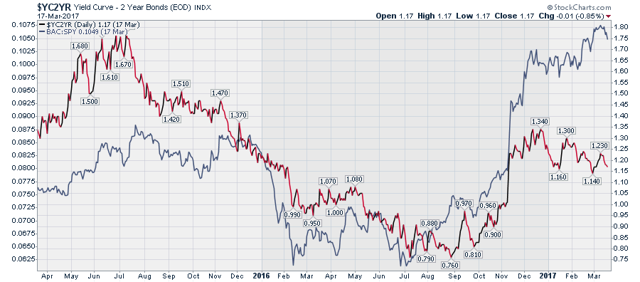 This can also be seen when looking at the next two graphs, which is also a big part of the bull case. You are looking at the ratio spread between high yield bonds and government bonds. This ratio is compared to the Bank of America stock price. Low risk sentiment is toxic for bank shares. Especially, when the yield curve is flattening.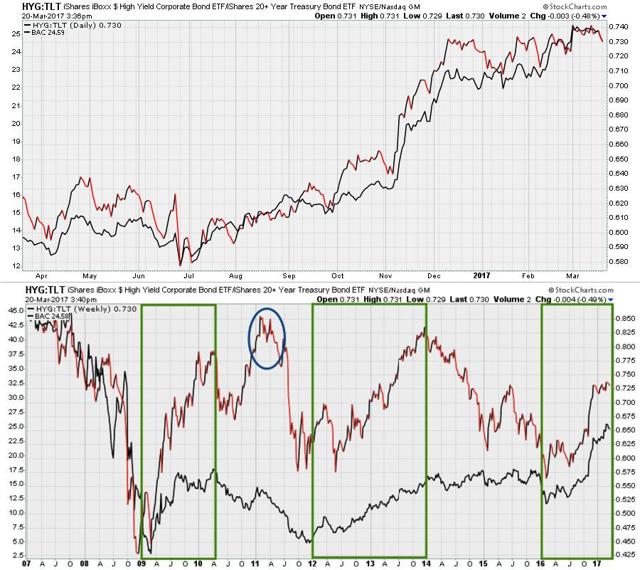 In the long term, we see that there has only been one occasion where the high yield vs. government bonds ratio has misled traders. Overall, we can say that it is simply not possible to get a sustainable bank rally without higher risk sentiment.
Conclusion
All puzzle pieces are coming together. I predicted that Bank of America would do poorly after the rate hike. At the time of me writing this article, it seems that the stock is down slightly more than 6% compared to the first week of this month. This is a typical scenario and nothing to worry about. At least not when you are not overleveraged.
I am starting to buy the stock at this point. I believe that $24 will be a bottom for the stock. Therefore, I am going to buy a small position and add if the stock falls further.
This is backed by risk sentiment, which is slowing within a strong uptrend. By buying the stock, you are betting on the return of hawkish traders regarding the next rate hike and the strength of the US economy.
If I had to summarize this trade, I would say that this is the way to go long America.
Many thanks for reading my article. Please leave a comment below if you have questions, remarks or a completely different opinion. You can also send me a direct message or tweet me @LeoNelissen. Also, make sure to always follow your own risk management.
Disclosure: I/we have no positions in any stocks mentioned, but may initiate a long position in BAC over the next 72 hours.
I wrote this article myself, and it expresses my own opinions. I am not receiving compensation for it (other than from Seeking Alpha). I have no business relationship with any company whose stock is mentioned in this article.