We're going further and further down the "crowded trade" rabbit hole here.
Over the weekend, I talked a bit about how one-sided positioning in crude ((long)), in stocks ((long)), and in Treasurys (short), is all a one-way bet on the same narrative (reflation).
I think the implications of that are probably underappreciated by retail investors. On Tuesday morning one Heisenberg Report reader by the name of "Someone" (literally) said the following with regard to the results of a Deutsche Bank investor poll about French election risk:
"Overall, we received 388 results."

That sample size makes me wonder why they even published the results. It's meaningless and tells you nothing.
Now I don't know what kind of AUM that poll represented. That is, maybe "Someone" is correct in his/her assessment. But I seriously doubt it.
See "Someone" seems to think Deutsche Bank is polling 338 "Someones." But they're probably not. They're probably polling 338 folks with a lot of AUM and/or a lot of combined net worth. It's not like the bank is going to present results that represent 338 retail investors day trading a couple of hundred bucks worth of SPY options.
The reason I use that example is because it's not clear to me that all the retail money being funneled into equities at ridiculous valuations understands how much money is behind the positioning data I presented in "A Systemic Risk?".

Put simply: those are hedge funds, money managers, CTAs, etc. The money behind that extended positioning in crude, Treasurys, and E-minis is "big league." And when that money is caught wrong-footed, the unwind is similarly "bigly." Here's the important part: you're positioned just like they are on stocks (NYSEARCA:SPY).
Relatedly, here's a snapshot of just how big CTAs (the trend followers) have become. Note that BofAML has thrown in Bridgewater's All Weather Fund (risk parity) as a way of capturing the size of programmatic/systematic strats' collective footprint: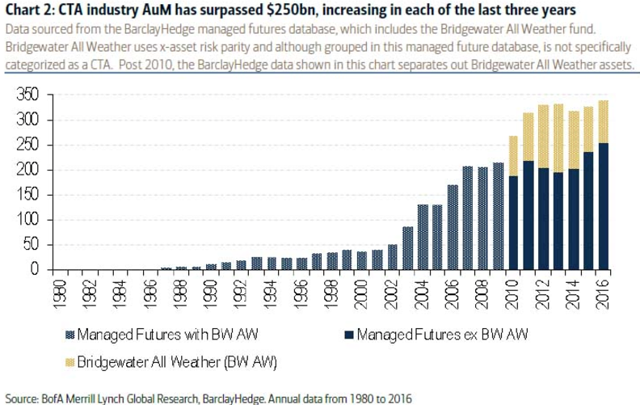 (BofAML)
And remember, that money is likely overexposed on the equity side (just like you probably are) thanks to suppressed volatility and one-way price action: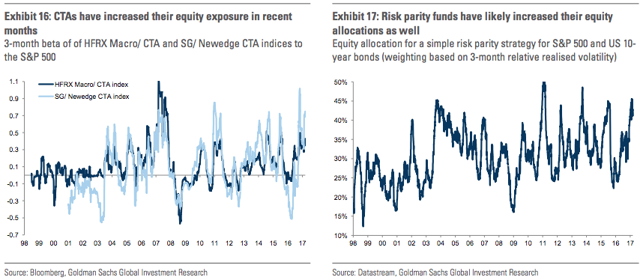 (Goldman)
So this is why we care about surveys and positioning data. That is, to answer the question implicitly posed by "Someone", sample size isn't relevant here. It's the amount of money that sample represents.
That's why CFTC positioning matters and that's why it matters when, out of 338 respondents to Deutsche Bank's survey about French election risk, ~80% see the VSTOXX spiking above 25 and 60%+ see a greater than 5% correction for European stocks in the event of a Le Pen victory.

(Deutsche Bank)
We care because this is to a certain extent a self-fulfilling prophecy. It's that money that moves markets - not "Someone's" money.
Which brings us neatly to the problem with the one-sided bets shown in the first set of charts above. Part of the reason why oil, Treasurys, and stocks have traded like they have is because of that positioning. Similarly, when some exogenous (and by "exogenous" I mean something outside of flows, like oil inventory data showing record stockpiles in crude or a dovish lean from the Fed) shock moves markets in the opposite direction of that big money positioning, that positioning gets unwound.
"Someone" (who here proxies for "you" and "Sharon") is just along for the ride. And therein lies the problem with retail buying at ridiculous valuations.
In the week before the Fed meeting (so, Wednesday through Wednesday), developed market equity funds saw their largest inflows in 13 weeks. Here's a more granular look at flows into US equity funds: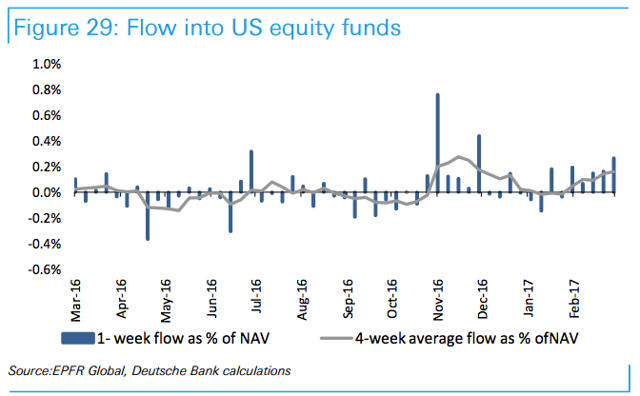 (Deutsche Bank)
And retail isn't alone in being optimistic. On Monday, Credit Suisse hiked its S&P 500 targets, followed on Tuesday by SocGen who raised their equity allocation citing a variety of tailwinds.
Meanwhile, fund managers surveyed by BofAML say their allocation to equities is now the highest in years: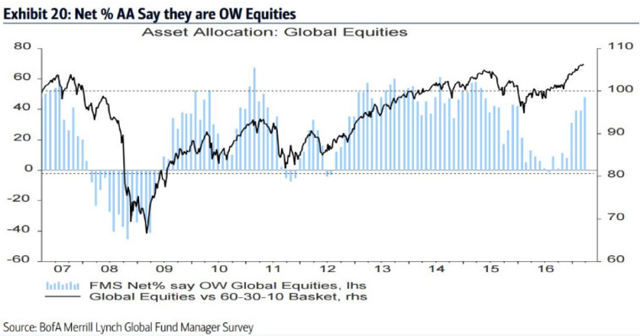 (BofAML)
But just as the Deutsche Bank survey shows that large investors are well aware of the risks, the BofAML survey from which the above chart is pulled also shows that the net percentage of respondents who think equities are overvalued is quite simply off the charts (literally):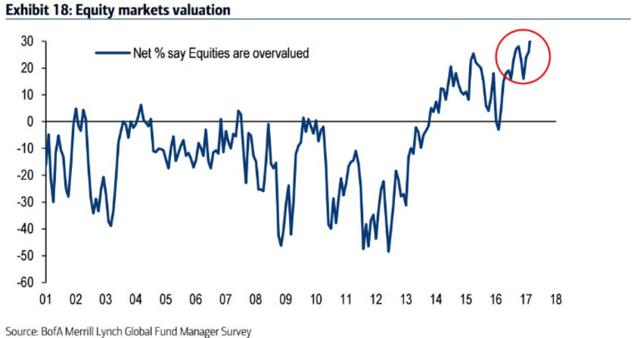 (BofAML)
Which makes sense when you consider that there's a whole lot of optimism out there but, to put it colloquially, "it ain't based on earnings":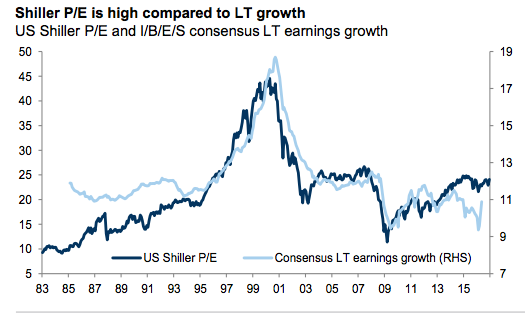 (Goldman)
So coming full circle and closing the book on "Someone's" question, we watch these surveys and we scrutinize the positioning data because we want to know where the big money is and how that big money is thinking about what might lie ahead.
If you're a retail investor, just know that should things start to move in the "wrong" direction, "Someone" will invariably be the "last one" holding the bag.
Disclosure: I/we have no positions in any stocks mentioned, and no plans to initiate any positions within the next 72 hours.
I wrote this article myself, and it expresses my own opinions. I am not receiving compensation for it (other than from Seeking Alpha). I have no business relationship with any company whose stock is mentioned in this article.