Frontier Communications Corp. (NYSE: FTR) was recently yanked from the S&P 500 index. The company is currently in an all-time low territory with the stock trading at $2.44. The company's short interest is at an all-time high. At this point, contrarians may find the company attractive based on its attractive dividend yield, cheap price, and expected growth rate. This article explains why the company is undervalued.
Where things are
In February, I published an article questioning FTR's current dividend of 17.21%. In all standards, this is a reasonably high yield for any company. Later on, the company released the Q4 and full year report. The company reported quarterly revenues of $2.4 billion which was higher than Q4'15 but lower than analysts' forecasts by $100 million. Annual revenue of $8.8 billion was higher than the 2015's revenue of $5.5 billion. For the year, total operating expenses almost doubled from $4 billion in 2015 to $8 billion. Net loss increased from $196 million to $373 million. Free cash flow declined from $438 million to $268 million.
The company also saw a reduction in the number of customers and the average monthly revenue per customer. Residential accounts numbered 4.8 million in Q4 down from 5 million in Q3 while the average monthly spend by customers declined from $82 to $80. For commercial customers, they dropped from 516 thousand to 506 thousand while the average monthly spend declined from $668 to $665.
Last quarter, the company reorganized its business structure by creating consumer and commercial business units. While there is sense of this separation, one is left wondering why the company took that long to make an obvious reorganization. The company also accelerated the $250 million synergy realization to the end of the first quarter. It intends to create an additional $350 million by 2018. Finally, the company accelerated the cleanup of the California, Texas, and Florida accounts which resulted to a minor impact on revenues.
Call for optimism
Investors are pessimistic about FTR for a number of reasons. First, they are concerned with the reverse stock split which the board is recommending. Second, they have concerns about the dividend cut. As I pointed in the previous article, a dividend cut is imminent. Third, they are concerned about the recent acquisitions and whether the company will achieve the goal it intended. Fourth, there are concerns about the company's debt levels which have risen from $8.3 billion in 2012 to $18 billion in 2016. Fifth, there are concerns of the reduction in customer numbers. Finally, there are concerns about the company's voice revenue. In the latest annual report, the company said this about this segment:
…We will likely continue to experience further reductions in the future. These factors, among others, are likely to cause our local network service, switched network access, long distance and subsidy revenues to continue to decline, and these factors may cause our cash generated by operations to decrease.
These concerns are valid. However, I believe the company can execute a turnaround strategy that involves operating expenses as they mentioned in the recent earnings call.
As we have been building our sales momentum, we have been accelerating our expense reduction efforts to ensure our business is right-sized to market realities, reflects our revenue opportunities and maintains free cash flow.
FCF and Dividend
FTR has a dividend yield of 17.43% and a payout ratio of -189%. This payout ratio means that the company's dividend was not covered in its cash flow. In 2016, the company spent $707 million in dividends against a free cash flow of $265 million. The company expects this to change this year as the company expects to grow from $800 million to $1 billion. The chart below shows the company's FCF in the past 5 years.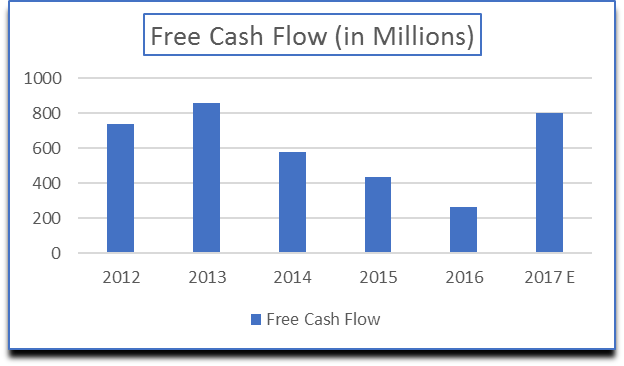 Source: Author + Marketwatch data
As I mentioned in the previous article, when looking at companies like Frontier that have a high dividend yield, I mostly focus on the free cash flow and whether it can support the dividend. I am usually satisfied if a company can pay a hefty dividend and repurchase stock by using its cash flow.
Still, for such companies, I am usually supportive of a dividend cut especially when the company is heavily in debt. This is the case with FTR. Although a dividend cut might not be popular with income investors, it is good for the long-term sustainability of the company. In the past, the company has slashed dividends too as shown below.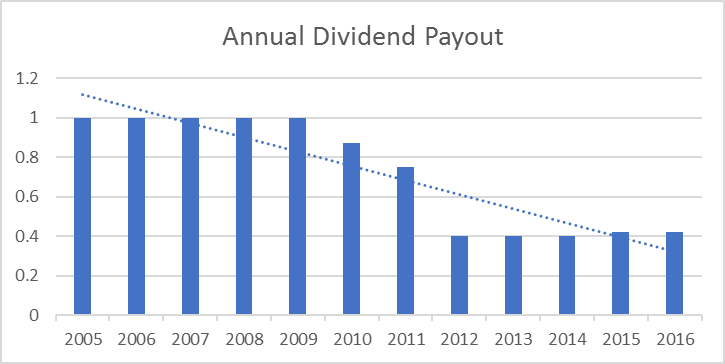 Source. Author + dividend.com data
Valuation
FTR has a market cap of $2.8 billion which is near its all-time low. Forward looking, investors expect the company to have revenues of $9.26 billion, higher than the $8.8 billion in 2016. The average EPS estimate for the year is $-0.18 which is higher than the $-0.51 it had in 2016. The company is expected to cut operating expenses and improve its FCF as shown before. The company has an RSI of 28, an indication that it is oversold as shown below.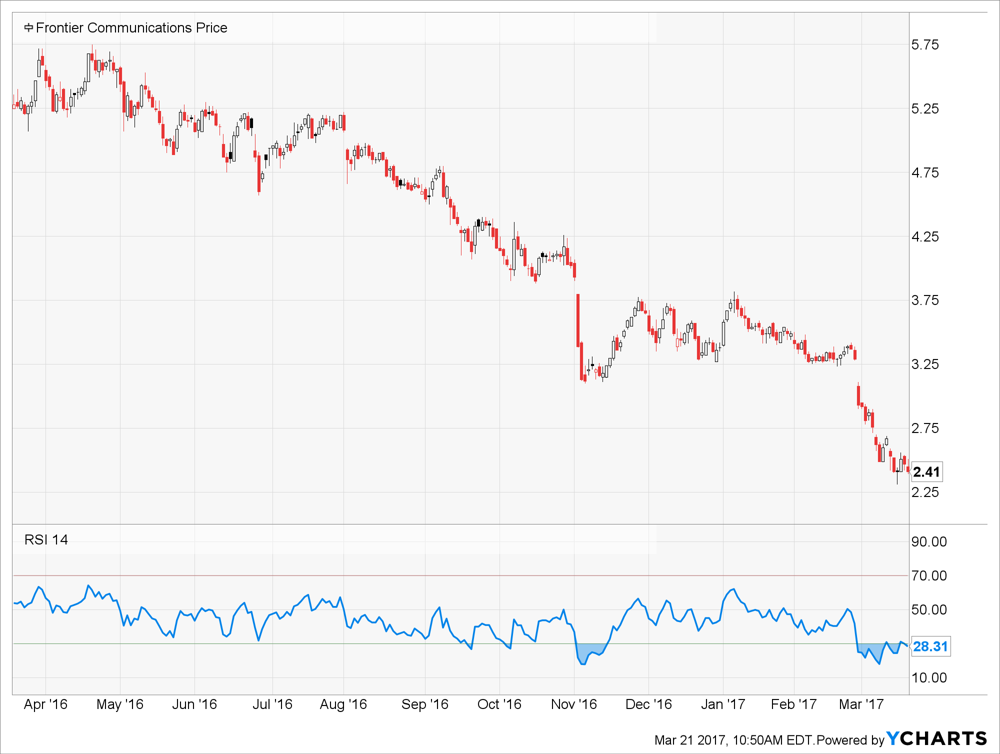 Looking at the DCF calculation from Simply Wall Street, the company's value based on future earnings is $6.08.

Source. Simply Wall Street
Since FTR has negative earnings, I compared the company's one-year Price to Sales ratio. The company has a PS ratio of 0.3 which is significantly lower than its competitors as shown below.
| | | | | | | | |
| --- | --- | --- | --- | --- | --- | --- | --- |
| | | | | | | | |
| PE Ratio (Forward 1y) | 0.32 | 0.74 | 3.94 | 3.67 | 1.802 | 4.6 | 1.6 |
Source: YCharts
Final Thoughts
FTR has many challenges ahead. While I think a dividend cut is necessary, investors should take in a positive way because dividend cuts are not always bad. As demonstrated, the company is currently oversold and has a potential to go high.
Disclosure: I/we have no positions in any stocks mentioned, and no plans to initiate any positions within the next 72 hours.
I wrote this article myself, and it expresses my own opinions. I am not receiving compensation for it (other than from Seeking Alpha). I have no business relationship with any company whose stock is mentioned in this article.