Everybody is familiar with the famous "Price Is What You Pay, Value Is What You Get" quote of Warren Buffett. If you are not, probably, you are not playing a safe bet.
Let's take a look a biopharmaceutical company with a share price that is at a substantial discount with massive upside potential, and also has a healthy balance sheet.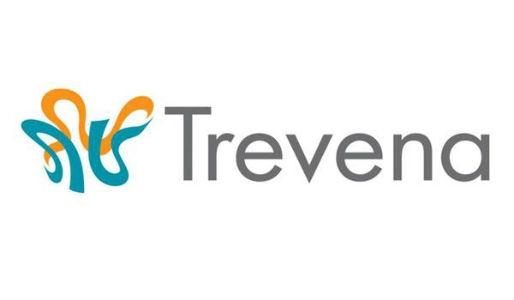 Trevena, Inc. (NASDAQ: TRVN) is a clinical stage company that discovers, develops and intends to commercialize therapeutics that use a novel approach to target G protein coupled receptors. The company's product pipeline consists of TRV027, TRV130, TRV734, and Delta Opiod. Trevena was founded by Robert Joseph Lefkowitz, Scott DeWire, Howard A. Rockman, Jonathan Violin and Erin Whalen on November 9, 2007 and is headquartered in King of Prussia, PA.
For further information, the company has a one-year high of $9.49 and a one-year low of $3.50. Currently, Trevena Inc. has an average volume of 945.2K.
Conference call
To give a clear picture of what's going on right now for Trevena, I included some main points of the conference call held by them on March 8.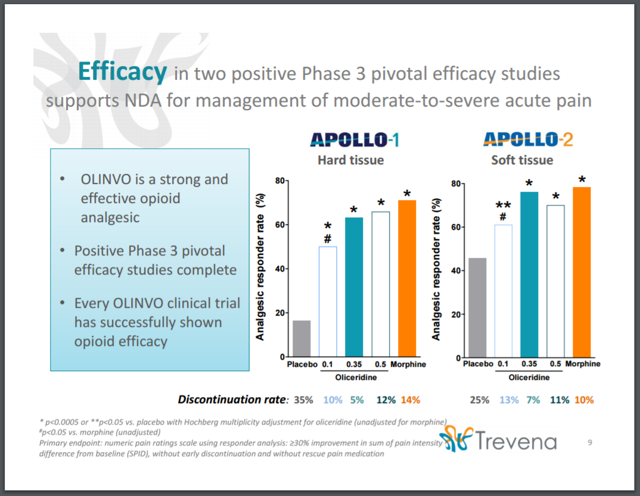 In the discussion, the company reported in Feb 2017 both Olinvo Phase 3 trials met primary endpoints in post-operative pain. However, only a trend was seen towards superiority in respiratory and GI safety and tolerability profile relative to morphine.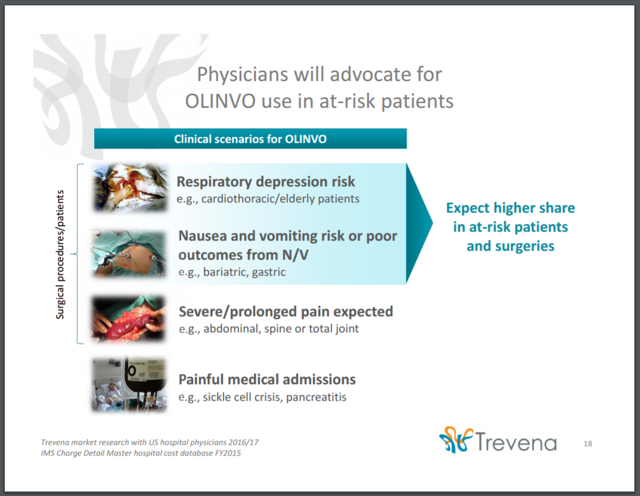 Based in part on initial physician reaction to Phase 3 data, management plans to target patients at highest risk for opioid adverse events, in particular elderly and cardiothoracic, bariatric, and gastric surgeries.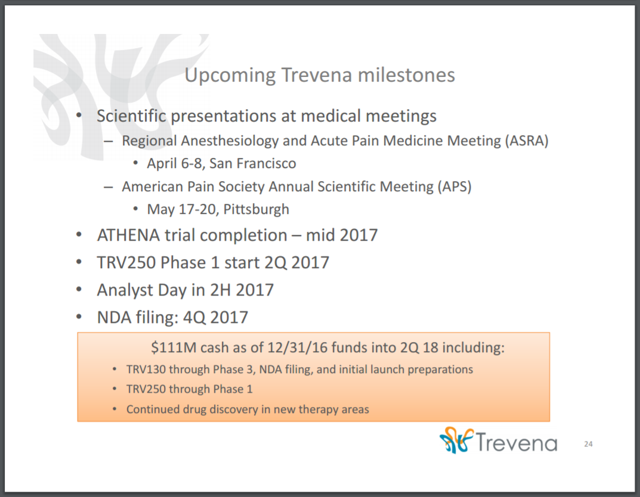 For upcoming milestones, management guided for top line ATHENA safety trial results in mid-2017 (was 2017) and plans to submit an NDA in 4Q17 (unchanged).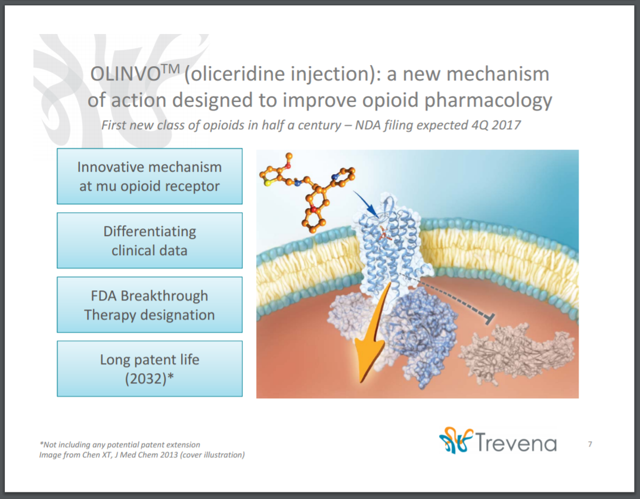 Currently, Trevena is advancing three product candidates from its proprietary platform focused on developing best-in-class receptor modulators with the potential to revolutionize standards of care.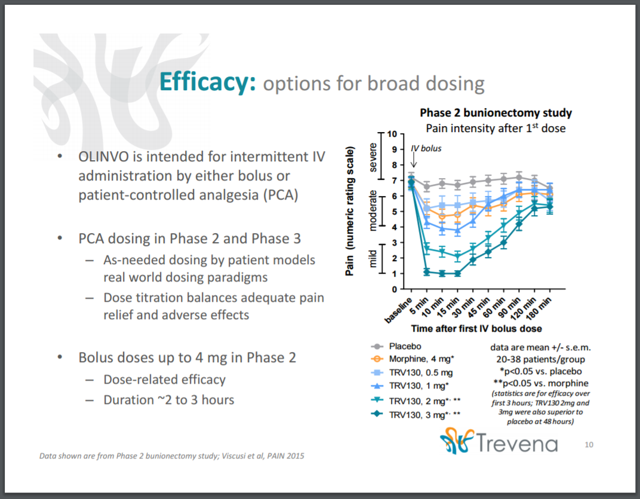 Trevena's lead compound, oliceridine (TRV130), has demonstrated "potent analgesia" with lesser respiratory depression and constipation than morphine, which is the standard of care at present.
Apart from that, why am I saying confidently that Trevena could be a huge upside trade?
Here are the three major near-term de-risking events, which will make you feel optimistic:
(1) Top line data from two Phase 3 pivotal studies in 1Q17 that has a high probability of success (PoS) based on data from two Phase 2 studies in distinct patient models: abdominoplasty and bunionectomy surgery.
Oppenheimer analyst Derek Archila said he increased his probability of success (PoS) to 90% (from 75%) as he believes Olinvo will receive approval.
(2) An NDA filing for oliceridine in 2H17.
The company announced that all additional clinical, non-clinical, and manufacturing activities remain on track to support an NDA submission in the fourth quarter of this year.
(3) A potential FDA approval for oliceridine in 2018.
"We believe the data for all three dose regimens will support FDA approval of IV oliceridine with a broad indication of management of moderate-to-severe acute pain. These successful trials cap a development program that has shown consistent differentiation of oliceridine from morphine in multiple clinical trials," said Maxine Gowen, Ph.D., chief executive officer.
Global Opioids Market Size and Forecast, US$ Million, 2014-2024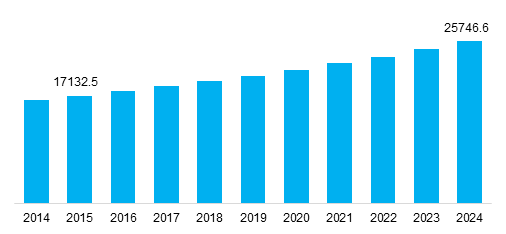 Source: Coherent Market Insights
Where Trevena's story gets particularly intriguing is Oliceridine should not be taken lightly and it is worth a deeper dive right now because the acute pain market in the U.S. is enormous enough, and there's a clear need for alternatives to morphine. Put simply, if oliceridine can capture even 10% of this huge market, Trevena's stock would almost certainly sport a radically higher valuation (and do not forget the company only has a tiny market cap of around $300 million). In other words, this specific drug market has all the factors in place to possibly make a highly lucrative product such as oliceridine.
Favorable Results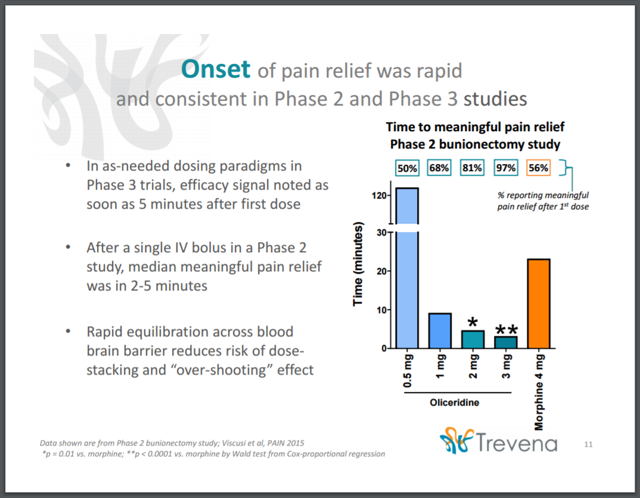 Having demonstrated superior time to meaningful relief as well as higher overall pain relief scores as in Phase 2, Oliceridine may produce hundreds of millions in sales, again, which is a great potential haul for a firm with a market cap of roughly $300 million.
In fact, Trevena's value proposition centers on the injectable analgesic oliceridine that's presently in two late-stage studies for moderate-to-severe acute pain. To cut the long story short, oliceridine is designed to essentially be a replacement for the go-to acute pain drug morphine. To achieve this sky-high goal, Trevena is still in the process of improving the drug's side effects compared to morphine.
As acute pain market is still growing significantly, I anticipate Olinvo will be able to serve as an important treatment option for patients most at risk for opioid-related adverse events, and thus, I also expect it to be commercially applicable.
Following top line release of the pivotal Phase 3 APOLLO oliceridine data, I believe that investors already sensed the potential of Trevena, given the approval prospects are strong.
Value

Source: tipranks
On the other side, based on 9 analysts offering recommendations for TRVN in the last 3 months, the overall consensus is a Strong Buy.

And based on 9 ranked analysts offering 12-month price targets for TRVN in the last 3 months, the average price target is $10.94, with a high estimate of $15.00 and a low estimate of $8.00, which means Trevena's share price is at a substantial discount.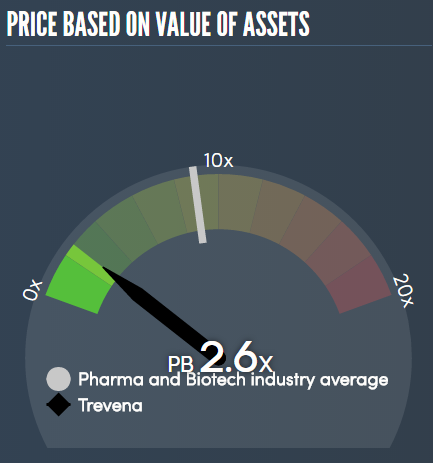 Source: simplywall.st
Trevena also maintained a good value based on assets compared to the Pharma and Biotech industry average. (A lower P/B ratio means that the stock is undervalued.)
Financial Health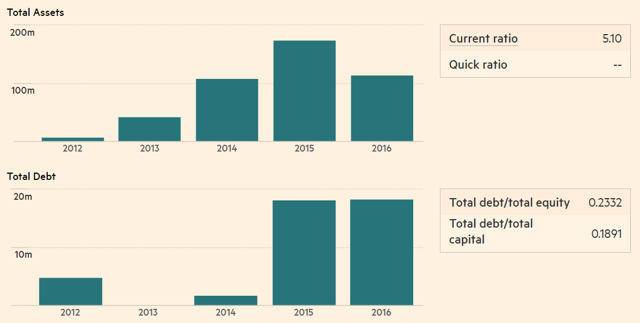 Source: Financial Times
In addition, Trevena Inc. has a Debt to Total Capital ratio of 18.91%, a higher figure than the previous year's 12.71%, which means they have low level of unsold assets and their total debt is covered by short-term assets.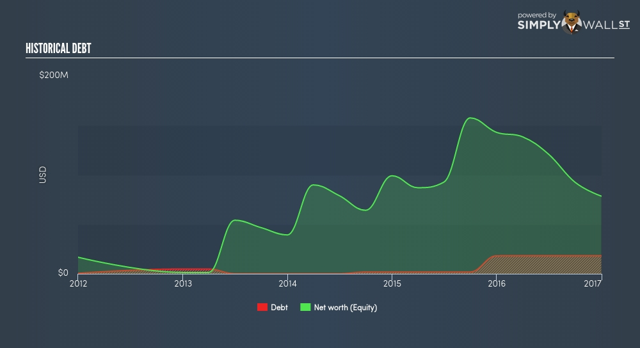 Trevena Inc. was also able to meet its short-term (1-year) commitments with its holdings of cash and other short-term assets, their cash and other short-term assets cover its long-term commitments.
Management
Based on the recent corporate insider activity of 6 insiders, corporate insider sentiment is positive on the stock. This means that over the past quarter, there has been an increase of insiders buying their shares of TRVN in relation to earlier this year. Last month, Maxine Gowen, the President & CEO of TRVN bought 110,403 shares for a total of $75,074.
Who Owns This Company

Numeric Investors LLC bought 108,900 shares (approximately $640,000) during the fourth quarter; they owned 0.21% of Trevena.
Northpointe Capital LLC owns 716,102 shares (worth $4,834,000) in the third quarter.
State Street Corp. owns 706,305 shares (worth $4,154,000) in the fourth quarter.
Baker BROS. Advisors LP owns shares worth about $3,038,000 during the third quarter.
Russell Investments Group Ltd. owns shares worth about $483,000 during the fourth quarter.
Piermont Capital Management Inc. owns shares worth about $529,000 during the third quarter.
69.28% of the stock is currently owned by hedge funds and other institutional investors.
Risks
Olinvo's safety data relative to morphine has left investors questioning Olinvo's marketing potential since the comparative data were not perfect enough. In this case, the effort to reduce the side effects of Olinvo plays an important role as this will affect its attractiveness to substitute morphine.
The volatility of Trevena is pretty high due to its nature as a biotech company and it may not be suitable for low-risk appetite and short-term investors. However, the reward will be generous if you are willing to wait; as Warren Buffett said: You can't produce a baby in one month, I believe long-term investors will find themselves harvesting happily afterward.
Take Action Before Mr. Market
In conclusion, Trevena is likely to have a vast value correction as Mr. Market underestimates their potential. However, take note that Trevena is also not for dividend investors since they are not paying a notable dividend. I expect FDA approval and modest initial market penetration based on partial differentiation from morphine. I believe the stock is undervalued in relation to even modest commercial expectations. As a result, consider adding Trevena to your portfolio before it is spotted by Mr. Market.
Disclosure: I/we have no positions in any stocks mentioned, and no plans to initiate any positions within the next 72 hours.
I wrote this article myself, and it expresses my own opinions. I am not receiving compensation for it (other than from Seeking Alpha). I have no business relationship with any company whose stock is mentioned in this article.