Snap (NYSE:SNAP) regained some steam Monday following the social media company's first 'buy' rating and the stock closed up 2%. Monness, Crespi, Hardt & Co. initiated coverage on Snap with a 'buy' rating and a $25 price target. This suggests 25% upside from the stock's current price. Of the coverage that has been initiated since Snap went public, this is the first note that suggests any notable upside in the future.
| | | |
| --- | --- | --- |
| Move | Firm | Rating |
| Initiated | Monness, Crespi, Hardt & Co. | Buy |
| Initiated | Needham | Sell |
| Initiated | Susquehanna | Hold |
| Initiated | Aegis Capital | Hold |
| Initiated | Nomura | Reduce |
| Initiated | Pivotal Research Group | Sell |
| Initiated | MoffettNathanson | Sell |
| Initiated | Mizuho | Neutral |
| Initiated | Morningstar | Sell |
Snap gets a 'Buy'
Let's begin by breaking down analyst James Cakmak's comments regarding the initiated 'buy' rating. In a note to investors, Cakmak said, "In short, Snap could conceivably replace the camera app." This misconstrued notion that Snap is going to eliminate the camera app is simply outrageous. Cakmak believes Snap is the only company that's innovating and other social media giants like Facebook (NASDAQ:FB) are simply copying them. While this statement is true to some degree, it's off base. Snapchat, despite being a highly popular app, is not innovating the camera. Comments like those are downright insulting to the likes of Steven Sasson. If anything, it is innovating the way people share and interact with the camera. While this may seem like a nuance, it's extremely important in our analysis. Facebook is copying Snapchat's features and it is having success doing it. Instagram has added stories and WhatsApp just recently introduced a new feature called 'Status.' This feature allows users to post photos, videos, GIFs, drawings, and more with their friends on a feed and it will disappear after 24 hours. The reason imitators are having success is because Snapchat lacks a competitive advantage. If it was truly innovating, this would not be an issue. Comments like these make me wonder if analysts actually use Snapchat or even talk to the main demographic that uses the app. Snapchat is mostly used to share low quality images with friends.
What I found most alarming with Cakmak's comments was what he said in regards to monitoring user data via Bitmoji. Bitmoji was acquired for over $100M by Snapchat in 2016. For those who are unaware, Bitmoji allows you to create an animated person that looks just like you. You can select certain clothes and animations then superimpose these images over your Snapchats (see example below).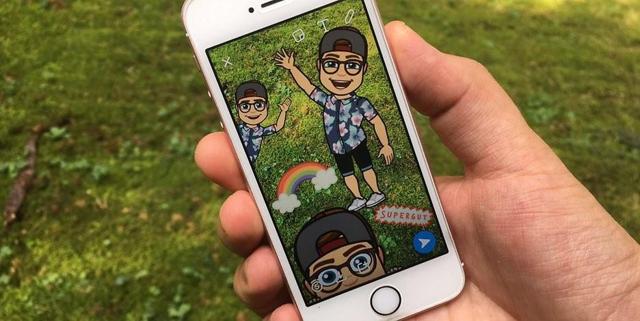 (Source: website)
Cakmak believes that Bitmoji is going to help Snap better understand its user base and gather important data. This afternoon, on CNBC, he said, "they know exactly what you look like, what your style is and what brands you're associated with." To me, this is flat out preposterous. To think that Snapchat is going to be able to curate content to individual users' interests based of a cartoon image is ridiculous. Cakmak would like to see Snapchat become "the digital equivalent of channel surfing" with curated content provided to you based of your preferences. The assumption that Snap will be able to figure out what content best suits you based of what you look like shows just how out of touch analysts are. My response to these comments looks something like this: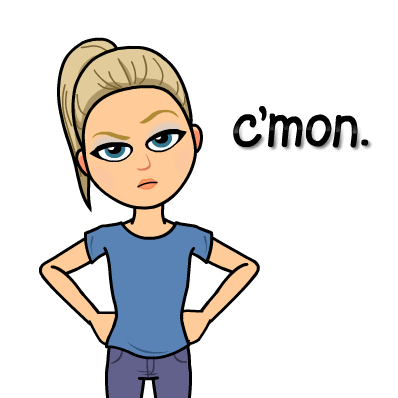 Short-Term Headwinds
Investors should be cognizant of near-term headwinds that Snap may encounter. In May, Snap will release its first earnings report. Judging from what we currently know and the information available, it's entirely possible we see negative trends continue. Decreased DAU growth or even a possible contraction would likely send the stock retreating to new lows. Revenue growth as well as net loss will also be something that investors will be keeping a close eye on. In August, not only will Snap release its second quarterly report but its IPO lock-up will expire. We can safely assume that this will likely flood the market with new shares and potentially reduce share price. Evidence suggests that IPO lock-up expirations cause a drop in share price of about 1-3%.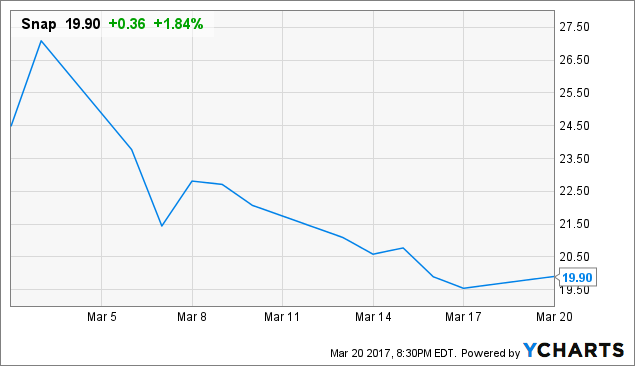 Conclusion
As discussed in my previous article before Snap went public, I remain pessimistic about Snap's growth going forward. Facebook has demonstrated just how nonexistent the barriers to entry are in Snapchat's space. Competition is coming at Snap from all directions, and going public will only open it up to increased scrutiny. I cautioned against analyst 'buy' ratings previously and see this as another opportunity to open a short position. Listening to James Cakmak's comments today only increased my confidence that a vast majority of people don't understand Snapchat. I believe this stock is headed towards its IPO price of $17 in the not so distant future, with even more turbulence to come in the next 90-150 days.
Disclosure: I am/we are short SNAP.
I wrote this article myself, and it expresses my own opinions. I am not receiving compensation for it (other than from Seeking Alpha). I have no business relationship with any company whose stock is mentioned in this article.