There's been a lot of talk about dividends among the majors and Chevron (NYSE:CVX) has been included in the conversation. Peers such as Royal Dutch Shell (RDS.A, RDS.B) and BP (NYSE:BP) have yields around 7%, Total (NYSE:TOT) has a 5.2% yield and Chevron, unfortunately, is more in line with Exxon Mobil's (NYSE:XOM) yield at just around 4%. However, Chevron has a strong history of dividend growth and increasing annual payouts, yet we have to ask ourselves at what expense is that going to come this year? The company, after all, is trying to balance an increasing capital expenditure budget and trying to become cash-flow neutral amid persistently challenging commodity prices.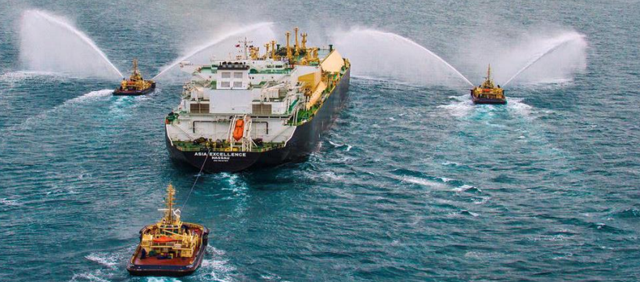 Source: Chevron
Chevron's Dividend Growth
The basis for another dividend increase will be free cash flow neutrality. In 2016, Chevron posted negative free cash flow of -$5.3 billion. Moving forward to this year, there are many projections we can make, most seeing large differences due to the variable component being crude oil prices. Interestingly enough, Chevron itself is expecting an improvement in free cash flow of $5 billion, which would bring it into cash-flow neutrality. Let's take a look at the situation.
First, projected capital expenditure for this full year is in the range of $17-22 billion. This is an increase from last year's $15.33 billion spent. Operating cash flow is a bit harder to predict, but it's possible it's in excess of $20 billion if crude can average around $52/barrel on the WTI this year. Thus, Chevron has to come under budget on capital expenditure if it wants to become free-cash-flow neutral on the full year. That's a difficult task, but not impossible. The problem starts to build, however, when we factor in both debt and dividends.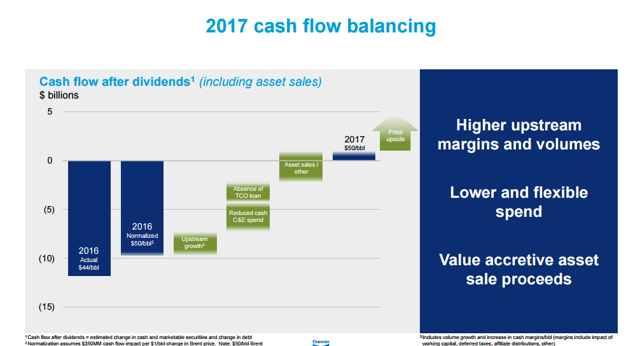 Source: Investor Presentation
Chevron has roughly $5 billion in debt due this year and so begins the debt "wall" that this company has to face over the next ten years. Unfortunately for Chevron, its debt is front-loaded, which isn't the case for every major, let alone every O&G company. This is severely going to impact dividend growth, in my opinion. In all fairness, Chevron did what every other company was doing prior to the slide in crude prices - take on debt while it was cheap and worry about the effects later. Considering we've seen almost three years of low commodity prices, this company is going to be banking on a recovery in commodity prices in order to keep providing strength to its dividend.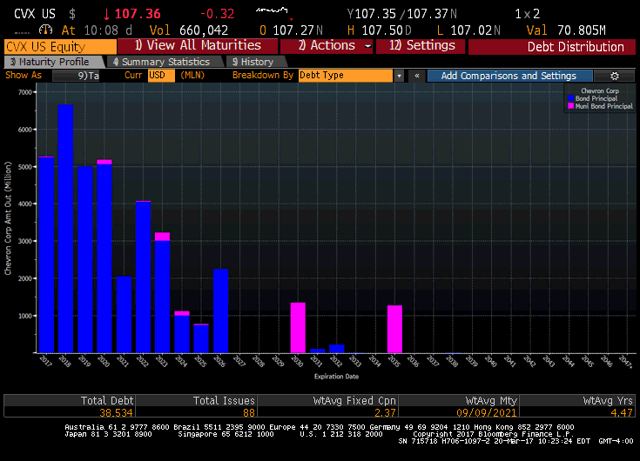 Source: Bloomberg
In light of the debt coming due in November, I expect this company to make partial use of its cash balance. We saw last year that Chevron actually used about $4.3 billion in cash for various purposes. With a $7 billion cash balance right now, it's necessary that this company uses it to either help pay down debt and/or increase the dividend in order to further the goal of breaking even on free cash flow.
With that being said, here's Chevron's tag line for the dividend:
29 consecutive years of annual dividend payout growth, 10-year compound annual growth rate at ~8%
While this statement is accurate and I'm not disputing it, I'm just saying that it's getting tough to maintain. Every quarter, Chevron spends around $8 billion on dividends, with the outflow increasing by about $60 million per one cent increase. That's not a lot, when put into perspective, so the company can absolutely add to that tag line above and will be able to maintain dividend growth for the time being.
I do not expect CVX to deviate from its one cent annual increases and, if anything, I expect them to increase it a few cents to notch up the growth rate. So, while I don't expect this company to all of a sudden have a 10%+ dividend growth rate, I do expect an increase some time in 2H 2017. This is especially true if the company can see with a high level of confidence that it's going to break even on free cash flow.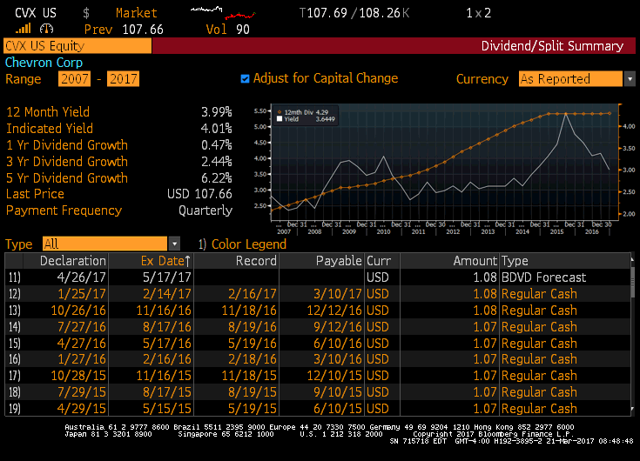 Source: Bloomberg
Fortunately, it's not all doom and gloom. Asset sales are going to continue to help this company offset the damage done by low prices. They can also help to lower the outflows that will be experienced by an increased dividend and a higher level of capex. In 2016, CVX completed $2.8 billion worth of asset sales with the target of $5-10 billion for 2016 and 2017 combined. Thus, we should expect a significant scaling in asset sales this year, with $2.2 billion being the absolute minimum that this company will sell. I've seen the analyst consensus hang around $5 billion and that can definitely help this company get back to cash flow neutrality.
How Much Upside Does CVX Have?
Perspective is a necessity to answer this question. First, across the street, the average twelve-month price target is $128. That means there's about 19.2% in capital gains upside from the current level and an additional 4% from the dividend. A 23% annual return from a major such as CVX is impressive. It's not the return of small E&Ps that have 4x and 5x leverage that jump 10% on every uptick in crude oil, but rather it's a return that's much more predictable and stable.
Chevron has been on a three-month downtrend, just off of its $119 peak reached back in late December. So, could CVX break $120 and trend towards that $128 PT this year? Yes, it's entirely possible considering the stock was trending in that direction just a few months ago. I'll say it's not necessarily wise to try and jump in front of this downtrend and catch a bottom, as that's just a difficult trade to pull off. Rather, waiting for a sign from the market that the trend is changing is a good time to get in, preferably still below $110/share.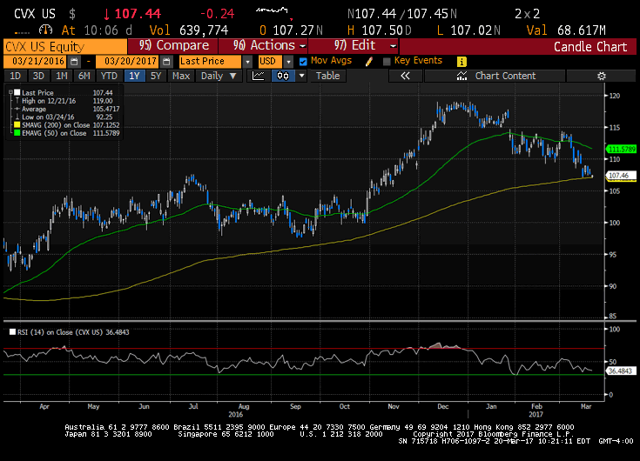 Source: Bloomberg
The more I look at the chart for CVX the more I think that once crude oil forms a strong uptrend and breaks past $50/barrel and $60/barrel on the WTI, then this stock is going to hit all-time highs. Chevron peaked back in 2014 at around $135, so if it can break that $128 consensus PT, then we're really not that far off from all-time highs. By the time Chevron even reaches $128, crude will likely only be nearing $60/barrel. So, if you can imagine in the long term, perhaps five years out, if crude were to return to triple-digits, we could see the possibility of this stock trading in the $175-200 range.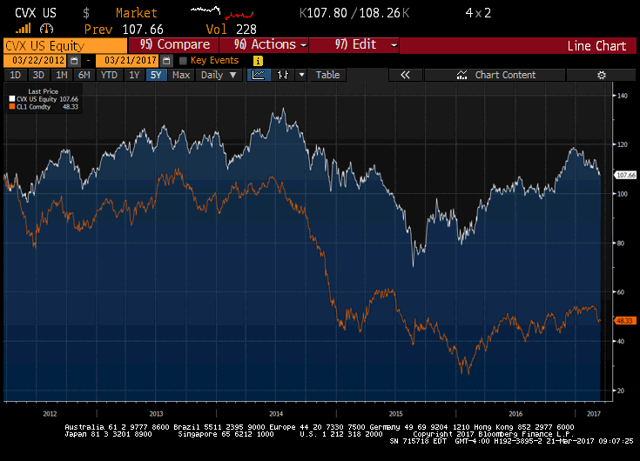 Source: Bloomberg
However, a large portion of this stock's efficacy is going to come from a growing dividend. Shareholders count on this 4% yield as a portfolio staple and have been trading into it in light of the near 40 basis point differential in yield compared to Exxon Mobil. Chevron has to commit to another dividend increase later this year, even if it is just a single cent higher. A stagnant dividend will have investors considering other options.
Conclusion
The recent dip looks to be a buying opportunity in Chevron. Trending down about $12/share, there's a short-term margin of safety investors can buy into as they wait for crude to gain stability and notch back above $50/barrel. Meanwhile, taking home a 4% yield, even if it is less than high-yielding peers, is a safe way to boost a risk-averse portfolio's returns. While the company's projected spending is expected to increase this year, especially with $5 billion in debt coming due, Chevron has numerous financial options to keep its dividend growth track record intact.
Disclosure: I am/we are long XOM, RDS.B, CVX.
I wrote this article myself, and it expresses my own opinions. I am not receiving compensation for it (other than from Seeking Alpha). I have no business relationship with any company whose stock is mentioned in this article.