While the rest of the world is consumed with politics, hacks, and #fakenews, we welcome you to the Testify Tuesday edition of the Samadhi Tech Update…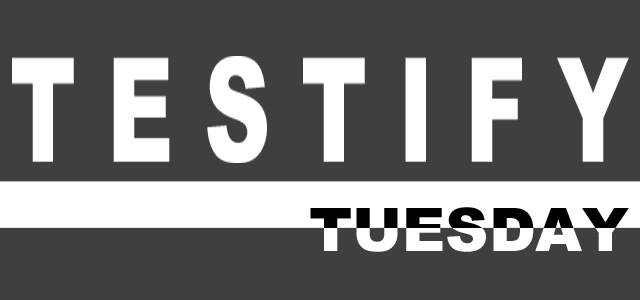 Contributing Authors: Fred McClimans, John Freeman, Zach Mitchell
__________
IBM launches Blockchain offering
IBM (NYSE:IBM) has formally launched its previously disclosed Blockchain-as-a-Service offering, targeting developers of emerging blockchain technologies for enterprise users. Additionally, it confirmed it is working with SecureKey Technologies to develop a blockchain-based digital identity network for a group of Canadian banks, including the Bank of Montreal, Royal Bank of Canada, Bank of Nova Scotia, Canadian Imperial Bank of Commerce and Toronto-Dominion Bank.
Bottom line: The launch of Blockchain-as-a-Service has been a topic of open discussion for the past year as IBM moves to drive the direction of this emerging technology and to bring developer-focused offerings to market. While blockchain is still very early in the development/adoption cycle, we believe it holds considerable transformative and disruptive potential well beyond its role as the software basis for digital currency Bitcoin, the best known blockchain application to date (digital crypto-currencies are only scratching the surface of blockchain's disruptive potential). For starters, the technology could render unnecessary a range of intermediary and middlemen roles within the financial services industry, removing both the friction and the profitability from market processes ranging from writing and pricing insurance policies to much of the underwriting function within investment banking.
Blockchain also is likely to revolutionize accounting software and even many of the legacy processes within accounting itself. Additional areas of opportunity and disruption for blockchain: medical records, identity authentication and tracking, all manner of transaction processing, and, effectively, most of the mission critical tasks considered to be the last bastion of traditional, centralized relational database software. To be sure, these kinds of massive, system-level changes to software architecture never occur overnight. However, we do believe they will happen - and in fact are presently happening - much more rapidly than many expect. Regardless of one's opinion of blockchain's adoption and disruption timeline, we believe investors in tech sector equities, as well as in financial services equities, should be closely monitoring blockchain developments such as this one. While IBM's announcement and overall efforts here are not likely to move the needle anytime soon, it clarifies the company's leadership position with the emerging blockchain ecosystem and brings it closer to large-scale deployment.
Facebook to launch hardware initiatives through Building 8
Business Insider has reported that Facebook (NASDAQ:FB) has invested heavily in both talent and tech through its covert Building 8 group, potentially focusing on technologies in the augmented reality, drone, and medical fields. Initial product releases could begin to materialize at next month's F8 developer conference.
Bottom line: Facebook will not be Facebook in three years, that much is clear. The pace of tech development and CEO Mark Zuckerberg's desire to become much more invested in non-social moonshots has us convinced that there is much more to Facebook than most realize. While this announcement could be considered an element of uncertainty or distraction, we consider this a positive sign that FB is looking to expand beyond its current revenue streams. Note: In our opinion these efforts are more in line with the business models of Oculus Rift and less in line with the failed 2013 Facebook Phone (HTC First).
Amazon extends Alexa - challenges Apple's Siri head on
The Next Web reported Amazon (NASDAQ:AMZN) has embedded its Alexa AI-based assistant into its iOS retail app (you can see the feature set on Amazon's site here and The Next Web's more assertive article here).
Bottom line: We like this move by AMZN to further enhance its mobile shopping experience and cut into Siri's potential to morph into an Alexa-like assistant. As we've written previously, Alexa has staked out a strong position as a transactional enabler through the Echo and Dot products. By expanding Alexa's reach beyond AMZN-owned hardware, we see additional potential for AMZN to strengthen its retail, and home-based, potential.
Nvidia steers towards autonomous trucks with Paccar
Paccar (NASDAQ:PCAR), the parent of both Kenworth and Peterbilt brands, has shown a proof-of-concept Level 4 autonomous truck using Nvidia (NASDAQ:NVDA) DRIVE PX 2 technology (good video overview here).
Bottom line: Despite pending regulatory issues, the market potential for autonomous vehicles remains extremely high, and we continue to be impressed by NVDA's ability to position itself as a core element of this market and find additional/adjacent markets for its GPU products. Other Nvidia partners in this and related (navigation/information) sectors include Audi, Tesla (NASDAQ:TSLA), Mercedes-Benz, Volvo, Baidu (NASDAQ:BIDU), Honda (NYSE:HMC), BMW, and Luxgen.
Samsung (potentially) leverages facial recognition for mobile payments
Samsung (OTC:SSNLF) is rumored to be making facial recognition as a part of its upcoming Galaxy S8 mobile payments offering.
Bottom line: More than anything else, this rumor, if true, highlights the frenzied pace of software innovation taking place in the mobile payments market. As mobile payments become more secure, and increasingly frictionless, we anticipate additional growth.
Intel ships new 3D XPoint storage drives with Micron
Intel Corp (NASDAQ:INTC) and Micron Technology (NASDAQ:MU) have announced the formal shipping of 3D XPoint-based storage drives.
Bottom line: As a reminder, 3D XPoint is a completely new memory/storage technology that is two to three times faster than NAND Flash but, unlike DRAM, is non-volatile. We see the biggest potential for 3D XPoint as an entirely new tier or cache of memory/storage in between cheaper but slower NAND Flash-based SSDs on one hand and the faster but more expensive and volatile DRAM memory caches in servers on the other. There is enormous potential for the technology to take share from both DRAM and NAND Flash in data centers, especially those of large/mega scale.
Presently, we believe that 3D XPoint likely takes a bigger bite out of NAND Flash, but its ultimate impact is still a bit speculative and depends a lot on how the technology performs "in the real world." Nevertheless, as volumes of this next-gen storage/memory technology ramp and costs come down further, we believe that 3D XPoint will find substantial adoption within the large/mega scale data centers, making real time data analytics much more viable. Among the ricochet impacts of 3D XPoint, we believe its adoption will contribute to the growing obsolescence of legacy relational database software, much of the legacy core code of which was written in the late 1980s and 1990s to cover for the slow the speed and spotty reliability of hard disk drives. The large revenue and profit potential of 3D XPoint is the primary reason we have not initiated a short position on Intel, a company we believe faces substantial erosion in its core CPU business and a continued inability to take profitable market share in mobile.
NOTABLE NEWS
Amazon expanding its drone agenda
Amazon is reported to have patented a new level of drone tech which includes adjustable landing legs and reconfigurable propellers.
TripAdvisor CFO sees "hotel-like" commissions in a $1b Tours and Activities Business
The CFO of TripAdvisor (NASDAQ:TRIP) touted the ability of TRIP to leverage its SaaS model into adjacent markets.
Disclosure: I am/we are long AMZN, TRIP, GOOG, FB.
I wrote this article myself, and it expresses my own opinions. I am not receiving compensation for it. I have no business relationship with any company whose stock is mentioned in this article.
Additional disclosure: This information is intended as an informational newsletter only. No investment advice is offered. Samadhi Partners, a provider of equity research services and newsletters, is a commonly-controlled affiliate of Samadhi Capital Partners that offers a long/short and long-only strategy. Samadhi and/or its affiliates may have positions in stocks mentioned and/or traded in these names as of today. I am/we are short AAPL.
Editor's Note: This article discusses one or more securities that do not trade on a major U.S. exchange. Please be aware of the risks associated with these stocks.