This long-time Twitter (NYSE:TWTR) fan is throwing in the towel. I'm selling TWTR because it's grossly overvalued. Here are the four reasons I'm out:
Fundamentally, the stock is worth $8, not $15.
Operating performance has been stagnant.
Management has a terrible track record.
Competition is blocking growth.
Let's go through these four reasons in detail.
Management
Management has made strategic and operational mistakes. There's no reason to believe it will change.
First, there's the overall strategy. Twitter has a very nice mission statement.

But I'm not sure Jack Dorsey, the part-time CEO, shares this vision. In the October conference call, after Q3 2016 earnings, Dorsey made the curious announcement, "We're focused on building the most useful open and comprehensive news network on the planet." TWTR's mission statement and Dorsey's stated focus may overlap, but they aren't the same.
TWTR has failed with all of its growth initiatives, particularly including Periscope and Vine. Here, for instance, is a screenshot of Periscope usage at noon on Sunday, March 19: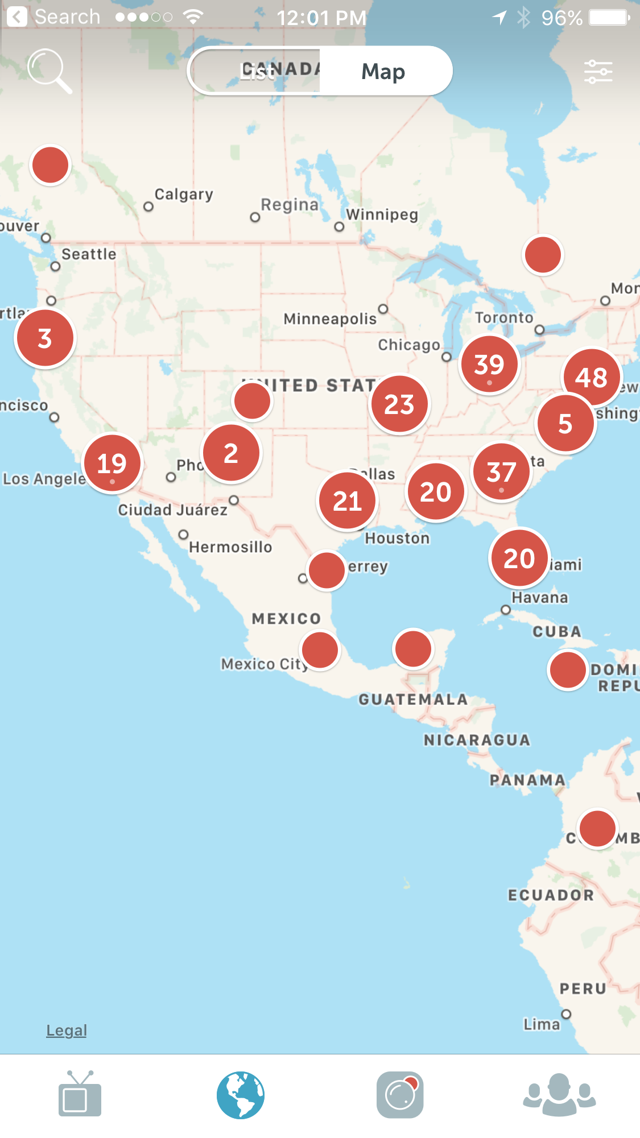 That's fewer than 250 people broadcasting, which is not a good sign.
The second demonstration of management failure is the high management turnover.
Jack Dorsey has created an environment with substantial management churn. Here's a nice list of management turnover for the last couple of years. But the turnover isn't only in the US. TWTR has also lost some key international managers.
To keep turnover from being even worse, Dorsey overcompensates key employees who have bothered to stay. Exhibit A is Anthony Noto, who received $73 million in 2014 as CFO, a "normal" salary in 2015, and then an extra $12 million per year as compensation for taking over as COO (because the old COO quit).
Operating Performance
We do see that Daily Active Users are growing year over year (all charts are from TWTR's Q4 management presentation).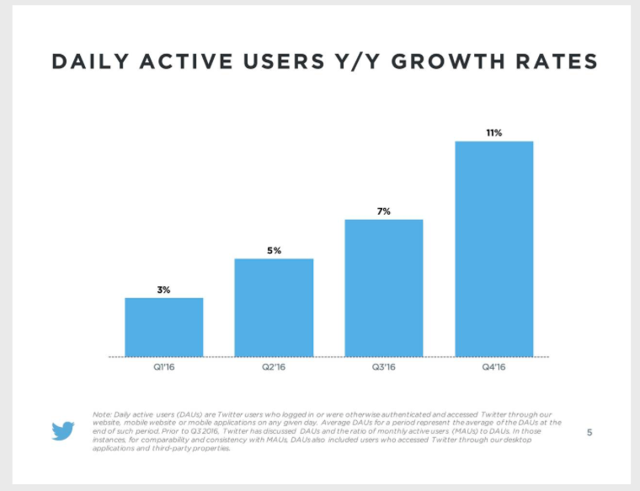 But then there's this: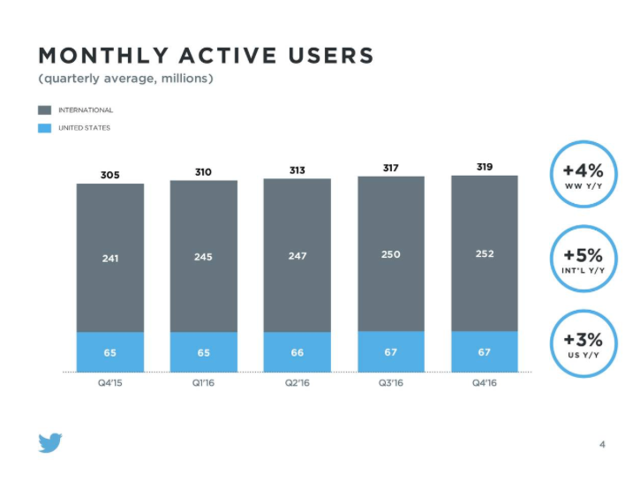 "Monthly active users" is the total count of unique people who visit TWTR at least once a month. DAU is a daily count. Most web companies such as Facebook (NASDAQ:FB), Snap (NYSE:SNAP), and Google (NASDAQ:GOOG) (NASDAQ:GOOGL) disclose DAU. TWTR stopped. Now, we have to reconcile the difference between MAU and DAU. Is there a "Trump effect" here? It's not clear.
It's not clear but it matters. Twitter is showing more ads, but it is getting paid less for showing them. The overall result was that Q4 2016 revenue was up only 1% year to year. US ad revenue actually fell 7%. Could it be that advertisers don't want to pay to show ads to bots?
Here's the bottom line: TWTR continues to lose money on a GAAP basis: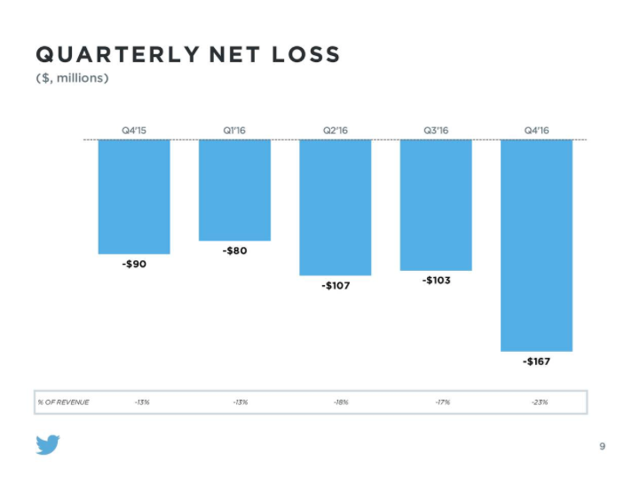 Why is TWTR's operating performance so indifferent? Perhaps, it's because the user environment remains inhospitable. Between viewpoint discrimination and bot infestation, many users feel like it's just not worth tweeting.
Fundamental Value
On the positive side, in 2016, TWTR generated more than $700 million in "adjusted EBITDA", a metric that excludes employee-based compensation, depreciation and amortization.
If you use a weighted average cost of capital of 11.4% for TWTR and flat line of $700 million in cash flow ad infinitum, then TWTR's worth about $7 billion. Adding the $2 billion of net cash ($3.8 billion less $1.7 billion of debt), and you get a value of about $9 billion, or roughly $12.50 per share.
For TWTR to be worth $15, rather than $12.50, cash flow would need to grow at an average rate of about 4% for a very long time.
This might be achievable, but to do a really useful valuation, we need to incorporate a few other numbers. First, CapEx has run at an annual rate of about $250 million per year for the last three years ($201, $347 and $218 million in 2014, 2015 and 2016, respectively). At the end of last year's Q3, COO Anthony Noto announced that the company will continue to spend heavily on infrastructure investment to reduce network costs. Taking into account capital spending of $250 million per year, we get annual cash flow of $450 million. Now, we need a long-term growth rate of 6.5% in cash flow to justify a $15 per share price.
Then, we get to the enormous expense that's excluded from TWTR's adjusted EBITDA: employee-based stock comp. This amounted to $616 million in 2016. Let's assume that management is forced to pay out large amounts of stock in order to keep employees from leaving (surely, a reasonable assumption). Then this is a real cost but, by the way, GAAP doesn't require it.
Here is another way to think about employee stock comp. From 2014 through 2016, the total number of shares outstanding for TWTR grew from 605 million to 720 million, a nearly 10% annual rate of dilution of existing shareholders. If this were to continue, then within about seven years, today's TWTR shareholders will have been diluted by 50%.
So, when we look at the value of TWTR, we can't look only at the value of the enterprise. After all, us investors aren't the enterprise. We are the existing shareholders. The value of our investment is being diluted at the rate of about 10% per year. Let's be generous and say that the longer term dilution rate for TWTR will fall to 7% from the current 10%. Our WACC goes up from 11% to about 18%. The growth rate required for TWTR to justify a share price of $15 becomes 13%.
If you estimate TWTR's long-term growth rate to be a generous 10%, then TWTR, today, is worth $5.3 billion. That's $7.35 per share. I'll round up to $8. That's my valuation.
It's also notable that, since the last fall, TWTR put itself up for sale and sadly, found no bidders. Suitors were companies which valued the company both on the basis of future cash flows and in terms of synergies. If not a single bidder came forward when TWTR was at $18 per share, then the medium-term valuation cap on the stock is limited indeed.
Competition
TWTR and video seem not to mix. Vine and Periscope have failed. Snap, YouTube and Facebook video, etc., won that battle.
The much-ballyhooed third-party streaming initiative also didn't move the needle. There's no reason to believe that it will do better in the future, either. One reason is that TWTR has no competitive advantage in negotiating to buy eyes for third-party content. To the extent that its video streaming efforts will be successful, TWTR can anticipate competition from other platforms.
There was an interesting article yesterday from Fox Networks' boss, Stacy Snider, who said that media companies will need to create "more choices and options".
Netflix, YouTube and Amazon (NASDAQ:AMZN) all know this. It's why they are creating original content. TWTR hasn't created original content. TWTR video is a platform for commentary grafted onto other people's content. TWTR can only obtain content by paying more for it than anyone else thinks it's worth.
To summarize: TWTR operates in a highly competitive, fast-changing environment for social technology. Company management has made poor acquisitions, lacks strategic vision, and has created a negative working environment with high turnover in key positions. The company isn't dramatically overvalued if you don't consider employee compensation and dilution, but when you take into account the massive amount of dilution that has persisted for several years, then TWTR is overvalued.
Disclosure: I/we have no positions in any stocks mentioned, and no plans to initiate any positions within the next 72 hours.
I wrote this article myself, and it expresses my own opinions. I am not receiving compensation for it (other than from Seeking Alpha). I have no business relationship with any company whose stock is mentioned in this article.