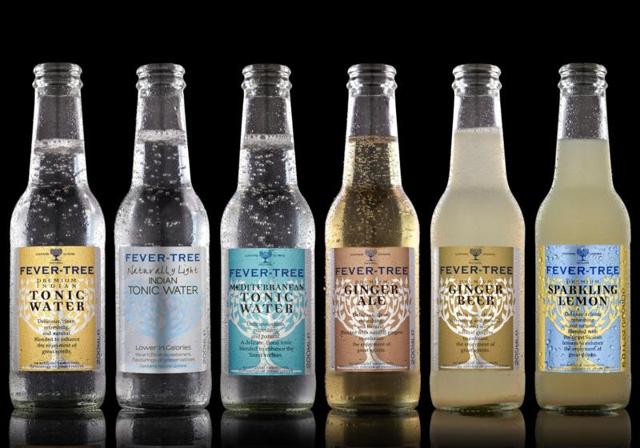 Today Fevertree (OTCPK:FQVTF released their preliminary results for the year ending Dec. 31, 2016. The share price has appreciated by 115% YoY, and up 560% since their IPO in 2015. It has been the best performing stock on the Alternative Investment Market (AIM) in the United Kingdom. The results are nothing short of exceptional. With a high P/E ratio, should investors take profits?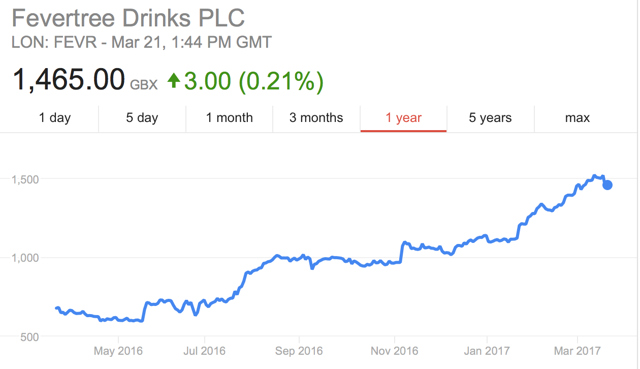 Firstly, let's take a look at what we learned from the earnings report.
| | | | |
| --- | --- | --- | --- |
| | 2015 | 2016 | % increase (decrease) |
| Revenue | £59.3m | £102.2m | 73 |
| Gross Profit Margin | 52.1% | 55.2% | 5.9 |
| EBIDTA | £18.2m | 35.8m | 97 |
| EPS | 11.48p | 23.7p | 106.4 |
| Dividend (per share) | 3.08p | 6.25p | 102.9 |
| Net Cash position | £11.6m | £26.9m | 132 |
CEO Tim Warrilow stated,
2016 has been another exceptional year of growth for Fever-Tree, with strong results achieved across all regions, channels and flavors, emphasizing the global appeal of the Fevertree brand...We have had an encouraging start to 2017 and remain confident that we are increasingly well positioned to deliver further growth across the business.
The valuation
One area of concern for many investors is the very high valuation. Taking the current price of 1470p and EPS of 23.7, this currently sits at a price to earnings ratio of 62.
This is slightly higher than the p/e ratio of 48 of the shares when i wrote about the company at the same time last year (click here to view article). However, it should be noted that margins have improved and both revenue and EPS appreciated at a higher rate than the previous financial year.
Withstanding this, i do believe that the share price has appreciated more than what I would consider to be 'good value' for new investors. With the share price appreciation exceeding the EPS growth by approximately 10%, investors should look for at least a 10% drop in the share price to add to or initiate new positions in the company.
The dividend
Although the current dividend yield sits at 0.4%, the company continues to reward investors with large dividend increases to match the growth in EPS. The dividend was increased 10 fold in 2015 and doubled again in 2016. The dividend is covered by earnings nearly 4 times. This is considered extremely safe and warrants future increases, which will more than likely be aided by future growth in the near future.
The future
The company continues to make strong inroads through both On-Trade (hotels, restaurants, bars & cafes) and Off-Trade (retail outlets). The new major retail suppliers of the product include ASDA (UK), Target (NYSE:USA) and Rewe (Germany), while international exposure is aided by the uptake of Fevertree tonic on all British Airways flights and selected Easyjet flights.
In addition, the company has stated that it intends to make more of an impression on the market for dark spirit mixers. Although the company is mostly known for its flagship tonic water for gin, the white spirit only makes up 6% of global spirit sales. By contrast, dark spirits make up 60% of the global spirit market. 10 times that of gin. There is definitely much more room for growth.
Conclusion
Fevertree has appreciated 115% YoY with the dividend more than doubling. This has slightly exceeded the EPS increase over the year period, most likely due to the rate at which revenue, EPS and margins have increased in that time frame.
The company continues to strengthen its worldwide position as the dominant leader in premium mixers through a variety of offerings in more than 50 countries.
Investors should look for any future weakness (approximately 10% drop from current prices) in the shares as a buying opportunity.
If you would like to see more articles or updates by the author click 'follow' at the top of the page.
Disclosure: I am/we are long LON:FEVR.
I wrote this article myself, and it expresses my own opinions. I am not receiving compensation for it (other than from Seeking Alpha). I have no business relationship with any company whose stock is mentioned in this article.