Kinder Morgan (NYSE:KMI) has had a large overhang of debt for several years now and it became a substantial problem during the downturn in crude oil and natural gas prices. Now that prices have started to recover, revisiting debt seems like the best thing to do for prospective and current shareholders, especially as more growth projects are placed in the queue to come online. Kinder Morgan's debt is manageable, in my opinion, as the company has done a great job of evenly distributing maturities over the long-term, while minimizing the impact on near-term distributable cash flow. Based upon the expectations set by the company, I believe debt can work to their advantage and that of shareholders.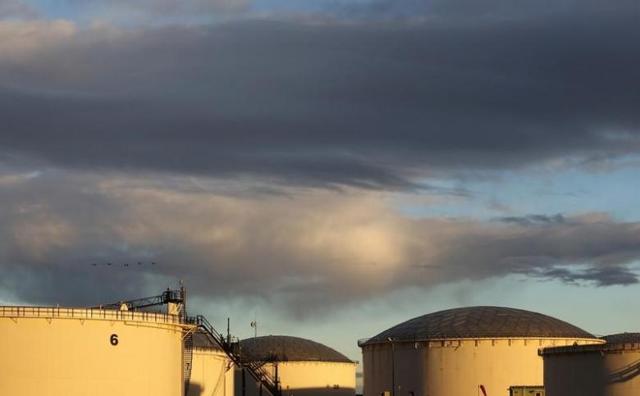 Source: Reuters
Let's Talk Leverage
In the interest of using industry-specific metrics, I'll refrain from using operating cash flow, free cash flow, or any other related cash flow metric that is normally used to evaluate the leverage of a company. Rather, the focus will be on distributable cash flow. While Kinder Morgan is not a MLP, it's a C-Corp that reports like one and this metric is used widely throughout the midstream industry.
Total long-term debt is $36.21 billion as of YE 2016. It should be noted that the debt has fair value adjustments and that they increase the financial burden of long-term debt. At YE 2016, the increase was $1.15 billion, thus bringing the long-term debt total to $37.36 billion. Yes, this is down from the adjusted $42.41 billion in 2015, so the improvements are not going unnoticed. Over $5 billion in debt reduction in a single calendar year, all the while navigating low commodity prices and low volumes, is a great achievement for the company.
In the current standing, Kinder Morgan has a debt/EBITDA of 6.04x, using the fair value adjusted long-term debt amount in the calculation. Not including the fair value adjustment, their leverage is 5.85x. However, the company uses a different ratio, net debt/adjusted EBITDA in management of its leverage. This ratio views debt net of cash (current balance of $684 million) and views EBITDA before certain items. Year-end 2016 was net debt/adjusted EBITDA was 5.3x, down from 5.6x the year prior.
In terms of a timeline to when they have to pay down debt, consider the company's debt distribution. Kinder Morgan's first maturity this year comes in April, when both its Tennessee Gas and El Paso issued debt comes due. In June, the company has the $850 million 7% notes due and the last maturity this year is the December $500 million 2% notes. Now, fortunately, KMI started to amortize the principal down on a few of 2017 issuances. Right now, the El Paso April 15 $355 million notes have just $855,000 remaining to be paid. Kinder Morgan also started paying down the June $850 million notes such that $786.17 million is remaining. This progress leaves them with $1.94 billion in debt due this year.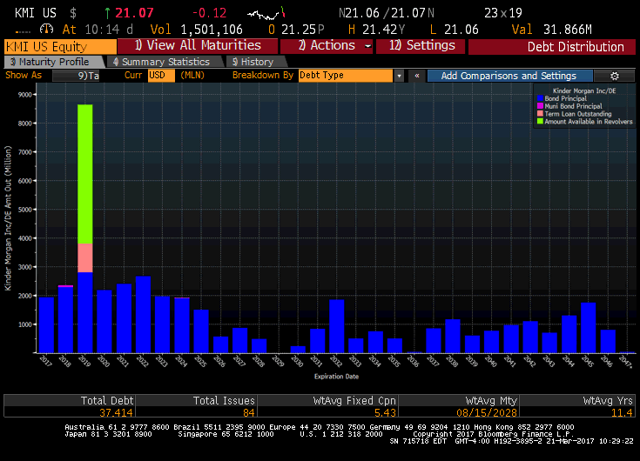 Source: Bloomberg
Kinder Morgan's recent investor presentation states that the amount of debt due in 2017 is $2.56 billion. I'm not positive why this is overstated, but if I add back the portion of the issuances that have been amortized, as well as interest expense on remaining principals, I arrive at a figure close to that. So, just keep that in mind when looking at the below slide.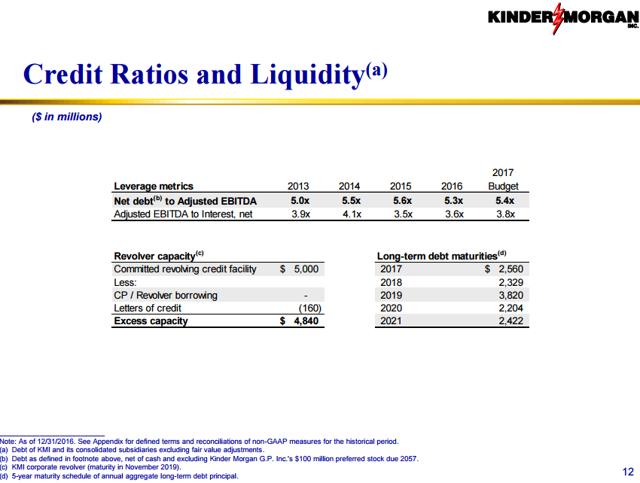 Source: Investor Presentation
The total obligation through 2020 is approximately $10.2 billion. Next year, there's $2.28 billion in debt due (accounting for any amortization), $2.8 billion in 2019, as well as a term loan of $1 billion, and $2.18 billion due in 2020. This is significantly more manageable than what it was and now that Kinder Morgan has a better liquidity position thanks to lower dividend outflows every quarter, the debt looks manageable, especially with current guidance for distributable cash flow, which I'll discuss later in this article.
One thing I found to be quite reassuring about this company is investors' faith in the debt. All of the current asks on Kinder Morgan publicly-traded debt are trading above 95, with a majority of them at or over par. Considering the high leverage of this company, that's a noteworthy achievement. I'm positive it is due to investors' faith in the asset base of the company and the fact that it is the third largest energy company in North America and second largest energy infrastructure company, second only to Enbridge (NYSE:ENB), now that their merger with Spectra (NYSE:SE) has closed.
In terms of revolvers, the company increased their term loan facility from $4 billion to $5 billion last January. It matures in 2019, but there is currently nothing withdrawn on it. Another small, but interesting piece of information for investors is that Kinder Morgan has exposure to the euro. This comes up in its March 2022 1.5% notes, currently trading well above par, as well as in its March 2027 2.25% notes, also trading well above par. Kinder Morgan's long-term debt value fluctuates as the EUR/USD fluctuates, but not by a material amount. Kinder Morgan manages this risk with cross-currency swaps and other derivatives.
Distributable Cash Flow and Leverage Outlook
Kinder Morgan gave guidance of distributable cash flow of $4.46 billion this year, providing a per share value of $1.99. Kinder Morgan, here, is using total outstanding shares in its calculation of DCF/share. DCF, on both an absolute and per share basis, has been declining for the last twelve months. In 2016, DCF/share dropped to $2.02 from $2.14 and that directly affected the company's ability to pay a dividend, naturally. The projection for this year is three cents lower than 2016's actual amount, which while a decline, isn't earth shattering.
The projected $4.46 billion in distributable cash flow more than covers the $1.94 billion in debt coming due this year. Additionally, with a $5 billion liquidity position, Kinder Morgan should have no problem paying down debt. The only way a problem could develop is if commodity prices experienced a severe dip, back to levels seen in Q1 2016, where volumes were incredibly challenged. Going back to the outlook through 2020, if cash flow were to grow at the historical CAGR of 8%, then Kinder Morgan should see distributable cash flow of $20.1 billion from now through 2020, which covers debt by nearly $10 billion.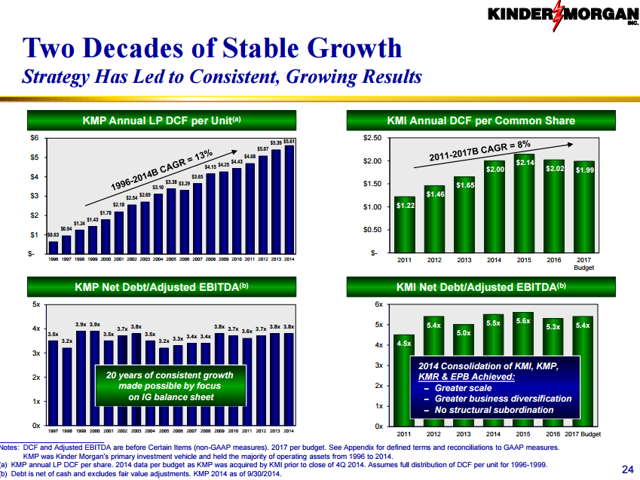 Source: Investor Presentation
There is also the projection of adjusted EBITDA of $7.2 billion, which brings the year-end target of net debt/adjusted EBITDA of 5.4x (more precisely 5.38x excluding any fair value adjustment). This is up 0.10x from 2016 and is likely due to the financial burden of the Trans Mountain Expansion Project (there is a debt issuance of $2.5 billion this year). However, I believe that this expectation is favorable. By projecting a slight increase in leverage this year, the market now has that as the primary expectation. If they are flat on leverage or move towards 5.0x or even lower, they'll beat market expectations and shareholders will be the beneficiaries.
It's also important to keep in mind the sources and uses of debt. Considering the same, overstated debt amount is reported in uses section below, Kinder Morgan may come out ahead on its 2017 budget. The company has a history of being within just a few percentage points of its budget every year and it's the hallmark of a good management team. With that being said, it's unclear by how much sources will exceed uses and what distributable cash flow's remainder will be after dividends and growth capital as these are just projections right now. The moral of the story is that all 2017 identified obligations can be covered, provided commodity prices (which affect Kinder Morgan's volumes) don't decline further.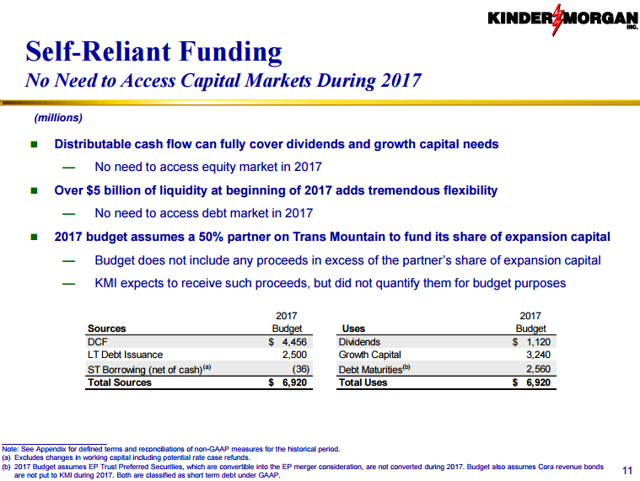 Source: Investor Presentation
In the next two to three years max, it would be highly beneficial for the company and for shareholders to see net debt/adjusted EBITDA under 5.0x. While it's difficult to do that, Kinder Morgan has two things going for them: significant growth opportunities coming online and a volume recovery as commodity prices recover over the medium-term. That would be a positive signal to the market and would likely spur buying power in the stock.
Conclusion
Investors should be aware that Kinder Morgan's leverage is lower now than it was last year. Thanks to a debt reduction effort, long-term debt is well under $40 billion. Despite a small increase in leverage projected this year, the company is funding the necessary growth initiatives to be able to clear sizable balances of long-term debt in the coming years. This company is in a drastically better position now than it was a year and a half ago.
Disclosure: I am/we are long KMI.
I wrote this article myself, and it expresses my own opinions. I am not receiving compensation for it (other than from Seeking Alpha). I have no business relationship with any company whose stock is mentioned in this article.