Another day, another parade of speakers from the U.S. Federal Reserve headed to the podium. While their commentary is increasingly falling on deaf ears for the market, thanks to their seemingly boundless propensity to over-hint and under-deliver during the post-crisis period, not to mention the news competing for the headlines out of Washington, it is arguably more worthwhile than ever to pay close attention to what they are saying now that they are finally backing up their words with actual action on interest rates. With this in mind, it is also important to establish a baseline against which the path of future rate increases may be compared going forward.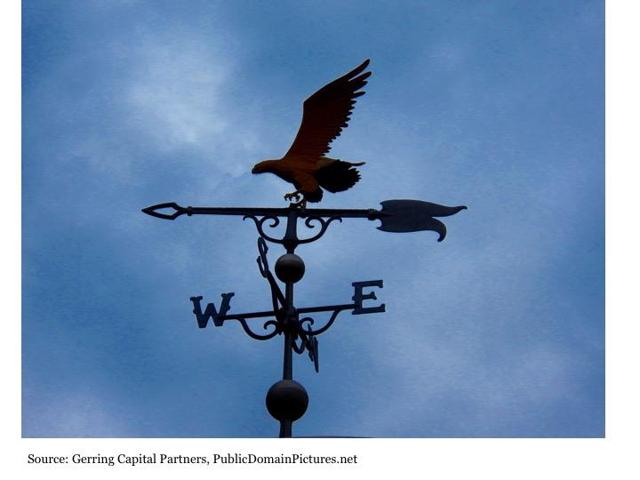 Cacophony Watch
The week got started yesterday with two Fed speakers taking to the airwaves on Monday.
First up was Charles Evans, who essentially did nothing more than reiterate the sentiment expressed by the Fed Chair last Wednesday. Put simply, two more rate hikes in 2017 is the baseline plan, but the Fed could go for three if the economy were to accelerate faster than currently expected. Bond yields (NYSEARCA:BND) and gold (NYSEARCA:GLD) responded accordingly to this dovish confirmation.
Minneapolis Fed President and rogue FOMC dissenter Neel Kashkari also embarked on a business news television barnstorming tour on Monday where he emphasized and provided additional detail on his decision to vote against a rate hike last Wednesday. And today, he has taken to Twitter for an #AskNeel question and answer session, to which I am left scratching my head once again about the Fed's overall communication strategy.
While neither boasts the sway of the Fed Chair, both are voting members, so their words have importance. And the key takeaway from the Fed on Monday is that Wednesday's supposedly "dovish" rate hike was not a misfire, as Evans would have likely been more hawkish in his words and Kashkari sidelined on Monday had the Fed wished to change the market's perception on what took place last Wednesday.
But as we saw in late February, one no longer really knows when the increasingly capricious Federal Reserve might change its mood and wish to lurch in a new policy direction. Thus, it remains worthwhile to see what the new day in Fed speaker land brings.
On Tuesday, New York Fed President Bill Dudley was already out and about, but he did not opine on Fed policy during his presentation. Non-voting member Kansas City Fed President Esther George is next up at noon followed by voting alternate Cleveland Fed President Loretta Mester at 6 PM. And to cap off the night, we have non-voting member Boston Federal Reserve Bank President Eric Rosengren speaking in Bali, Indonesia, at 9:45 PM. While Ms. George and Ms. Mester might make a splash with their comments, one suspects Mr. Rosengren is unlikely to break news on U.S. monetary policy from the other side of the world tonight.
Of course, the big Fed speaker for the week is Janet Yellen on Thursday morning at 8 AM. More than any others, this will be the one to listen to this week.
Fed Weathervane
Beyond trying to read the Fed tea leaves, it is also important to pay attention to exactly what the market itself is pricing in for future interest rate expectations.
Now that the March rate hike is history, it is worthwhile to determine the market's expectations on interest rates going forward. Establishing this new baseline will be useful in monitoring the Fed by quantifying whether it is taking a more hawkish or dovish turn in the days, weeks and months that follow from its most recent press conference meeting last Wednesday.
We will proceed with the following assumptions. First, the Fed will only raise interest rates at an FOMC meeting followed by a press conference, which are the meetings scheduled for June 13-14, September 19-20 and December 12-13. For as evidenced by their comments following their March rate hike, the committee is still very much concerned about what the market is thinking at any given moment in time and wishes to continue to manage this much more closely than it should. Also, the Fed will only raise interest rates by 25 basis points at any of these three upcoming meetings. Given that it has struggled to raise interest rates at all for so many years and continues to have a cautious bent today, it is highly unlikely to start rolling out half point hikes unless the economy really starts firing, which is not the baseline expectation at the present time regardless of the pro-growth policies that may or may not come out of Washington in the coming months.
So where do we stand with interest rate expectations today? At present, the market, according to CBOE Fed Fund futures, is currently pricing in a 58% probability for another interest rate hike in June. This probability is up measurably from the 43% probability for another rate hike in June leading up to the March meeting.
What if the Fed passes on June? Then another rate hike in September is considered very likely at 80%. This is up from 68% just prior to the March FOMC meeting. What about a third rate hike for 2017 in September if the Fed moves again in June? The market is currently pricing in a 35% chance, which is up from 26% just prior to the March meeting.
What about the December meeting? First, if the Fed passes on both June and September, the market is almost certain at 91% that it will raise by a quarter point in December. This is very close to the 87% expectation for a second rate hike in 2017 prior to the March meeting. The market is also confident at 61% that if we see one more rate hike either in June or September that we will see a third rate hike for 2017 in December. This is also up only marginally from the 56% probability heading into the March meeting.
What are the latest odds for a Fed "grand slam" with four interest rate hikes in 2017? The market is currently pricing in a 24% probability of four rate hikes this year, which is virtually the same as the 22% odds just prior to the March meeting.
Market Implications
With a baseline established, we can determine the headwinds or tailwinds that may be applied to the stock (NYSEARCA:SPY), bond (NYSEARCA:AGG), and precious metals (NYSEARCA:PHYS) markets, resulting from any future shifts from these current expectations. Of course, all else will not be held equal going forward, so other factors will come into play to influence all of these asset prices going forward. But dovish or hawkish shifts by the Fed moving forward will play a meaningful part in determining the influences on these various categories.
First, a fade below current Fed interest rate expectations would be universally bullish for the stock, bond (NYSEARCA:TLT) and precious metals market. One has to look no further than the response to the Fed's rate hike last Wednesday. The fact that the Fed did not turn up the future interest rate hike expectation heat as much as the market was anticipating had all three categories in rally mode. Expect more of the same if the Fed backs down as the year goes on regardless of how the economy is doing at any given point in time.
On the flip side, a rise above current Fed interest rate expectations will bring with it more complex and nuanced market responses. Increased hawkishness is likely to take a more immediate downside toll on the bond and precious metals markets while stocks (NYSEARCA:DIA) may prove resilient at first inspired by hopes that increased Fed hawkishness is being inspired by improving prospects for economic growth. But unless we see a dramatic change in the pace of growth that has marked the post-crisis period, any such hawkishness is likely to turn against stocks (NASDAQ:QQQ) with the reality setting in that economic growth may instead suffer with tightening monetary policies. And more subdued growth expectations would likely provide an eventual upside boost to the bond and precious metals markets.
How the Fed evolves with its policy stance in the days and weeks ahead remains to be seen, but its influence on financial markets remains as strong as ever. So while the words from its speeches may increasingly fade to the background amid the fireworks in Washington, it is still worth monitoring along the way.
Disclosure: This article is for information purposes only. There are risks involved with investing including loss of principal. Gerring Capital Partners makes no explicit or implicit guarantee with respect to performance or the outcome of any investment or projections made. There is no guarantee that the goals of the strategies discussed by Gerring Capital Partners will be met.
Disclosure: I am/we are long TLT, PHYS.
I wrote this article myself, and it expresses my own opinions. I am not receiving compensation for it (other than from Seeking Alpha). I have no business relationship with any company whose stock is mentioned in this article.
Additional disclosure: I am long selected individual stocks as part of a broadly diversified asset allocation strategy.