One of the most disappointing stocks in the market the last couple of years has been Glu Mobile (NASDAQ:GLUU). After a couple of hit games, the mobile-game developer has failed to repeat that success with new games.
The stock has constantly traded below $2 in the last year or so. Are investors correctly running away from the stock at the lows?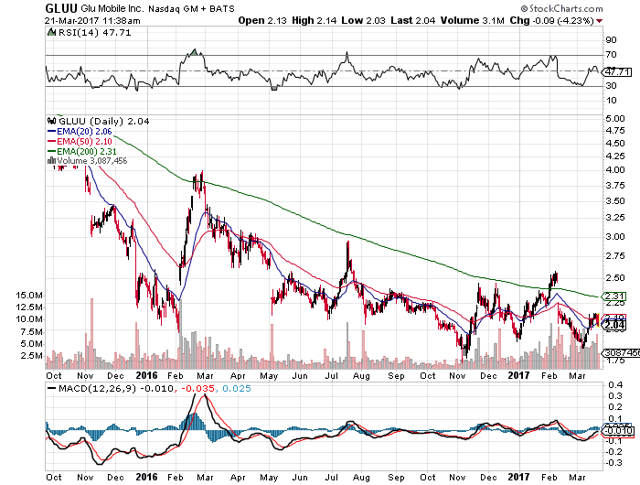 The investment thesis on Glu Mobile isn't that difficult, yet most investors complicate the situation. At a market value of $275 million, the stock is just too cheap trading around $2.
The basis of the theory is that the current business provides a safety net despite the recent history of failed games. The 2016 bookings were mostly based on franchises and games published prior to 2015.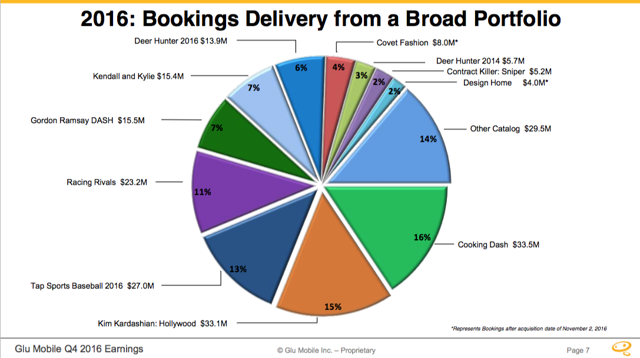 A simple minor hit that might not need to reach a top 10 grossing level would produce significant growth in bookings and revenues. Right now, Glu Mobile has a solid base around $200 million in annual bookings. For Q4, an amazing $17.7 million of bookings came from games published in 2014 or prior.
At the same time, the balance sheet is solid though the cash balance won't end 2017 in a similar stance. The company forecasts ending 2017 with over $60 million in cash and no debt.
Glu Mobile will burn $40 million in cash this year in part due to restructuring charges of around $5 million and royalty payments pushed from Q4 to 2017. The original plan was to end 2016 with $80 million of cash on the balance sheet suggesting the real cash burn for the year is somewhere around $20 million. Though the company doesn't clearly tie up the details suggesting deferred royalty payments were around $6 million.
In essence, the enterprise value is at about $215 million when Glu Mobile dips to $2 per share or below. The company forecasts bookings of around $220 million for 2017 placing the stock at an EV multiple below 1x bookings.
Now with a new CEO, plenty of upside catalysts exist. The ability to turn Taylor Swift into a mega hit and reverse the course on the celebrity categories or any other game always exists. The previous CEO failed miserably at taking initial hit concepts into major success by failing to innovate on future game versions.
The key investor takeaway is that the market has given up on Glu Mobile while so much opportunity exists. At $2, the stock offers limited downside risk due to franchise games that produce consistent bookings and substantial upside potential even without a mega hit.
Disclosure: I am/we are long GLUU.
I wrote this article myself, and it expresses my own opinions. I am not receiving compensation for it (other than from Seeking Alpha). I have no business relationship with any company whose stock is mentioned in this article.
Additional disclosure: Investors are always reminded that before making any investment, you should do your own proper due diligence on any name directly or indirectly mentioned in this article. Investors should also consider seeking advice from a broker or financial adviser before making any investment decisions. Any material in this article should be considered general information, and not relied on as a formal investment recommendation.