This article is the fourth in a series where I'm covering my investment positions and the underlying logic for allocating my hard earned capital towards them. This fourth article emphasizes on Barclays (NYSE:BCS). Despite their strong franchise, Barclays are a perennial sub-par performer that have been restructuring for nearly a decade now after the financial crisis struck. Why did I pick such a battered turnaround candidate in my portfolio? My investment thesis is quite straightforward. While the bank's profitability is currently very weak due to material litigation issues and the drag from the non-core assets, their core business (Barclays UK and Barclays Corporate and International) comprises of some crown jewels that are truly best in class and should in time generate above average returns that meet or exceed their cost of capital.
Litigation and non-core losses have consumed two-thirds of Barclays profits since 2014 but this won't go on forever. Once the earnings power of those core franchises (Core Divisions currently generate a 9.4% RoTE with Barclays UK coming well above that at 19.3%) is free from the drag of non-core and the material legacy conduct matters (DOJ and PPI to name a few), Barclay's share price should converge with its tangible net asset value per share (currently at £ 2.9) and eliminate the discount. Longer term, I expect that the normalization of interest rates towards their historical averages will also provide a boost to Barclay's profitability. As of 4th August 2016, the Bank of England rate sits at just 25 basis points. Before the beginning of the financial crisis, this was hovering above 500 basis points. Furthermore, 35% of the bank's income now comes from the US where the FED has already started hiking rates. Barclays also benefits from the appreciation of the US dollar vis a vis the sterling.
Nevertheless, I'm under no illusions that the road to attractive, sustainable and distributable returns remains long and winding. The harsh reality is that Barclays will not have fully turned the corner, even after the accelerated run-down of non-core is complete by mid-2017.
My Barclays Position
I built my Barclays position at a cost of £1.82 in 2016, representing a 37% discount to the current tangible net asset value per share.

I first pulled the trigger at £2.22 (shortly after the new CEO Jes Staley made a big purchase with his own money) and then opportunistically averaged down three times at £1.73 and £1.66. While Brexit presented a wonderful opportunity to buy more shares at an even lower price, I opted to invest in ING (NYSE:ING) and BNP Paribas (OTCQX:BNPQF) instead. Barclays are also paying some miniscule dividend (3p for 2016 and 2017) that I'm currently reinvesting via their scrip dividend program. At my acquisition cost, the dividend yield comes at an unimpressive 1.65%.

As of 31st December 2016 Barclays were my 4th biggest holding representing 11.7% of my total portfolio. As can be seen, the portfolio is concentrated towards what I consider to be my best ideas. These are typically strong franchises with good long term fundamentals that will ideally keep forever. Furthermore they are bought at a price level which represents a substantial discount to what I consider to be their intrinsic value.
A tale of empty promises from a perennial sub-par performer
According to Rousseau, patience is bitter but its fruit is supposed to be sweet. Long-time Barclays Investors have tasted that bitterness and still await for the light at the end of the tunnel that the senior management has promised yet failed to deliver time and time again. Below are some characteristic examples of such empty promises that never materialized.
"Our key output goal is to produce top quartile total shareholder returns over time".
- CEO John Varley in 2009.
"We must be in a position to deliver at least a 13% return on equity and a 15% return on tangible equity by the end of our planning cycle. We also expect our cost of equity to decline towards 10% relative to a 12.5% cost in 2010 and the 11.5% cost we have set for 2011 over this period as the worst impacts of the credit crisis abate and the major economies in which we operate return to growth".
- CEO Bob Diamond in 2011
"The Board and I are very conscious that returns to shareholders have been unacceptably low in recent years. We are focused on ensuring that actions are in place to drive a significant and sustainable increase in the Return on Equity and, hence, the share price over the medium term"
- Chairman Agius in 2011.
We remain fully committed to delivering 13% returns over time, by driving improved business performance, reducing expenses, and maintaining a disciplined approach to capital and funding costs.
- CEO Bob Diamond in 2012
"We have a long way to go to become the 'Go-To' bank and the second element of Transform, Return Acceptable Numbers, outlines our plans to build on these strong foundations to deliver a Group return on equity above the Group's cost of equity during the course of 2015 and beyond".
- CEO Jenkins in 2013
"We remain committed to structurally reducing the cost base of the Group and we have reaffirmed our cost target with a mid-50s cost: income ratio for full year 2015".
- CFO Morzaria in 2013
"Our return on equity goal remains the same - to achieve a return on equity above our cost of equity. We continue to target a dividend payout ratio of 40% to 50% over time".
- 2014 Update to Transform Program.
"Our aim is to double the share price over the next three or four years"
- Chairman McFarlane in 2015
Barclays have been "hesitant" in Africa. " Let's see more growth in Africa"
- Chairman Mc Farlane in 2015 (just before they decided to divest!!).
Images of a condition that in medical parlance is known as Smiling Depression (unless photos were taken on their bonus award day).

Barclays has been restructuring for nearly a decade now after the financial crisis struck aiming to " accelerate earnings growth, return on equity and capital generation in order to have the capacity to invest in the business and to increase dividends". Let's see how well they have done towards achieving the aspirations of their senior management described above.
Profitability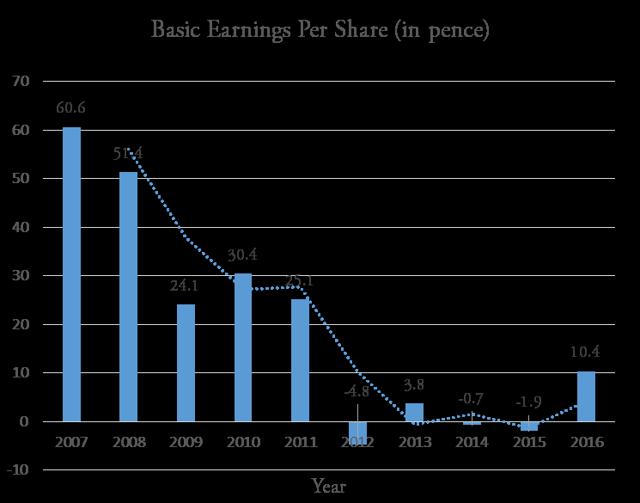 It can be seen that since the financial crisis, Barclays profits have fallen off the cliff and have yet to recover. In 2016, the Group returned to bottom-line profitability (primarily due to a significant reduction in impairment charges related to conduct and litigation matters) with the core business generating £6.4 billion in profits before tax (excluding notable items). To put it differently, the earnings power of the core operations increased by 4%, generating basic earnings per share of 23.1p. This was offset significantly by the £1.9bn loss (11.3p per share) associated with the run-down of Non-Core. As part of these divestitures, Barclays sold retail businesses in Spain, Italy and Portugal, the wealth management business in the US and Asia, the index business in the investment bank, and closed offices in nine countries around the world. By the end of the first half of 2017 the run-down of non-core will be completed (at an additional loss of £1bn), leaving a residual £25bn of RWAs that will be re-absorbed by the Core businesses.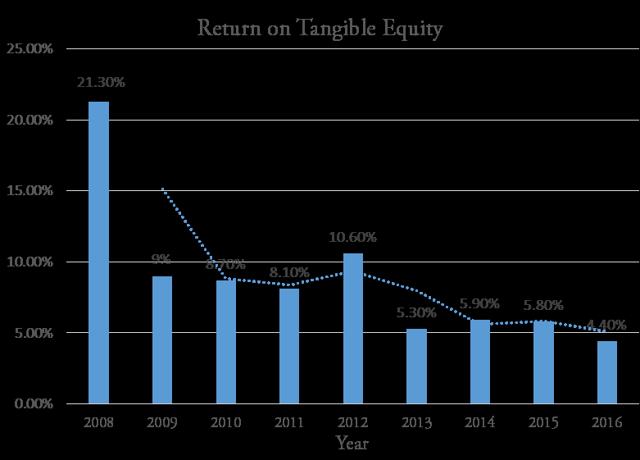 RoTE measures the ability of the bank to generate acceptable returns for shareholders and is calculated as profit after tax attributable to ordinary shareholders, divided by average shareholders' equity for the year. It can therefore be seen that the bank has consistently failed to generate adequate returns, with the returns falling below the cost of capital (as a rule of thumb the typical cost of capital for a bank is around 10%). As a result of having to hold more equity (the denominator of the metric), being less leveraged, and having to operate in a low for longer interest rate environment, bank returns have been suppressed across the board and will never return to the pre-crisis levels. Having said that, Barclay's returns vis a vis their peer group have been particularly weak, and this is down to their sub-par profitability.
Once again however, it is important to be bear in mind that the Group RoTE in 2016 was significantly impacted by the loss before tax of £2,786m (2015: £2,603m) incurred by the accelerated run-down of Non-Core. Core RoTE in 2016, stood significantly higher at 8.4% (9.4% excluding notable items), on an average tangible equity base of £41.0bn.
By drilling down further, it can be seen that Barclays UK along with the Consumer, Cards and Payments Division stand out as outstanding performers. Most of the capital is however tied up in Barclays International and their Corporate & Investment Bank where the returns are more modest and below their cost of capital.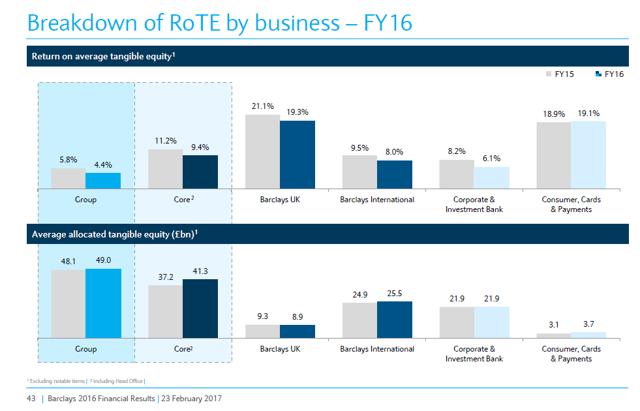 Dividends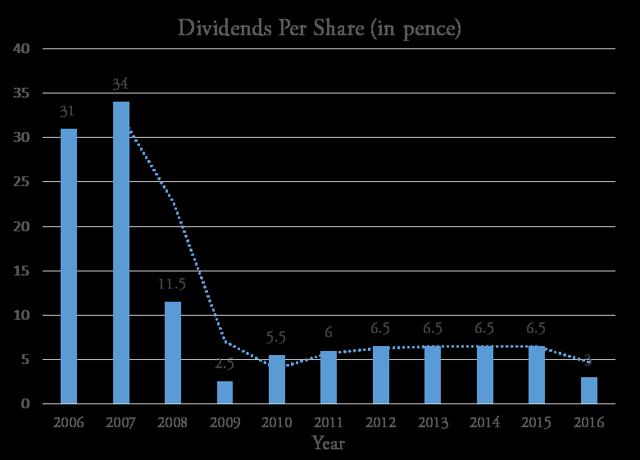 The dividend per share has been dramatically reduced from 34p in 2007 to just 3p for 2016 and 2017, to help fund the accelerated run-down of the non-core divisions. The management have recognized the importance of paying a meaningful dividend as part of total shareholder return and said they are committed to doing so in the future. They have however been coy on the resumption of dividend growth beyond 2017 as they await more clarity on the remaining conduct issues.
Tangible Book Value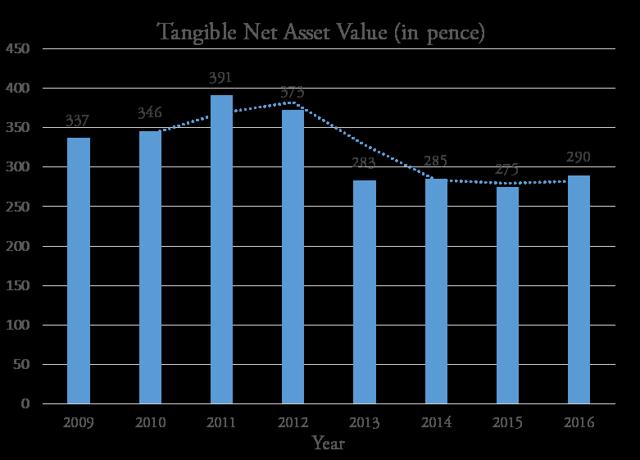 When book values grow, stock prices tend to follow. As a result of their weak profitability and the absence of material retained earnings the bank have struggled to grow their tangible book value over time. It is therefore of no surprise that Barclays stock has remain stagnant over the last years.
Efficiency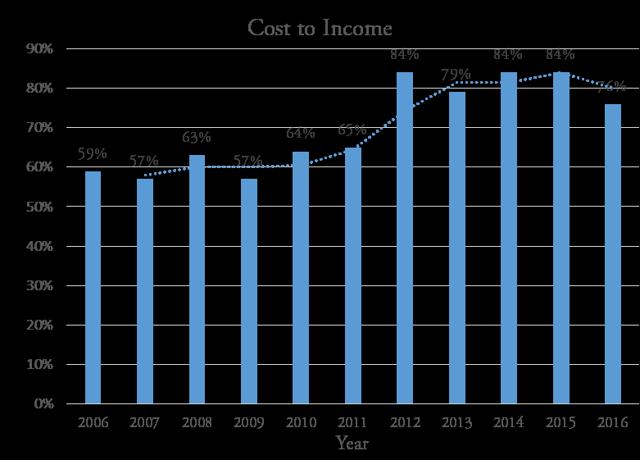 The Cost to Income ratio measures operating expenses as a percentage of total income, and is often used to gauge the efficiency and productivity of a bank. It can be seen that despite removing a lot of cost from the business as part of the restructuring process, the ratio has actually increased over time falling well below the management's stated goals. The bank continues to target a group cost income ratio of below 60% which is nevertheless still high relative to some of their peers (having an investment bank with large bonus pools is not helping the cause). While the cost to income ratio currently sits at 76% for the Group, it has to be noted that the Cost to Income Ratio for the Core Divisions is actually 61%. Barclays have also met their 2016 core division operating cost target of around £13 billion.
Capital Adequacy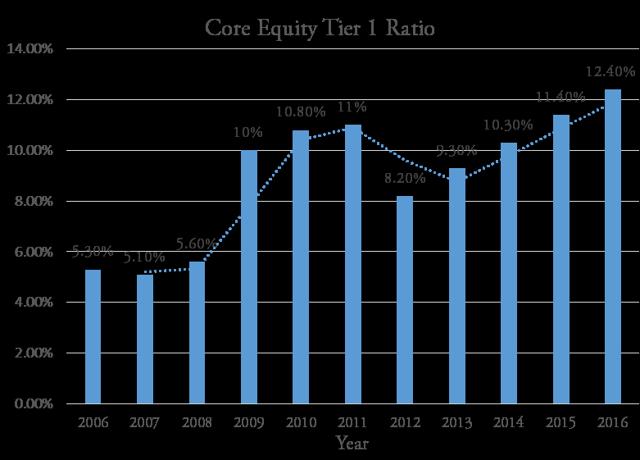 The CET1 ratio expresses the bank's capital as a percentage of risk weighted assets (RWAs), as defined by Basel's Regulatory Capital Calculation and Reporting Rules. Basel Rules dictate minimum capital requirements and since equity is the purest form of capital that can absorb losses, this particular metric is viewed as a measure of the capital strength and resilience. It was encouraging to see that the bank generated 100 basis points of additional CET1 accretion in 2016, reaching a 12.4% ratio at the year-end. By selling the African operations, the bank also expects to realize over 75 basis points of CET1 ratio accretion on regulatory deconsolidation. This, along with some organic capital generation from retaining earnings will bring them close to their 2019 CET1 target of 12.5% - 13%, although there will be a number of headwinds on the way. At least, Barclays are now much better capitalized allowing them to adequately cover unexpected losses and absorb shocks protecting their depositors and creditors.
Scale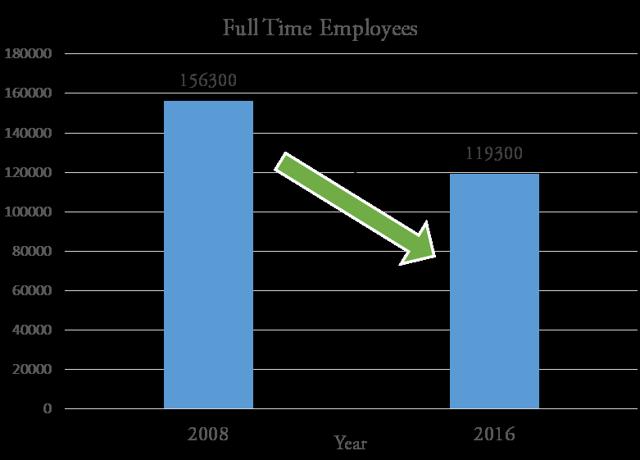 In their effort to reduce cost and grow their capital ratios, Barclays have taken tough decisions and reduced staff trough hiring freezes, divestitures and layoffs.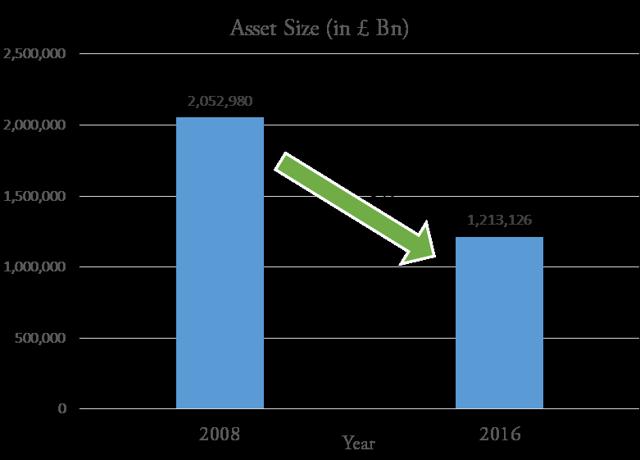 The Balance Sheet has also shrunk by 40% since the crisis in an effort to deleverage. This is also reflected in the bank's Balance Sheet Leverage (defined as total assets to ordinary shareholders' funds) that has fallen from a leverage of 56 times to 21 times. Not that the bank had any other alternative. In the absence of any retained earnings in aggregate from 2012 to 2015, Barclays were forced to grow their capital ratio by reducing the size of their business and cutting RWAs.
All in all, during the past decade Barclays have become a smaller, safer but also much less profitable franchise that cannot meet their cost of capital. And the market has surely penalized them for the latter. During one of the longest bull markets in history where it keeps raining gold, loyal Barclays shareholders are forced to carry an umbrella. For a bank that came through the financial crisis in relatively good shape and unlike Royal Bank of Scotland and Lloyds escaped the government bailout, this is truly a hideous performance.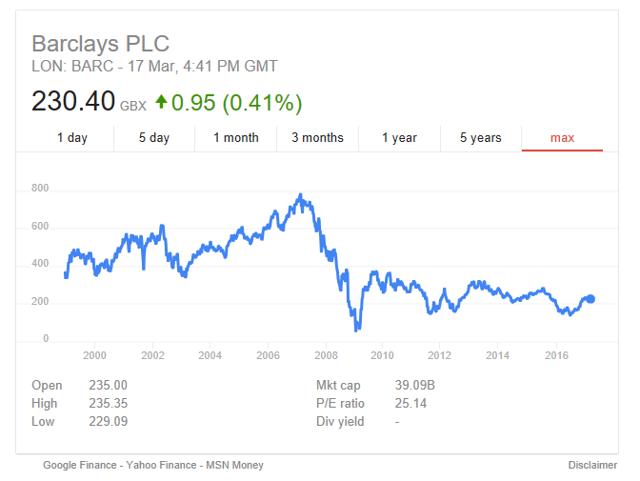 A trip down memory lane of past leaders and Jes Staley's Strategic Actions
Back in 2003, the contenders for the top job at Barclays were their CFO John Varley and their Head of Investment Banking Bob Diamond. After intense speculation, the board selected Varley. That did not prevent Diamond (an American ex trader and head of fixed income at Morgan Stanley and Credit Suisse) from stealing the limelight and achieving a cult "rock star" status within the City of London and beyond. Understandably so, as his compensation package and bonuses exceeded that of not just Varley but all CEOs in the British Banking Sector. During a decade of dramatic expansion, the investment bank (Barclays Capital) became the main driver of group earnings, accounting for around 60% of pre-tax profit in 2012. This was only possible due to the shrewd acquisition of Lehman's US Assets for a bargain price of $250m. Before that deal (some would call it a steal), Barclays was not even a top-10 player among the global investment banks. In January 2011, Diamond succeeded John Varley as Group Chief Executive of Barclays, yet his fall from grace was spectacular and his spell at the role was cut short. In July 3 2012, the Bank of England forced him to resign following controversy over manipulation of Libor interest rates (he was accused of giving the direct instruction to lower the rates). Rightly or wrongly, the American represented a casino banking way of business that made him unpopular to the British public and the UK regulators. The scandal inflicted a lot of reputational damage to Barclays and cost them $450 million to settle. When you dig up traders' emails promising colleagues bottles of Bollinger for playing the system, this is somewhat understandable.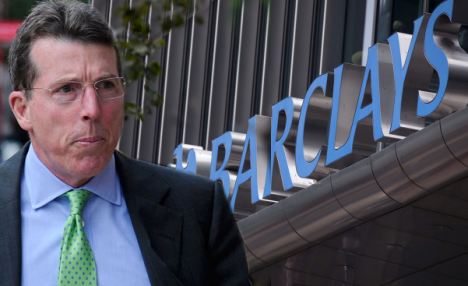 Barclays now had to repair their tattered reputation, clean up their act and reinstate the core values of "respect, integrity, service, excellence and stewardship". Diamond's replacement was Antony Jenkins, an insider coming from Barclaycard that was quick to denounce Diamond's legacy and overhaul Barclays "toxic" culture. Dubbed as "Mr. Nice" or "Saint Anthony", he had no sympathy for the profit-at-all-costs" culture of his investment bankers, that trickled down the rest of the organization. Using an internal memo, his message to them was loud and clear. "The notion that there must always be a choice between profits and a values-driven business is false. Barclays will only be a valuable business if it is a values-driven business. There might be some who don't feel they can fully buy into an approach which so squarely links performance to the upholding of our values. My message to those people is simple: Barclays is not the place for you. The rules have changed. You won't feel comfortable at Barclays and, to be frank, we won't feel comfortable with you as colleagues". Ouch!!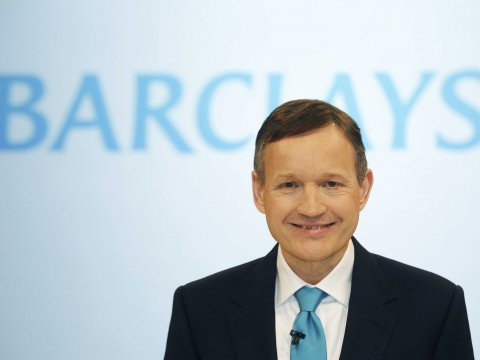 Jenkins's master plan to steer Barclays away from the Diamond era came in the form of the "Transform" program which involved 19.000 job losses by 2016, shedding toxic assets and shrinking the investment bank which would now solely focus on client related activity foregoing nearly £500mn in annual revenue. Barclay's financial performance under Jenkins was poor, and to a large extent this was down to the performance of the investment bank that soon became the worst performing division (although it has to be argued that the market place was difficult for all IBs including the American ones). By July 2015, it had become clear that the skillset that Barclays now demanded from their CEO had shifted from values creation to profit and returns improvement. After his clash with the Head of the Investment Banking Division over the future of the unit, Jenkins lost the confidence of the Board and was fired. The Board were still pro investment banking and considered the division integral to Barclay's fortunes whereas Jenkins wanted to cut it further, at a point where it would no longer be sustainable.
Fast forward to today and the appointment of Jes Staley (a seasoned ex JP Morgan Investment Banker) as the new CEO of Barclays. During the last year, Staley set a credible tone aiming not only to complete the cultural transformation of the group, but also to permanently fix Barclay's profitability issues.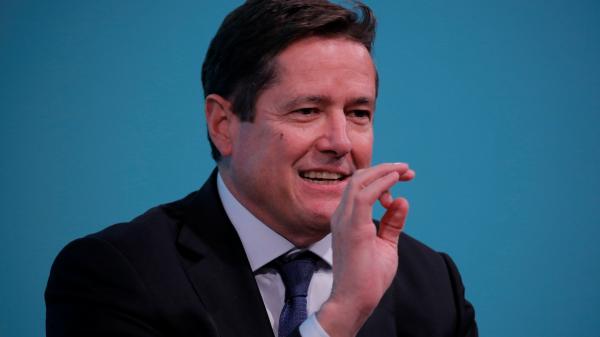 Below is a quick summary of his key strategic actions since he got the top job:
Refocus the business as a transatlantic consumer, corporate and investment bank, anchored in London and New York
Accelerate the restructuring of Barclays (run-down of non-core) that will now be completed earlier than expected by mid-2017
Cut the Dividend in half for 2016 and 2017 to fund the accelerated restructuring
Reorganize the business into Barclays UK and Barclay's International, making it aligned with the new UK ring-fencing rules
Divest from Africa where Barclays have been operating for more than 100 years, to allow regulatory deconsolidation.
Grow the Capital Ratios and put the uncertainty about a possible capital raise to rest ( I would personally hate to be forced to commit more capital at Barclays and get diluted)
Commit to operate a leading global corporate and investment bank Control Costs
Refuse a settlement with the US Department of Justice over allegations it deliberately sold mortgage bonds to investors that it knew contained junk loans.
Strengthen his top management, with former friends from JPMorgan (according to the Financial Times, Jamie Dimon himself called Barclays chairman, John McFarlane, to say the poaching had to stop).
Recently, when he was asked to judge whether the shift to a more transatlantic approach had been a success, Staley was pragmatic acknowledging that it is way too early to pass judgement but he liked the momentum that they have. After all, the shares were 260p on the day Jenkins was fired in 2015 and are around 230p as I'm writing this article (although they had briefly dropped to 121p just after the Brexit Vote).
I have to admit that I also like the momentum. Whether I cannot tell whether this is down to foresight or lack, Staley's most controversial decision, to commit to the investment bank at the expense of Africa's growth potential seems to be paying off. At least for now, that the market conditions have improved. In 2015, the RoTE of the Investment bank was a mere 6%, but I believe there is a lot of room for improvement. While the Corporate and Investment Banking (CIB) now report as one unit, it is clear that the performance of the division has improved with CIB income rising by 21% year on year. During this period, Barclays seem to have gained market share by shifting towards simpler agency-type activities that preserve capital and cross selling investment banking products to their corporate customers. With UBS, Credit Suisse and Deutsche Bank pruning their investment banking activities, Europe will be needing a significant player to feel the void and Barclays are in a perfect position to do just that. They are also the only notable European IB player in the US market, ranking 5th in terms of fee share (up on spot from the year before). Investment Banking returns are volatile and they will never reach the 60% group profit contribution that they had under Diamond. They can however offer profit diversification when the consumer side of the business struggles and meaningfully contribute to the bottom-line. And without a shadow of a doubt, the odds of fixing the investment bank are much better with Staley and his JPM friends, than Jenkins.
I'm also excited about the bright prospects of Barclaycard internationally and particularly in the US. The U.S. card business, is a high margin business that can prove a growth engine. This is a business where Barclays excel and the US card receivables have already exceeded the UK ones. Barclays are keen to expand that business and their recent investment in the American Airlines super prime Portfolio is good proof of this. When American Airlines and US Airways merged a couple years ago, cardholders of the US Airways Premier World MasterCard from Barclaycard were offered new American AAdvantage Aviator cards. However, when that happened, Barclaycard couldn't acquire new credit card accounts, instead it could only retain existing cardholders. Since January 2017, Barclaycard cards are also become available for new customers in airports and during flights. I would expect several other marquee deals to follow over time.
Despite the positives, the road to attractive, sustainable and distributable returns remains long and winding.
Despite the positive signs, I'm under no illusions that the road to attractive, sustainable and distributable returns remains long and winding. With so much yet to be done, the waiting game is likely to go on for a bit longer. Below are some of the key challenges still facing Barclays, many of which are out of the management's control:
Settlement of US Department of Justice complaint for mortgage mis-selling: The DOJ complaint alleges that Barclays fraudulently sold investors structured products (RMBS) full of mortgages it knew were likely to default, thus failing to disclose the true credit risk of the portfolio. Deutsche recently settled a similar complaint for $7.2bn (DoJ had originally demanded $14bn) that the while Credit Suisse struck a deal, worth $5.3bn. DoJ's settlement with Bank of America in 2014, the biggest of several with American lenders over pre-crisis RMBSs, was worth $16.7bn. There have been some reports claiming that the DoJ asked Barclays for $4bn, with Barclays willing to settle at $2bn.
Introduction of IFRS 9: Starting from 2018 onwards all banks will have to change the way they calculate their provisions. The new paradigm requires banks to recognize credit losses and provision not just for credit events that have occurred, but also credit losses that are expected in the future for the assets have shown significant credit deterioration since origination. Loan-loss reserves are expected to increase, reducing bank capital which will in turn hit capital ratios. Based on some recent surveys, most banks reporting under International Financial Reporting Standards (IFRS) expect their CET1 ratio to fall by up to 50 basis points. Barclays have yet to disclose the expected impact of IFRS 9 on their loan loss reserves and core capital ratios.
Changes in Basel Rules: The new Basel IV rules for Regulatory Capital Calculation and Reporting have yet to be agreed as European banks and the European Commission argue that the new rules favor U.S. banks where the economy depends less on bank loans for financing than on capital markets. The proposed new rules place constraints on the use of internal rating models for low default portfolios where there is a lot of model risk and the banks can easily manipulate. Capital Charges for Operational Risk will also be affected as all big banks will now have to switch back to a "one size fits all" standardized approach.
Macroeconomic Uncertainties as a result of the Brexit vote: While the UK economy has so far proved resilient there is a risk that Brexit may lead to lower economic growth and higher unemployment, putting pressure on property prices and the asset quality of Barclays. Barclays net interest margin (NIM) is currently stable with a full year NIM of 362 basis points, up 6 basis points on the year. Yet, a lower for longer interest rate environment will put this healthy profit margins under more severe pressure and hurt the bank's profitability metrics.
Risk of incurring additional Payment Protection Insurance (PPI) charges: For a number of years Britain's banks including Barclays had been aggressively promoting payment protection insurance for consumer credit products. They were meant to repay people's borrowings if their income fell because they became ill or lost their jobs. An investigation by the Citizens Advice concluded that these policies were expensive, ineffective, mis-sold and inefficient. So far, the cost of the payment protection insurance scandal for the British Banking Sector has topped £40bn with Barclays suffering impairment charges of $8.4 bn. In 2016 alone, Barclays set aside an extra £ billion to meet PPI compensation claims and estimates that no further impairment charges will be required. The UK Financial Conduct Authority has now set a final deadline of 29 August 2019, for submitting new claims and has called for a two year advertising campaign to raise awareness of the deadline for PPI claims, starting from April 2017.
Summary and Conclusions.
For nearly a decade, Barclays have been a perennial sub-par performer that could not retain any earnings, as litigation and non-core losses consumed most of their profits. After so many false starts and shattered hopes can this really be the time that Barclays really turn the corner and handsomely reward their loyal shareholders? Most likely yes, cause these impairment charges cannot go on forever and once the earnings power of Barclay's core franchises is free from the drag of non-core and the material legacy conduct matters Barclay's share price should converge with its tangible net asset value per share (currently at £ 2.9) and eliminate the discount.
I strongly feel that under the leadership of Jes Staley, the bank is now in 'good hands' and that the floor for Barclay's EPS going forward is at least double from the 10.4p they reported in 2016. I would also argue that once the DOJ settlement takes place, the floor for the dividend will be at least triple to the 3p they will distribute in 2016 and 2017.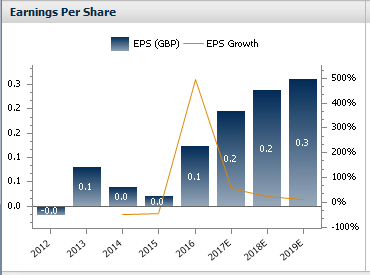 Source: FactSet
Due to a number of headwinds, the road to attractive, sustainable and distributable returns remains long and winding. With Jes Staley on board, I'm nevertheless happy to cling to my Barclays Investment and see the turnaround story to fully play out.
Disclosure: I am/we are long BCS.
I wrote this article myself, and it expresses my own opinions. I am not receiving compensation for it (other than from Seeking Alpha). I have no business relationship with any company whose stock is mentioned in this article.