Overnight, there was breaking news that the $73 billion market capitalization behemoth, Costco Wholesale Corp. (NASDAQ:COST), is suing Acushnet Holdings Corp. (NASDAQ:GOLF), the owner of the popular Titleist golf balls, equipment, apparel, as well as owner of FootJoy. This news caused me to take another look at shares of GOLF. In late December, I too read about the cult-like status for Kirkland brand golf balls in the WSJ (see Suzanne Kapner's 12/14/16 piece). However, fellow SA contributor Colin Tedards beat me to the punch and wrote a nice Seeking Alpha Pro Article, on December 22, 2016, on the pricing disruption that this may cause Acushnet and its lucrative golf ball business measure in both market share and profits. However, given the ratcheted up stakes, as we learned yesterday that Acushnet legal team sent a nasty letter to Costco, this is a negative for shares of GOLF.
See this quote from golfdigest.com
First reported by Golf-Patents.com, Costco's suit, filed in the U.S. District Court western District of Washington at Seattle, states its response is to Acushnet's written accusation that Costco infringed on 11 Acushnet patents and engaged in false advertising based on its guarantee that its Kirkland Signature products "meet or exceed the quality standards of leading national brands."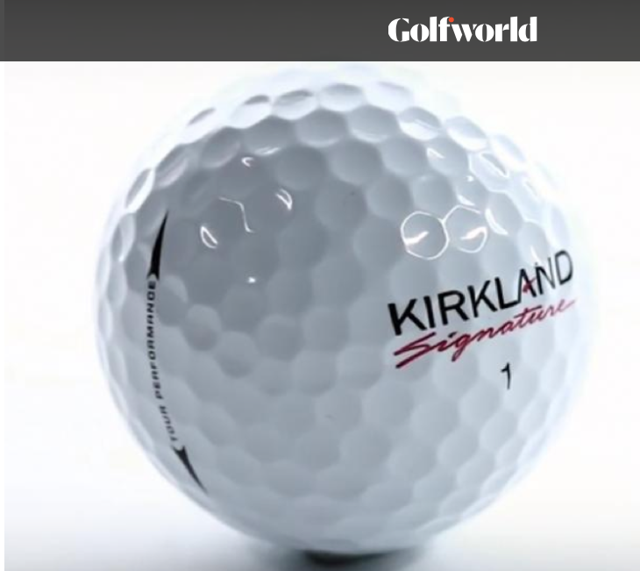 Source: Golfdigest.com
Given the escalating tensions and Acushnet's letter, we now officially know that Titleist and its marquee ProV1 franchise feels threatened. So despite Colin beating me to the news beat, I decided to dig into the story further to do my own analysis.
On October 14, 2016, existing GOLF shareholders sold 19.333 million shares at $17. As part of the IPO, all of the Series A 7.5% convertible preferred notes converted to 34.348 million shares.
In terms of valuation, GOLF has 74.1 million shares outstanding, or a $1.332 billion market capitalization using yesterday's $18 stock price. The company has a $371.5 million Term loan at attractive terms. So we are looking at an enterprise value of roughly $1.7 billion. GOLF's FY15 Adjusted EBITDA was $215 million. So we are looking at roughly 8X trailing EV/Adjusted EBITDA. At face value, this isn't super expensive, but for a business with limited growth the valuation isn't that compelling. Importantly, if Costco's new low-priced and high-quality golf ball disrupts the industry or at least impacts Titliest's pricing power then GOLF's Adjusted EBITDA is vulnerable. As we can see from GOLF's S-1 (page 93), golf ball sales were 36% of FY2015 revenue.
Let's take a look at golf ball sales as a percent of Titleist's sales.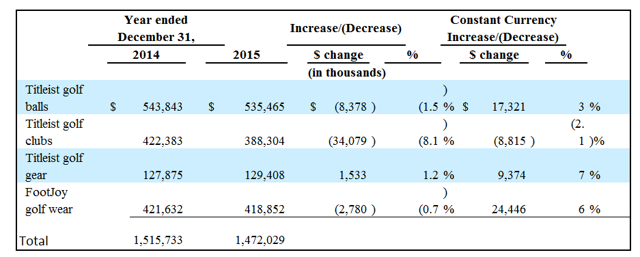 In terms of profitability, golf ball sales represented 43% of FY14 and 56% of FY15 segment operating income.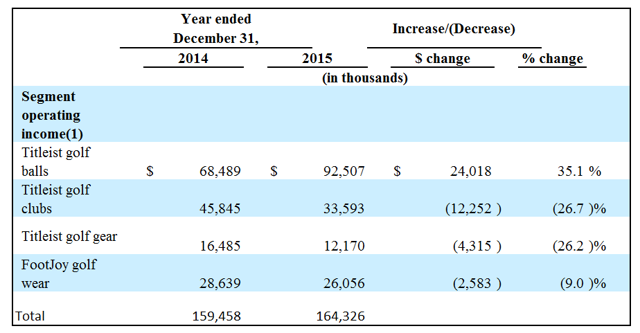 Here is the problem, per the CBS Sports article, the Kirkland golf ball has similar performance characteristics of a ProV1 at a much lower price point.
Depending on where you buy new ProV1 golf balls, you are looking anywhere from $39.99 to $48 per dozen. Unfortunately, for Acushnet, saving money is en vogue these days, thanks to Amazon (NASDAQ:AMZN) and TJX (NYSE:TJX), so this is a major threat to Acushnet's profitability, at least longer term, especially if the lucrative $40 plus per dozen price point for golf balls is pierced.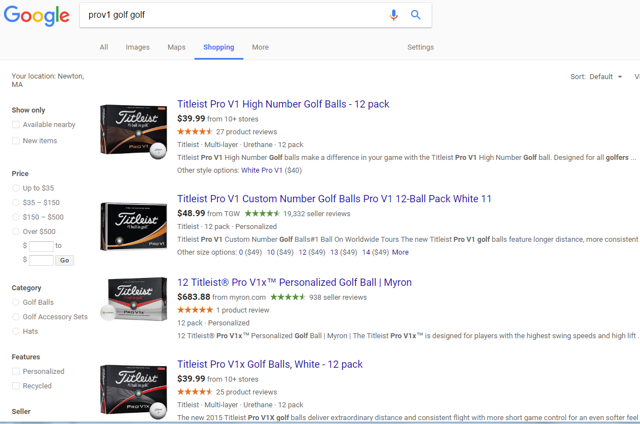 The other problem facing GOLF is that due to the cost and time commitment, average rounds played have stagnated for years. If few new players are teeing it up then it is hard to experience much revenue growth. Notwithstanding much better winter weather, it is hard to see much growth in rounds played in 2017. That said, the 2016 winter was favorable, so they are lapping tough weather comps.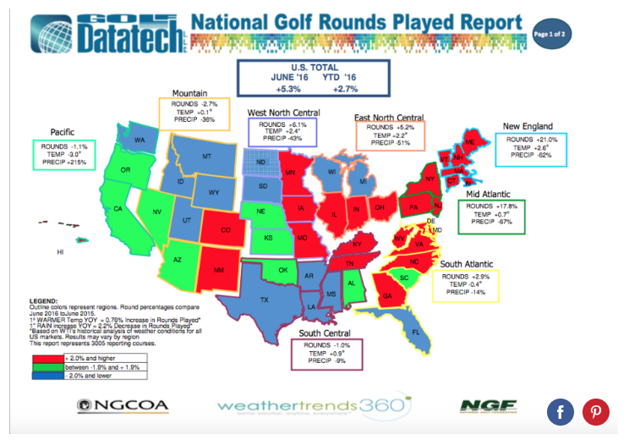 See this article written was last August in Bloomberg, about 800 golf courses closing over the past decade.
Unfortunately, despite a billion plus market capitalization, GOLF options are very thin. So shorting it outright is really the way to play it.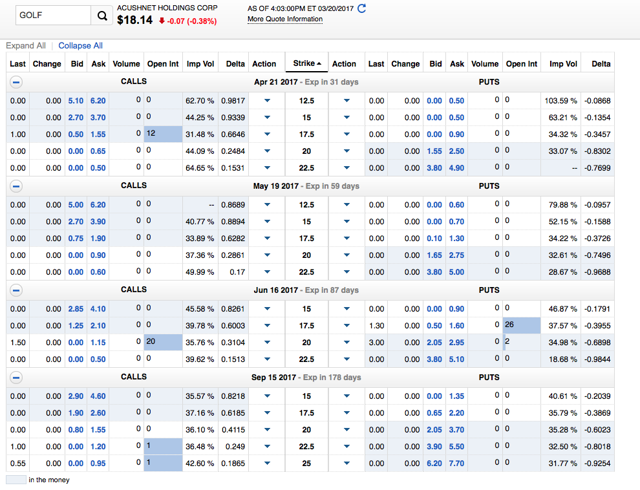 Takeaway
Yesterday's news of the legal wars between Acushnet and Costco have swayed me to recommend investors scale into a short position in shares of GOLF. Costco's new golf balls have great performance and are at a super compelling price point that could pierce the once lucrative printing press enjoyed by Acushnet. Moreover, given the lack of growth for the game of golf measured by golf courses and rounds played, a $1.7 billion enterprise value is too rich. Notwithstanding the possibility of more rounds played due to the warm winter, I would scale into this short. If earnings are better tomorrow, I would add more shares to your short bet.
Disclosure: I/we have no positions in any stocks mentioned, and no plans to initiate any positions within the next 72 hours.
I wrote this article myself, and it expresses my own opinions. I am not receiving compensation for it (other than from Seeking Alpha). I have no business relationship with any company whose stock is mentioned in this article.