Summary
I've written previously about a closed end fund that may benefit from Fed Rate Hikes (see here). Today I am going to discuss a business development company (BDC) that provides a conceptually similar alternative.
BDCs were created by a Congressional Act in 1980, but there have been many new entrants since the 2008 financial crisis. A changed regulatory environment created an opportunity for BDCs to claim territory once held by large banks. The industry was also fueled by yield-starved investors hungry for the higher payouts offered.
In this article, I am going to focus on PennantPark Floating Rate Capital (NASDAQ:PFLT). This name caught my attention after its recent secondary.
What is PFLT?
PennantPark Floating Rate Capital provides loans to "middle-market" companies that have revenues of between $10 and $100 million.
Investing in a BDC means investing in the management of the company. You are trusting them to select stable, cash-flow positive companies that can repay the loan and provide a return to investors. Many of the companies are not publicly traded, so your faith is in management to properly gauge financial metrics.
Here is a snapshot of PennantPark's investment portfolio: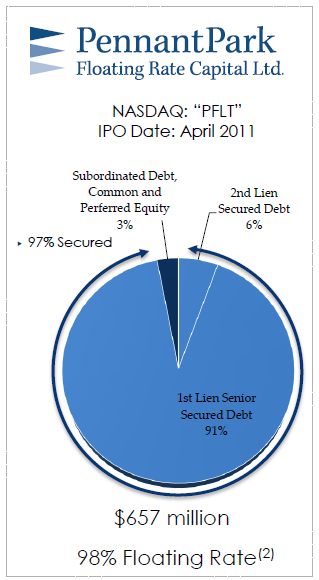 (Source: PFLT)
Notice the following:
1) 98% of the loans are floating rate.
2) 95% of the loans also include a floor. (See my JQC article linked above for a refresher on floors.)
3) The vast majority of the loans are high in the capital structure.
Loans are made to a wide variety of industries: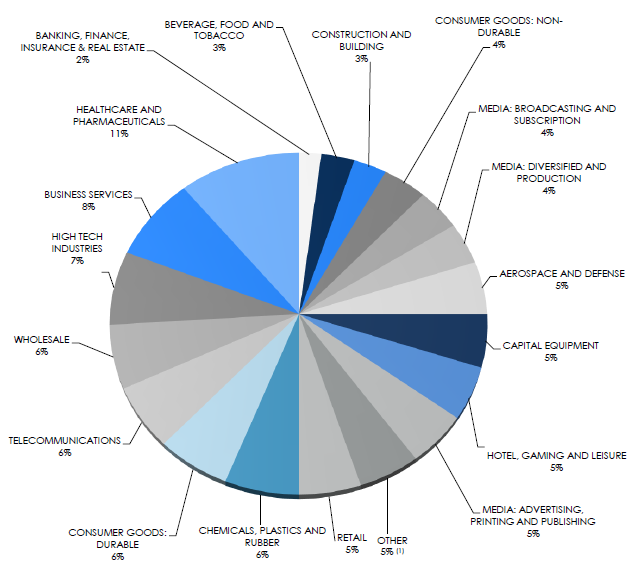 There is very little energy (oil and gas) exposure here, which I view as a positive. Energy is included in the "Other" category in the graph above.
Here is a snapshot of the loans PFLT actually holds. Virtually all are floating and LIBOR-linked. We'll discuss what rising rates mean for them later on.

(Source: EDGAR) (PDF File)
PFLT, HYG, and Risk
PFLT (and most BDCS) trade very similar to junk bonds. This is important for investors to understand. BDCs will perform poorly when junk debt is performing poorly and vice versa.
I pulled up a chart of PFLT and the iShares iBoxx $ High Yield Corporate Bond ETF (NYSEARCA:HYG) to show the trading patterns over the last six years.

(Source: Google Finance)
PFLT did poorly as junk bonds were struggling at the end of 2015.
I'll reuse an analogy I made in my JQC article: Senior Debt is the "safest" way to invest in a risky company.
I consider BDCs to be on the higher end of the risk spectrum.
Earnings and Rising Rates
PFLT pays a monthly dividend of 9.5c ( $ 0.285 /quarter) per share and currently yields 8.2% as of this writing.
PFLT posted a net investment income of $0.26/share in its most recent financial report. PennantPark also posts a non-GAAP metric called "core net investment income per share" of $0.28/share. Dividend coverage is slightly off even using the non-GAAP metric.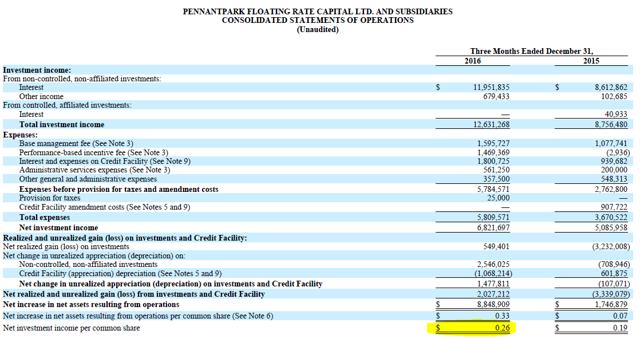 (Source: EDGAR)
The purpose of this section isn't necessarily to dissect PFLT's current earnings but to determine what they will do if interest rates rise.
As previously mentioned, PFLT's loans are indexed to LIBOR. As the Fed raises short-term rates, LIBOR will follow suit. The extent to which PFLT benefits is dependent on the loan floors. I have not been able to find an explicit floor for the loans, but PFLT does publish the following chart showing how a rise in interest rates will affect their NII.

(Source: EDGAR)
Note "Net of Interest Expense" in the chart titles above. PFLT (like many BDCs) uses a credit facility linked to LIBOR that leverages their portfolio.
Discount to NAV
BDCs can trade at a discount to NAV. As of this writing, PFLT trades at $13.80/share. It's most recent NAV is $14.11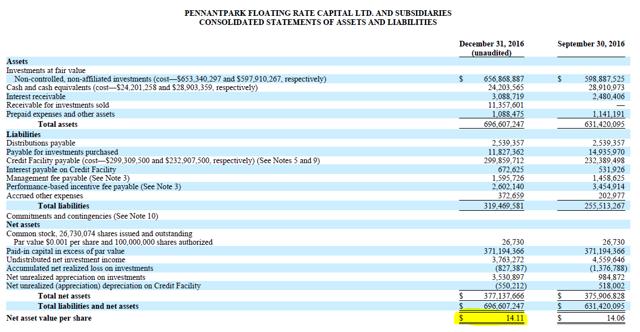 (Source: EDGAR)
This creates a 2.2% discount.
Conclusion
Here are my closing thoughts on PFLT:
1) Almost the entire portfolio of PFLT loans are indexed to LIBOR, which will rise if the Fed continues to raise rates. This should result in higher dividend payouts.
2) PFLT has minimal energy exposure, which I personally view as a good thing.
3) BDCs in general are on the higher end of the risk spectrum, similar to junk bonds.
4) The current discount is pretty small compared to the panic episodes these see from time to time
BDCs have seen a big rally over the past few months as junk bonds have rallied. PFLT's floating rate loan exposure may provide higher income if the Fed keeps hiking.
I tend to keep BDCs as a very small percentage of my portfolio due to the difficulty in analyzing the loans, but PFLT is worth a look.
Disclosure: I am/we are long PFLT.
I wrote this article myself, and it expresses my own opinions. I am not receiving compensation for it (other than from Seeking Alpha). I have no business relationship with any company whose stock is mentioned in this article.