Alcoa (NYSE:AA) was one of the highflyers of 2016, and now investors are taking their foot off the gas pedal. Why? Investors are likely waiting for more news and trade data out of China in order to confirm that aluminum can go higher and break the key resistance level of $2,000/mt. Furthermore, investors want to see Alcoa have earnings strength after posting a loss on the full fiscal-year 2016. Right now, I think the downtrend will continue until we receive either positive trade data financial data during earnings season or until the company unveils a plan for paying a competitive dividend.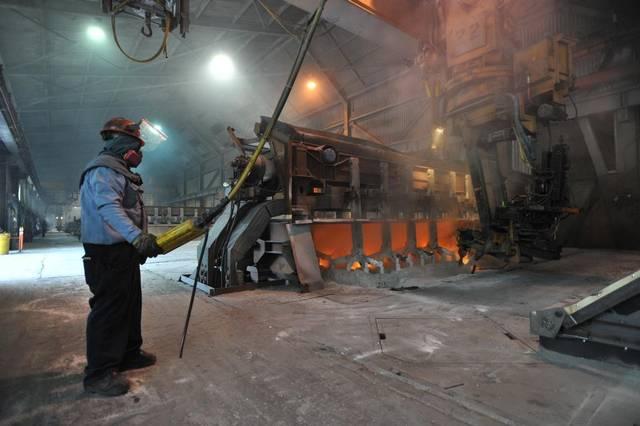 Source: Bellingham Herald
No Dividend And Investors Taking Gains
Alcoa's stock has rallied to a level not seen in quite some time. After peaking around $39, the stock has taken off some steam by about 10% and settled around the $34 level. The core moving averages are trending upwards still, so I'm inclined to believe that, at least in the short term, this company will see some strength; however, it's going to take a reversal of this downtrend back above the 50 DMA in order for that to happen. However, just because the technicals say that this stock should kick up sometime soon doesn't mean the fundamentals warrant it, and I think the stock has a large problem in that it doesn't pay a dividend.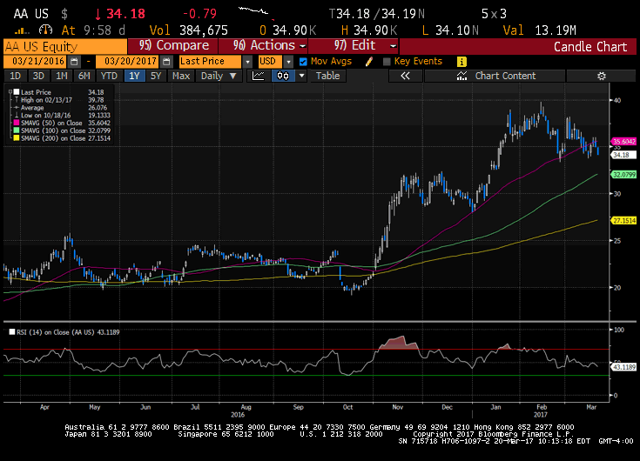 Source: Bloomberg
I do find it hard to believe that long-term investors are going to want a piece of this company considering the yield is nonexistent. While not many base metal companies have yields in line with the broader equity market or even above, a company as old as this one with a relatively predictable operation should have a dividend that's at least at the market average. The current yield is 0% despite what you're seeing below (this is based on a trailing annual payout).
We've seen significant outflows from top shareholders when they filed their year-end portfolio reports. Vanguard sold off 41 million shares, Elliott Management sold off 24 million shares, First Pacific Advisors sold 20 million shares, BlackRock sold 29 million shares, and State Street sold 23 million shares. That's a lot of selling pressure and naturally makes sense why the stock is still reeling as investors are struggling to find another justification to stay in the stock. The only two notable funds that added to this name at year end were Balyasny and Renaissance.
What I want to see is Alcoa have the financial strength to return to a $0.51 quarterly payout. We haven't seen that since 2009, and I'm here to bet that we're not going to see it for at least a few more years. However, that doesn't mean progress can't be made towards that level. If the stock paid a $0.51 quarterly dividend, then the annual yield would be 5.95% in current standing.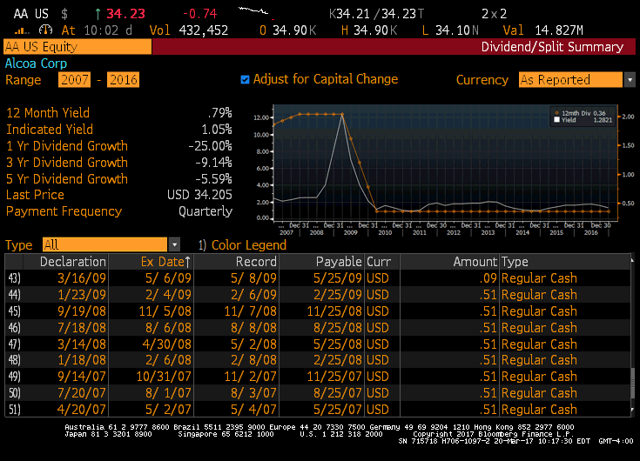 Source: Bloomberg
A dividend only comes from the financial capability to pay one and Alcoa does not currently have that. In a review, the company posted negative Q4 2016 operating cash flow of -$311 million, due mostly to a large change in working capital and a negative bottom line, and had negative free cash flow in the same quarter of -$715 million. Fortunately, its cash balance did increase YOY from $557 million to $853 million; however, I wouldn't expect the company to pay a dividend directly from its cash balance and jeopardize future liquidity.
Risk/Reward Erased?
This depends on what perspective you're viewing Alcoa from. The potential to make new all-time highs is always there and that's what may happen over the long term; however, if we're using historical pricing as a guide, Alcoa is near a trading level comparable to where aluminum was five years ago. That tells you just how fast this run-up was in this stock and how steep the slope of its trend was.
Now, aluminum has not recovered all of its losses over the past five years and still has about $300-400/mt to make up before the reward offering becomes flat for investors for the medium term. Thus, there is still ground to cover for AA if we're viewing the stock's potential as the same as aluminum prices. However, it does look overextended in the short term, with the stock reaching 2014 levels just prior to the massive slide in aluminum prices. Patient investors took gains during Q4 2016 and are continuing to take gains in Q1 2017, so I expect we'll see that trend continue until Alcoa or aluminum fundamentals give the market a reason not to.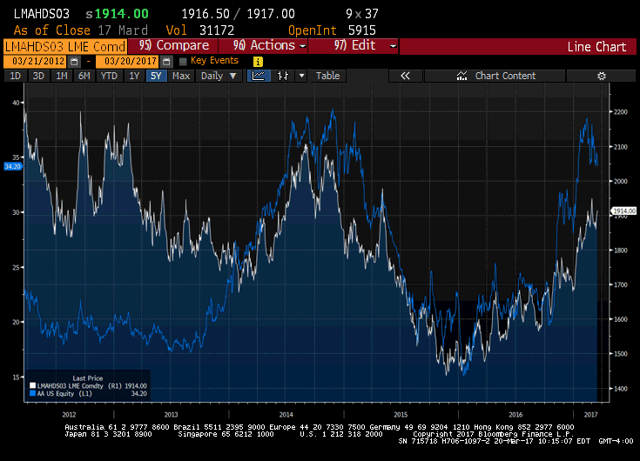 Source: Bloomberg
If you view this stock, however, from a 10-year perspective, the risk/reward scenario seems all the more enticing such that Alcoa could more than double in a future 10-year period if it worked its way back to all-time highs. Notice the $109 all-time high back in 2007. While it's not likely that we'll see that level any time soon given that prices across the board were inflated prior to the financial crisis, a good portion of that potential run-up isn't out of reach.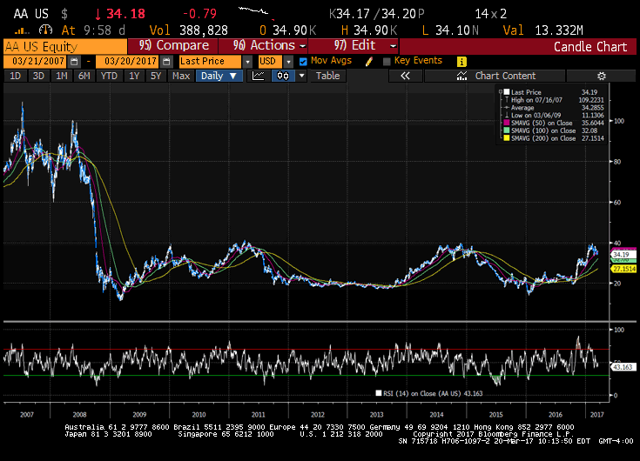 Source: Bloomberg
In order to understand that, observe a 10-year chart for aluminum versus the share price of Alcoa. Aluminum historically traded above $3,000/mt prior to the financial crisis and while that's obviously steep, it's nonetheless the very long-term target. What's more reasonable is the $2,000/mt-2,500/mt range over the medium to long term. At those levels, Alcoa should be able to see significant financial strength, have robust cash flow to pursue growth opportunities, and the stock should be higher than where it is now by at least 50-100%, considering previous pacing.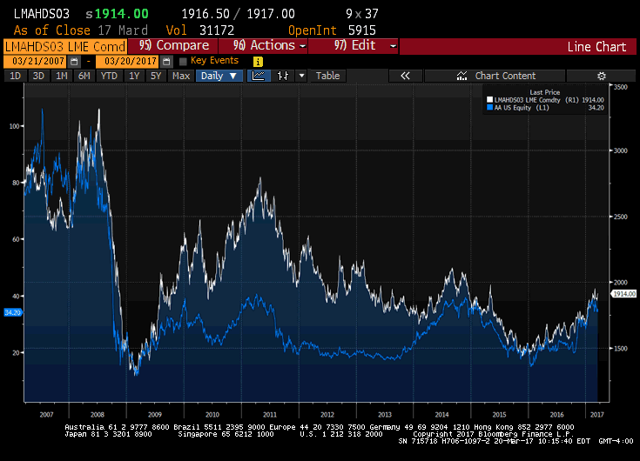 Source: Bloomberg
Interestingly enough, the analyst consensus right now is a buy, with 58% of ratings leaning in that direction. Additionally, the average 12-month price target is $39.68, implying just 13.7% upside from the current level. If the ideal 6% yield was present, then the stock's total return would be close to 20%, which is impressive; however, that's not the case here and won't be for quite a few years.
Conclusion
This stock will get a renewed, lot of buying power if this company starts showing a serious commitment to its dividend. A dividend comes with the financial strength to do so, and while aluminum prices are nearing 2014 levels, this company needs to get a full year under its belt of positive cash flow, an increasing cash balance, and a positive bottom line. I'll be looking to the Q1 2017 earnings call to provide a large amount of direction to shareholders.
Disclosure: I/we have no positions in any stocks mentioned, but may initiate a long position in AA over the next 72 hours.
I wrote this article myself, and it expresses my own opinions. I am not receiving compensation for it (other than from Seeking Alpha). I have no business relationship with any company whose stock is mentioned in this article.