Even though it's a positive sign for the economy, the prospect of rising rates hasn't exactly left most investors with warm, fuzzy feelings. But while markets have feared rate hikes in the past, it could mean a shift in opportunity toward those sectors that tend to perform well in rising-rate environments.
The Power of Transparency
The US Federal Reserve (Fed) has been very clear about planning to gradually increase interest rates in the post-financial-crisis recovery, which has helped to reduce volatility. As of the time of this writing, two to three increases were expected throughout 2017, helping financial markets set expectations around them.
Granted, if the pace of rate increases changes, it could stir up volatility again. For example, the Trump administration's plans to spend more on infrastructure could warrant a faster or steeper rate-hike path, for example, by pushing up inflation and demand for goods. By contrast, an economic slowdown could slow further increases.
As rates rise, where can investors turn for growth? Stocks and real-estate investment trusts (REITs), which are companies that own or manage income-producing real estate, have historically gained when rates moved upward, as shown in FIGURE 1. Since rising rates are a sign that the economy is growing, the stocks of companies that are doing well in the recovery can benefit from the generally positively macroeconomic environment.
FIGURE 1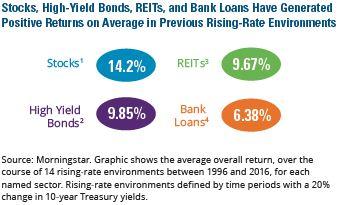 Not All Sectors Are Created Equal
On the other hand, bonds tend not to perform well due to their inverse relationship with interest rates - as rates go up, bond prices generally go down. But some bonds are less interest rate sensitive than others. For example, a type of bond known as a bank loan has a floating coupon that can reset every 30, 60, or 90 days; this feature helps them better hold their value as rates shift. Not surprisingly, high-yield bonds generally offer a higher yield than say a Treasury bond, because they are more risky. So when rates rise, high-yield bonds are less impacted because their yield is more generous from the get go.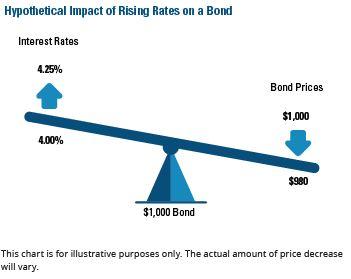 Where To Go From Here
While there are certainly places to look for opportunity in both fixed income and equities as we continue in this rising-rate environment, it's much more likely to be specific to certain asset classes than widespread. That's why investing in an actively managed strategy can be beneficial since they generally have the flexibility to adjust to different interest-rate environments and select specific investments with potential.
If you're not sure whether your portfolio is ready for rising rates, schedule time to review your portfolio with your financial advisor today. Rising rates could be here to stay - for the foreseeable future, at least - so their impacts shouldn't be ignored. Your advisor can help you create a customized plan to keep you on track with your long-term goals, regardless of the interest-rate environment.
1 S&P 500 Index is a market capitalization-weighted price index comprised of 500 widely held common stocks.
2 Bloomberg Barclays US Corporate High Yield Index is an unmanaged index considered representative of fixed rate, non-investment grade debt of companies in the US, developed markets, and emerging markets.
3 The MSCI US REIT Index is a free-float market-capitalization weighted benchmark comprised of equity REIT securities that belong to the MSCI US Investable Market 2500 Index.
4 Credit Suisse Leveraged Loan Index is designed to mirror the investible universe of the United States dollar-denominated leveraged loan market.
All investments are subject to risk, including the possible loss of principal. Fixed income risks include credit, liquidity, call, duration, and interest-rate risk. As interest rates rise, bond prices generally fall; these risks are currently heightened because interest rates are at or near historical lows. Investments in high-yield ("junk") bonds involve greater risk of price volatility, illiquidity, and default than higher-rated debt securities. Loans can be difficult to value and highly illiquid; they are subject to credit risk, bankruptcy risk, and insolvency. U.S. Treasury securities are backed by the full faith and credit of the U.S. government as to the timely payment of principal and interest. The main risk of real estate related securities is that the value of the underlying real estate may decrease in value. Risks associated with REITs include credit risk, liquidity risk, and interest-rate risk.
This information should not be considered investment advice or a recommendation to buy/sell any security. In addition, it does not take into account the specific investment objectives, tax and financial condition of any specific person. This information has been prepared from sources believed reliable, but the accuracy and completeness of the information cannot be guaranteed. This material and/or its contents are current at the time of writing and are subject to change without notice. This material may not be copied, photocopied or duplicated in any form or distributed in whole or in part, for any purpose, without the express written consent of Hartford Funds.
Hartford Funds are underwritten and distributed by Hartford Funds
Distributors, LLC.
MF7378_0317 200358
Disclosure: I/we have no positions in any stocks mentioned, and no plans to initiate any positions within the next 72 hours.
I wrote this article myself, and it expresses my own opinions. I am not receiving compensation for it. I have no business relationship with any company whose stock is mentioned in this article.