Summary
Today's News
Soon available (Friday, March 24), Apple's (AAPL) new 9.7-inch iPad prices from $329, the lowest price point ever for the device. Retina display and improved performance mark primary highlights.

(via SA)
On Tuesday morning, Apple released an updated iPad, and it was mostly a snoozer, at least from a features standpoint. The company updated the processor in its iPad Air 2 model - what had been its mainstream 9.7-inch tablet. The upgraded model, which will just be known as iPad, sports a faster processor. The more significant change is that Apple dropped the price tag to $329 from $399.

That could be a bargain for a fairly advanced iOS device, given that the cheapest iPhone 7 model starts at $649, when you pay for the device upfront.

(via Barrons)
Apple is a technology company, but also a retailer. What we see from today's announcement is that the pricing for the iPad was too high for the consumer, resulting in a revenue drop of 22% in the latest quarter. Pricing and sales expectations were overly optimistic, and as with any retailer, the company needed to move unwanted merchandise with a "clearance sale."
Execution Risk
The idea of a clearance sale on a poorly selling product is not a positive development for Apple shareholders. Mispricings are painful and damaging to the brand and margins.
Shareholders should be concerned that this could become a negative self-fulfilling cycle. Customers wait to buy products, forcing Apple to reduce prices, encouraging the cycle to continue in the future.
Current Earnings
Apple sold 13.3 million iPads, generating $5.5 billion in revenue. That represents a roughly 19 percent drop in units and a 22 percent drop in revenue from a year ago.

Still, CFO Luca Maestri said Apple sold more iPads in the quarter than it had anticipated it would. "iPad is incredibly successful," he said on a conference call, noting Apple's large share of the market and its share among surveys of those who plan to buy tablets.

Cook also said he remains bullish on Apple's tablet.

"We've got some exciting things coming on iPad," he said. "I still feel very optimistic about where we can take the product."

(via Recode)
Impact
iPad sales only comprise about 7% of Apple sales in the latest quarter. However, the impact of potential price reductions on other products presents a more significant risk.
The net effect is margin compression on the iPad.
Overall margins for Apple were 38-39% in the last quarter.
New risk that the value-add of the iPhone at $659 does not compare favorably with a lower $329 iPad price point.
Valuation
Apple shares sell at the highest level in the last five years (15x). At this price, shares have a higher risk/reward profile due to uncertainty of the coming iPhone upgrade cycle and issues of adoption of the new Airpods.
Technical overview
The shares are now technically overbought and quite extended, perhaps due to recent Wall Street upgrades and a bullish Barron's article this past weekend.
As the shares reach new highs on an almost daily basis, it is doing so on less volume - a sign that investors are unwilling to keep paying ever-higher prices for the shares.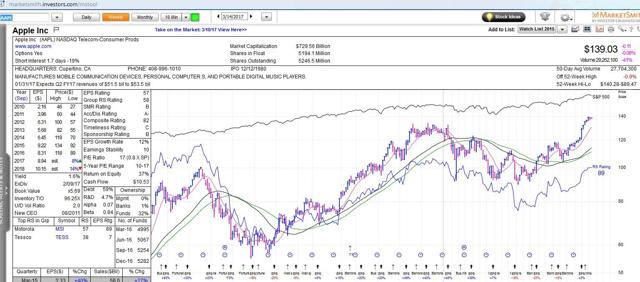 The retail consumer
Again, Apple is a retailer, and is not immune to the risks and pressures that other retailers face.
Consumers have been trained to wait for a sale and it's doing tremendous damage to retailers.

The retail industry is struggling.

Last month, many companies, from Gap Inc. to Macy's to Nordstrom reported dismal earnings.

One reason is that they've trained consumers to shop on sale.

(via Business Insider)
The risk to the company is that mispricings and slow adoption of future products leads to more events like today: a price drop to move unwanted merchandise. This would present margin pressure to all Apple products as customers become conditioned to wait for potential price drops on future products. This creates risk not only to earnings, but to the overall Apple brand.
Conclusion
Apple's announcement of a reduction in price for the iPad shows the company's need to react to sluggish sales of the device.
The possibility of future price reductions is a new risk to the shares, which are overextended in the short term, and to the brand in the long run.
Disclosure: I/we have no positions in any stocks mentioned, and no plans to initiate any positions within the next 72 hours.
I wrote this article myself, and it expresses my own opinions. I am not receiving compensation for it (other than from Seeking Alpha). I have no business relationship with any company whose stock is mentioned in this article.