Beaten why for (why for),
Can't take much more,
One, nothing wrong with gold,
Two, nothing wrong with gold,
Three, nothing wrong with gold,
Four, nothing wrong with gold,
One, holding at support,
Two, holding at support,
Three, bouncing off support, nowwwwwww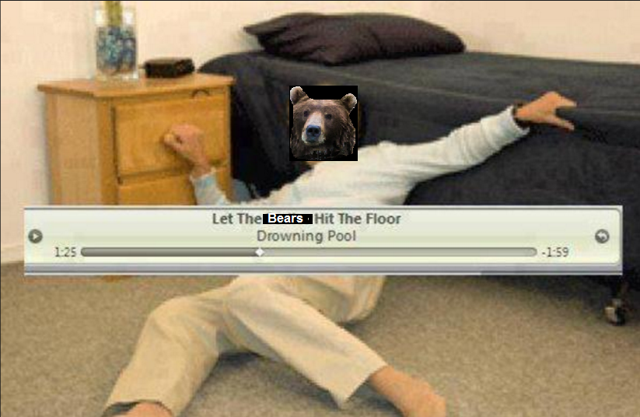 Above is a parody of the Drowning Pool song - Let The Bodies Hit The Floor, but I believe it applies just as much to the gold (NYSEARCA:GLD) bears at this juncture. No matter where you looked last week, a rate hike was telegraphed to be a death knell for the yellow metal. We had a thunderstorm warning from one author, a "Forget Gold Until June" from another, as well as a plethora of bears preying on the miners. When everyone is looking one way on a trade just as they were in December, I prefer to be on the opposite side of that trade. Since that time gold has skyrocketed over $40/oz, and those that decided to ignore the yellow metal until June have missed a 3% return in less than 5 trading days. Gold has now made a higher weekly swing low and bullish sentiment has regained the uptrend it had in place from late December. Both of these developments are extremely positive, and I'd be very surprised if the bears' line of defense at the 200-day moving average is able to thwart the metal a second time around.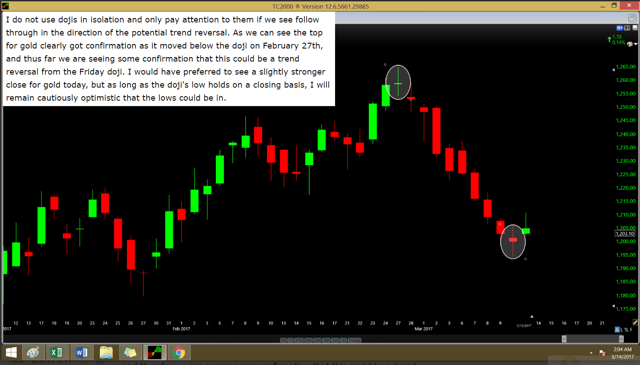 (Source: TC2000.com)
Just a week ago I shared this chart of gold and stated that there was absolutely no reason to doubt the metal. While we had seen a nasty decline from the highs put in at $1,265/oz, the bull market in gold was still very much intact. I opined to this as gold was still above clear support at $1,1944/oz and $1,180/oz, which represented the late January swing low, and the 50.0% retracement of the recent move. The fact that these support levels were being hit after 9 consecutive days down in the metal only added to my belief that the lows were likely in. Below is an updated chart of this move and we can see that the doji dug its heels in the ground to provide a bottom for gold.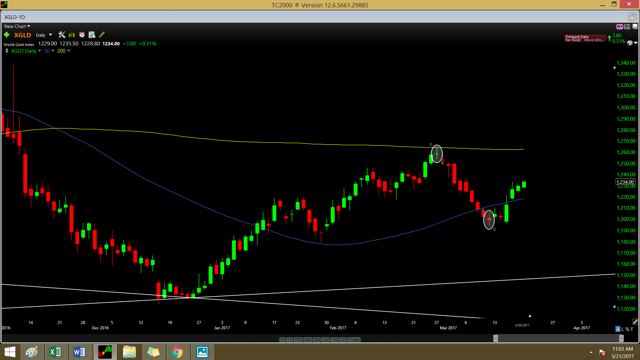 (Source: TC2000.com)
Digging deeper into the above chart, we can see that the 200-day moving average (yellow line) continues to loom ahead at $1,263/oz. Given how obvious this level is now, I do not expect the bulls to have as much difficulty with it this time around. The bulls have regained the 50-day moving average (blue line) and due to how short-lived the drop was, it has kept its positive slope. This is a bullish development for the metal as momentum is typically to the upside when price is above a rising 50-day moving average.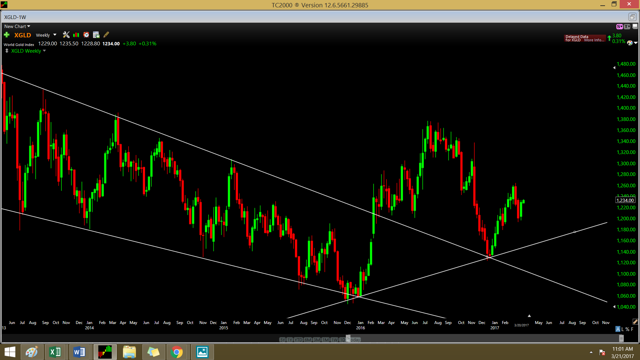 (Source: TC2000.com)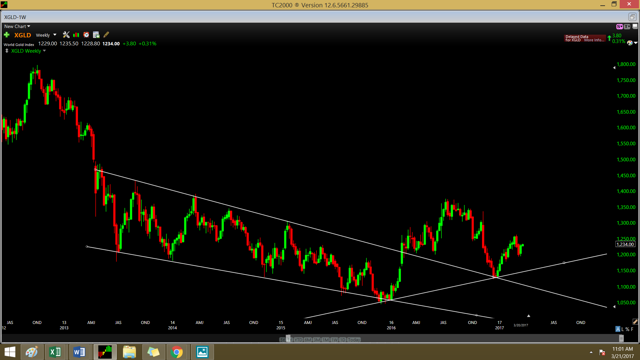 (Source: TC2000.com)
Zooming out to a weekly chart of gold, my bullish thesis for the metal is still alive and well. We can see that gold broke out a 3-year falling wedge in early 2016, and the December lows did no damage to this chart as they simply back-tested the top of this falling wedge. We now have 3 separate higher swing lows in place on the weekly chart, and this is a very clear sign of a new bull trying to break out of its pen.
As we can see on the above weekly chart, we now have weekly swing lows in place at $1,050/oz, $1,120/oz, and $1,190/oz. Until the $1,190/oz level is violated on the downside, I will not be losing any sleep over this bull market in the metal. This is the reason why I was busy shopping for new miners the past two weeks as I wanted to add back to my exposure with a low-risk entry.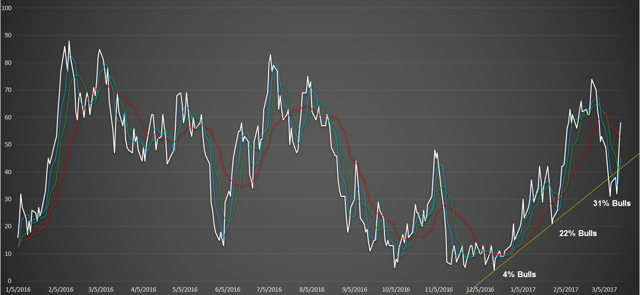 (Source: Daily Sentiment Index, Author's Chart)
Taking a look at bullish sentiment for gold, we can see that the exact same scenario is in place. Bullish sentiment continues to make higher lows since the beginning of the year, while maintaining the uptrend which is in place from the initial two lows at 4% bulls and 22% bulls. This tells me that we are in a buy the dip market for gold, and that the path of least resistance is higher for the time being. This is the exact opposite of the market we had from late November through December as sentiment was making lower highs and lower lows. In addition to the uptrend in sentiment being in place, bullish sentiment has now also regained all of its sentiment moving averages. This means that bulls continue to come back into the market and are doing so at a healthy pace as bullish sentiment trades above its key moving averages.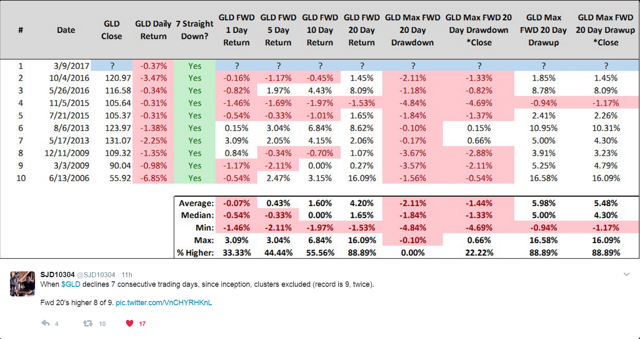 (Source: nd-wm.com)
Finally, let's move to the study I showed in my last article by Steve Deppe. The above study shows rare occurrences when the GLD has declined for 7 straight trading days and what happens next. The most recent signal was recorded on March 9th 2017, therefore based on the average 20-day return we would expect to see a closing price for gold 4.20% higher than the March 9th close. Based on the close on March 9th, we would expect to see gold close on April 6th at $1,254/oz. Thus far we are trading in line with these expectations as we are more than half way there with roughly 11 trading days left to go.
Given the positive developments of the past week since the Fed, I've re-deployed over 20% in capital and am now once again nearly 50% long miners. I shared my shopping list in my premium newsletter prior to the Fed so that my subscribers could position themselves before the real fireworks started. My 5 top miners by weighting in no particular order are:
The bears seem convinced that gold is still in a bear market but I believe this couldn't be further from the truth. The metal continues to make higher weekly swing lows and while it is below its 200-day moving average, the resistance there is becoming a little too obvious to be a formidable opponent. While I will remain long with only my half position from $1,176/oz while we trade below there, I would be quite surprised if the bulls aren't able to stampede through $1,263/oz this time around.
Sentiment for gold is in bullish alignment, the metal has momentum behind it on nearly all time-frames, and forward returns tend to be very strong on the back of 7-day losing streaks. I believe this to be a very positive setup for gold as it approaches its resistance level it was rejected by just 3 weeks ago. The bears from last week seem a little more subdued but there still remains a few that seem to have it out for the metal. This articles serves as my final warning that they've overstayed their welcome, and shorting miners like Hecla (NYSE:HL) and Kinross (NYSE:KGC) in a gold bull market is not the most sound investment strategy.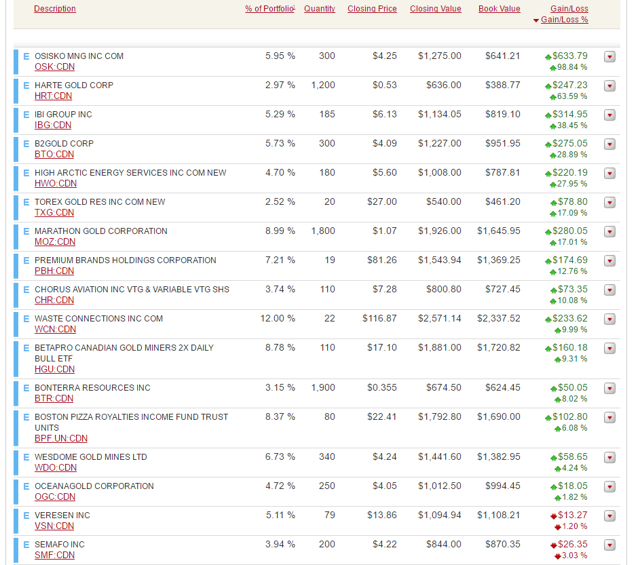 (Source: CIBC Investors Edge Account)
For full transparency I have shown my smaller account above to show that my money is where my mouth is. I will no longer be sharing all of my accounts as the positions in the other two are reserved only for my premium subscribers.
Seeking Alpha has modified the way they tag articles, therefore if you are not "following me", you will not receive notifications of my articles. If you would like a real-time notification of when my new articles are published, you will need to select the "Follow" button at the top of my article.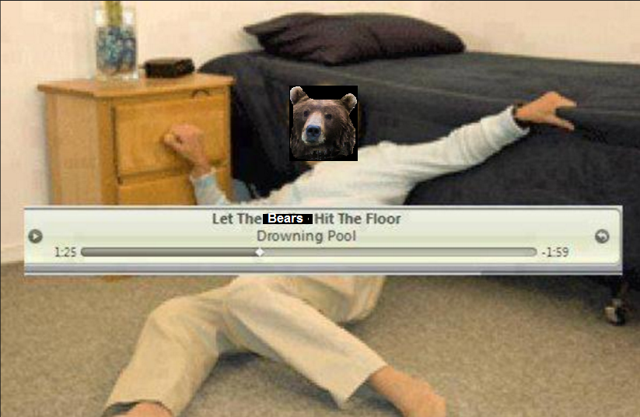 Disclosure: I am/we are long GLD, SPVEF, HL, MGDPF, TORXF, BTG, SEMFF.
I wrote this article myself, and it expresses my own opinions. I am not receiving compensation for it (other than from Seeking Alpha). I have no business relationship with any company whose stock is mentioned in this article.
Additional disclosure: If you liked this article and found it useful, please feel free to follow me by clicking on my name next to my avatar at the top of this article. I also invite you to follow me at www.twitter.com/TaylorDart01 where I routinely share my entries, exits, and stops on new positions, as well as updating followers on sentiment data on markets I am following.
Editor's Note: This article covers one or more stocks trading at less than $1 per share and/or with less than a $100 million market cap. Please be aware of the risks associated with these stocks.