There are more than 100 dividend ETFs in existence. The Vanguard Dividend Appreciation ETF (NYSEARCA:VIG) is the largest with nearly $24 billion in assets. With inflows and further appreciation in the market, there could soon be 25 dividend ETFs with more than $1 billion in assets. Many of them have similar holdings portfolios filled with familiar dividend-paying stocks. In this article, we'll look at overlap in the six largest funds. After VIG, they are the Vanguard High Dividend Yield ETF (NYSEARCA:VYM), iShares Select Dividend ETF (NYSEARCA:DVY), SPDR S&P Dividend ETF (NYSEARCA:SDY), iShares Core High Dividend ETF (NYSEARCA:HDV) and Schwab U.S. Dividend Equity ETF (NYSEARCA:SCHD).
The six largest funds all vary in expenses, yield and concentration in the top 10 holdings, to name a few of the differences. VIG has the lowest yield, HDV the highest yield, DVY has the lowest beta, VYM the highest beta, SCHD is the cheapest, SDY the least concentrated.

Overlap in Holdings
Are these funds as dissimilar under the hood? Yes and no. This next table shows the overlap based on fund holdings. If one fund has Coca-Cola (NYSE:KO) and the other has Coca-Cola, they overlap.
The fund with the largest amount of holdings is VYM, with 416. Four of the funds have less than 110 holdings: SDY (109), SCHD (99), DVY (92) and HDV (74). VIG has 186 holdings.
Thanks to its larger array of holdings, VYM holds 100 percent of DVY's holdings, as well as 95 and 96 percent of SCHD's and HDV's holdings, respectively. Conversely, no fund has more than 23 percent of VYM's holdings. No surprise given than VYM has several hundred more holdings than the competition.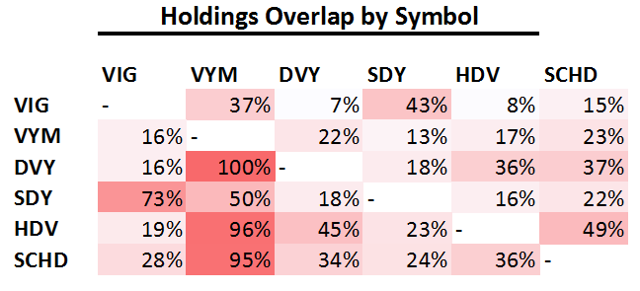 Overlap in Assets
As is often the case when looking at asset allocation, the overlap between the funds increases. This is most prevalent with market capitalization weighted funds, but it's also the case with these dividend ETFs. HDV has only 17 percent of VYM's holdings, but VYM has 48 percent of assets in those stocks. The overlap between SCHD and HDV rises from 49 percent and 36 percent when looking solely at the stocks, to 66 percent and 68 percent when considering asset allocation.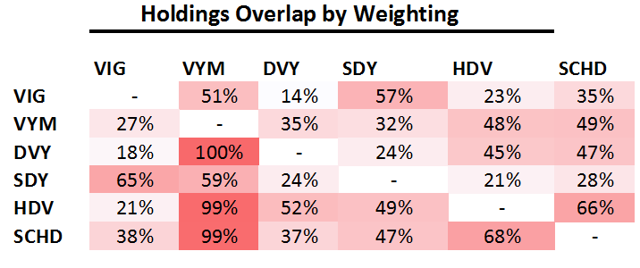 DVY has much lower overlap given it is a borderline mid-cap fund with 29 percent of assets in utilities, the largest sector in the fund.
Although it doesn't make sense to own one fund alone, the overlap data argues that VYM would be the best single fund to own because of its broad coverage of dividend equities. VIG and SDY are more similar to each other than to the other funds. HDV and SCHD are similar as well.
Sectors
Consumer staples are overweight in all of these ETFs, save DVY. Beyond that the sector exposure is diverse. VIG has the most assets in industrials; SCHD has outlier exposure to technology; DVY is loaded up on utilities; SDY has a healthy overweight in materials (and almost 7 percent in real estate, not listed). VYM is well diversified with 16 percent in financials as its largest sector exposure. HDV has unique overweight in energy, healthcare and telecom.

Performance
Over the past 5 years, SDY and DVY delivered the best returns, followed by VYM and SCHD, then HDV and VIG. HDV was hurt by weakness in energy and pharma in the past 5 years. The performance of VIG is much better over the past 10 years because VIG has the strictest quality criteria, selecting for companies with strong financials. (SCHD and HDV have less than 10 years of history.) DVY was hurt by losses in financial companies in the 2008 crisis, as well as its heavy utilities exposure.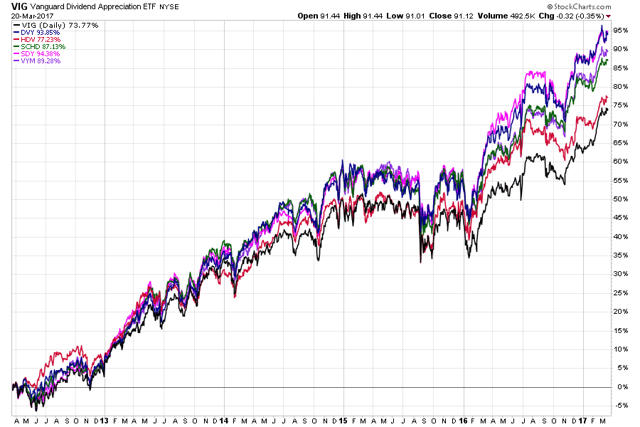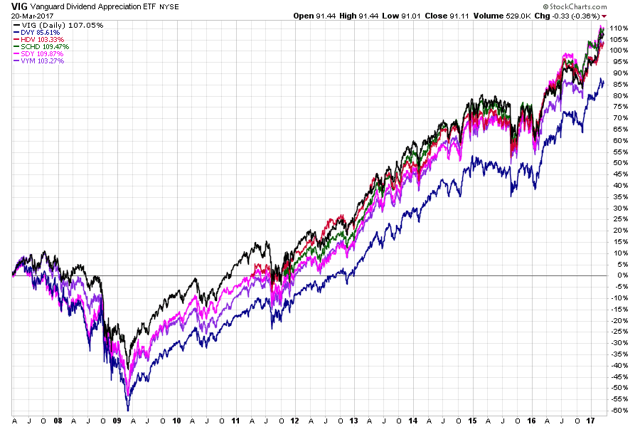 Conclusion
The top dividend funds have substantial overlap in some cases, particularly in consumer staples sector. Still, they manage to create diverse portfolios with varied sector exposure. This may largely come down to portfolio size. It's easier to create a unique portfolio with 100 stocks than it is with several hundred holdings.
Performance was more varied in the short-term than the long-term. In the short-term, sector exposure can play a big role in returns. The underlying strategy of each index will play an increasingly large role in performance as the holding period increases. VIG has a history of generating its long-term outperformance in bear markets, as one example.
Sector exposure also changes over time due to changes in company fundamentals. The increased number of technology companies paying dividends will lead to greater technology weightings in the future. Apple (NASDAQ:AAPL), for example, cannot be included in some of these funds until 2023. Over time, fundamental factors will cause sector weightings to change, sometimes substantially such as when financials were purged following dividend cuts and suspensions in the wake of the 2008 crisis.
For those who want to analyze the stock and sector overlap between funds, or examine an entire portfolio, check out Morningstar's Instant X-Ray feature.
Disclosure: I am/we are long VYM, VIG, SCHD, HDV.
I wrote this article myself, and it expresses my own opinions. I am not receiving compensation for it (other than from Seeking Alpha). I have no business relationship with any company whose stock is mentioned in this article.