After a fund initially launches, it's a good idea to evaluate it and see if the objective makes sense and assess its chances of success. At about the six month mark, it's a good idea to revisit the idea after it's had a chance to develop a little history and see how well it's working.
The Fidelity Dividend ETF For Rising Rates (NYSEARCA:FDRR) just hit its six month anniversary so it's time to put it under the microscope. The timing is perfect also because the FOMC just raised the target Fed Funds rate for the second time during the fund's brief history giving it an economic environment that, hopefully, will be conducive to its outperformance.
To provide a little background, here's the fund's objective according to Fidelity's website.
The underlying index is designed to reflect the performance of stocks of large and mid-capitalization dividend-paying companies that are expected to continue to pay and grow their dividends and have a positive correlation of returns to increasing 10-year U.S. Treasury yields.
The fund's basic premise is that of a standard dividend growth fund but throws in the additional twist of weighting companies based on their correlations to Treasuries. Dig a little deeper into the fund's paperwork and you'll find this.

While the fund's premise sounds promising, investors looking for more of a pure equity hedge for rising rates will likely to be disappointed to find that just 10% of the fund's factor weighting is given to its relation to Treasury yields. In essence, this fund looks more like a traditional dividend growth ETF and, in truth, looks most similar to an S&P 500 index fund like SPY.
Despite its relative brief history, I think we have enough data to work with to give us an idea of the relative risk and correlation to many of the other biggest dividend ETFs out there. To that end, I put this graphic together using return data since the fund's inception in September 2016.

While the Dividend ETF For Rising Rates has a relatively high correlation to virtually all of the other major dividend ETFs, its highest correlation is to the S&P 500 with its returns and daily standard deviation of returns being almost identical. The monthly and annualized standard deviations are significantly higher for FDRR but much of that excess risk occurred in the month or so right after the fund launched. I'd expect those numbers to converge given enough time.
I expected a bit of a closer correlation to to the dividend aristocrat ETFs - the ProShares S&P 500 Dividend Aristocrats ETF (BATS:NOBL) and the SPDR S&P Dividend ETF (NYSEARCA:SDY) - and you do see that in the risk metrics. None of the funds, however, provided a real good comparison as far as asset allocation is concerned. Significant differences in allocations to technology and utilities were the two biggest offenders.
Which brings me back to the comparison to the S&P 500. That does have a strong resemblance as you can see with this side-by-side sector comparison.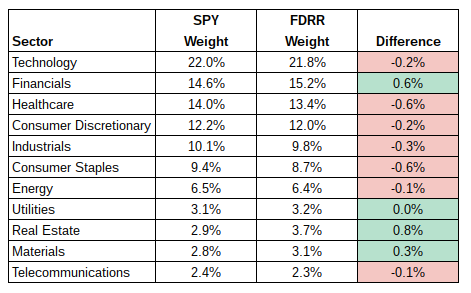 Almost every sector allocation is within a half percent of each other. Real estate, one of the more highly rate sensitive sectors, is actually overweight in FDRR.
The dividend yield on this fund is a comparative advantage though. The are only two quarterly dividend distributions to work with so it may take a little more time to get a truer representation of yield. The current annualized yield based on those two distributions is around 2.6%. I'd expect that trend upwards over time and land somewhere in the 3% range going forward.
Conclusion
The returns on this ETF have certainly been promising but I think investors who choose this fund looking for a hedge against rising interest rates are going to find themselves investing in something closer to an S&P 500 index fund.
To be fair, much of the increase in the yield on the 10 year Treasury note took place right around the election so we should probably wait to see how the rest of the tightening cycle plays out before making any final judgements. With just a 10% factor weighting to correlation with Treasuries, I wonder how much this fund can actually outperform in a rising rate environment.
Keep this fund on your watchlist but, for now, I don't see a significant differentiator.
----------
If you're interested in more ETF analysis and dividend income strategies, please consider following me by clicking on the "Follow" button at the top of this article next to my name. Even if you don't, thanks for taking the time to read!
----------
Disclosure: I/we have no positions in any stocks mentioned, and no plans to initiate any positions within the next 72 hours.
I wrote this article myself, and it expresses my own opinions. I am not receiving compensation for it (other than from Seeking Alpha). I have no business relationship with any company whose stock is mentioned in this article.