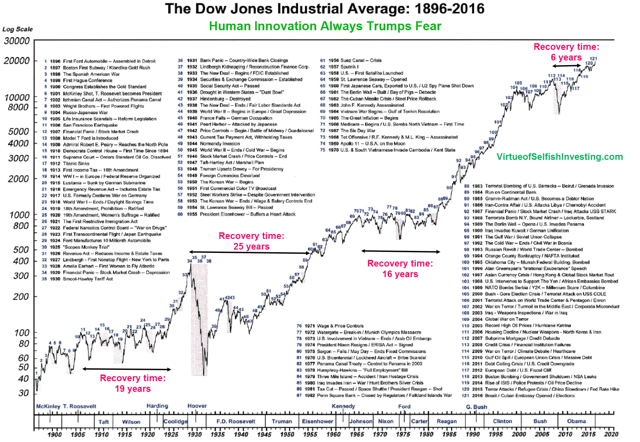 Go here to view a high-resolution version.
It just goes to show that human intelligence, creativity, and innovation have outdone fear in every case so far. That said, while markets have always recovered, it can take years to break even if you bought at a peak. This is yet another reason why buy-and-hold is NOT a safe bet nor is dollar cost averaging especially when it comes to multi-year sideways markets.
That said, only if each year was a day in the above chart which spans 120 years, would it be a relatively safe bet to buy and hold, dollar cost average, or buy on the dips. From trough to peak, a 697-fold gain or 69,600% gain would have been achieved in just 120 days (instead of 120 years).
Speaking of innovation, this is somewhat reminiscent of bitcoin except it took much longer to achieve and still does not come close to the price rise in bitcoin since it was created in 2009.
If you bought a dollar worth of bitcoin in 2009 at an average price of 0.001, it would be worth just over $1 million today. If you bought closer to the lows of 2009, or 0.0001, it would be worth more than $10 million today. There is nothing that even comes close to this price rise over that brief span of time.
Contrast that with VIX Volatility Model, which, in backtests, has achieved triple-digit percentage returns every year since 2009 (VXX began in 2009 which was used in the testing period):

TOTAL 2009-2016 = 14,911.7-fold gain, or 1,491,070%. $10,000 becomes $149.1 million (before taxes, no slippage, no commissions).
As you can see, the power of compounding at even the slower-than-bitcoin rate is quite astounding.
It explains how a select few have taken a small sum, such as $10,000 and run it up into more than a million after taxes over a period of several years. In working with legendary investor William O'Neil for a number of years, it confirmed that there is always method the madness. One colleague at O'Neil's firm, Dan Morris, retired at age 33 after averaging high-double-digit percentage gains for nearly a decade.
But keep in mind that markets can change in material ways. As one of several significant examples, quantitative easing from 2009 onward rendered obsolete many relied upon indicators.
The key is to remain fluid when it comes to market strategy. So while trading your core strategy or strategies, always be ready to make adjustments if necessary. If I'm making any material adjustment to any of my strategies, I first make sure the adjustment will increase reward while keep risk at similar or lower levels across multiple market cycles. This means your testing period should span many years. Using VVM as one example, I've done continuous backtests since early 2009 as well as spot tests in prior market cycles including 1999-2002 and 2008.
While the VVM is up around +50% in real-time trading as of this writing on 3-21-17, the question is whether the market will continue to behave as it has with respect to volatility. Volatility is a fear gauge so when volatility is low, the market tends to trend, and when volatility spikes, that can be a prelude to a further slide or something more brief. VVM does best when volatility spikes to high levels (indicative of a correcting market) or when it's quiet (indicative of a trending market).
Unless human nature changes, we should continue to see similar patterns emerge. Of course, to paraphrase what Mark Twain once said, the market never repeats but often rhymes, thus the self-learning aspect of the model will always remain ever vigilant to material changes in the markets. There is no such thing as an easy path when it comes to investing. The key is to remain focused and aware so you remain in sync with changing markets.
Disclosure: I am/we are long XIV.
I wrote this article myself, and it expresses my own opinions. I am not receiving compensation for it. I have no business relationship with any company whose stock is mentioned in this article.