Cellular Biomedicine Group (NASDAQ:CBMG) has investment potential for a number of reasons. Its primary market, China, has at least four times the population of the United States, and has an aging population, and CBMG is interested in the US market too. Its last 10-K states that 'stem cell products for injection into painful joints' will fuel an overall increase in the use of US stem cell-based treatments, with an increase to $5.7 billion in 2020. A sizeable market.
Key growth areas for stem cell treatments are spinal fusion, sports medicine, and osteoarthritis of the joints. Source CBMG 2016 10-K:
According to International Journal of Rheumatic Diseases, 2011, 53% of KOA patients will degenerate to the point of disability. Conventional treatment usually involves invasive surgery with painful recovery and physical therapy. As drug-based methods of management are ineffective, the same journal estimates that some 1.5 million patients with this disability will degenerate to the point of requiring artificial joint replacement surgery every year. However, only 40,000 patients will actually be able to undergo replacement surgery, leaving the majority of patients to suffer from a life-long disability due to lack of effective treatment.

Osteoarthritis is one of the ten most disabling diseases in developed countries. Worldwide estimates are that 9.6% of men and 18.0% of women aged over 60 years have symptomatic osteoarthritis. It is estimated that the global OA therapeutics market was worth $4.4 billion in 2010 and is forecast to grow at a compound annual growth rate ("CAGR") of 3.8% to reach $5.9 billion by 2018.
CBMG management is well seasoned, with US University educated expertise, and experience from AstraZeneca, AbbVie, and MedImmune. Its product pipeline is diversified across stem cells and immuno-oncology, with relatively low cost product testing, vested in Chinese hospitals, but to Chinese and US FDA standards. It has in-house cellular manufacturing facilities in China being expanded in 2017. Quality management systems are ISO 9001 approved. 62 patents are filed internationally. Just 14,251,246 outstanding shares, $44 million in cash (February 2017) and currently no debt. So what's not to like? Well, in terms of potential stock dilution, an overseas structure with contracted subsidiaries, product pipeline, and stock trending, there are risks.
History of High Stock Volatility and Prices
CBMG stock has a history of a much lower float and high share price valuations due to trading volatility. That has attracted momentum traders in the past, but the amount of issued shares has tripled. Even so, the outstanding stock less insider ownership is still relatively small. The stock has been holding a long-term price low for some months now, but below long-term moving averages. Assuming the imminent low holds, it could bode well for a 'long' position.
Overseas Operations
CBMG is a US-orientated business but with operations in China. There are risks in investing in overseas businesses. Nasdaq, for instance, de-listed a block of companies operating in China because (having sent investigators to compare local filings with those in the US), there was found to be a material difference. Since then, standards for auditing all US businesses have improved, and that includes the situation for overseas operations. I described this issue in more detail in another stock article.
Sentiment and Litigation
Many China-oriented businesses have suffered from poor sentiment over recent years. For those with 'Chinese Fraud' concerns, Cellular Biomedicine Group Inc. has successfully defended a 'fraudulent' claim lawsuit. Although it's currently 'on appeal', the company advises it's frivolous and includes persons it has no connection with. It has also recently received a recent and substantial $2.2 million grant from a Californian University, which adds to its credibility.
Company Structure
CBMG Shanghai holds 100% interest in its subsidiaries in China, but the ownership of CBMG Shanghai is controlled by asset agreements. These contracts were replaced last November according to the 10-K filed recently, which now offers some transparency, including a statement that:
CBMG Shanghai grants to the WFOE (CBMG Wuxi) an irrevocable and exclusive option to purchase, at its sole discretion, any or all of CBMG Shanghai assets at the lowest purchase price permissible under PRC laws. The term of the agreement is 10 years, provided, however, the agreement may be extended at the option of the WFOE. Since this agreement permits the WFOE to determine the service fee at its sole discretion, the agreement in effect provides the WFOE with rights to all earnings of the VIE.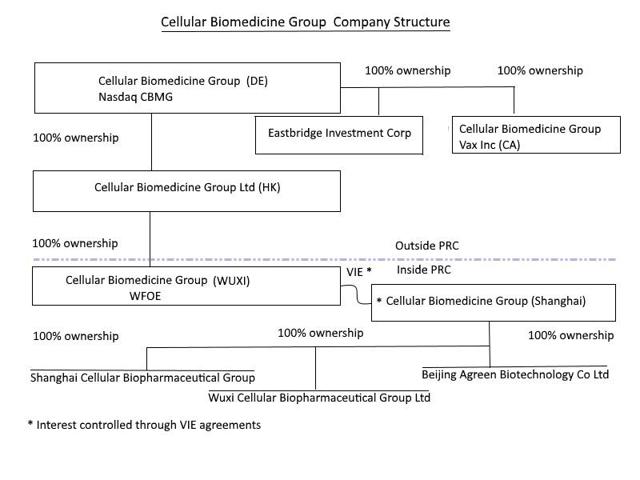 So, the contract covers the assets owned by CBMG Shanghai and ensures exclusive service provision to them over the 10-year agreement, while allowing outright acquisition of assets by WFOE (a CBMG wholly owned company), held by CBMG Shanghai at the cheapest price possible in China.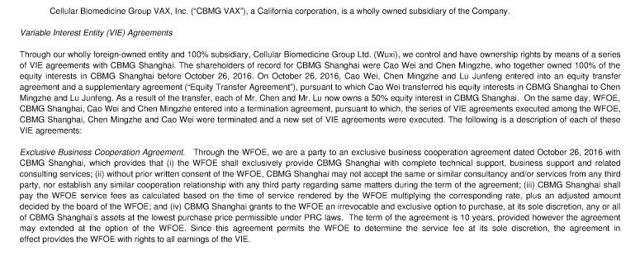 It's possible that CBMG Shanghai 'could' sell its shell to another organization; the contract is on the assets held rather than the company shell itself. However, the loan agreement terms include 'Power of Attorney' over the directors in Shanghai, whose shares are held as security within a pledge by both directors to surrender them on any default in a formal 'Equity Interest Pledge Agreement'. Further detail is supplied in the 10-K, but the risk summary is as follows:

There are several stock holding/businesses available for sale, which are mentioned in its filings, either linked to the US or China corporations: Arem Pacific Corporation (OTCPK:ARPC), Alpha Lujo, Inc. (OTCPK:ALEV) and Wonder International Education & Investment Group Corporation (OTC:WIEI). No other information is available, and they are not mentioned in the organization structure, so maybe they're just not active operations.
Product Pipeline
CBMG's pipeline covers immunotherapy, and stem cell research, with an application for severe autoimmune disease. This means investment risk is spread over two different branches of biotechnology. Its CAR-T and T Central Memory Cell (Tcm) based immuno-oncology are very early stage, with two candidates in Phase 1 and others at the pre-clinical stage. My interest and focus is really on its stem cell therapy. Hundreds of American athletes are already using stem cell therapy for sports injuries and cartilage regeneration, but CBMG's product offers superior cell growth. Also, it seems to have limited 'known' competition in China. Source 2016 10-K:
..Competitors, to our knowledge, the only ones based in and operating in Greater China are Beike, Lorem Vascular, which has partnered with Cytori to commercialize Cytori Cell Therapy for the cardiovascular, renal and diabetes markets in China and Hong Kong, and OLife Bio, a MediPost joint venture with JingYuan Bio in Taian, Shandong Province, who plans to initiate clinical trial in China in 2016.
According to CBMG's recent 10-K filing, its process is distinguishable from sole Stromal Vascular Fraction (SVF) therapy (a large study with positive results), by multiple additional biomarkers such as CD29+, CD73+, CD90+, CD49d+, HLA-I+, HLA-DR-, Actin-, CD14-, CD34-, and CD45-.
The 10-K also outlines its strategy:
We intend to apply U.S. Standard Operating Procedures ("SOPs") and protocols while complying with Chinese regulations, while owning, developing and executing our own clinical trial protocols. We plan to establish domestic and international joint ventures or partnerships to set up cell laboratories and/or research facilities, acquire technology or in-license technology from outside of China, and build affiliations with hospitals, to develop a commercialization path for our therapies, once approved. We intend to use our first-mover advantage in China, against a backdrop of enhanced regulation by the central government, to differentiate ourselves from the competition and establish a leading position in the China cell therapeutic market. We also intend to out-license our technologies to interested parties and are exploring the feasibility of a U.S. allogeneic KOA clinical study with the FDA.
Stem Cells in Medicine
Some background on stem cell research. Stems cells are able to develop into any number of different specialist tissue cells. The FDA have approved at least five hematopoietic stem-cell products in the U.S., for the treatment of blood and immunological diseases (Wiki), and here's an example of a surgeon offering a bone marrow sourced stem cell therapy.
Stemgenex has just launched a rheumatoid arthritis stem cell study, but there are other positive results:
Lead author Dr. Thomas Vangsness of the University of Southern California's Keck School of Medicine's report on arthritis.
Researchers at Duke University Health System who produced an early report on mice with fractures.
While hundreds of athletes are already making use of stem cell treatments to heal torn cartilage.
CBMG research is on stem cells derived from adipose (fatty) tissue, which have different characteristics, as described here; (numerous other studies are referenced on the same link):
Adipose tissue hosts multipotent stem cells that can easily be purified by digestion and adhesion to plastic surfaces, and share numerous properties with bone marrow derived mesenchymal stem cells (MSCs). Five percent of the nucleated fraction in adipose tissue represents stem cells, which is far more than found in adult human bone marrow. Adipose-derived stem cells (ADSCs) have been shown to exhibit immune suppressive properties and release anti-inflammatory molecules like IL-10, IL-1 receptor antagonist (IL-1ra), indoleamine 2, 3-dioxygenase, transforming growth factor (TGF)β and prostaglandin E2.
The second angle of stem cell therapy also reduces potential risk on the part of the investor (as opposed to entire exposure to early stage immunotherapy results). CBMG's 'ReJoin'® Phase 2b, has completed and met primary and secondary end-points for safety, and provided both symptom relief and cartilage regeneration. Two other studies are preclinical and Phase 1. Phase 2 results indicate:
The total WOMAC scores (consisting of pain, stiffness and function scores of joints) as a primary endpoint, show statistical treatment significance at week 48 compared to the baseline. The total knee cartilage volume change measured by a semi-automated segmentation method (ITK-SNAP) by two different blinded researchers show significant gain of cartilage in the ReJoin® group but a loss of cartilage in ARTZ@group, reaching statistical difference between the two groups 48 weeks after therapy.
Funding Manufacturing Expansion
There are manufacturing positives. The issue in 2017 is the intended expansion and paying for it alongside the pipeline burn rate; the dollar exchange rate to the yuan fluctuates too.
International Standards
This is a company incorporated in the US but operating in China, so conducting studies at far lower cost than the US (to CFDA standards) and to US FDA standards too, which means that the results could still be used in a US application, while cost and so potential for stock dilution is much reduced. For example, a company target for Q4 2017 is its:
Allojoin® IND submission for knee osteoarthritis to U.S. FDA.
The company operates GMP manufacturing facilities consisting of 12 independent cell production lines in three facilities in Shanghai, Beijing, and Wuxi China. Facilities are designed and managed according to both China and U.S. GMP standards, which meet international standards, and are certified by China Food and Drug Administration (CFDA) authorized accreditation agencies.
Financing the Pipeline
The company has created revenue in past quarters which, it states, is entirely from consulting services.
Cash burn is an issue, however, as the pipeline has expanded over recent years, and despite its consulting business creating 'some revenue', quarterly operational expenses expanded significantly in Q3. It will be years though, before 'Rejoin®' could be creating income. The annual operating loss was $(28,415,334) in 2016 compared with $(20,848,970) in 2015. However, comparing Q3 results alone, costs about doubled, although that included one large chunk of investment impairment. $40m in cash could last 1-2 years, and some clarification from management would be useful, as the stated financial impairment could be a 'one off'.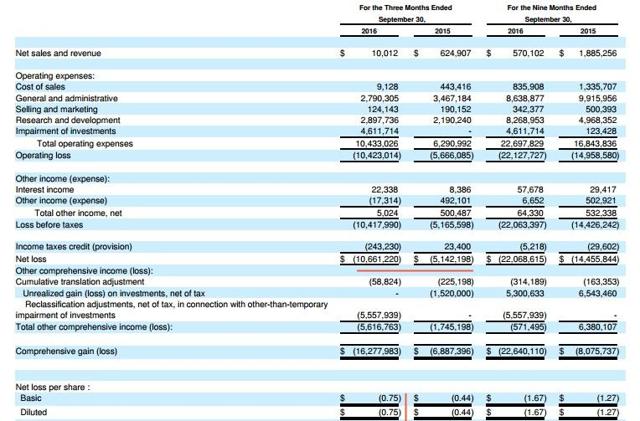 With a Phase 3 'Rejoin®' study cost outstanding, and manufacturing expansion expected. The company has no debt, but could be relying on shareholders and institutions to fund development in preference to taking that on in the future. 10-K excerpt:
Based on current estimates, we expect our biopharmaceutical business to generate revenues primarily through the development of therapies for the treatment of KOA within the next three to four years.
Also, an issue is 'when' to buy.
Stock Charts
Short term, the daily chart is reversing up from oversold conditions. Longer term on the weekly chart, however, the issues become more apparent as the stock has been continually failing a strike at higher prices, despite what appears to have been an earlier technical breakout.
In terms of wave continuum, weakness is apparent from:
Continuous trading below the 200ma, which has now turned down below the 50ma in a bearish cross.
Trading below the pivot, which is bearish.
Continuously failing below the 50ma.
What could have been a double bottom failed to materialize, with trading striking an inter 'week' low below that of January 2016. Trading has, however, reversed up on both the daily and weekly bullish candlesticks, although on the weekly chart less pronounced than that of early 2016. (Since the daily low was created inter-day and recovered, it doesn't represent a technical breakdown). S1 is still a potential lower support level, though based on the high of 2016 creating a continuation of wave C, should trading break down again.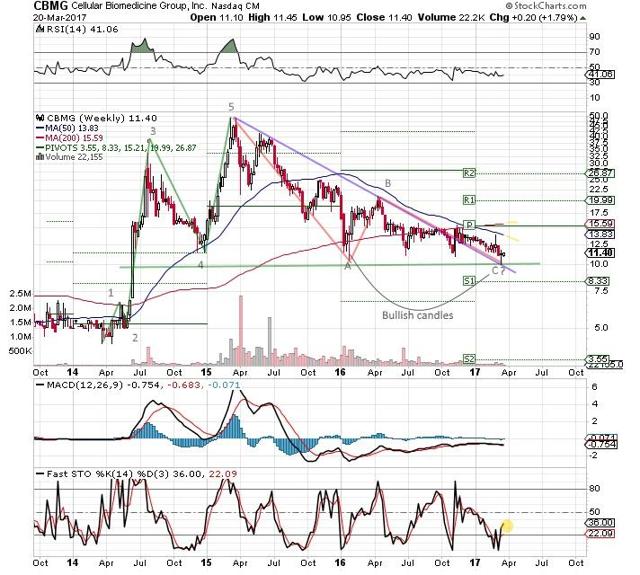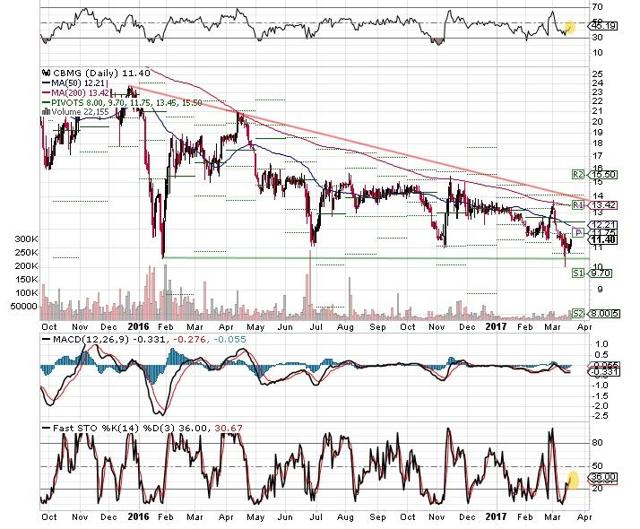 CBMG doesn't as yet have a product past Phase 3, but is unusual in that the company (benefiting from a recent Californian University cash award) has no current debt and an opportunity in a very large overseas as well as domestic market with diverse pipeline candidates. This stock is probably suffering from anti-Chinese investment sentiment (the lawsuit history) along with concerns about the business structure (as the Shanghai agreement has literally become transparent for only about a week), in addition to rising operating expenses.
Short term, the stock appears to be bouncing, but needs to hold the support outlined in green on the daily chart. So far, the black ADX line over the MACD is flattening out, which is a positive sign. Although the fast stochastic is on a low, bouncing sideways on this level happened in December-January and resulted in lower prices. (While even a bounce over the 50ma resulted in lower prices). The risk area is at the moving averages as the RSI becomes 'overbought' again.
Traders or investors considering an entry on the lows should hold a close stop. CBMG really needs a consistent break over the 200ma on the daily chart for a confirmed bull leg.
Disclosure: I/we have no positions in any stocks mentioned, and no plans to initiate any positions within the next 72 hours.
I wrote this article myself, and it expresses my own opinions. I am not receiving compensation for it (other than from Seeking Alpha). I have no business relationship with any company whose stock is mentioned in this article.