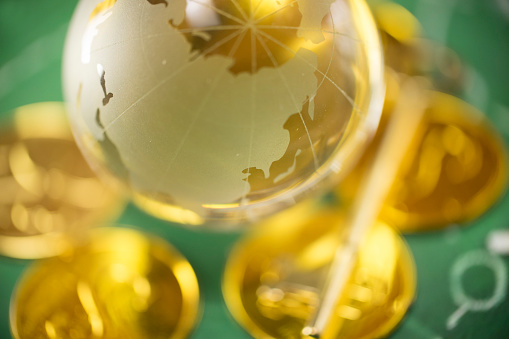 Introduction
Welcome to my latest Gold Weekly. In this report, I wish to discuss my short-term views about the gold market. To do so, I will closely analyse the recent changes in net speculative positions on the Comex (based on the CFTC statistics) and ETF holdings (based on FastMarkets' estimates) and draw some interpretations about investor and speculator behavior. Then, I will share my outlook for gold from a technical and a global macro view. Finally, I will disclose my trading strategy on the SPDR Gold Trust ETF (NYSEARCA:GLD) and other market instruments and discuss possible trade ideas.
Speculative Positioning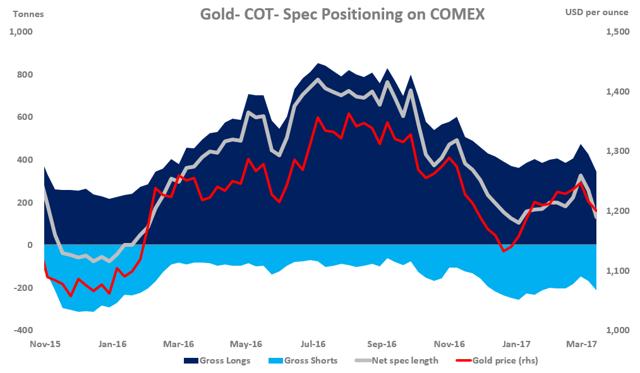 Source: CFTC
Gold. According to the latest Commitment of Traders (NYSE:COT) report provided by the CFTC, money managers cut their net long positioning massively over the reporting period (March 7-14) while spot gold prices weakened by 1.3%.
The net long fund position dropped by a significant 124.38 tonnes or 49% week on week (w/w) to 131.47 tonnes as of March 14. The fall in the net long fund position was driven mainly by long liquidation (-82.49 tonnes w/w) and further reinforced by short accumulation (+41.89 tonnes w/w).
The net long fund position is now just up by 8.53 tonnes or 7% in the year to date and represents just 17% of the all-time record of 774.16 tonnes reached last year.
My View
The normalisation of spec positioning over the past two weeks has been quick and intense. Yet, gold prices have held up relatively well over the past two weeks, which suggests the presence of hefty buying pressure elsewhere in the market, preventing gold from falling too much.
The spec positioning looks presently neutral after being overstretched on the long side early this year. But given the speculator tendency to move from an extreme to another, I believe that net speculative positioning may reached an overstretched level on the short side to make the normalisation complete.
Investment Positioning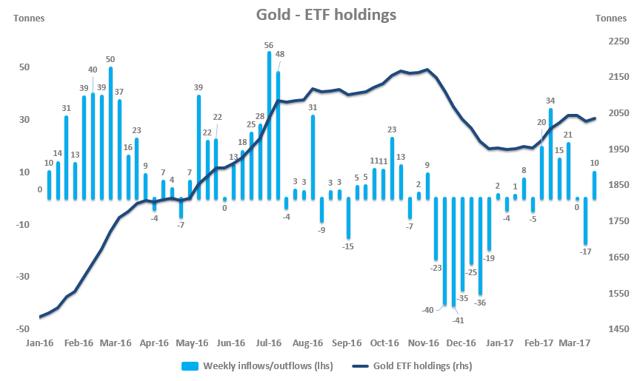 Source: FastMarkets
Gold. ETF investors bought roughly 11 tonnes of gold last week (March 10-17) after liquidating 17.25 tonnes in the preceding weeks (March 3-10). According to FastMarkets' estimates, ETF holdings - at 2,037 tonnes as of March 17 - are down eight tonnes so far in March after surging by 94 tonnes in February.
My View
Despite the absence of risk-off mood across the financial markets, ETF investors were inclined to build tactical positions in gold, perhaps because prices dropped to attractive levels ($1,200), which thereby triggered some opportunistic buying.
Moreover, the macro environment for gold has become friendlier since the latest Fed's meeting, namely the dollar has fallen by about 1% below the 100 psychological mark and US real interest rates (measured by the yield on the 10-year TIPS) have weakened by 5 basis points.
The drop in gold prices in a gold supportive macro regime has therefore led to some inflows in ETF holdings.
Spec Positioning Vs. Investment Positioning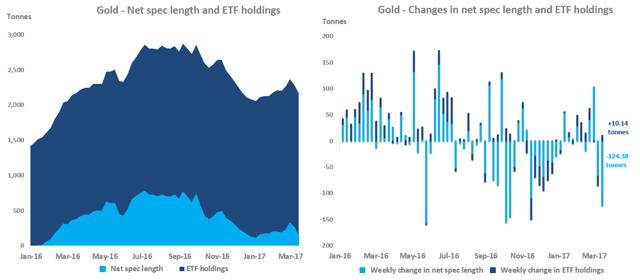 Source: Mikz Economics
My Thesis in Review - SPDR Gold Trust ETF
I decided to implement a short GLD position on March 6 at $116.75 with a stop-loss level at $120.40. My conjecture was that the dollar and US real rates would start pushing further higher in coming days and weeks with a possible pullback post FOMC meeting driven by "buy the rumour, sell the news" market pattern.
So far, we have had what I could not rule out, namely a drop in the dollar and US real rates after the Fed delivered a dovish hike, which is a well telegraphed 25 bp rate increase accompanied by a fairly dovish message in which the Fed left its rate outlook (three rate increases for 2017) unchanged.
That said, it seems that the "buy the rumour, sell the news" market reaction may be larger than my expectations, thereby forcing me to get out of the position. While my stop loss is already set, I wish to discuss here why my bearish bet on gold may prove wrong.
1. Stronger safe-haven demand
Volatility across risk assets has spiked since the start of the week. On March 21, the S&P 500 put an end to its 64-day streak without a 1% intraday move, the longest run on record.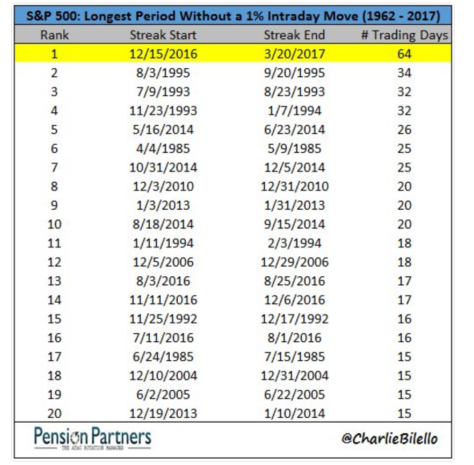 Source: Pension Partners
This should not be a surprise considering that the super low vol environment has led the leverage used by CTAs and risk parity funds to the roof, making the rally in equities inherently unstable. A cascade of selling may ensue as these funds rebalance their portfolios. In consequence, safe-haven demand may surge, boosting gold prices.
2. Lower dollar post third Fed rate hike
Historically, the dollar has weakened by an average of 4% against its G10 counterparts over the three months following the third Fed hike in the previous tightening cycles. That said, it's noteworthy that the divergence between the Fed and other central banks is much more pronounced during this current Fed tightening cycle, which could give some support to the dollar.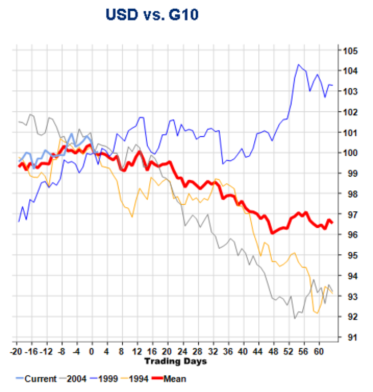 Source: Citi
3. Lower US real rates on Trump delusion
The significant increase in US real rates post the US elections reflected high expectations about the success of Trump's policies (tax cuts, deregulation, fiscal spending) to reflate the economy. But macro investors seem to have been increasingly disappointed since the start of March, especially after the release of President Trump's "skinny" budget on March 16, which proved to be well below expectations regarding the fiscal stimulus. This has poured cold water on Trump's popularity, as can be seen in the recent polls.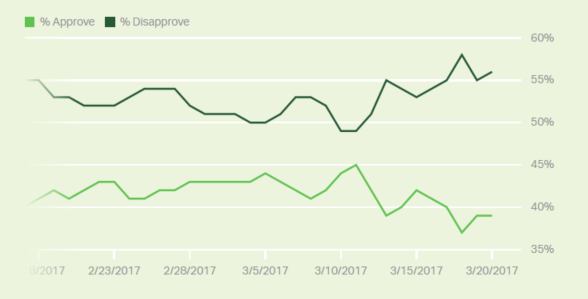 Source: Gallup
The reflation may therefore pause for some time, which should in turn push US real rates lower and gold higher.
To sum up, I recognize that there are a number of key macro forces that play against my short gold thesis. I may therefore reverse my stance 180 degrees and implement a long GLD position provided that my technical indicators provide me clear "sell" signals.
Technical View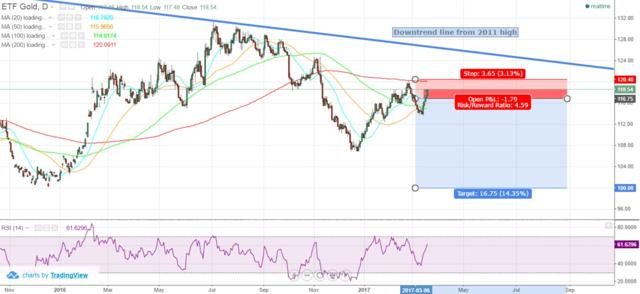 Source: Trading View
The SPDR Gold Trust ETF has rebounded strongly in recent days after finding some support at $114. Last week, it rallied by nearly 2%.
The technical picture has improved materially, with GLD back above its 20 DMA, which may reflect an upswing in sentiment and suggest that the ball is now in the bull camp.
That said, GLD remains below its 200 DMA, which leads me to continue to work under a "bear market" hypothesis.
Trading Strategy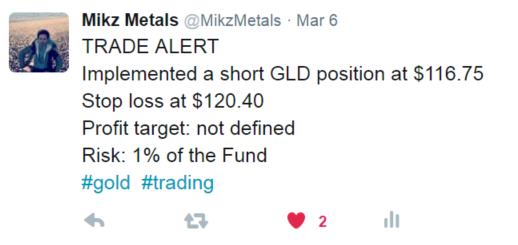 As you know, I implemented a short GLD position on March 6 at $116.75 with a stop-loss level at $120.40. I have a target profit of $100, which I expect to be reached over the coming months. The risk of my position represents about 1% of my fund. This position is presently moving against me. I am down $1.79 per share as of March 21.
Considering the recent market action and the number of key positive macro forces in favour of the precious metals complex, I recognize that the level of my bearish conviction has deteriorated significantly. I may exit my short GLD trade in case of a break above $116.75.
More interestingly, I may build a tactical long GLD position in case of firm break above the downtrend line from 2011 high. Indeed, although I continue to have a bearish bias toward gold, I am prepared to admit that a firm break above this downtrend line may herald the beginning of a new bull market, which could prompt me to take a significant long GLD position.
Apart from GLD, I continue to watch equities in advanced economies, especially the S&P 500 and the CAC 40. While I refrained myself from going short equities at the start of the year as a result of the powerful uptrend, it seems that we are experiencing an exhaustion process. In consequence, I may be tempted to open a short position in the CAC 40 by the end of the month.
For the sake of transparency, I will publish my open and closed trades on my Twitter account and at the end of each of my Gold Weekly reports.

Good trading to the Seeking Alpha community.

About: SPDR Gold Trust ETF. Includes: PowerShares DB Gold ETF (NYSEARCA:DGL), VelocityShares 3x Inverse Gold ETN (NASDAQ:DGLD), DB Gold Double Long ETN (NYSEARCA:DGP), DB Gold Short ETN (NYSEARCA:DGZ) and SPDR S&P 500 Trust ETF (NYSEARCA:SPY).
Disclosure: I am/we are short GLD.
I wrote this article myself, and it expresses my own opinions. I am not receiving compensation for it (other than from Seeking Alpha). I have no business relationship with any company whose stock is mentioned in this article.