So the S&P 500 (SPX) looks like it has at least put in an intermediate top. The index dropped 29 handles today (March 21, 2017), or 1.24%, to end the trading day at 2,344. The magnitude of the drop already has investors wondering if a permanent top is in. Personally, I don't think so, as the rally out of the November lows has been a sustained one, and the present intermediate cycle is now almost 20 weeks old. Usually, if a permanent top was to take place in the market, we would have needed to see a sooner top in the index. Left translated, intermediate cycles are cycles that top towards the beginning of the cycle. This is why they are called left translated cycles because tops occur to the "left" or early in the cycle, which means they are bearish in nature.
However, if the top has occurred on week 17 (March 1), then I feel this intermediate cycle will turn out to be right translated, which means the lows that are coming should remain above the lows of November last. The question now is how quickly we will move down into this long-overdue intermediate low. As the sentiment chart illustrates below, equity prices have been diverging against long-term sentiment (until today, which was a warning sign). Sentiment had dropped from 73 to 65 over the past three weeks, but the S&P was only down 10 handles up until today. Usually, price always follows sentiment, which is why it is such an accurate tracking tool to spot changes in market behavior. However, intermediate cycles over the past 12 months or so have been bottoming close to the 50 level, so investors should expect plenty more down movement here in the near term.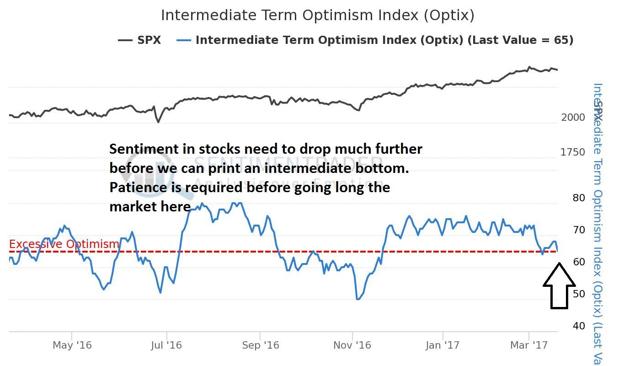 (Source: Sentimentrader.com)
As the chart illustrates below, the last two intermediate lows in 2016 retraced back to the S&P's 200-day moving average. Presently, this average is hovering around the 2,200 mark and is lining up perfectly with the 61.8% Fibonacci retracement level. Could we pull back another 140+ handles over the next few weeks to a month? Of course, as this is what happens when a market just gets too stretched above its moving averages. If we do make it down that far, I still firmly believe it would be an excellent opportunity to get long the market. The length of this present intermediate cycle and the lack of real bullish sentiment in the robo ratio illustrate to me that we definitely have not seen a permanent top in equities.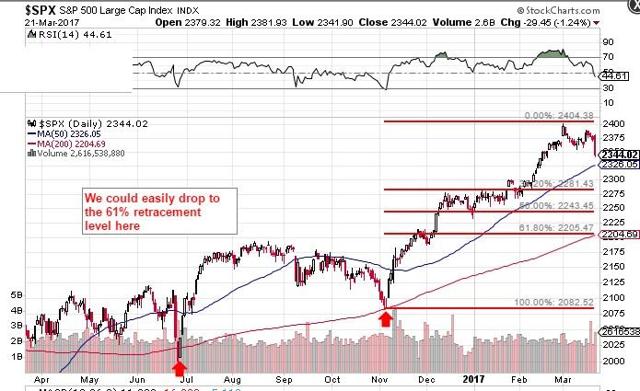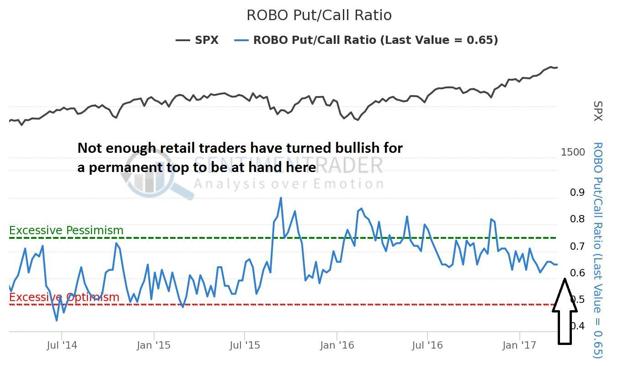 (Source: Sentimentrader.com)
So, we will be watching sentiment and volume in vehicles such as the ProShares UltraPro S&P 500 ETF (NYSEARCA:UPRO) as our indicators for when to get long. One could have plenty of options here, whether it be in biotech, energy or stocks themselves. We will be sticking to cheap dividend-paying stocks with strong competitive advantages that should ride the equity tailwind higher. Furthermore and as always, we will use a very small percentage of our capital to take more risk in order to enhance gains. Risk management is our top priority.
Disclosure: I/we have no positions in any stocks mentioned, and no plans to initiate any positions within the next 72 hours.
I wrote this article myself, and it expresses my own opinions. I am not receiving compensation for it (other than from Seeking Alpha). I have no business relationship with any company whose stock is mentioned in this article.