Rethink Technology business briefs for March 21, 2017.
Rumors of an iPad Event Prove Wrong, So It Must Be Apple's Fault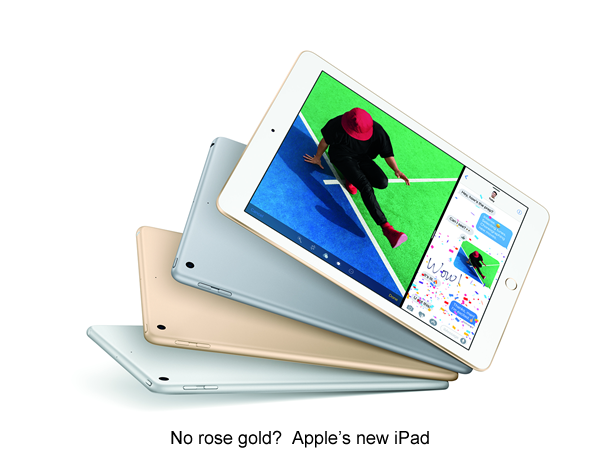 Source: Apple
Today, Apple (NASDAQ:AAPL) quietly announced a number of new or revised products. A Product Red version of iPhone 7, a new iPad to replace the aging iPad Air 2, an iPhone SE with a minimum of 32 GB of storage, and some new Apple Watch band options. Apple also discontinued some Watch in-box band options and the older iPad Mini 2.
But the media had predicted an iPad Event to unveil new iPad Pros. I believed the rumors. It seemed logical. After all, the 12.9" iPad Pro is now over 15 months old, and the 9.7" iPad Pro will be a year old at the end of the month. How dare Apple disappoint the media, not to mention its fans this way?
Okay, I'll acknowledge a certain amount of disappointment, but I think it's premature to conclude anything too deep about this. Apple doesn't work to the media's schedule. The refresh of the iPad Pros is probably still on the way, just not quite as close as we had assumed.
It would certainly be premature to jump to the conclusion that Apple has lost interest in iPad or that the iPad Pros will not be refreshed in due time. But, of course, that didn't stop Don Reisinger from implying just that today in Apple Quietly Acknowledges the iPad's Staggering Decline.
Reisinger took the opportunity to dust off the now old news reported by IDC back in February that iPad sales had declined 18.8% y/y for the December quarter and 14% for the calendar year. The implicit tie-in to the "staggering decline" is that Apple isn't interested anymore in iPad and threw up a perfunctory upgrade to the Air 2 that mostly just lowered the price.
I can't completely dismiss the thesis that the seemingly perfunctory iPad refresh is symptomatic of iPad's overall decline, but I find it very unlikely. Even in its decline, Apple's iPad still outsold those of its closest competitor, Samsung (OTC:SSNLF), by 60%. And in calendar 2016, iPad unit sales were more than double that of Mac.
I agree that there is a problem here, but it's really an industry-wide problem for the tablet form factor. In 2016, global tablet shipments declined by 15.6% according to IDC, faster than Apple's decline.
If there's a connection between the non-event and iPad's decline, it's that the new iPad Pros simply aren't ready, which suggests that the next upgrade will be fairly ambitious. And key features may require the next version of iOS (11) which won't be shown to the world until WWDC in June.
I have previously reported some speculation that the next iPad Pros could feature Apple SOCs fabricated on TSMC's (NYSE:TSM) new 10 nm FinFET process. I still consider this unlikely, but with the delay in the refresh, it becomes a little more plausible. Generally, iPads have featured X versions of the current iPhone SOC that provide more graphics processing power, such as the A9X in the current iPad Pros.
Typically, such larger chips are introduced later in the production phase for a given node to take advantage of yield improvements. So it still makes sense for an iPad Pro using an "A10X" SOC fabricated on TSMC's current 14 nm process (same as for the A10 in the iPhone 7) to be introduced some time in the near future. In fact, it's unlikely that this would have held up the upgrade.
There could be other reasons for a delay in the upgrade, such as new screen technology. Apple has been updating its mobile device screens, starting with the 9.7" iPad Pro with DCI-P3 wide color. The iPhone 7 got the upgrade, but the 12.9" iPad Pro has not. Maybe there's an issue with screens for the larger Pro.
If Apple is contemplating a more ambitious processor upgrade for the iPad Pros to 10 nm "A11" or "A11X", then that will have to wait until after the next iPhones are introduced in September. Even the assumed iPhone 7s versions will probably see a processor upgrade to the A11. Sadly, if this is the plan, the iPad Pro updates will probably be pushed into the December quarter.
This really puts more emphasis on WWDC to provide clues about where Apple is going with iOS and iPad.
Rethink Technology recommends Apple as a buy.
Google Releases Android O to Developers
Google (NASDAQ:GOOG) (NASDAQ:GOOGL) continues its practice, started last year with Android N, of releasing early betas of the next Android version to developers ahead of Google IO. This year's Android O has been made available for download.
One of the things I liked about Android N was that Google went all-in on multitasking features such as split screen and didn't limit them to just tablets the way that Apple did with iOS.
I had thought that Apple restricted the main multitasking features of iOS to iPad primarily for battery conservation reasons, and so there was always the danger that Android N might be a little too ambitious and result in excessive battery drain.
Judging by Google's blog post, improving battery life has become a top priority of O. Here the main emphasis is limiting what apps can do when they're in the background and on the processes that can serve to "wake up" background apps excessively, slowing performance. This is a good approach to limiting excessive battery drain while still preserving the core multitasking capabilities introduced with Android N.
Android O will also introduce some new features such as Picture in Picture, that will be available on smartphones, and new windowing features (yes, Android started doing windows last year), and new support for multiple displays.
The evolution of Android conveys to me that Google continues to position it not merely as a smartphone operating system but as a general purpose personal computing OS.
To put it bluntly, and at the risk of enraging many Apple fans, if Apple incorporated key features of Android N in iOS, then it really would have a suitable platform for personal computing that could replace the PC. Those features would include support for other pointing devices such as trackpad and mouse, and the ability to effectively use any iOS device with external monitor, keyboard and mouse (or trackpad).
Google's Android doesn't shrink from convergence; it assumes it. In my view, Android is well on its way to becoming the universal personal computing operating system that Windows aspires to be and that iOS declines to be. Android is by far the most forward looking and innovative personal computing OS available today, even if not always the most stable and reliable.
Intel Ships Optane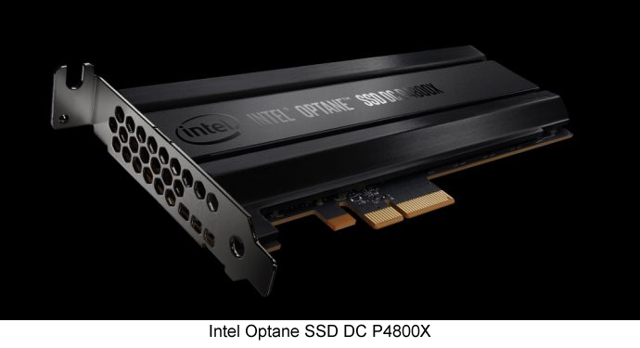 Source: Intel
Intel (NASDAQ:INTC) has announced the first Optane branded products that feature 3D XPoint technology, long in development with its joint venture partner Micron Technology (NASDAQ:MU). 3D XPoint employs phase change material to record data in a non-volatile way.
The main advantage of Optane will be that it offers read and write speeds about 1000 times faster than competing solid state storage based on NAND flash. However, in the currently shipping device, Intel only claims a 5-8x advantage.
Intel's Diane Bryant, head of the Data Center Group, claims that Optane "blurs the line between system memory and storage." Early in the development phase, Intel even suggested that it could replace conventional RAM in some applications. That doesn't seem to be the selling point now.
Instead, Intel is targeting Optane for datacenter use as a way to improve processor utilization and reduce "storage bottlenecks." Optane is packaged in a half-height PCIe x4 card, the Optane SSD DCP4800X with 375 GB capacity. The card is now shipping to "customers in an early ship program" for $1520. At $4/GB, Optane costs less than DRAM, although much more than conventional SSDs.
It's actually very gratifying to see Intel/Micron bring the development of 3D XPoint to fruition and finally ship products. Intel has developed a number of technologies such as silicon photonics and Optane that it hopes will allow it to maintain dominance in the datacenter.
Disclosure: I am/we are long AAPL.
I wrote this article myself, and it expresses my own opinions. I am not receiving compensation for it (other than from Seeking Alpha). I have no business relationship with any company whose stock is mentioned in this article.