Various headlines covering Intel's (NASDAQ: INTC) Mobileye (NYSE: MBLY) deal, in which Intel agreed to pay $15.3 billion for the autonomous vehicle equipment technology company, read as if the authors each let out an exasperated gasp as they conducted their analysis. Over 100 times Earnings? And, don't forget, Mobileye will face intense competition in the future! They'll never beat Nvidia (NASDAQ:NVDA)! However, these same voices of doom have been quick to point out the strategic sense of the acquisition.
The deal surely makes strategic sense as it complements Intel's strategy of investing in information technology and the computing world of the future. The debate is centered around one key question: to what extent are shareholders willing to pay a premium for the advantage? The argument largely being put forth by bearish analysts is not that the deal does not make sense for Intel, but that the deal does not make sense at the specific price.
However, these skeptics have utilized backward-looking valuation methods and have ignored valuable synergies that Intel will achieve. If one forecasts Mobileye's cash flows looking forward, rather than looking only at a past composed of the company's earliest growth stages, and then conducts a discounted cash flow model of the acquisition, it becomes clear that Intel paid a fair price, or at least a price well within a ballpark range of the value of Mobileye's future cash flows. Given the strategic benefits of the deal and Intel's freshly minted ticket into the future of computing systems, Intel offers shareholders a compelling investment at its current share price.
Strategic Benefits
Fellow contributors have written plenty about the acquisition's ability to unleash strategic benefits for Intel (including strong analysis here and here), but a debate is still raging around the financial costs, which is the principal focus of this article. That being said, analyzing Intel's vision behind the acquisition reveals some benefits that early skeptics neglected. Such a strategic analysis is also necessary before one can fully understand the rationale behind some inherent assumptions of the financial model constructed below.
The obvious strategic implication of the deal is that it enables Intel to acquire the first mover in the potentially lucrative autonomous vehicle equipment industry. The market opportunity in the automotive space is huge: in Intel's Investor Presentation covering its new acquisition, the company estimated the total addressable market for system, data, and services in the automated driving space to be up to $70 billion by 2030. This allows Intel to accelerate its transition into the new age of computing, a transition I began covering about 18 months ago.
For Intel followers unfamiliar with the company Intel is set to acquire, Mobileye can best be described as a company that develops a significant portion of the hardware and software that is making the highly touted age of autonomous vehicles possible. In fact, Intel has been attempting to crack into this space for some time now; in November, Intel partnered with Mobileye (and BMW (OTCPK:BMWYY)) to develop fully autonomous vehicles.
As Mobileye states on its company website:
Mobileye is the leading supplier of software that enables Advanced Driver Assist Systems (ADAS), with more than 25 automaker partners including some of the world's largest. Beyond ADAS, our technology has rapidly evolved to also support the three pillars of Autonomous Driving - Sensing, Mapping, and Driving Policy. As a result of this broad and well-advanced product offering, we have achieved a partnership to develop production-ready Fully Autonomous Vehicles with BMW and Intel, with production launch planned for 2021, and another partnership with the Tier-1 supplier Delphi for a "turnkey" system to be productized starting from 2019 with customer OEMs."
The not so obvious (and not so covered) implication missed by many is the penetration the deal enables Intel to make into other burgeoning tech fields, such as unmanned aircraft systems. To that end, Intel's CEO Bryan Krzanich told CNBC that Mobileye's products are "more than just cars, they'll be in high-end devices like the spotting cameras on helicopters, they'll be in high-end drones, and they'll be in robotics as well, it's really about computer vision and how computer vision will change the world." Clearly, Intel - already having demonstrated its interest in drones in bold fashion during the Super Bowl's halftime show - is eyeing a handful of new industries. In Mobileye, Intel will also be acquiring a roster of engineering talent leading the autonomous vehicle movement, an additional, often neglected, benefit of the deal.
The Price of Strategic Benefits
Pointing to a plethora of backward-looking financial valuations for Mobileye, such as the company's present price-to-sales ratio of 37 and price-to-earnings ratio of 131, ignores the company's abundant growth potential. To determine if the Mobileye acquisition is financially rational, we will use a forward-looking discounted cash flow model (which has the advantage of factoring in the company's future growth) that takes the assumptions below: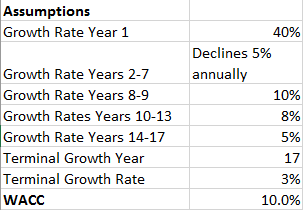 Data: WACC, Growth Rates Generated by Author
Of course, bears will be quick to argue that it is extremely difficult to predict the growth rate of Mobileye's free cash flows with any degree of certainty. This is an argument I am sympathetic to, which is why fairly pessimistic assumptions are taken in the above revenue growth rates.
Mobileye forecasts full-year 2017 revenues to grow at 39%, making a starting FCF growth rate in 2018 of 40% reasonable, given that revenue grew 49% last year and FCF grew about 50%. From here, the assumptions become more pessimistic as growth forecasts quickly decline; with multiple different industries available for the company to tap into, and with a world of new resources at its disposal at Intel, it is likely that Mobileye's high growth and medium growth stages will last longer than the model forecasts.
The Weighted Average Cost of Capital (WACC) used is also pessimistic, as it is almost exactly at the high end of varying calculations of Intel's WACC. Taking pessimistic assumptions in this exercise is necessary, because our aim here is to demonstrate that the deal is financially rational even without Mobileye delivering extraordinary growth for an extended period of time. The assumptions therefore enable us to somewhat circumvent the issue of unpredictability by baking a margin of safety into the calculations.
Forecasting this out delivers the following results, with all numbers listed in the $1,000,000's:

Source: Author Generated
Based on the forecasted stream of Mobileye's cash flows discounted at 10%, the company is worth about $9.4 billion. However, this ignores a huge cost savings for Intel; if Intel invested in R&D over the next four years (a time horizon that is likely shorter than what would actually occur, for the sake of the model) to stake out a position in the automotive market rather than acquiring Mobileye, the company still would have burned billions of dollars. Although the company will continue to invest in R&D, these heavy upfront expenditures represent money Intel will now save.
If we assume Intel continues to expand R&D expenditures 5% annually, as it did this past year, and we assume that 10% of the company's over $12 billion in R&D will be saved by completing this acquisition (again, a fairly pessimistic assumption), we arrive at the following savings over the next four years, which are then added to the value of Mobileye's cash flows (all numbers listed in the $1,000,000's):

Source: Author Generated
This combines to give us a total value on the deal - excluding other synergies, the value of other assets, and new growth opportunities - of $14 billion.
Conclusion
Intel's approximately $15 billion purchase price of Mobileye is financially rational, because even a pessimistic forecast yields a value of about $14 billion for the acquisition. The model ignores other possible synergies and growth avenues, and yet it still yields a valuation fairly close to what Intel is set to pay. The deal enables Intel to bounce right into multiple industries the company has been salivating over for quite some time without losing their hats on R&D expenditures to do it.
After not sending Intel's shares rallying in the days since the acquisition was announced, the market is now presenting an opportunity. Since the deal provides numerous new growth opportunities (at, yes, a fair price) the stock should eventually react accordingly by expanding Intel's multiple to reflect the growth it can now attain. Although the short term may be rocky as investors continue to debate the price tag and the underlying assumptions of the acquisition, Intel is well positioned to thrive in the future of computing.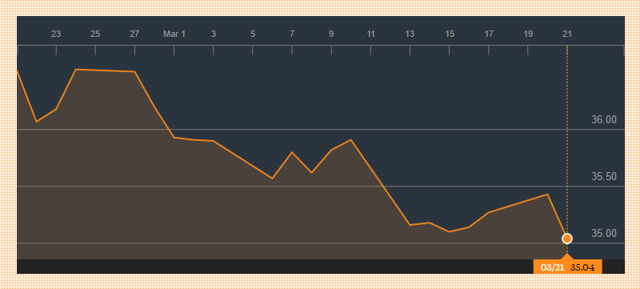 Source: Bloomberg
Intel's stock chart above reflects that investors did not react very favorably to the acquisition, a fact that creates opportunity for investors who believe in the financial and strategic rationality of the deal. The company is offering a growth-neglecting entry point for investors who believe in Intel's future, and who recognize the new growth opportunities and line-up of talent Intel will be acquiring.
Disclosure: I/we have no positions in any stocks mentioned, and no plans to initiate any positions within the next 72 hours.
I wrote this article myself, and it expresses my own opinions. I am not receiving compensation for it (other than from Seeking Alpha). I have no business relationship with any company whose stock is mentioned in this article.