Overview:
Enbridge Energy Partners L.P. (NYSE:EEP) has been garnering a decent amount of attention recently. You cannot even mention U.S. energy independence without bringing up EEP. Their asset base is impressive. They have over 17,500 miles of pipeline and transport over half of all U.S. bound Canadian production. Their parent company, Enbridge Inc. (NYSE:ENB), is now the largest energy infrastructure company in the U.S. It's easy to get real bullish on EEP fairly quickly and for good reason. However, I want to highlight a few reasons, why you as an investor, should exercise caution before you dive head long into this master limited partnership.
Future Prospects:
EEP is in a rare position for a company. It is playing an enormous role in transitioning the United States away from being dependent upon OPEC oil. North America has grown ever more interconnected in the past few decades. The United States is right in the middle of the shale revolution. We are exporting vast quantities of natural gas to Mexico and producing more domestic oil than ever. We are also importing record amounts of oil from our friendly Canadian neighbors. The entire energy landscape is changing, and EEP is playing a vital role in the entire process.
According to the Department of Energy, Canada was the largest source of U.S. oil imports last year. They supplied us with over 3.2 million barrels per day, and over half of it was transported to the U.S. by EEP (Source: 10-k). Canadian crude oil production is expected to rise another 40% by 2030, according to the Canadian Association of Petroleum Producers.
EEP has been working at a feverish pace trying to expand capacity. Since 2010 total volumes transported along EEP's pipelines have risen by 54.5%. There are currently two capacity expansion projects that should be completed around the same time in 2019. These rapid expansions haven't been without setbacks, as we'll get into later.
Valuations:
EEP has a price/distributable cashflow of 8.1x. Fair value for the industry is usually around 13x, so EEP is showing signs of being undervalued. Furthermore, EV/EBITDA is at around 10.2x, which happens to be below both historical and industry levels. The historical EV/EBITDA of EEP usually sits around 12x, and respected industry peers are currently hovering around 14x. This all looks fairly promising, but we'll get into some bearish valuations soon.
The stock is trading near multi-year lows and yielding 13%. To date, it has never cut it's distributions. The distributions have a compound annual growth rate of 2.2% since 2011.
Institutional Buying & Analyst Price Targets:
Institutional investors have been steadily adding shares for several quarters (See chart below).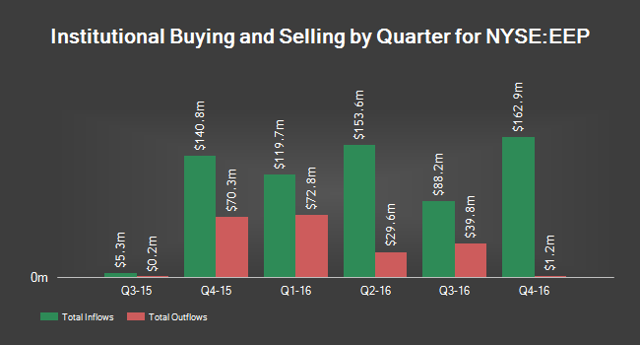 (Source: Community Financial News)
From Q4 2015 to Q4 2016, institutional investors have picked up over $445 million worth of units (Note: Master limited partnership's shares are referred to as units).
Analysts have EEP rated a hold with an average price target of $20.56. This is a potential upside of 16%. (Source: Yahoo Finance)
Things to Consider:
It's easy to see why this company is starting to gain more attention from investors. There's value there, plus yield to burn. There's even considerable room for growth. The overall sentiment on SA for this name has been fairly bullish, and I can understand why. However, there are a few things that could cause you some near to medium term pain.
The Dividend:
EEP has never cut its dividend, however, this streak appears to be in jeopardy. Enbridge Inc. has stated that it is performing a strategic review of EEP, and "the sustainability of EEP's current level of distributions to unit holders..." is being considered. However, there is just so much uncertainty surrounding dividend cuts. The major concern you should take into consideration, is how extensive this cut is going to be and to what degree the market will respond.
EEP had a 30% selloff after management released a 13% reduction in forward DCF guidance for 2017. I don't even want to imagine how the market will react if the dividend is cut 13% more than what is anticipated. Speaking of which, it is often said that the dividend cut is "priced in" with the current market price. This may be true, but the degree of the cut that the market is anticipating isn't entirely clear. If the market anticipates a 30% reduction, and is slammed with a 50% reduction instead, the knee jerk reaction could prove to be painful if you got in ahead of the cut.
Cashflow:
EEP's coverage at the beginning of 2017 was just under 1.0x, and with the anticipated DCF decrease, EEP would have been on pace to have coverage of only around 0.8x. The writing was on the wall all last year as EEP sold their accounts receivable and began to extensively use commercial paper for short term liquidity.
The most prudent move to help remedy the cashflow crunch was removing the Midcoast Energy Partners L.P. (NYSE:MEP) albatross. EEP rolled down their struggling natural gas assets into MEP in a 2013 IPO. From that time forward, MEP struggled. Midcoast was recently reacquired by Enbridge Inc. in an effort to simplify their corporate structure and to help EEP's cashflow.
However, all this effort will most likely not preserve the dividend. As I stated above, a cut is probable, but to what extent is unknown. It is also worth noting that as of Q4 2016, the company had a working capital deficit of $1.0 billion (Source: 10-Q).
Debt:
All this liquidity stress has caused EEP to rely on their general partner and debt. Even though operating expenses are tight, EEP continues to put money into expansion projects, as I alluded to earlier. It recently cancelled the Sandpiper project. However, the Line 61 expansion and Line 3 replacement project is still moving forward (Source: 10-K). Enbridge Inc. is absorbing the brunt of the costs, but EEP's debt still continues to creep upwards.
Interest expenses have a CAGR of 12% since 2008. Total Long term debt has increased by over 64% since 2011. In the same exact period, net income has gone from $677 million to -$41.3 million. Also in the same period, total volumes that moved across their network increased by 48%. With all that being said, debt levels are still within reason at 4.2x debt/EBITDA. This is about average for the whole sector.
This shows management's prudence. As soon as debt began to creep upward, and cashflow was in peril, they swiftly began taking action. All this while merging with Spectra Energy.
Corporate Review:
Enbridge Inc. has started reviewing their entire corporate organization in lieu of the Spectra merger. They are reviewing EEP as well. One look at their current organization and ownership structure will have you reaching for a bottle of Aspirin. So I am hopeful that things become simplified after the review. Perhaps this can streamline Enbridge Inc., along with all it's companies and subsidiaries.
Peruse the conversations on EEP and you'll hear this being echoed, "EEP has a great parent that will ensure their success." Yes, Enbridge will most certainly guarantee EEP's success, but not necessarily the common unit holders' success. When making a large strategic decision, it must be understood that there isn't a direct 1 to 1 relationship in how management considers ENB shareholders and EEP unit holders.
Management could directly or indirectly make a decision that favors ENB's shareholders over EEP's unit holders. Also, if you are an ENB shareholder, you want EEP to succeed. However, EEP common unit holders' returns would be a secondary concern to you. All in all management is going to do it's utmost to look out for all investors, but always bear the above in mind.
Series 1 Preferred Shares:
There are series 1 preferred shares that are accruing deferred distributions until late 2018, and they will be payable Q1 2019. This will be a further cash drag on EEP.
Pipeline Controversies:
The current administration appears to be favorable to pipeline projects. However, these projects are often mired in controversy and delay. The Dakota Access Pipeline, which Enbridge owns a percentage of, was delayed over heated protests. Also, The Tribal Council of the Bad River Band of Lake Superior Tribe of Chippewa Indians, recently voted to not renew it's interest in Line 5 easements (Source: 10-k). Line 5 is included within EEP's Lakehead system. I have a feeling pipelines and future projects are going to continue to be a point of contention.
Oil Demand:
Oil demand is only supposed to rise in the United States by 3% from 2016 to 2018. Canada's demand is actually projected to fall slightly. In the same time frame, their collective output is projected to rise by 8%. How OPEC will react to North America's rapidly growing production, one can only imagine.
OPEC surprised the world in Q4 2014, when they announced they would not be cutting production to support prices. Instead, they did the exact opposite. They ramped up production and flooded the market with oil. This drove prices down to multi-decade lows. This unpredictable cartel, led by Saudi Arabia, just recently started production cuts in order to improve the cost of oil. It's a bit unsettling knowing that near term price support hinges on OPEC sticking to production cuts. This alone should make you strongly consider the prospect of future oil production in Canada and the U.S. in the near term. Once they see that North American oil is devouring market share, it is possible they could flood the market again.
Oil is currently still trading around $50/bbl. The North American rig count continues to rise, despite this low price environment. Although there appears to be profitability in oil around $50/bbl, not all companies and basins are created equally. Canadian oil sands are notorious for being some of the most expensive crude to extract from the ground. Capital investment is fleeing Canada in search of more cost effective places to drill.
Oil production in the Bakken, which represented about 13.7% of EEP's total volume last year, is already declining (Source: U.S. Energy Information Administration). The current quarter's production levels are already 11.6% lower than the same quarter last year. April's production is projected to be 1% lower than in March. Simply put, in the short term, drillers seem to prefer the Permian basin instead of the Bakken. Canadian oil, the play that EEP relies heavily upon for production growth, is one of the more expensive extraction points.
Sure, there is an abundance of oil in Canada, but that doesn't guarantee that it is all going to be extracted and brought to market. The energy landscape is notorious for surprising investors. I can remember not too long ago companies were considering building natural gas import terminals in the U.S. Not one decade later we began producing record amounts of natural gas and building export terminals instead.
Conclusion:
I'm bullish on oil long term. I think we will eventually see oil back above $70/bbl, but it may be a while before we get there. We will need Canadian oil, but this relationship may be hampered by prices for the remainder of the decade. My goal was to provide you with a few reasons to be cautious when going forward with this company. I wanted to provide a few warnings for upcoming volatility and the short to medium term issues facing EEP.
I don't anticipate on the cut to be so extensive that it warrants another selloff. However, the possibility is there. If it does happen I will pick up shares around the previous low near $15. If the stock price does react favorably to the cut, I am going to wait for the dust to settle with ENB's review of EEP, before I move forward.
As tempting as it is to get ahead of this dividend cut in anticipation of a pop, I would advise you proceed with caution. Even if the market does respond favorably to the cut, plenty of uncertainties loom in the distance. I have no doubt management will address the cashflow issues and creeping debt. Oil will flow from Canada and the Bakken, and make no mistake, Enbridge Energy Partners will receive the majority of that volume. But if we currently have an energy landscape that relies heavily upon OPEC cuts to keep prices barely above profit thresholds, then that is reason for concern.
Disclosure: I/we have no positions in any stocks mentioned, and no plans to initiate any positions within the next 72 hours.
I wrote this article myself, and it expresses my own opinions. I am not receiving compensation for it (other than from Seeking Alpha). I have no business relationship with any company whose stock is mentioned in this article.